Eggplant Parmesan Stacks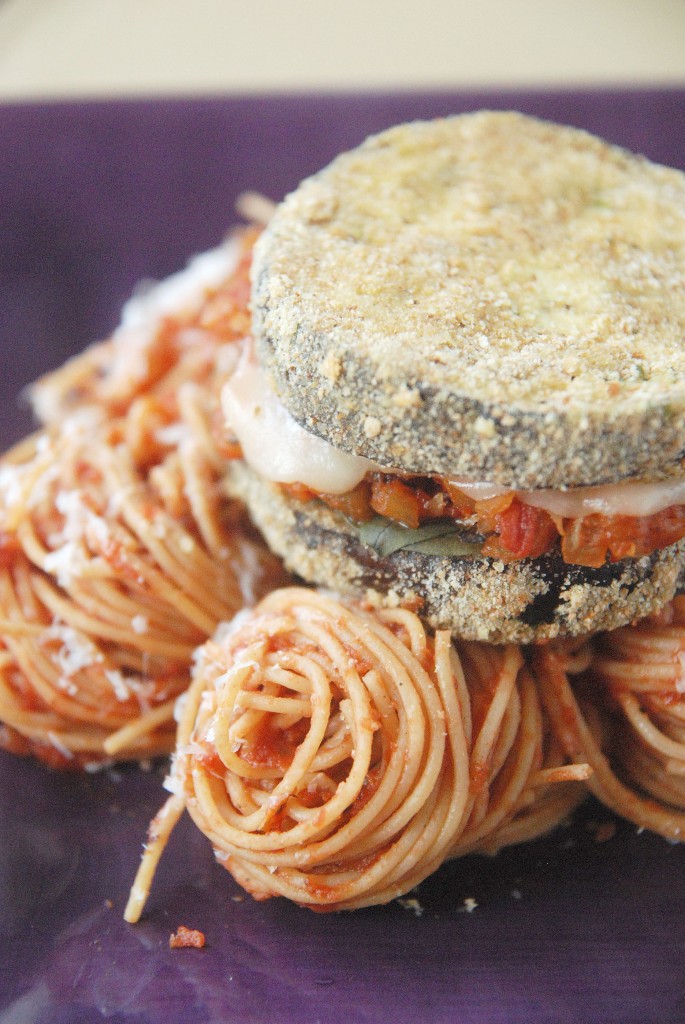 I am in a constant battle with myself to find the very BEST way to do things. This translates into 7 different kind of stain removers (by the way Hydrogen Peroxide on blood and Oxyclean on anything else). It also means that I have 11 shampoo bottles in my shower…some for straight hair days, some for curly, and some for when I want big Texas hair. And it also means that I currently have 4 different brands of extra virgin olive oil all ranging in various prices. Hey by the way, while we are on the subject, can anyone else not taste a difference between different extra virgin olive oils?
But not only does my issue reach into multiple products, it also means I will do something over and over and over again with different methods to try and get the best outcome. Like for the past two weeks, since I got bangs (again), I have been blow drying my hair different every day. Small round brush? Large round brush? Blow dry my hair upside down? Bangs first or last? Or maybe let the bangs themselves air dry (don't try this one….like whoa bad hair day, Batman)?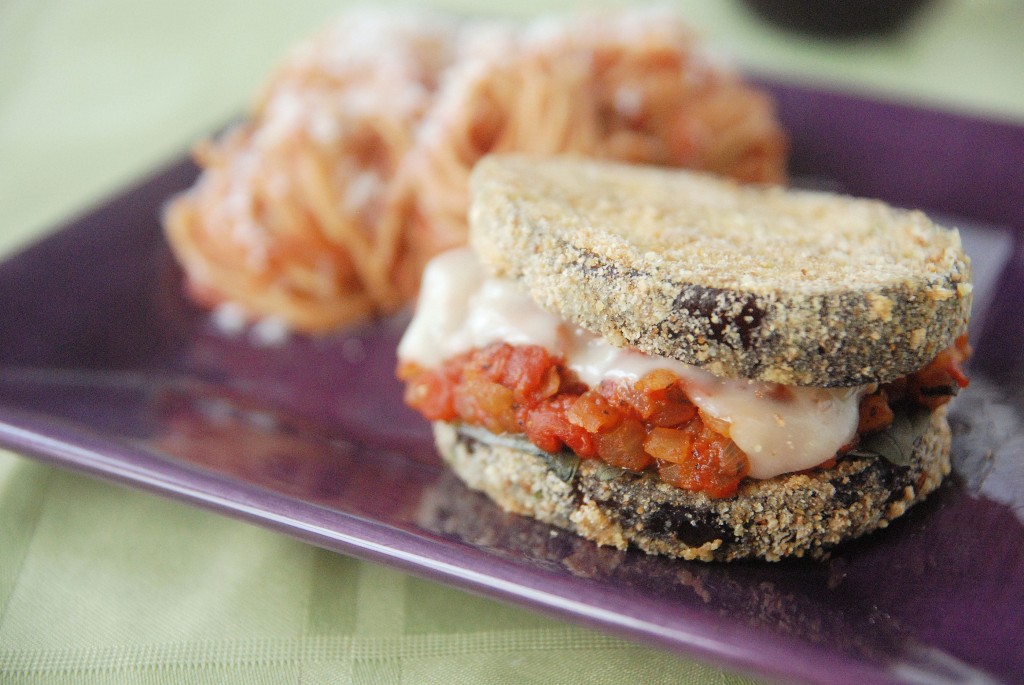 And as you all know, this issue with finding the best way to do something doesn't only stretch into my hair and cleaning, although hair is extremely important and none of you should judge me for my all my hair talk. It also means that I have tried four different Caramel frosting recipes and always find myself coming back to this Salted Caramel Buttercream. I have even made it with my own homemade caramel…but if it's not the Smuckers Caramel Sauce…it's just not perfect.
And last month when I saw these Eggplant Parmesan Stacks, I knew that this was a new method I had to try. In essence, it is deconstructed Eggplant Parmesan with a ton of flavor and eggplant that stays crispy! Jorge and I were both thrilled with the outcome of these. I baked them, instead of frying, so they are a little less brown then what I would like…but they stayed perfectly crisp and saved us a lot of unneeded calories. These will definitely be on our menu again and again for Meatless Mondays!
Eggplant Parmesan Stacks
Recipe Note: The original recipe says these can be made ahead…but I kept a couple for the next day for lunch and did not think they were half as good the next day.
Ingredients:
You will need:
1 large eggplant, cut into 12- 1/2 inch slices
Kosher Salt
2 tablespoons olive oil
1 large yellow onion, chopped
1 pinch crushed red pepper flakes
2 – 14.5 oz cans fire roasted diced tomatoes with garlic
3 tablespoons flour
2 egg whites
1 cup of your favorite bread crumbs
6 thin slices mozzarella cheese
12 large fresh basil leaves
Directions:
Place the eggplant slices in a colander and salt liberally on both sides of the slices. Let sit over a plate or in the sink for 30 minutes.
While the eggplant is sitting, prepare the sauce. Heat a large skillet over medium high heat and add the 2 tablespoons of olive oil. Add the onion and sauté until translucent, about 10 minutes. Add the crushed red pepper and cook for 2 minutes. Add the un-drained cans of tomatoes and cook until all the liquid has been absorbed, about 20 minutes. Set aside until ready to assemble the stacks.
Rinse the eggplant slices after 30 minutes of sitting in the colander. Pat dry.
Place the flour on a dinner plate. Place egg whites in a shallow dish. Place breadcrumbs on a dinner plate. Line up the dishes starting with the flour, then the eggs and finally the bread crumb mixture. Place a wire cooling rack next to the bread crumb mixture.
Take each eggplant slice and coat first in the flour then dip into the egg mixture and finally coat with the bread crumb mixture, patting the mixture well onto the eggplant slices. Place the coated eggplant slices a cookie sheet covered with parchment paper. Repeat until all the eggplant slices are coated.
Preheat oven to 350 degrees. Bake eggplant for 9 minutes on each side, 18 minutes total.
Carefully build the stacks on the cookie sheet – divide the tomato sauce evenly on top of 6 of the eggplants. Top each with a slice of mozzarella cheese, two basil leaves and another slice of eggplant. Then cook for 5 minutes more or until the cheese is melted. Serve immediately.