Want to go on a cruise with a toddler? Our kids had such an amazing time on our Disney Cruise, we already booked another one!
Disney Cruising with Toddlers
I survived a Disney Cruise with two toddlers and you can too! In fact, we not only survived, we loved it so much that we booked our next cruise while still on our first cruise.
Jorge and I have cruised many times through out our years, but we had not been on one since we had the girls. We also had never been on a Disney Cruise, so it was all new for us.
You could say we were nervous before departing…. Twin 2.5 year olds on a ship for 4 days? A bit terrifying to think about. Thankfully Disney had done almost all of the thinking for us and it went awesome.
Here are some tips for cruising with toddlers and things we learned along the way. Hopefully I can help you feel more prepared for your trip!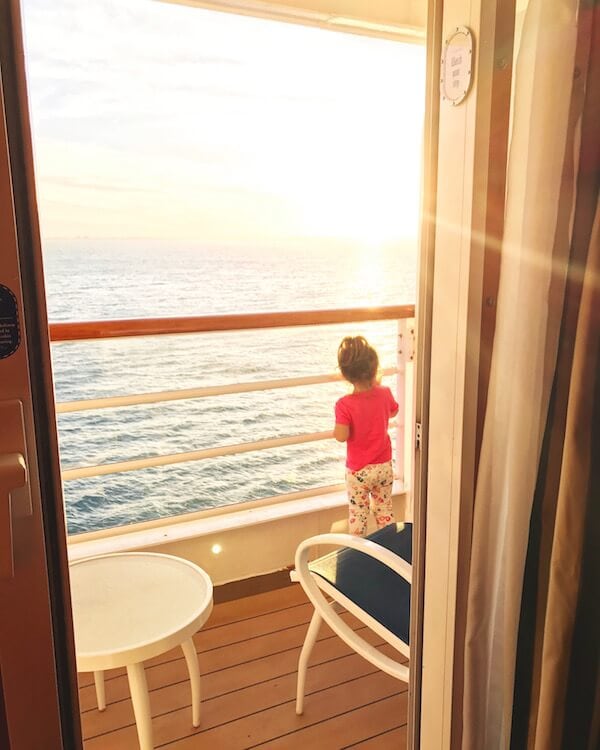 Stateroom
Don't freak out – there is glass all the way up to that top bar.
I posted this picture on facebook and immediately 15 people commented to "get my baby" away from absolute death. However, it's totally safe and the girls LOVED getting to see the water from our room.
We cruised on the Disney Wonder and got a verandah room. I am really glad we did and we plan on booking the same type of room for our next cruise as well. You have a balcony, a queen bed, single sleeper sofa and upper pull down bed from the ceiling.
If your kiddo is still in diapers, like mine, you can ask for a diaper genie and Disney will happily deliver one (for free). It's wonderful, no stinky diapers smelling up your stateroom!
You can only fit ONE pack and play (that Disney supplies for free) in your stateroom. Since we have twins, we just split up and slept in the beds with the girls.
Even if we only had one toddler and could use the one pack and play, I think we would have slept with our kiddo. We liked having the extra room in the stateroom and it made the most sense to us.
The girls thought it was an extra special treat since we normally do not all sleep together. I was a little concerned it would be an issue getting them to sleep, but after such BUSY days…they were out in seconds!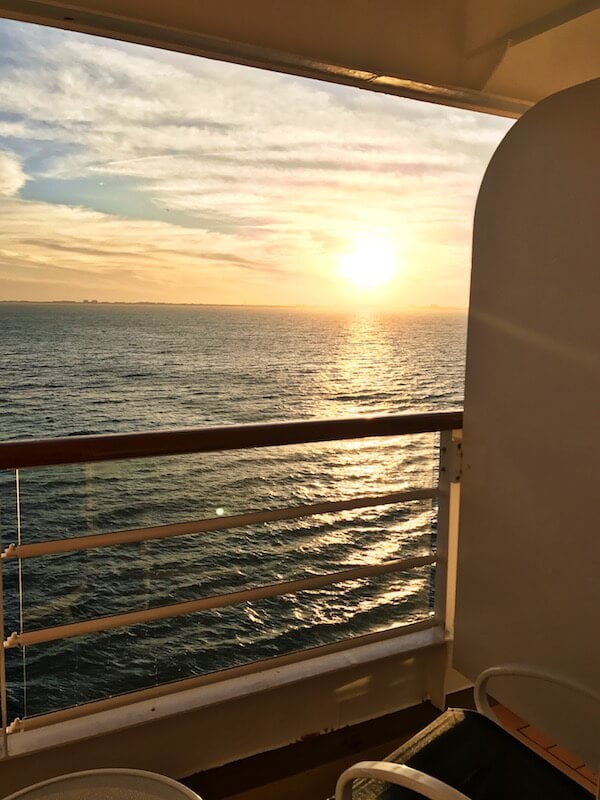 If your toddlers are older and used to sleeping in a regular bed (our girls are still thankfully in their cribs), they could easily sleep in the sleeper sofa. You can also fit two toddlers on the sleeper sofa if you need to. They also have a little bed rail they can attach to the sleeper sofa to keep them from rolling out.
One amazing feature that we LOVED on this cruise — separate rooms for the toilet and shower/tub. Both rooms have a sink and mirror, so you can have one person showering and still have easy access to a bathroom to get dressed or brush teeth or anything you may need.
Did you catch that earlier mention of a shower/tub?? YES there is a tub for you to bath those toddlers in! Hallelujah! My girls freak out any time they are forced to shower and I was very thankful to see a little bathtub for them to use each night.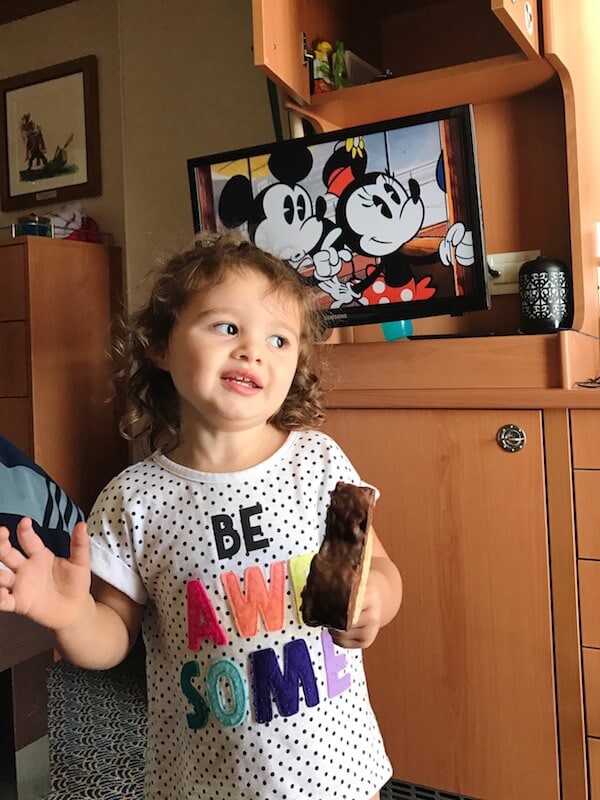 One bonus to being on a Disney Cruise — non stop Disney shows and movies playing round the clock without commercials. Only one of our girls likes to nap, so having in room entertainment any time we needed it was a huge help.
There is a heavy duty dividing curtain that you can pull to divide the state room. It splits the "living area" with the tv and sofa/sleeper sofa from the bed/bathroom area. We were able to let Ellie nap while Lyla watched movies and played on the balcony.
Quick Tips for Easy Sleep
Bring a white noise machine to drown out any noise and crank it up. With that, we all slept great.
Bring a night light if your kids are used to one at night. It helped mine feel comfortable because they are not used to pitch black.
If your toddler ends up sleeping in the queen size bed with you, ask for extra pillows at turndown to build a little bed wall to keep your toddler from rolling out. They do not have a bed rail for the large bed.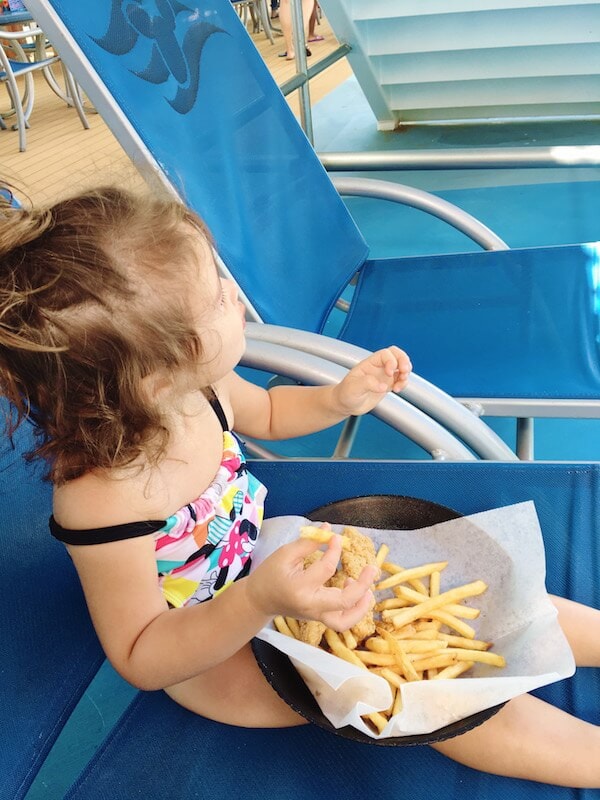 Dining and Food
While I am a food blogger and love to eat just about everything, my girls do not. They can be quite picky when they want to be, and I was also a little nervous about the nightly dinners being too fancy and my girls misbehaving.
I should have never doubted Disney. First off, all three dining rooms were wonderful and kept my girls entertained. We particularly loved Tiana's Place and Animators Palate.
The servers were wonderfully attentive and jumped any time the girls (or we) wanted anything. They learned what each girl preferred to drink at dinner and had it on the table before we arrived along with bread to snack on.
They were also happy to make any accommodations and swap things off of one plate and add to another. You are also allowed to order something off of the adult menu for your toddler if you would rather. One night I knew the girls would like a couple of the appetizers they had on the menu and ordered them for them instead.
For breakfast, we had a couple of options: the buffet or room service. The morning Jorge had to stay with the girls himself for a few hours, he ordered breakfast to be delivered to the room on the card they drop off nightly. It's more of a continental breakfast, but still had plenty of options and all of the necessities.
The other mornings, we all headed up to Cabanas — the buffet — for a big breakfast. They had everything you could imagine and more from savory to sweet…healthy to not.
The girls loved the Mickey waffles and the cereal bar. Lyla in particular loved the endless bacon and Ellie thought it was amazing to have a Mickey shaped waffle with strawberries and whip cream. To say the least, we never left hungry.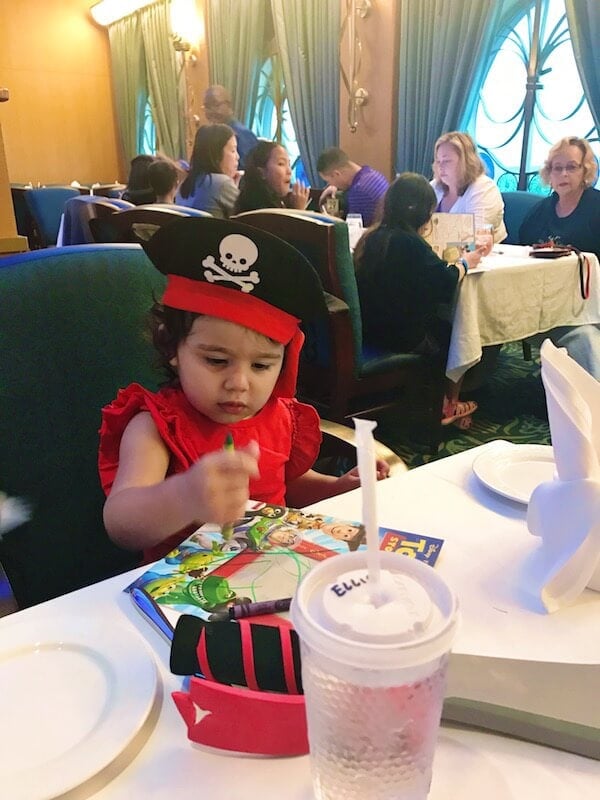 For lunch, you can also go to Cabanas and they have a ton of different options to suit everyone. However, we usually grabbed lunch up on the pool deck where they were showing movies and the girls could play.
There are a few options on the pool deck, but it's mostly fast casual. Daisy's De-Lites had sandwiches, salad and fresh fruit. Pinocchio's Pizzeria serving up, yup you guessed it, pizza. And Pete's Broiler Bites that had things like burgers, chicken fingers, fries and gyros.
You can also order room service at any time from a menu in your room. Just in case you need something extra late at night or at lunch when your kid is napping in the room.
Quick Food Tips
Juice and milk is free. The only place you can't get it for free is at the bar late at night. So if you need juice late at night for your kids, hit up room service.
If your toddler is sometimes too busy to eat, make sure and bring some snacks back to the room with you. Some days we found the girls wouldn't eat much all day and were starving after their baths and before bed. It was nice to have something already waiting for them.
Bring sippy cups if your kids still use them! In the dining rooms they have little plastic lids they snap on top of large plastic cups. The rest of the ship has topless cups with straws. My girls tend to spill all of those too easily, so we would put their juice in their cups every where we went.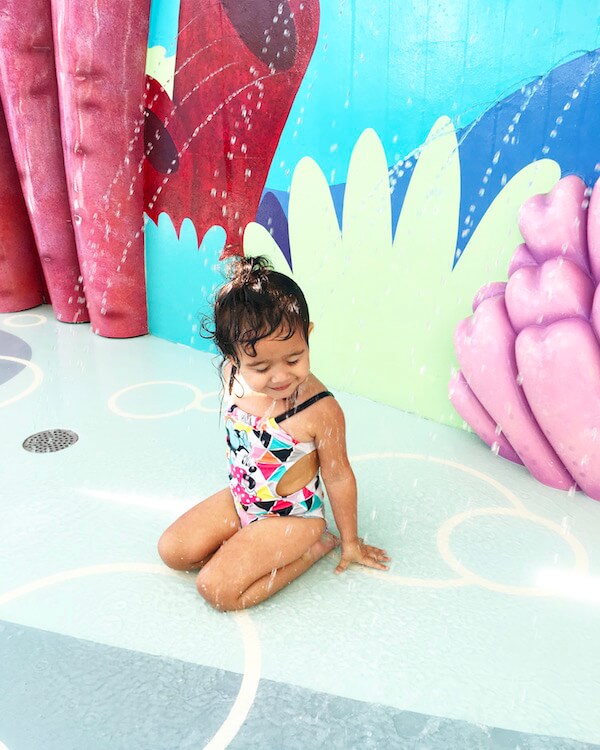 Entertainment for the Under 3 Crowd
Since the girls were not 3 yet, they were unable to take advantage of the Disney Oceaneer's Club.
Also, if they are not potty trained, they are not allowed to swim in the pools. This is a law in the US (not just Disney Cruises) — no swim diapers in the pools.
So what does that leave for you to do with your kids? Thankfully, SO MUCH!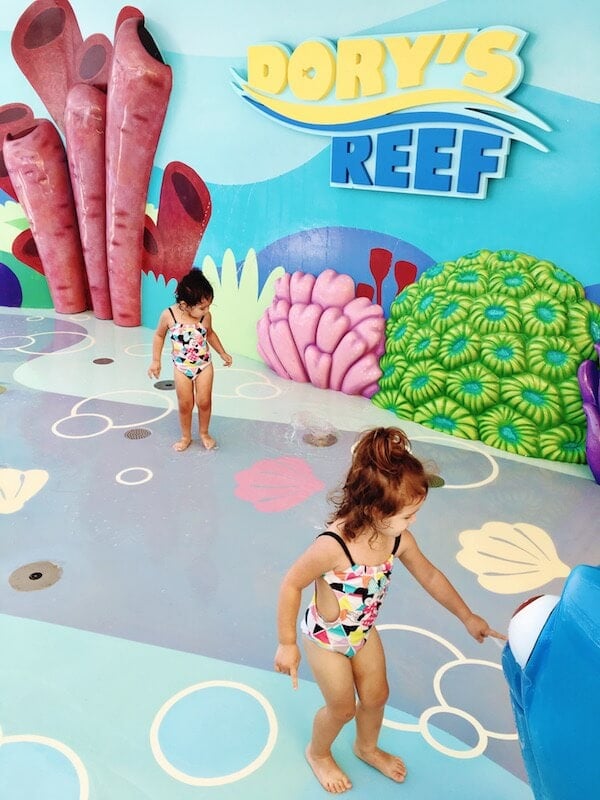 We spent a TON of time at the splash pad area, Dory's Reef, and the Aqua Lab. We watched movies on the deck where the girls could run around, eat and play.
There is also a movie theater on board if your kids are good enough to sit still for a movie. They play the latest Disney picture releases (some that are still in theaters!).
The good news is, you didn't pay to get in…so it's a good way to test the waters and see if your kids are up for a movie. If not, you can just leave!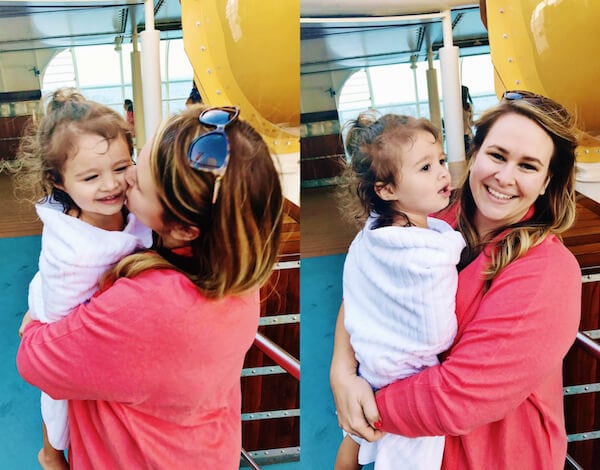 There are tons of character greetings all over the ship at all times of day. Your toddler can get their picture taken with their favorite character and get their autograph book signed if they like that.
And every night while you are on the ship, they have broadway type shows/musicals. On our ship, the Disney Wonder, they had Frozen, A Musical Spectacular, The Golden Mickeys and Disney Dreams – An Enchanted Classic.
Our girls sadly would not sit still for the shows, which sucked because we were excited to see them. Thankfully we discovered they play them on the tv back in your room!
So if you can't get your squirming toddler to sit still, don't fret. Grab some popcorn, a glass of wine and head back to your room to watch the show while your kid jumps on the bed not annoying anyone but you!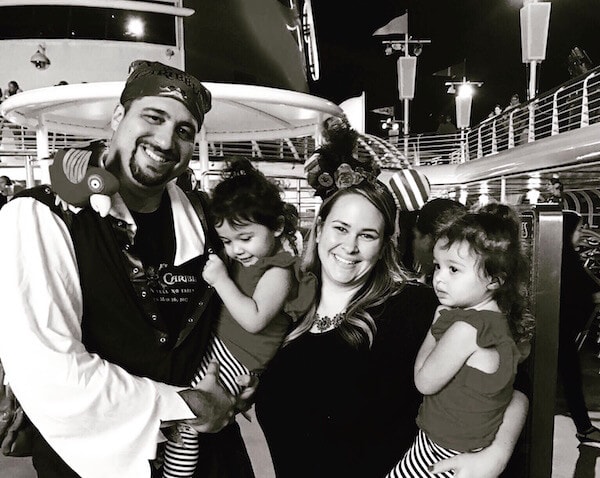 And lastly, on one night of the cruise they have a themed party night. Ours was Pirate Night. They had a special late night buffet, music, games and fireworks! It was so much fun to see everyone dressed up and having such a great time.
If you do need some adult only time, they do offer baby sitting on ship with trained counselors in really cool space for kids under 3. It is not a free service, but it is affordable (I believe $9 an hour for one child).
We did not utilize this, however we have friends who did and said it was wonderful. And don't worry, they give you a phone to contact you in case of an emergency of any kind.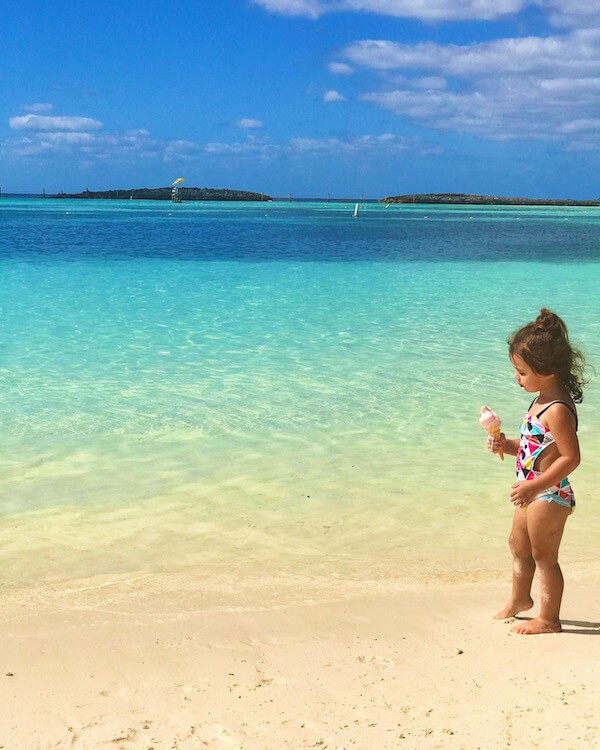 Castaway Cay
We were in LOVE with Castaway Cay. It's truly a spectacular island with so much to do.
As I mentioned before, Jorge and I have cruised many times with different cruise lines and have been to many of their private islands. None of them even begin to compare.
Disney is the only cruise line in the US with a private island that they can actually dock at. So you just walk off the ship and are directly on the island. None of that small tender boat stuff or waiting in line.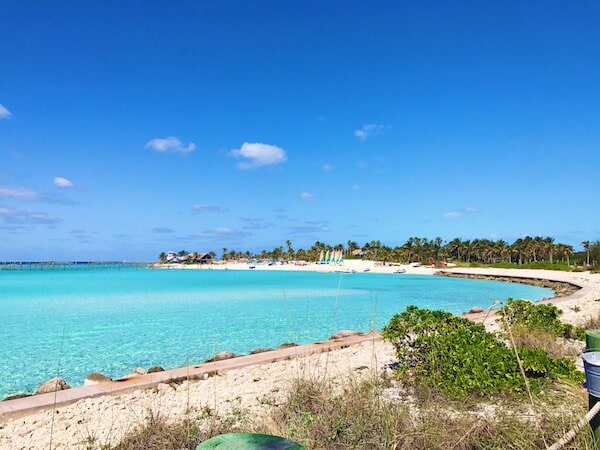 Then, because the island is so large, they have a trolly that takes you to different stops at Castaway Cay. Take the trolly – trust me!
When we first got there, we thought it was so pretty and we would walk. That was a really bad idea considering we had two toddlers that liked to be carried and our full beach bag and diaper bag as well.
Trust me, jump on that trolly!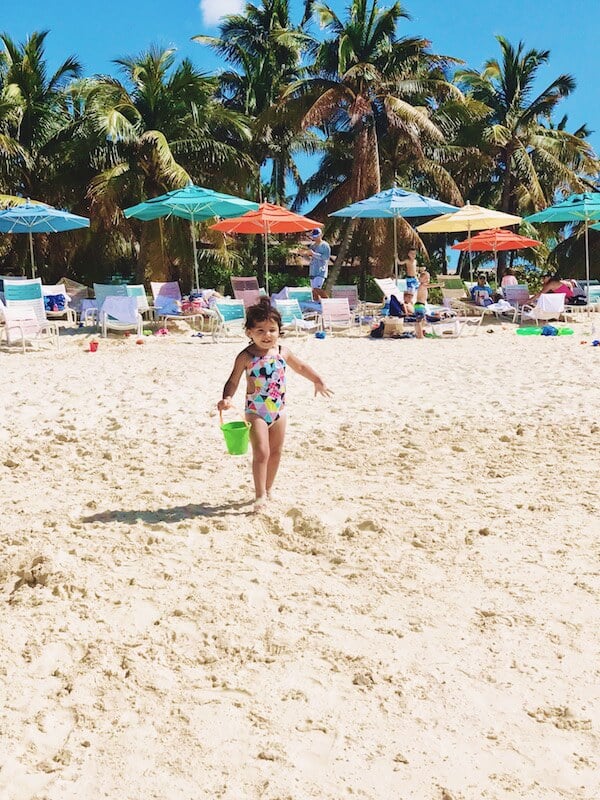 I would recommend you ride the trolly to the second stop. This will put you right by both of the family beaches that have two play areas out over the water.
You will also be very near the splash pad for toddlers/babies and lunch at Cookie's Too BBQ. And we found a lot of people jumped off at the first stop anxious to go and so that left the second beach a little less full.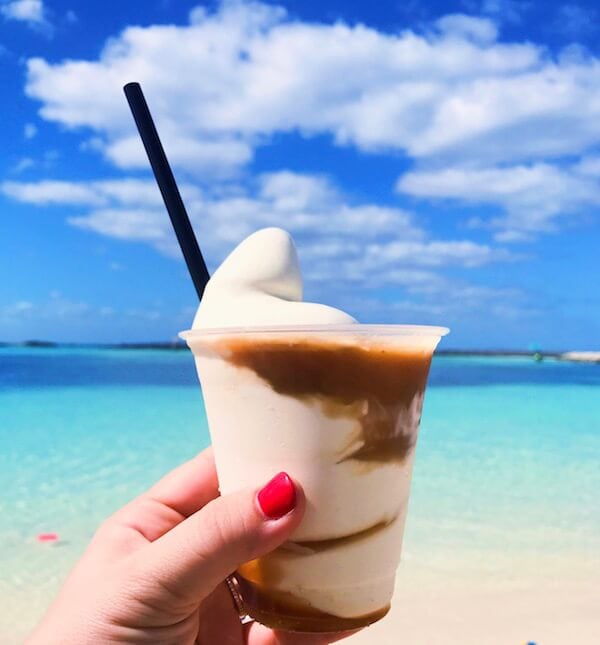 Quick Tips for Castaway Cay
Bring sand toys with you for your toddlers, they are not provided. We paid $15 for a Mickey set of sand toys.
Waiters will walk around taking drink orders so you can have your piña colada and never have to try to get your kids to leave the beach to go get one.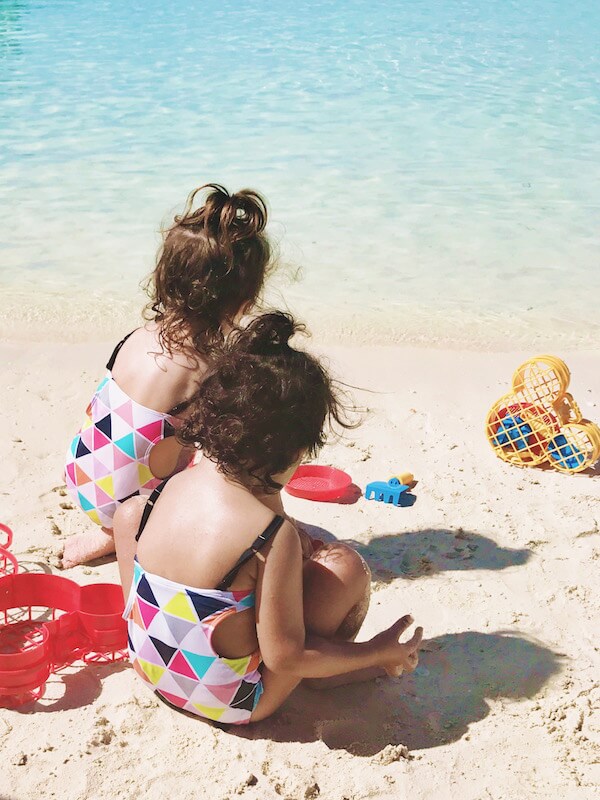 Cookie's BBQ and Cookie's Too BBQ are exactly the same. It's the only food served on the island, so don't bother walking from one to the other to check out the offerings.
The lunch hours on the island are from 11:30am-2pm. We almost missed it because we didn't know there were limited hours.
You can rent a wagon or stroller to use on the island at both tram stops if you would like to help carry your kids or bags.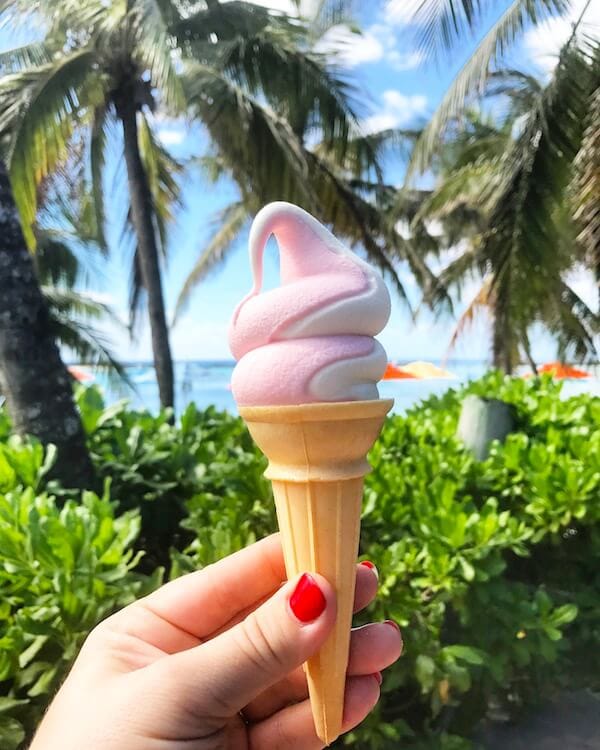 And my number one tip for on the cruise ship and Castaway Cay? Make sure and get yourself one of the self serve endless ice cream cones!
The girls and I loved all the flavors, but especially the coconut and strawberry swirl! You have no idea how thankful I was to be able to walk straight into the ocean and wash them off after their cones.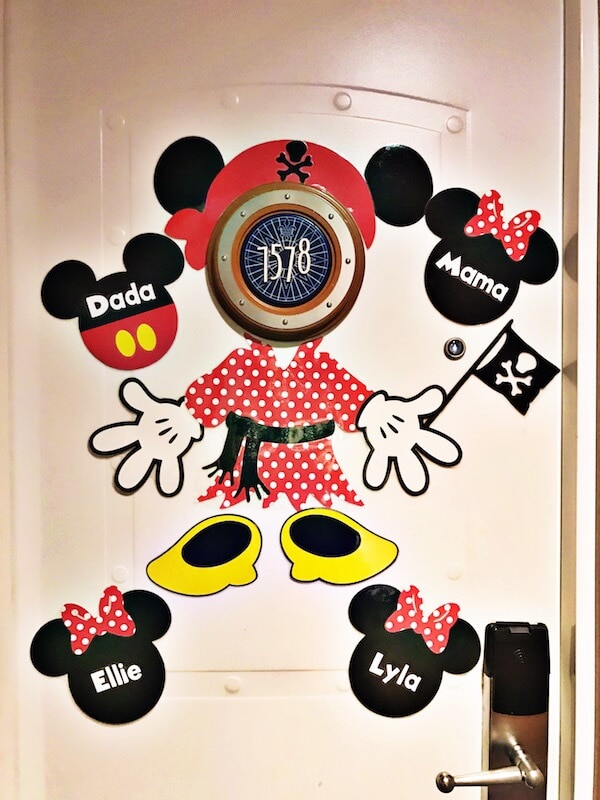 Other Cruising Tips
Pack way more wipes than you will think you need. They only sell mini baby wipe packs in the gift shops and they are pricey.
Get a magnetic door decoration for your state room. It seems like everyone on the ship does it, the girls LOVED it and it helped us find our room easily. I ordered ours off Etsy.
Don't try to bring a stroller on the boat. There is no room for it and you won't need it.
If you love your cruise as much as we did, you can book your next cruise while still on the ship and save 10%. You only have to put down a deposit and guarantee that you will cruise within 24 months. You do not have to pick the location, ship or date.
On the ship they give you two on ship phones to contact each other. So if you split up for any reason, you can easily contact the other one. This was something we had never had on any other cruise and it was so amazing…especially with kids. Oh! And it was free!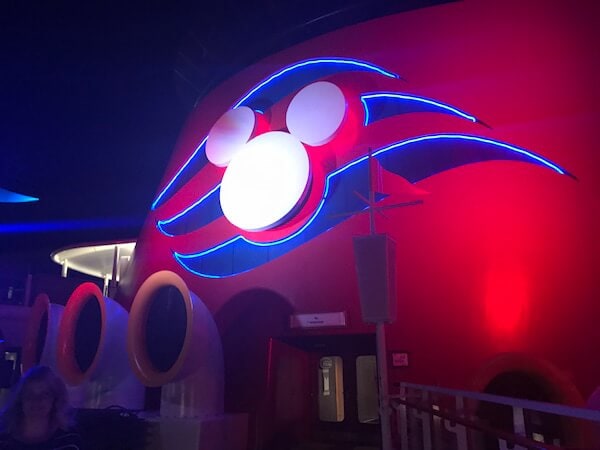 Disembarking
Jorge and I were both really nervous about how we were going to get off the ship with 3 giant suitcases, 4 small bags and 2 toddlers.
We were excited to hear that they will pick up the bags the night before and you can collect them after you disembark the ship.
You collect your bags before you go through customs, but don't worry, they have people there to help you load your bags onto a trolly and take them through customs and all the way out to your car for you. Make sure and bring a cash tip for this part! We didn't know this was a possibility and were digging for cash.
If you are flying, they also provide a service where you can check your bags to the airport from the ship. So Disney will take your bags all the way to the airport for you and deliver them to the airline! How cool is that?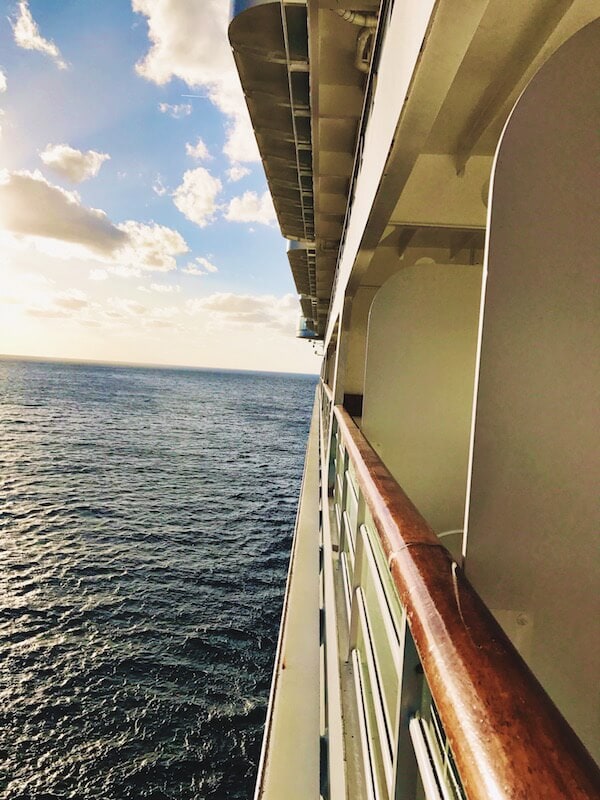 We chose to grab breakfast at the buffet before disembarking. We headed up to the buffet at a little before 8 and ate breakfast before heading down to grab our bags.
It was a really nice relaxing last morning and we were thankful we didn't get up and try to rush off the ship. We all had a really great last filling breakfast and then headed off to Disney World for one last fun day of vacation.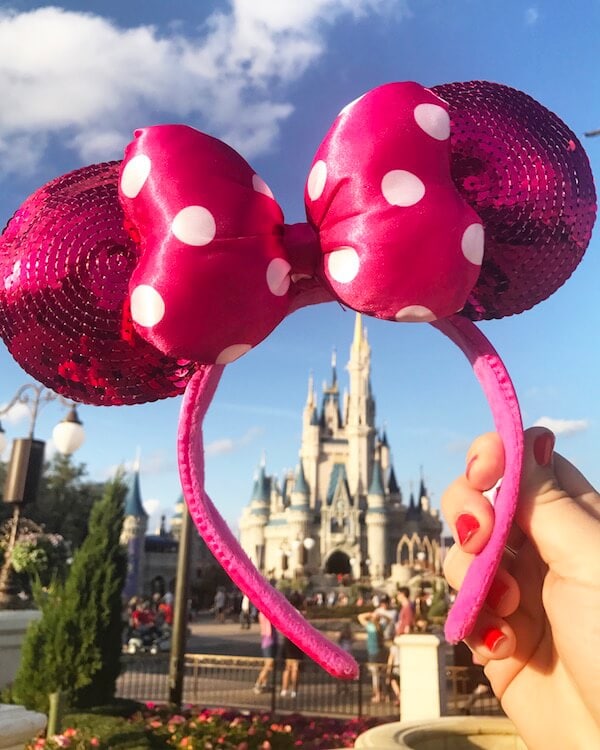 Disney World is only a little over an hour drive from the port. It's the perfect way to kick off or end your cruise depending on your schedule.
Our cruise got back to port early Sunday morning, so it made the most sense for us to head to the parks straight from the cruise.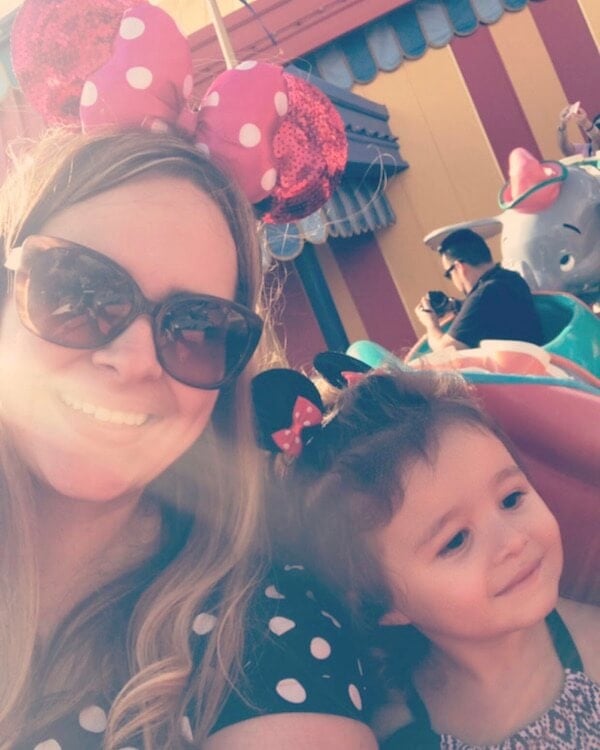 I grabbed a few fast passes before we arrived and we had a blast riding a few of our favorites at Magic Kingdom.
We had lunch and a couple of Churros (because they are a must!) and then headed home back to real life.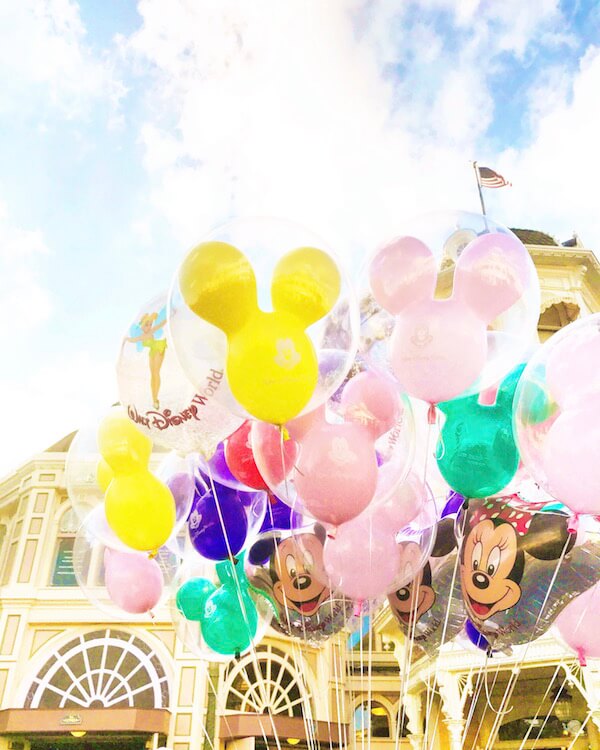 We immensely enjoyed our family cruise aboard the Disney Wonder and are excited to check out more of the ships in their fleet and hopefully go to new destinations.
I really look forward to when the girls turn 3 and can do some of the bigger kid things on the ship. When they are old enough to go to the Oceaneers club, Jorge and I really look forward to checking out the adult only dining room, pool, spa and bars.
However, I still greatly recommend doing a Disney Cruise with toddlers as it was a super fun family friendly vacation to go on together! We had a blast and can not wait to return with my parents for a big family cruise hopefully next summer.
If you have any specific questions, leave a comment and I am happy to answer as best I can! Good luck cruising with toddlers, I promise it's not as scary as it seems!

This post may contain affiliate links. Read my disclosure policy.