These DIY Cinnamon Ornaments are a fun and festive Christmas craft! They're easy to make, and they're such a lovely homemade gift for friends and family.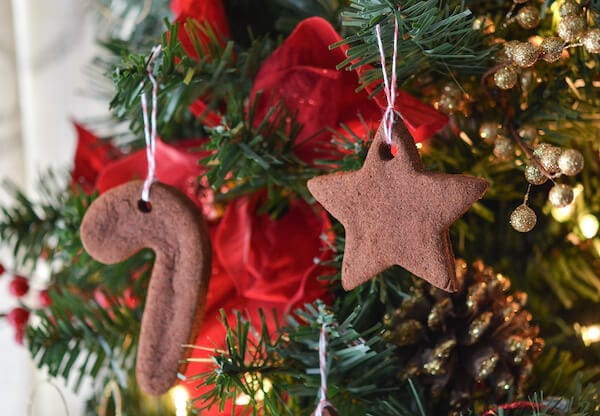 Festive DIY Christmas Ornaments
These ornaments are always a fun little project for the holidays. Make them with your kids, bake them in the oven, and then hang them on your Christmas tree – it's as simple as that! Growing up, these were something we always made in Girl Scouts.
I was the worst Girl Scout, until it came time to make or eat something. I hated camping, going door to door to sell cookies and earning badges. Somehow, I doubt any of you are very surprised by that.
However I was always first in line to make these Cinnamon Ornaments. They smelled awesome and I always figured they tasted just as good. Just fair warning – THEY DON'T. You do not want to eat these. Seriously, don't try it unless you are prepared to want to die.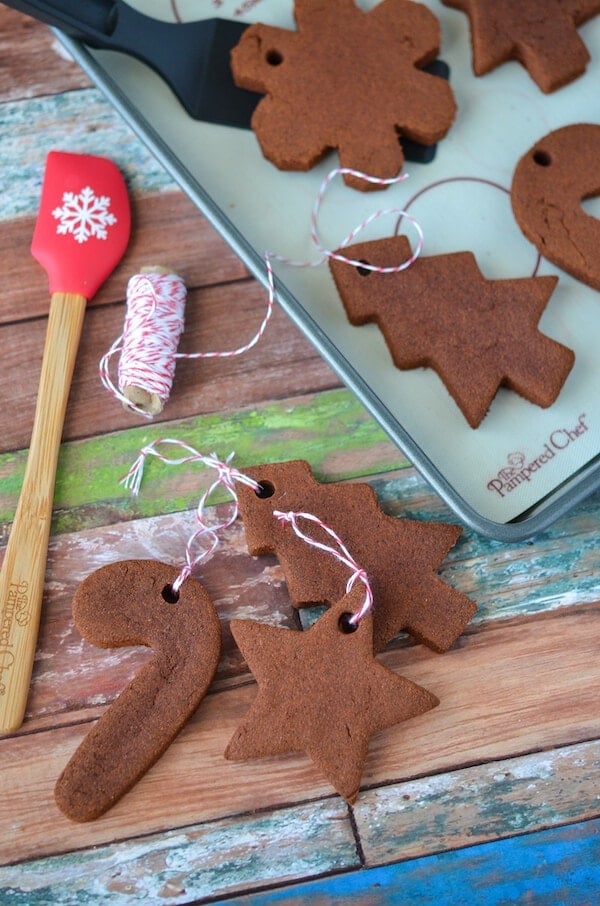 Despite the fact that you can't eat them, they are still one of the best things I make during the holidays. As soon as I opened my Pampered Chef holiday bundle, I knew that I wanted to make these right away. I am so excited to get to work with The Pampered Chef again as part of their Holiday Baking Bonanza Campaign…because I get to give away one of these awesome Pampered Chef holiday bundles to one of you!
These Cinnamon Ornaments are really easy to make and are also fun for kids too. Plus, they make your house smell AMAZING. Last year when I made them, I added a little glitter (and by a little, I mean a whole bottle because I am glitter obsessed). This year, 90% of my ornaments are already full of glitter…so I figured I would let these be a little more natural. 😉
Yield: 12
DIY Cinnamon Ornaments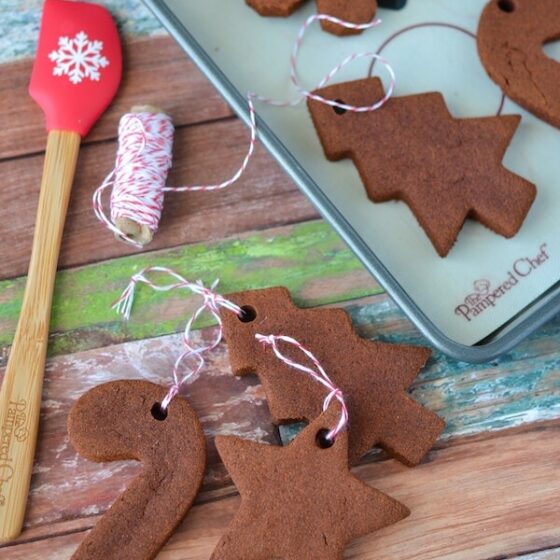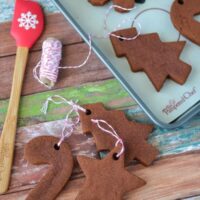 These DIY Cinnamon Ornaments are a fun and festive Christmas craft! They're easy to make, and they're such a lovely homemade gift for friends and family.
Total Time
1 hour
20 minutes
Ingredients
1 cup ground cinnamon
1/4 cup ground cloves
1 cup applesauce (plus possibly up to 1 more tablespoon if needed)
parchment paper
cookie cutters
straw
ribbon/string/baker's twine
Instructions
Preheat oven to 250°F. Line a large baking sheet with a Pampered Chef Silicone Baking Mat (or parchment paper). Set aside.
In a Pampered Chef Classic Batter Bowl (or a large bowl), mix together the applesauce, cloves and one cup of the cinnamon. Mix well with a spatula and press your dough into a ball. If your dough is still dry and crumbly, add 1 tablespoon of extra applesauce till it reaches a good consistency to roll out for cutting into shapes.
On a piece of parchment paper, spread some cinnamon and begin to roll the dough out to about 1/4″ thick. Use cookie cutters to cut out your shapes and place them on a cookie sheet lined with parchment paper.
Use the end of a straw to create holes in the upper part of the shape. Bake for 1 hour, flipping half way through. Then turn off oven and let the ornaments cool completely before taking out of oven. (This took about an hour in my oven.)
Tie your ribbon, string or baker's twine to each ornament and hang on your tree!
Want to Save This Recipe?
This post is sponsored by The Pampered Chef. While I was compensated for my time, my opinions are all my own. I was not paid to post positive comments.
This post may contain affiliate links. Read my disclosure policy.