DIY Terrarium for under $50!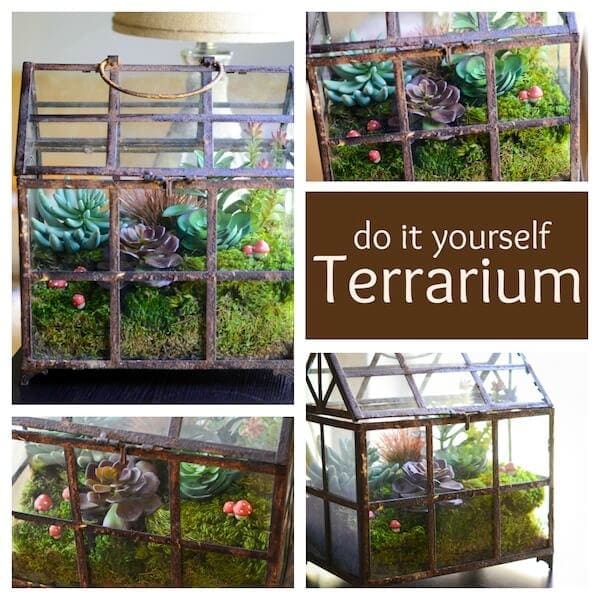 We have all been sucked in by Pinterest right? I see people who barely know how to use FB pinning away, so I think most people are as equally obsessed as me. I can loose myself for hours looking through all the pages of DIY and crafting ideas.
But lately one thing keeps jumping out at me. Terrariums. Before Pinterest, I didn't even really know what they were. Then I saw them at Potterybarn. And again at West Elm. And over at Anthropologie (no link – can't find the one I saw in store). And after seeing them ALL over pinterest, I was hooked. I could not stand it anymore, I had to have one too. Thanks for the cool kids peer pressure, Potterybarn/West Elm/Anthro!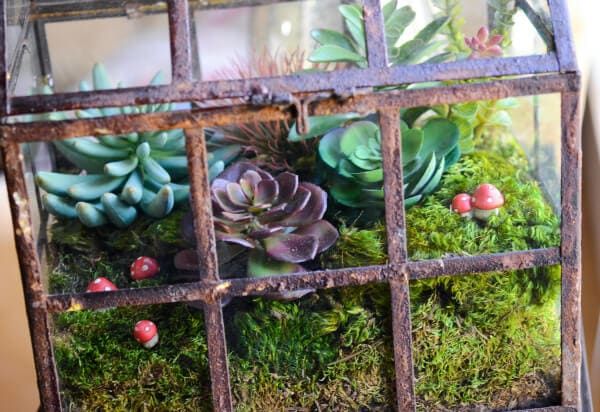 The only hold up? I wasn't willing to spend a lot of money and I didn't want to have live plants. Live plants require a lot of special things…like charcoal and sand…and they have to be watered occasionally. You also have to trim your plants and watch out to make sure no mold starts to grow. I don't know about you, but that is way too much work.
While I had made up my mind that I wanted one, I wasn't sure it was possible to get one like I wanted. Could I do a Terrarium for under $100, with no living plants, that still looks real? Turns out, you can! And better yet, you can do it for a little under $50!!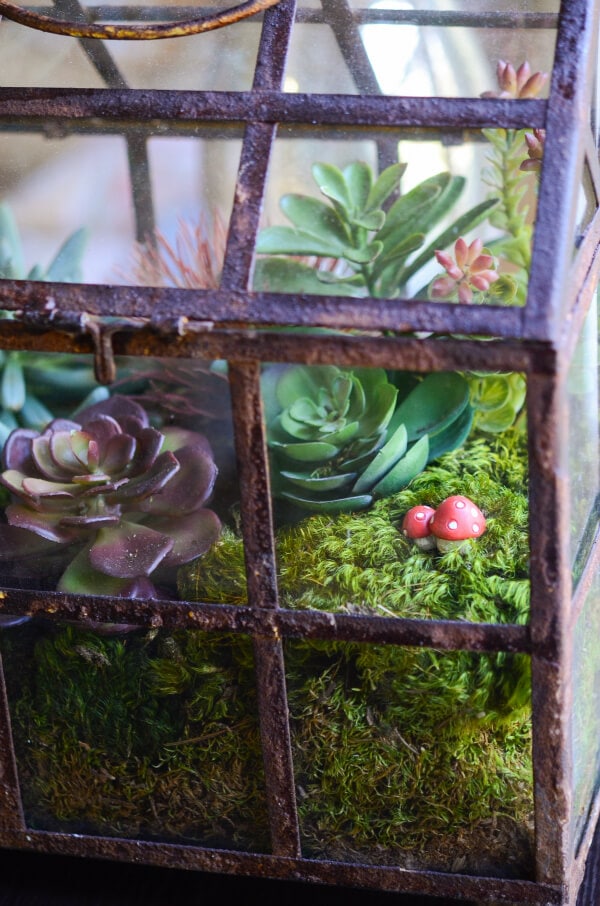 I tried hitting up my local Michaels first, but their choices of glass and succulents was really crappy — sorry Michaels, but it was. Next I went over to Hobby Lobby and they had everything I needed…and it was on sale 50% off! So glad I caught them on sale week (in case you don't know, Hobby Lobby does the same type of sale as Michaels…you can almost always wait and get everything 50% off!).
Supplies Needed:
Glass House: or glass bowl or vase
Preserved Moss: Hobby Lobby had a huge selection. Pick what works with your theme. I bought a big bag of a pretty green moss I found for only $3.50.
Succulents: Pick out the ones you like and then only buy 3-5 succulents (depending on the size of your terrarium). I thought I would use a ton…but really it just looked overly crowded. You don't need many to make a statement!
Mushrooms: Or any other kind of little thing you want to add interest! I have seen everything from tiny garden gnomes to butterflies to tiny hidden dinosaurs. I found these mushrooms in the "spring" section of Hobby Lobby for $1.50.
Wire Cutters: to trim any long stems off the succulents.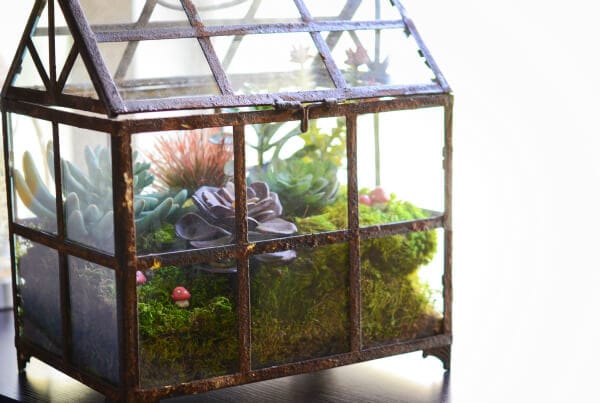 Then I came home and put it all together in about 15 minutes. I was shocked! It made me feel actually crafty…and I am so happy with the final result!
There isn't much to tell you on how to put it together — just layer your moss and arrange your decorations however you want. But I will give you one quick tip I discovered after getting frustrated with my plant layout. I found that layering my moss to make one side higher and the front lower, gave depth to the terrarium. It also made great little "fields" for my mushrooms to grow! 🙂
If you happen to get a glass without a top, you will probably have to dust your succulents every now and then. To do that, I just rinse them in the sink and let them dry. Then stick them right back in!
Enjoy your Terrarium!