Skinny Double Chocolate 'Brownies'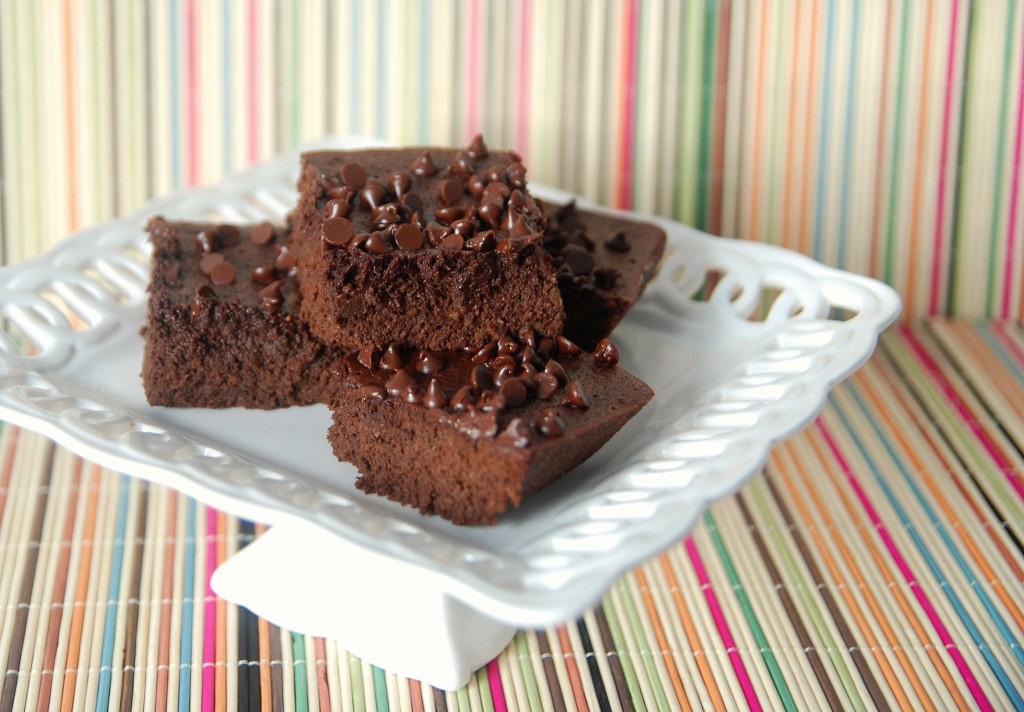 So I have a confession. I drink diet sodas and I buy things in the store that are made with Splenda. I also eat Jello with Cool Whip on top of it on an almost daily basis…even though I recently found out that Cool Whip is made up of nothing but chemicals. I understand that it is not the best thing for me, but in all honestly I probably eat 85% "clean" eating…with 15% being processed foods. And I'm ok with those numbers. I do want to get better and I have started using Truvia instead of Splenda. Truvia is made from Stevia which is a plant that grows naturally…so it is a step in the right direction. I have started testing it out in baking and have found that when baked, it does not have any strong after taste.
And I am so thankful for having discovered Stevia, because sometimes no matter what a girl (and a boy) need chocolate. So today I whipped up a recipe for brownies that is only 102 calories or 3 WW points! With the use of egg whites instead of regular eggs, these brownies are very cake like…they do not have that extra dense texture of a regular brownie. So while they may not be as amazing as some of the brownies I have enjoyed in the past, they are something that I can enjoy and not feel guilty about…or have to spend an hour in the gym burning off! Jorge was turned off when I told him what was in them (whole wheat flour, wheat germ, applesauce, and truvia), but once he smelled them baking and had his first bite he completely changed his tune! I think the double dose of chocolate in these really helps to make them feel much more decadent then they actually are!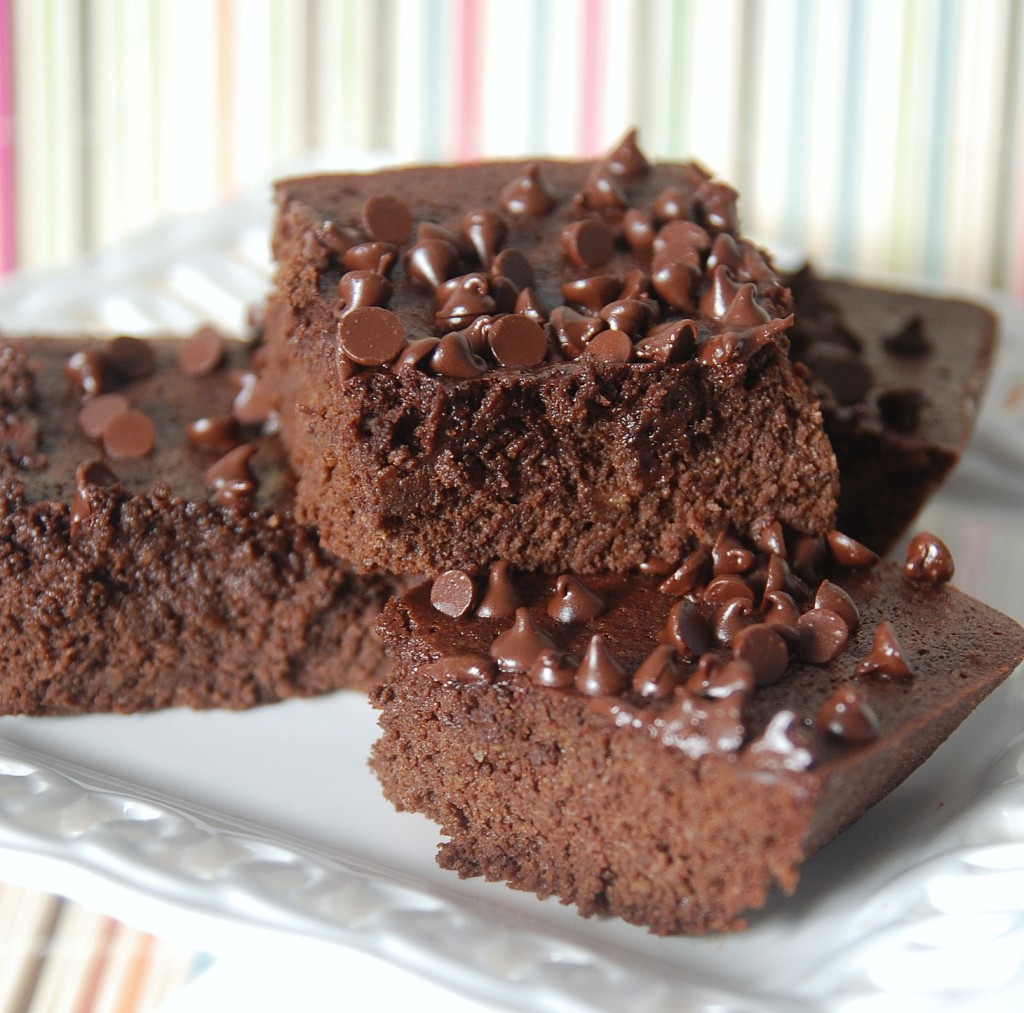 Skinny Double Chocolate 'Brownies'
Recipe Note: If you choose to not use truvia, just double the sugar to 1 full cup sugar.
Ingredients:
1/2 (4 oz) cup natural applesauce
1 teaspoon vanilla extract
4 egg whites
1/2 cup sugar
4 packets truvia
1/4 cup whole wheat flour
1/4 cup wheat germ
1/2 cup unsweetened cocoa powder
1 teaspoon instant espresso powder
1/4 teaspoon cinnamon
1/2 teaspoon salt
1/2 teaspoon baking powder
1/4 cup semi-sweet mini chocolate chips
Bakers Joy
Directions:
Preheat oven to 350 degrees. Spray an 8×8 inch cake pan with Baker's Joy.
In a medium mixing bowl, using a sturdy whisk or spatula, mix the applesauce, vanilla, egg whites, sugar, and truvia together.
Add the flour, wheat germ, cocoa powder, espresso powder, cinnamon, salt, and baking powder. Stir the mixture until it is just combined and no lumps remain. Pour it into the prepared pan.
Bake for 12 minutes at 350 degrees. Quickly remove from oven and sprinkle with the mini chocolate chips and then return to oven and cook for 8 to 10 minutes more, or until a toothpick inserted in the center comes out dry, a few crumbs are ok.
Transfer the pan to a cooling rack and allow them to cool 5 minutes. Cut into 9 equal brownies.