This Stuffed Flank Steak with Creamy Grits is a feel-good dinner that everyone will love. The steak is so tender, and the grits are incredibly creamy and flavorful!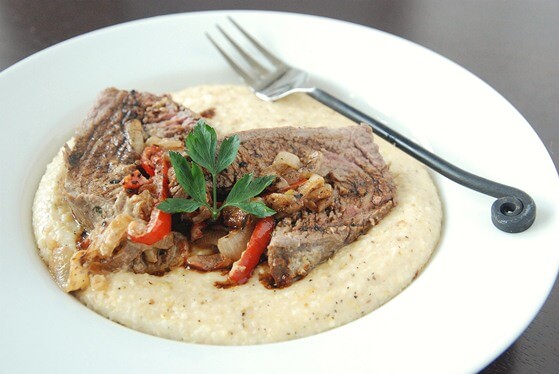 Stuffed Flank Steak with Creamy Grits
One of the worst things to me is when someone claims they don't like a food that they have only had at somewhere like Chilis. Saying you don't like fajitas because you had them once at Chilis is one of my biggest pet peeves. You don't go to McDonalds for the worlds best cheeseburger. You don't go to Applebees for a true classic french onion soup. And you most definitely do not ever go to Ihop and order grits. They give you instant, out of a box, grits. They are made with water, no butter, and no seasonings. Then they add a sprinkle of cheese over the top and call them Cheesy Grits. They are disgusting, horrible, and incredibly hard to swallow. Those are not grits. Grits are creamy, flavorful, and the good ones are full of butter and cheese. They are the perfect compliment to everything from fried eggs and bacon to Grillades. They are in essence, corns gift to the South.
Jorge was one of those people in the "I Hate Grits" camp when we met. I was shocked and felt the need to jump to their defense. And I discovered the only way to prove my point was to show him how amazing grits can be. And so I pulled out my favorite stone ground white speckled grits from the Nora Mill Granary in Helene GA (you can order them online!), and proceeded to make him the most amazing grits of his life. He is now a convert to the Church of Grits and we have them as regularly as our waistlines will allow.
I recently had a dream about flank steak and grits. I knew that they had to be put together immediately…but I just was not sure how I wanted to do it. So I turned to the internet and lo and behold only a few months ago one of my favorite bloggers, Foodie Bride, posted a recipe for stuffed flank steak and grits. It was meant to be. This was a glorious pairing and made for a perfect Sunday supper.
Yield: 4
Stuffed Flank Steak with Creamy Grits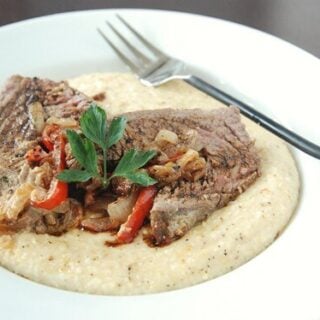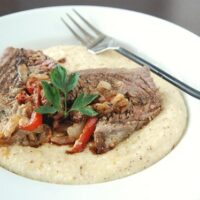 This Stuffed Flank Steak with Creamy Grits is a feel-good dinner that everyone will love. The steak is so tender, and the grits are incredibly creamy and flavorful!
Additional Time
6 hours
30 minutes
Total Time
7 hours
35 minutes
Ingredients
For the Marinade
2 Tbsp Worcestershire sauce
1 Tbsp roasted garlic vinegar
2 Tbsp lemon juice
3 Tbsp olive oil
1-2 cloves chopped/minced garlic
1/2 tsp red pepper flakes
1/4 tsp cumin
2 tablespoons fresh rosemary, minced
For the Stuffed Flank Steak
10 oz flank steak
2 Tbsp oil, divided
2 garlic cloves, minced
1/2 medium yellow onion, cut into 1/8-inch rings
1 medium red bell pepper, cut into strips
3/4 cup crumbled goat cheese
salt and pepper, to taste
For the Creamy Grits
1 cup white speckled grits
2 cups water
2 cups fat free milk
1 stick butter, divided
1 cup shredded sharp cheddar cheese
salt and pepper, to taste
Instructions
For the Stuffed Flank Steak
Place flank steak in a large ziploc bag. Whisk together the marinade ingredients and pour into the bag. Massage the bag to disperse the marinade. Let marinade at least 6 hours, giving it a shake every now and then.
Remove flank steak from marinade bag and lay flat on a large plastic cutting board. Let rest for 3o minutes before stuffing it. You want the meat to come close to room temperature.
While the flank steak is coming to room temperature, in a saute pan, heat 1 Tbsp oil over medium heat. Sauté garlic for 30 seconds, until fragrant. Add onions and bell peppers and cook until soft and browned, adding a couple of tablespoons of water as necessary while cooking. This process will take around 15 minutes. Once the onion mixture is properly browned, remove from heat.
Preheat oven to 375.
Carefully spread the goat cheese and onion mixture evenly over the steak. Leave about an inch around the edges of the flank steak clear of any stuffing. Roll the steak tightly along the grain (if the grain is going left-to-right, roll that way opposed to top-to-bottom) and secure with kitchen twine. Season all sides liberally with sea salt and cracked pepper.
Heat 2 Tbsp oil and in an oven-safe saute pan over high heat until very hot. Sear the rolled steak 1-2 minutes on each side until very nicely browned. Transfer the pan to the oven and cook until the internal temperature reaches 135 (this took about 15 minutes in my oven). Remove from the oven and remove the meat from pan to a clean cutting board (this ensures your meat does not keep cooking in the pan). Cover with foil and let the meat rest 10 minutes.
Slice flank steak into 1/2-inch rounds. Spoon grits into a bowl and top with stuffed flank steak.
For the Creamy Grits
Bring water and milk to a rapid boil in a heavy saucepan. Add 4 tablespoons butter, a pinch of salt, and grits. Stir until water boils again. Lower heat to a simmer, cover and continue cooking for 20 minutes, stirring often. Once grits have reached the desired texture, add remaining 4 tablespoons butter and 1 cup sharp cheddar cheese. Add salt and pepper, to taste (I use about 1 to 1 1/2 teaspoon salt and 1 teaspoon fresh cracked pepper in mine). Serve immediately.
For leftover grits: Pour into a glass and chill. Slide them out, slice, and sauté in a little butter for breakfast the next day.
Nutrition Information:
Yield:
4
Serving Size:
1
Amount Per Serving:
Calories:

946
Total Fat:

75g
Saturated Fat:

36g
Trans Fat:

2g
Unsaturated Fat:

32g
Cholesterol:

195mg
Sodium:

1077mg
Carbohydrates:

23g
Fiber:

2g
Sugar:

9g
Protein:

47g
Want to Save This Recipe?
This post may contain affiliate links. Read my disclosure policy.