These Double Dark Chocolate Cookies with Sea Salt are the perfect mix of rich, salty and sweet. They taste like heaven with a tall glass of milk!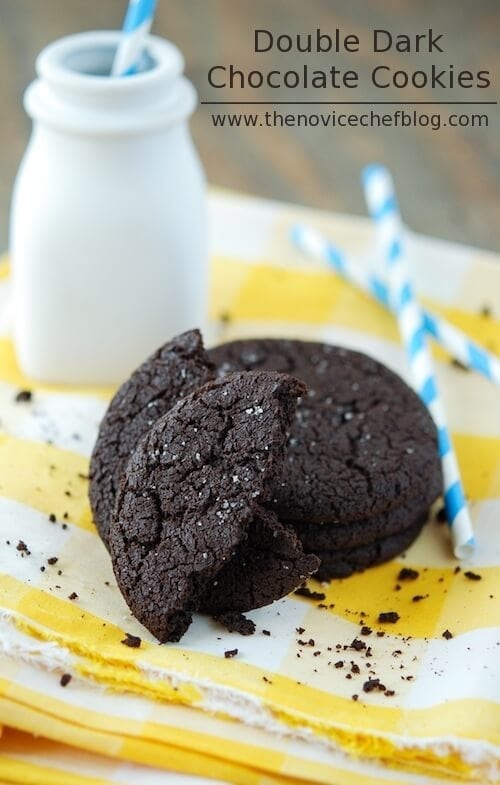 Double Dark Chocolate Sea Salt Cookies
It has rained every day for the past 5 days. Seriously.
Thursday was the first day with no rain and I thought I might actually cry with joy! Tropical Storm Debby was a total witch and decided Jacksonville was a great place to snuggle in for a few days.
On top of the soul crushing rain, Jorge caught a stomach bug/flu from some guy at his office. So while he has been contaminating my couch all week — and watching feel good movies like Despicable Me — I have been wiping every surface down with clorox wipes like it's my freakin' job. I was considering starting to wear a surgical mask, but thankfully he has taken a turn for the better.
Add to that a 3 hour drive down to Tampa to visit my family…only to arrive and find out that my parents AC conked out and we won't have a repair guy till tomorrow morning. The thermostat read 84° on my last check…I am terrified of what it might read by morning.
Obviously the only answer to all of that…cookies. Big Double Dark Chocolate Cookies that are topped with flaky Sea Salt. When warm, these cookies are gooey and delicious. Cooled, they have a crumbly texture that goes perfectly with a big glass of cold milk. They are the cure all.
Yield: 12
Double Dark Chocolate Cookies with Sea Salt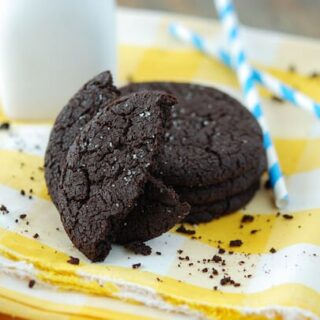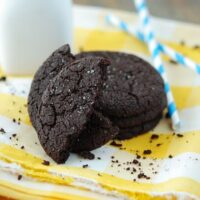 These Double Dark Chocolate Cookies with Sea Salt are the perfect mix of rich, salty and sweet. They taste like heaven with a tall glass of milk!
Ingredients
3 oz 82% Scharffen Berger Extra Dark Chocolate Bar, chopped
4 tablespoons unsalted butter
1/2 cup all-purpose flour
1/4 cup double dutch process cocoa powder
1 teaspoon instant espresso powder
1/4 teaspoon baking soda
1/4 teaspoon salt
3/4 cup granulated sugar
1 large egg
Fleur de Sel (or large-flake sea salt) for topping
Instructions
Preheat oven to 325°F and line cookie sheet with parchment paper. Set aside.
In a medium bowl, melt chopped chocolate bar and butter in 15 second increments in the microwave, until smooth. Let cool 5 minutes.
In a medium bowl, whisk together flour, cocoa powder, espresso powder, baking soda and salt. Set aside.
Stir in sugar and egg — into the chocolate mixture — until smooth. Add in dry ingredients, mixing until fully combined.
Roll 1 1/2 tablespoons of cookie dough into balls and place on cookie sheet, leaving room for spreading. Sprinkle lightly with Fleur de Sel.
Bake for 10-12 minutes, until center is no longer puffy. Remove from oven and let sit for 5 minutes and then transfer to a cooling tray. Serve warm or store in an airtight container for up to 5 days.
Nutrition Information:
Yield:
12
Serving Size:
1
Amount Per Serving:
Calories:

173
Total Fat:

7g
Saturated Fat:

4g
Trans Fat:

0g
Unsaturated Fat:

2g
Cholesterol:

26mg
Sodium:

79mg
Carbohydrates:

25g
Fiber:

2g
Sugar:

16g
Protein:

3g
Want to Save This Recipe?
P.S. If you don't hear from me again in the next few days, please send down a few thousand buckets of ice to Florida. Oh and an AC repair guy!
This post may contain affiliate links. Read my disclosure policy.