Butterfinger Buttercream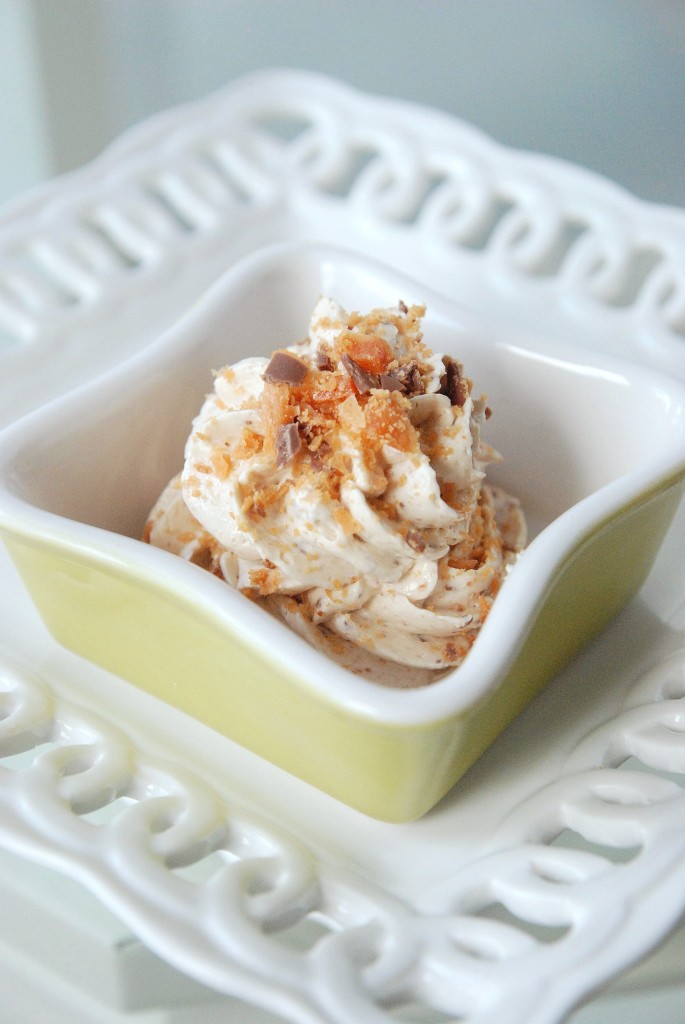 What's that? Why it's just every girls dream a delicious bowl of frosting! Last week I tried making  a Butterfinger Cupcake and the combination I picked just didn't work. So I found myself with a delicious Chocolate Banana Cake and a bowl of delicious Butterfinger Swiss Meringue Buttercream. And I figured I would make another cake base for the leftover frosting. But that didn't happen.
Instead I found myself consoling my tears with it after watching Sweet November. I KNOW not to watch that movie (or City Of Angels, for that matter), but it was on HBO and I was cleaning and left it on. Before I knew it I was sitting on the floor in front of the tv with a bowl of frosting and a bunch of crumpled up tissues. It was very reminiscent to Jenny McCarthy's relationship with frosting in John Tucker Must Die (p.s. great teeny bopper movie).
So no matter how you plan on having this frosting, you should definitely give it a try. It would be great on a vanilla or chocolate cake…or by the spoonful from a bowl! It is a Swiss Meringue Buttercream so you do need to cook the egg whites and then beat them together with the butter. Be warned that this type of buttercream is prone to separating/curdling. If that happens, don't worry, just keep on beating and it should come back together beautifully!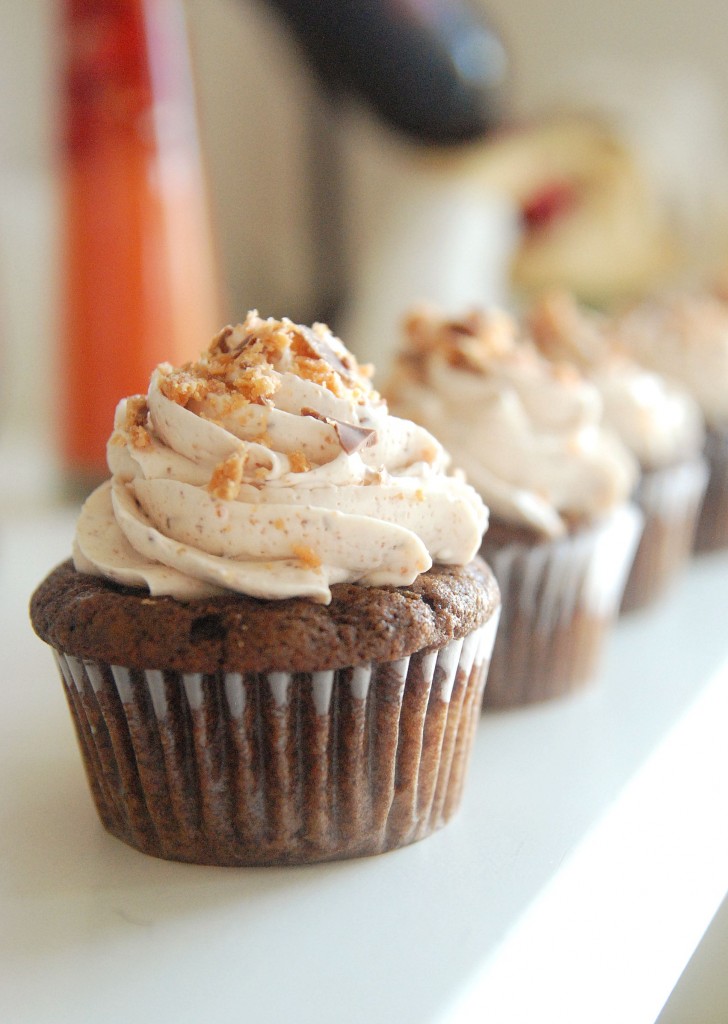 Butterfinger Swiss Meringue Buttercream
Ingredients:
4 oz egg whites (3-4 large egg whites or about 1/2 cups)
1 1/2 cup granulated sugar
1 lb unsalted butter, room temperature
2 tsp vanilla extract
6 fun size butterfingers, frozen and chopped
plus 1 butterfinger, chopped for garnish
Directions:
Lightly whisk egg whites and sugar together over simmering water in a double boiler until egg-white mixture is hot to touch or a candy thermometer reads 140°F (60°C).
Pour hot whites into a room-temperature bowl and whip at medium high, with a wire whip, until double in volume and stiff peeks have formed. When the mixer stops, the meringue should not move around in the bowl. Meanwhile cut up butter into 2-inch pieces. (The butter should be slightly moist on the outside but cold inside.)
On your mixer, remove the whip and attach the paddle. Add half the butter into the bowl immediately and pulsate the mixer several times until the meringue has covered the butter completely. To pulsate the mixer, turn it on and off in a jerky motion. This forces the butter on the top to the bottom of the bowl. Add the balance of the butter and pulsate mixer several times. Slowly increase the mixer's speed, starting with the lowest speed and increase the speed every 10 seconds until you reach a medium high speed.
Continue beating until the mixture begins to look light and fluffy. Stop the mixer and scrape the bowl. Reduce speed to LOW. Add vanilla and butterfinger, continue to beat on LOW speed for 45 seconds. Then beat on MEDIUM-HIGH speed for an additional 45 to 60 seconds.
Leftover buttercream can be placed in plastic containers with lids and kept in the freezer for up to 3 months. Defrost completely (several hours) and rewhip before using.
Storage: Store the icing in an airtight container and freeze for up to 3 months.