This easy DIY Surprise Easter Egg is the ultimate Easter craft to try with your kiddos. A big, hollow chocolate egg is decorated with festive colors and filled with your favorite candy!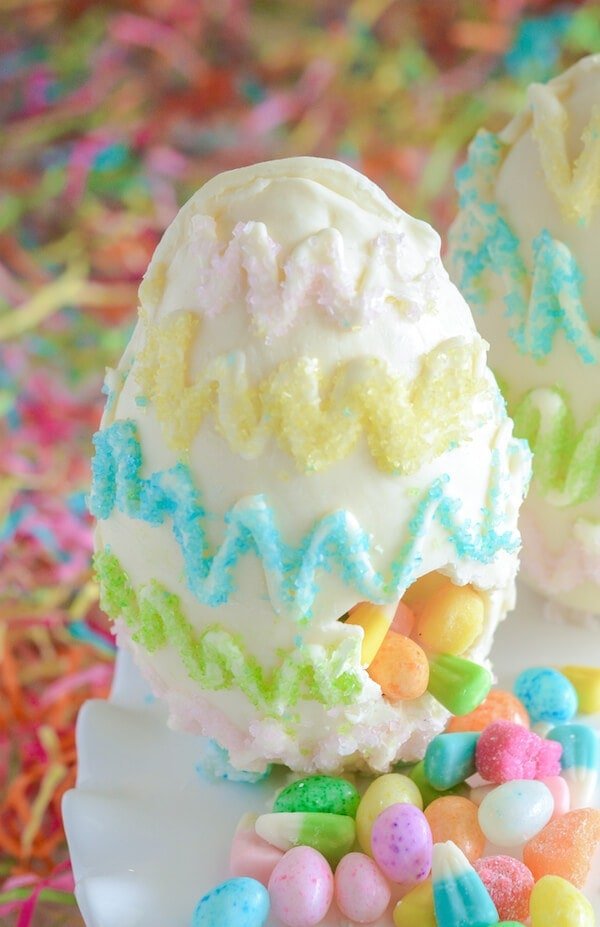 DIY Surprise Easter Egg
Do you remember chocolate wonderballs? If you don't, they were chocolate hollow balls filled with different kinds of candy. My baby sister, Haley, LOVED them and then they suddenly one day stopped selling them.
This week was Haley's spring break and she picked to spend it doing nothing with the babies and I. On one of our grand outings, we headed to the Easter candy aisle at Target. She reminded me about Wonderballs and I told her I would try to make her one, but in the shape of an Easter Egg.
It might have taken some trial and error (and by might — I mean a ton…like a whole afternoon), but we (plus my neighbor Kerri — yes, we needed easter egg backup) figured out an awesome method. Once we learned what worked and what didn't, we were able to make a whole egg from start to finish in 20 minutes! We used Almond Bark because you can buy a ton of it for cheap and it melts easily and hardens very quickly. However, you can easily do this with dark chocolate – just plan for a longer wait time.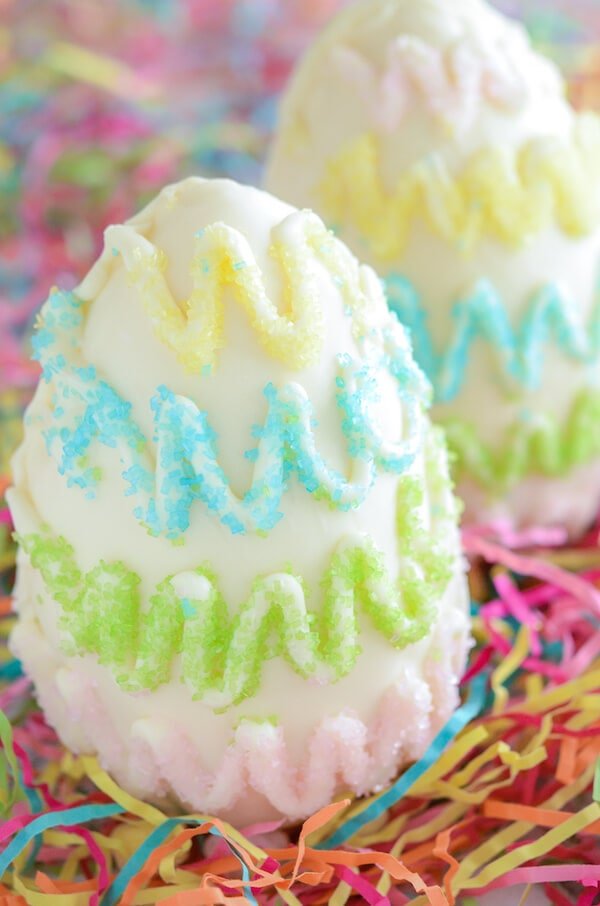 What You'll Need for This Easter DIY
White/Dark Chocolate Or Almond Bark (I bought 2 pounds and made 6 large eggs.)
Candy Filling (candy of your choice)
Decorations (I used leftover melted chocolate and sprinkles)
Reese's Egg (I found mine at Target.)
Saran Wrap (not cling wrap!)
Ziploc baggie (sandwich size is fine)
Foil
Spatula
Microwave
Large bowl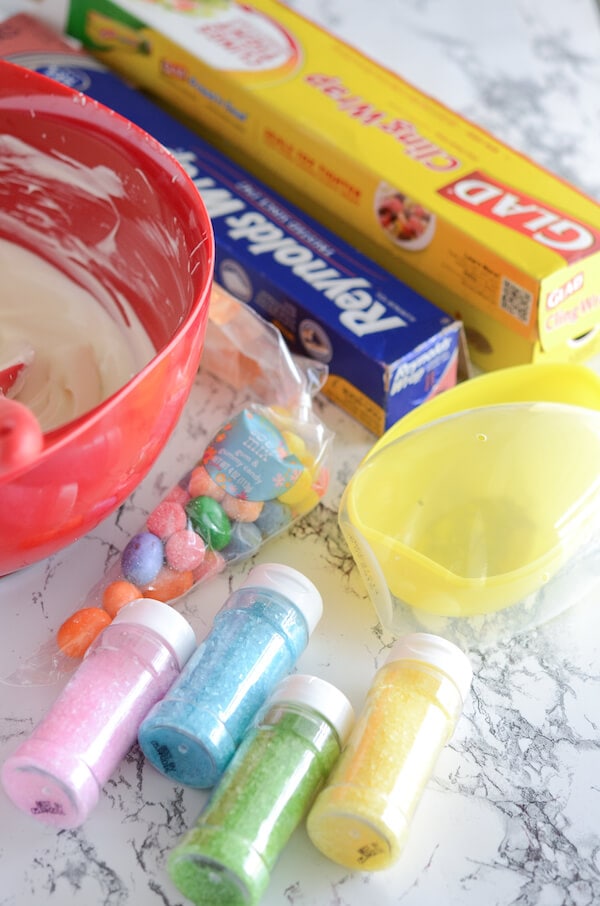 How to Make A Surprise Easter Egg
Using the microwave, melt your chocolate/almond bark according to package directions in your large bowl. Wrap the clear part of the plastic egg with saran wrap as smoothly as you can get it. It will not be perfectly smooth, but that is ok. We will fix it later! Then using your spatula, spread the melted chocolate right up to the edges of the egg. Pop egg in the freezer until set. Then do a second thin layer in any areas that seem to be thin or you can obviously see light through. This will be on the inside of the egg, so do not stress about it looking perfect. Pop egg back in the freezer until set.
Pull edges of saran wrap up from the plastic egg and then lift the egg out using the plastic as handles. Carefully peel the saran wrap off of the chocolate. At this point you can do two things: Leave the egg alone and decorate to hid any wrinkles from the saran wrap. Or dip the outside portion of the egg (leaving the inside portion dry) directly into the melted chocolate. Then let it harden again. (I did this by facing the egg face down into the melted chocolate and quickly pushing it down so all sides were covered and quickly lifting it back out. Then I wiped off any extra chocolate that had risen above the edges.)
Now make the back of the egg. Cover the yellow plastic egg part with foil and make it a flat surface (instead of molding it into the egg like you did with the saran wrap). Using your spatula, spread the chocolate right up to the edges of the egg. Pop egg in the freezer until set. Then do a second thin layer in any areas that seem to be thin. Pull edges of foil off of the plastic egg and then the hardened chocolate piece will just pull right off the foil.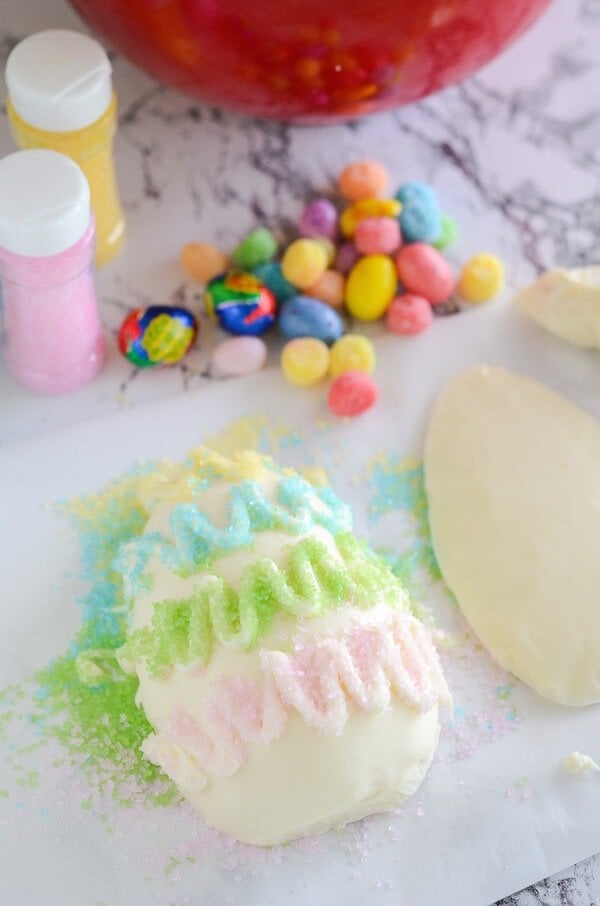 Decorate your egg however you would like! You can use more melted chocolate, sprinkles, candy, or edible ink pens! Make sure and let whatever you do dry/harden/set before you move to the next step.
Flip over your egg and fill it with whatever candy you would like. Then using leftover chocolate (you might have to re-melt it at this point) in a piping bag (or a ziploc baggie with the tip cut off) pipe a line of chocolate around the edges of the egg. Place the back part on top and then fill in any gaps with chocolate. You can let it harden at room temperature if you are nervous about moving it, but if you feel comfortable moving it — pop it in the fridge until hardened.
And you're done! It's that simple! Like I said at the beginning, I used white almond bark because it hardens much faster and is much cheaper. If you are a white chocolate purest, this will work with it too (or any other kind of chocolate for that matter). Just be prepared for it to take a little while to set in the fridge. With almond bark, my wait time was about 5 minutes for it to harden in the fridge. The regular chocolate egg I tried took triple the time.
We had a BLAST cracking open these DIY Easter eggs and watching the candy fall out! It's almost worth it to make them just to bust them open again. P.S. I almost called these Easter Egg Pinatas, but I felt like I was mixing up holidays. 😉

This post may contain affiliate links. Read my disclosure policy.