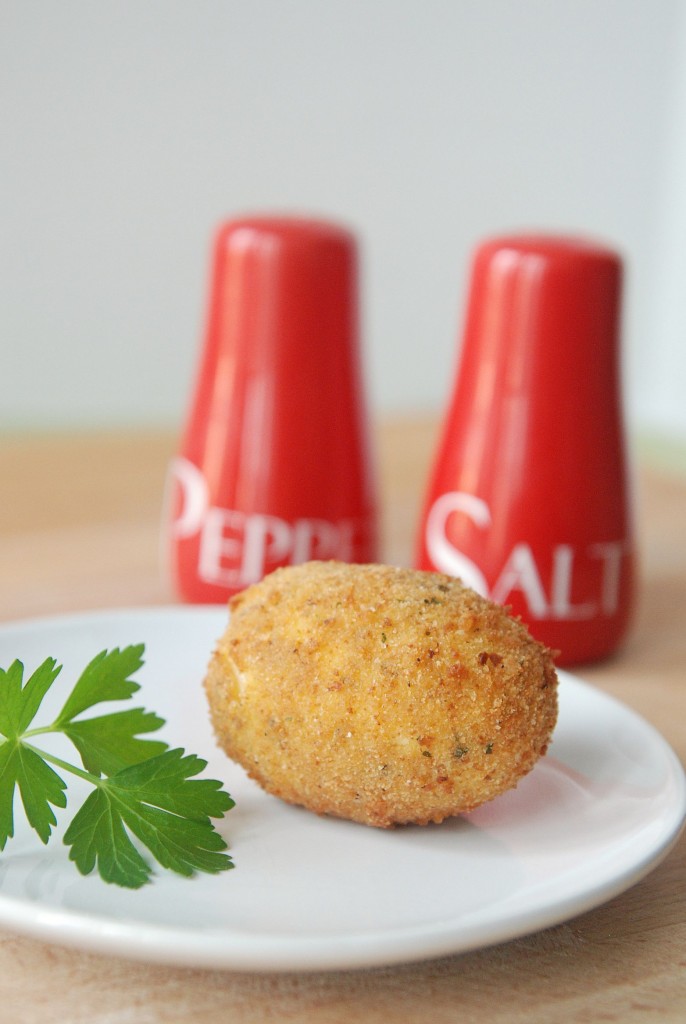 Is it a hush puppy? Or a short, fat corndog? Or maybe its a weird looking fried Twinkie? No, it's none of that. It's better. Wayyyy better.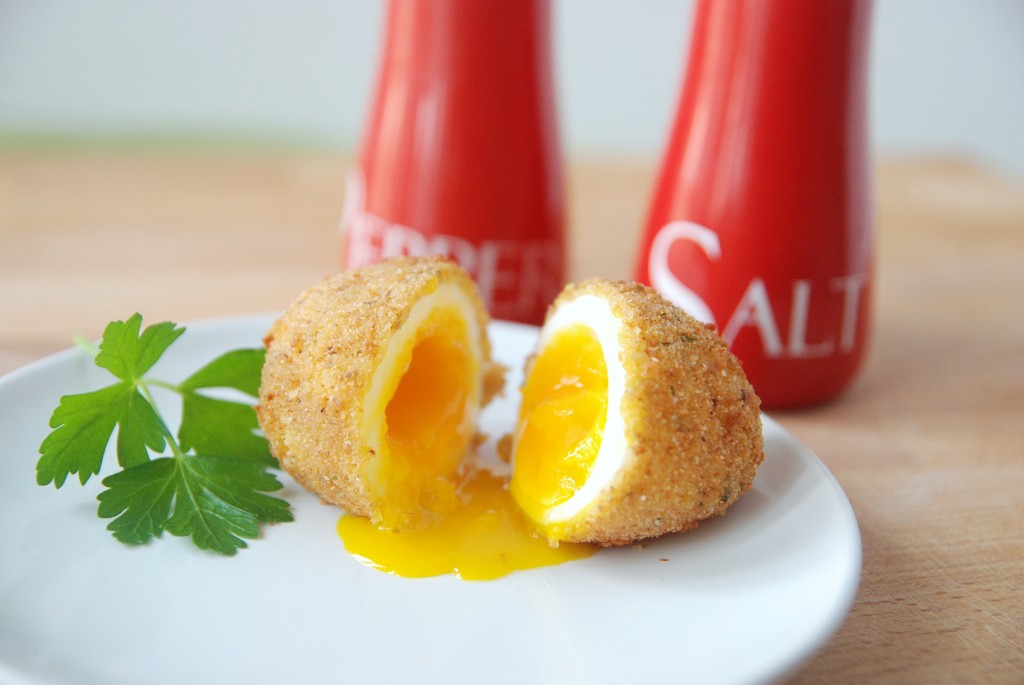 Bet you wouldn't have guessed that one! It's a Fried Soft Boiled Egg. Which in case you are still questioning what that is, it's a soft boiled egg, breaded in breadcrumbs, and then fried to perfection. When I saw these today, I literally stopped every thing I was doing, which was watching a rerun of Will & Grace…so not like it was super important, and went and made them. These were hands down phenomenal. Or should I say Eggcellent? …Gawd I'm corny.
I had my first one right out of the pan with just a little salt and pepper. And it was perfect. But then I went a step farther and put two on top of a Winter salad with lots of arugula and pine nuts. The crunch from the nuts, with the pepper from the arugula, and the egg with the runny yolk? Perfect. Just…perfect. Make these now. Seriously, now.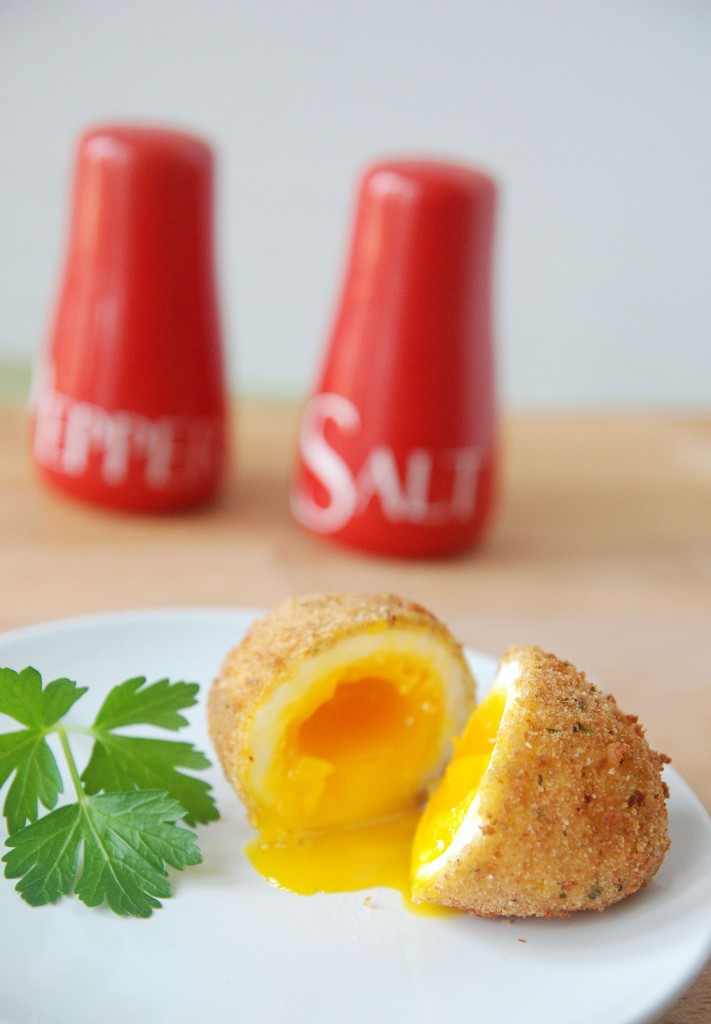 Yield: makes 4 eggs
Fried Soft Boiled Egg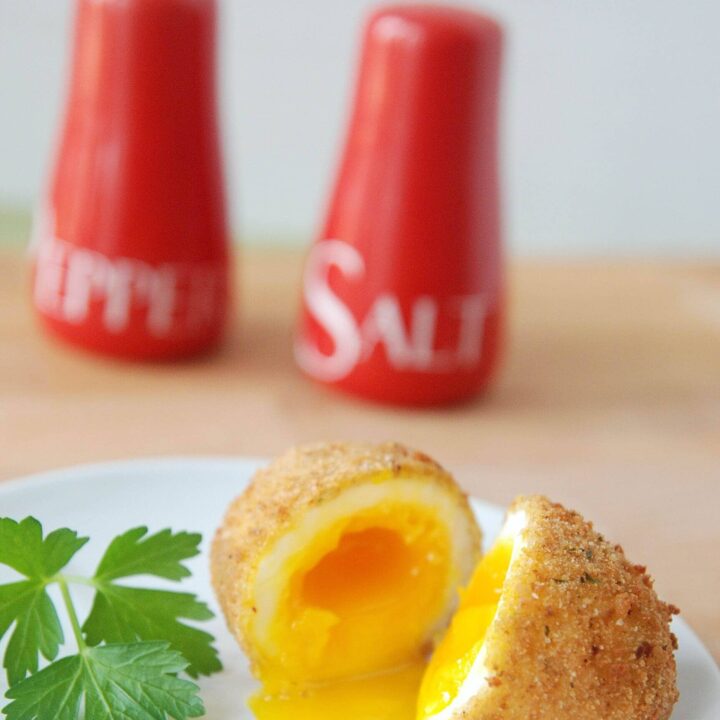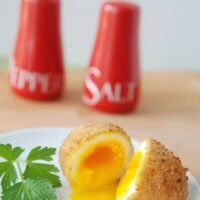 Fried Soft Boiled Eggs are a great snack, breakfast, brunch, lunch, you name it! Why make hard boiled eggs when you can have these soft boiled eggs, breaded to crunchy perfection?
Ingredients
4 eggs
2 tablespoons flour
1 beaten egg
½ cup Italian breadcrumbs
salt and pepper
canola oil for frying
Instructions
Bring a pan of water to a boil and gently submerge the eggs into the water. Boil for 5-6 minutes and then remove and place in a bowl of ice water. Let the eggs completely cool in the ice water which should take about 10 or 15 minutes.
When cooled, peel the eggs by gently tapping them around the equator of the shell. It's easiest to peel the horizontal middle of the eggs first and then remove the rest of the shell. If the shell is difficult to remove, gently slide a spoon between the shell and the egg, dislodging the shell.
Heat 2 cups of vegetable oil in a small saucepan. While that heats, place the flour, the beaten egg and the breadcrumb in 3 separate bowls. Mix a little salt and pepper into the breadcrumbs. Dredge each soft-boiled egg in the flour, then coat with the egg and then finally with the breadcrumbs. Then re-dredge the egg in the yolk and a second time into the breadcrumbs for a nice thick coating.
Drop a bit of breadcrumbs into the oil and if it sizzles quickly, the oil is ready. Using a small stainless steel wire strainer (also called an Asian skimmer or spider strainer), gently place one egg at a time in the hot oil. Gently turn the egg with the strainer to brown on all sides. This should only take no more than 30 seconds. Remove the egg to a paper towel and continue with the rest of the eggs.
Serve on top of just about anything, or by themselves. My favorite way so far was on top of an arugula salad with pine nuts!
Notes
Recipe Note: The recipe states to cook your egg for 5-6 minutes. But if you are smart you will invest in an egg timer thingamagig that cooks perfect eggs every time.
Adapted from: Circle B Kitchen
Nutrition Information:
Yield:
4
Serving Size:
1
Amount Per Serving:
Calories:

192
Total Fat:

10g
Saturated Fat:

2g
Trans Fat:

0g
Unsaturated Fat:

7g
Cholesterol:

233mg
Sodium:

363mg
Carbohydrates:

14g
Fiber:

1g
Sugar:

1g
Protein:

10g
Want to Save This Recipe?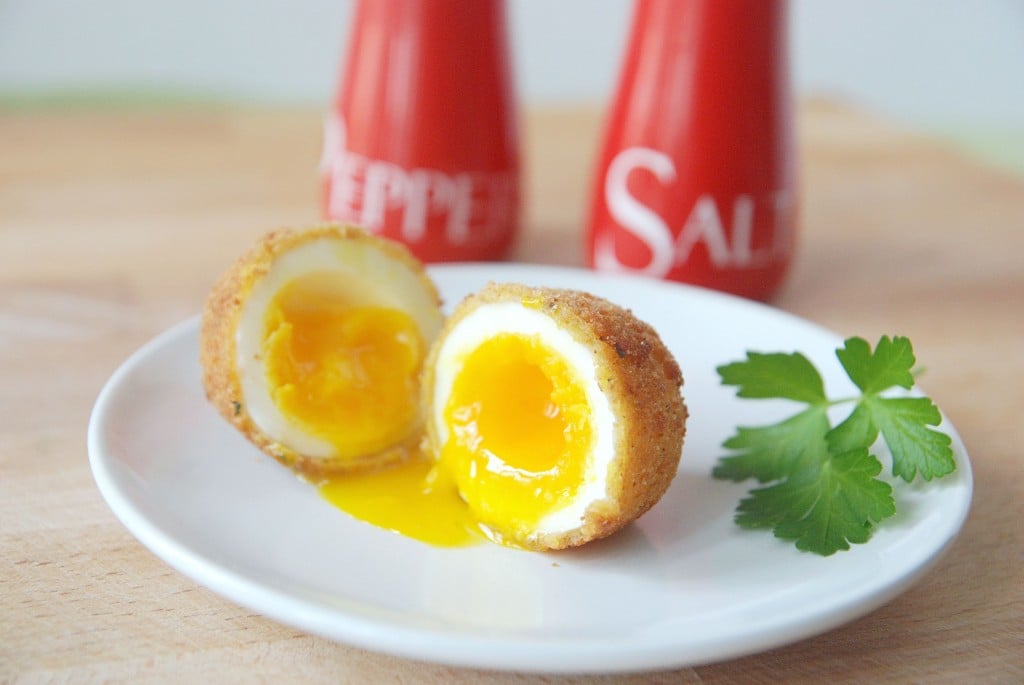 This post may contain affiliate links. Read my disclosure policy.