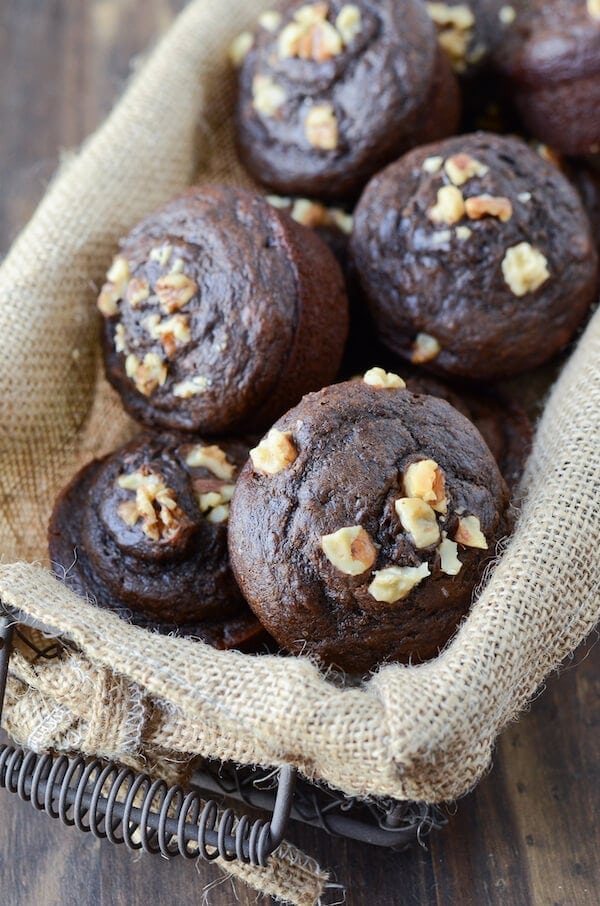 Does anyone else keep putting off grocery shopping for no logical reason? It has gotten so bad this week that I ate old stale Wheat Thins and Grapes for lunch. I have no excuse for not going grocery shopping. I have 3 different stores within 2 miles of my house, I have the time and I have the money.
It's not like when I first moved out of my parents house and I was waiting for payday – because holy crap, do you know how much a box of cereal costs!!? Learning that a box of cereal was $4 and a gallon of milk was almost as much, was a total shell shock when I first lived on my own. Considering I can easily eat it for breakfast, lunch and dinner…it was an expensive habit to keep. (Pssst: I love cereal so much, I even wrote a cookbook about it. It's on shelves in 2 weeks!! You can pre-order it today!)
But that's neither here nor there these days – I can obviously afford to buy myself some groceries…it's the shoe habit that's putting Jorge and I in the hole. 😉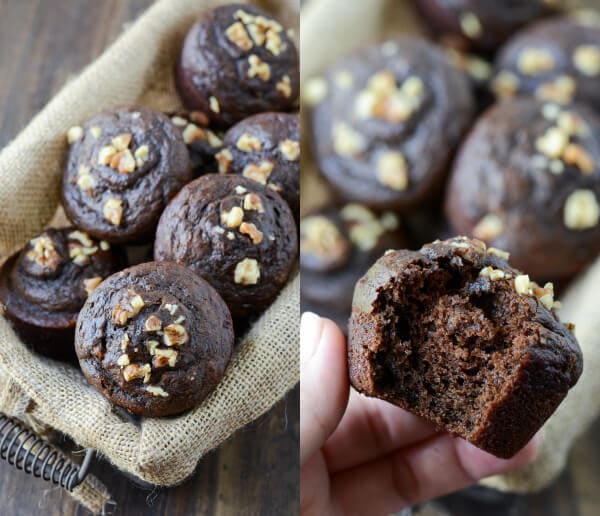 So since I am unreasonably avoiding the grocery store, I couldn't make my favorite Nutella Banana Swirl Muffins with our overripe bananas that were sitting on the counter staring at me all week. I was out of eggs and Nutella. I feel so ashamed right now — what food blogger doesn't have Nutella???
I could have easily gone to the grocery store, or to the Walgreens that is literally right in front of my neighborhood, but that required putting on real clothes. (I try not to go out into the real world in my spandex leggings and oversized mens t-shirts. I'm worried I will see myself on that People Of Walmart site if I don't stick to my rule of "You must wear clothes not made of spandex if you leave the house.")
I took the lazy girl's way out and decided to go on without eggs. Sure I couldn't make my favorite banana muffins, but that doesn't mean these are any less good! In fact, you won't even miss the egg! I kept playing with the ratios and tasting the batter, so I'm sorry about the odd measurement of the oil, but you really do need 1/4 cup and 2 tablespoons of oil. 1/3 cup oil just wouldn't have cut it! Oh and if you want an extra chocolate kick, I suggest adding some chocolate chips…because life is short and chocolate is tasty.
Yield: 12 muffins
(eggless) Chocolate Banana Muffins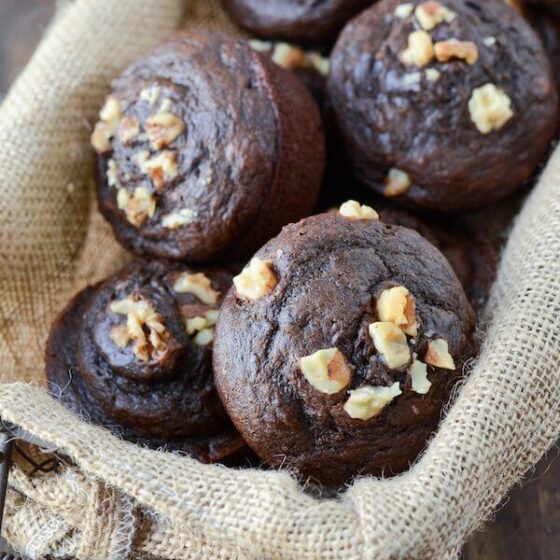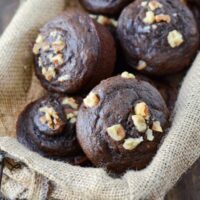 These Eggless Chocolate Banana Muffins are the best make-ahead breakfast recipe. Who doesn't love to wake up to a chocolate muffin? Especially if you throw in some chocolate chips!
Ingredients
1 1/4 cup all purpose flour
1/3 cup cocoa powder
1 1/2 teaspoon baking powder
1 teaspoon baking soda
1/2 teaspoons salt
2 over ripe bananas, mashed
1/2 cup granulated sugar
1/4 cup, plus 2 tablespoons vegetable oil
1/2 cup milk
1 teaspoon vanilla extract
1/2 cup chopped walnuts
Instructions
Preheat oven to 350°F. Line muffin pan with liners or grease muffin pan.
In a medium bowl, whisk flour, cocoa powder, baking powder, baking soda and salt until well combined. Set aside.
In large bowl, combine banana and sugar. Whisk in vegetable oil, milk and vanilla extract. Slowly whisk in the flour mixture, until there are no lumps. Fold in walnuts.
Fill muffin tins 3/4 full. Bake muffins for 15-17 minutes, or until a toothpick inserted in the center comes out clean.
Store in an airtight container until ready to serve.
Notes
recipe note: if you want walnuts on top for decoration, sprinkle on a few before baking.
Nutrition Information:
Yield:
12
Serving Size:
1
Amount Per Serving:
Calories:

165
Total Fat:

6g
Saturated Fat:

1g
Trans Fat:

0g
Unsaturated Fat:

5g
Cholesterol:

1mg
Sodium:

260mg
Carbohydrates:

25g
Fiber:

2g
Sugar:

11g
Protein:

3g
Want to Save This Recipe?
This post may contain affiliate links. Read my disclosure policy.