Espresso Chocolate Cupcakes with Espresso Buttercream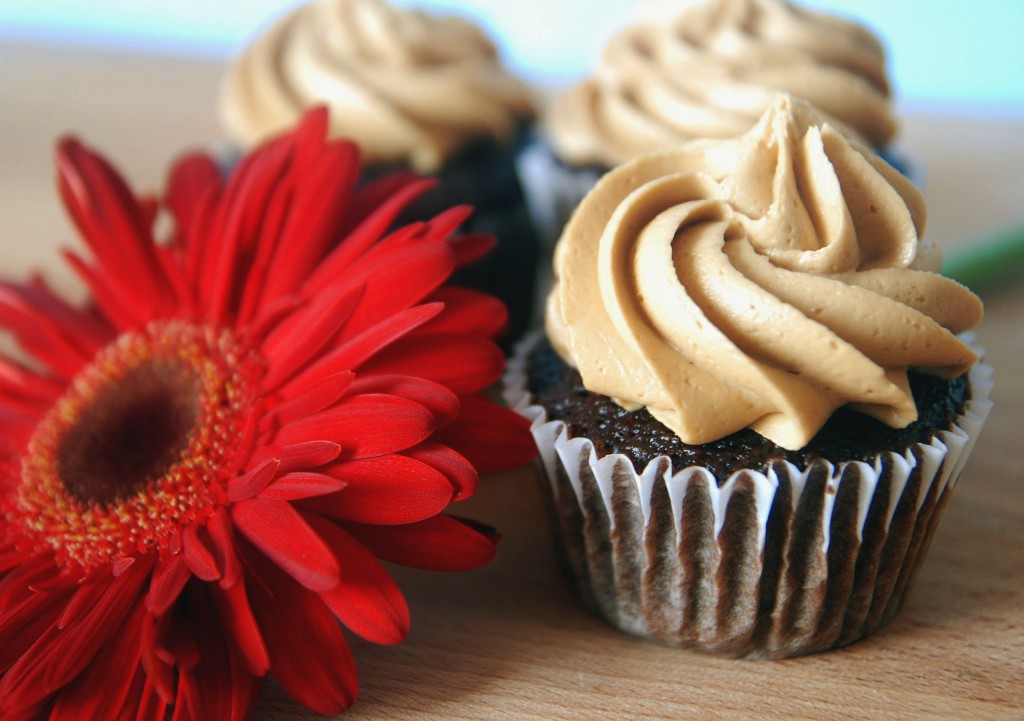 Screw dogs! Chocolate and flowers is a girl's best friend! Whether it be a bad day, your "special" time, or for your birthday…chocolate should always be on the menu! When it came time for my friend Samarie's birthday I was contemplating cupcake flavors. And when I couldn't decided…I ended up picking three. One being Vanilla for any unadventurous losers. One was a fun, spicy flavor that I will be posting later this week. And the last cupcake flavor were these delicious Espresso Chocolate Cupcakes with Espresso Buttercream.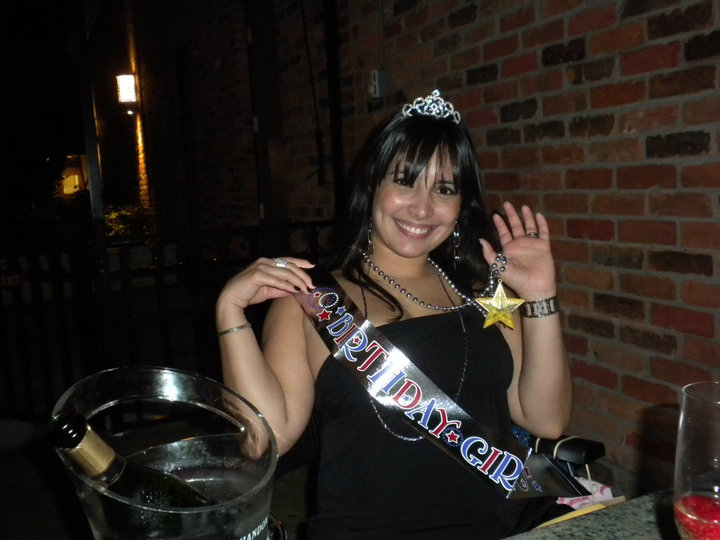 I think between the friends, the champagne, the tiara (because every girl should wear a tiara), and the cupcakes she enjoyed her birthday! I was really glad that I made extra cupcakes because people asked the restaurant for to go boxes to take the leftovers home with them! So these must have been a winner! I know Jorge loved them since he ate 4 of them in 24 hours!
Espresso Chocolate Cupcakes with Espresso Buttercream
Recipe Note: To make chocolate decorations, just melt chocolate in a ziplock in the microwave. Cut off a tiny corner and pipe onto parchment paper and allow to cool. And pop off and onto a cupcake!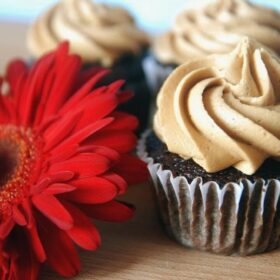 Ingredients:
Espresso Chocolate Cupcakes:
1/2 cup butter, room temperature
1/2 cup brown sugar
2 large eggs
3/4 cup self rising flour
1 tbsp cocoa powder
2 tbsp instant espresso powder
2 ounces bittersweet chocolate, melted
2 tbsp milk
Espresso Buttercream:
1 cup (2 sticks) unsalted butter, room temperature
2 to 2 1/2 cups powdered sugar
2 teaspoons vanilla extract
1 tablespoon instant espresso powder, mixed in 2 tablespoons water
Directions:
Espresso Chocolate Cupcakes:
Preheat the oven to 400 degrees.
Cream together the butter, sugar, and melted chocolate in your stand mixer. Beat in the eggs one at a time. In a separate bowl combine the flour, cocoa, and instant espresso and mix well. Then add flour mixture, alternating with milk, until you have a smooth batter.
Divide the batter into a 12-cup muffin pan prepared with paper liners. Bake until a toothpick comes out clean, 14-18 minutes. Cool on a wire rack. And frost as desired.
Espresso Buttercream:
Beat butter on medium high, for 3 minutes. Slowly add in 2 cups powdered sugar, about a half a cup at a time. Once it is fully incorporated, carefully add the vanilla extract and espresso powder/water mixture.
At this point check the consistency of the buttercream. You should be able to lift the beaters and have the buttercream hold its shape. If it is too loose, add more powdered sugar, again 1/2 cup at a time. Pipe onto the top of cooled cupcakes as desired.