Ferrero Rocher Cupcakes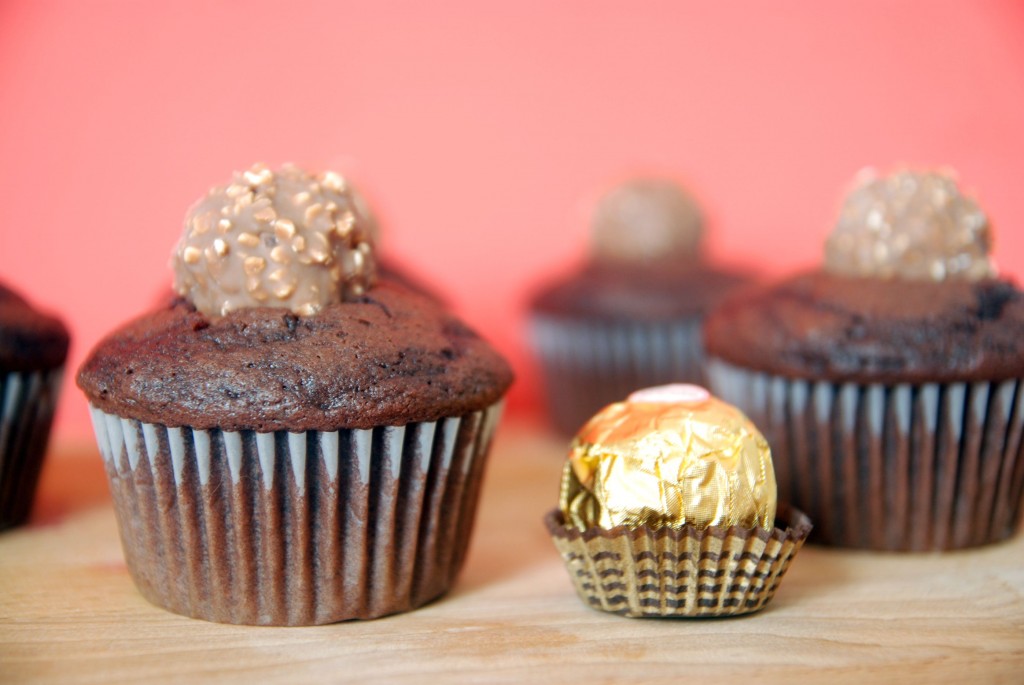 Ok so let me explain. I know I have a problem. A cupcake problem. But you know you love them as much as me! And while I would love to make a beautiful layered cake…unless I am having a ton of people over it just doesn't make sense. Cupcake recipes are easily scaled down…while if you scale down a layered cake you have a small cake…which just is not as pretty as a big one. Then the other problem…slices of cake are SO much harder to send home with other people! Cupcakes are super easy to send home with guests! I buy clear throw away plastic cups and they are perfect to toss a cupcake into. Literally just drop the cupcake in and it will travel safely to their house in the cup holder. Then when they are ready for their cupcake, using kitchen scissors, cut that puppy outta there! And the biggest reason I make cupcakes instead of cake…you can't bake a beautiful cake and have some and then send it over to someone's house or into work with your Mom. Because there would be a glaringly obvious piece of cake missing. No this way, I can have eleven one and no one will be the wiser.
These particular cupcakes were great! I used my amazing cupcake freezing abilities and froze the leftover chocolate cupcake batter from the 100 Grand Cupcakes. So when it was time to make these cupcakes, I just took out the batter! My Mom would tell you these are not cupcakes. Because they don't have frosting. To her, frosting is the best part of cake or cupcakes….or anything else for that matter. But to me, it is all about the cake (except for here and here, because let's face it, those two icings are phenomenal). But don't get too upset, and start thinking that without icing you are going to feel like you are missing something. Because inside of each cupcake is a healthy dose of Nutella! and on top sits a delicious Ferrero Rocher. These cupcakes were definitely tasty….and are a perfect cupcake for the frosting challenged (you know who you are).
Like I said these cupcakes were tasty, but you will never guess who ate 3 in less then 2 minutes…
Yes. That's right. My 30 pound dog ate 3 extremely chocolate-y, filled with Nutella, and topped with a Ferrero Rocher cupcakes. There were 3 cupcakes remaining on the table as I helped a friend out to her car. It was pouring raining, so I can guarantee that it took me no longer then 2 minutes. When my sister and I returned inside we found the 3 cupcakes we were planning on eating…Gone. No trace. No crumbs. No wrappers. Nothing. My sister, Haley, then said, "Oh man! Did Laura take all the cupcakes?!" And I said no…but I bet if you look around the corner, Brody is hiding in his corner where he thinks I can't see him. She looks. And yes, he is laying here. On his back, legs straight up in the air, passed out.
And now you probably are thinking, he must have gotten so sick! Did you rush him to the vet? Did he die?! Well, no. I did not take him to the vet. I didn't even worry about him. You see….Brody has an obsession with chocolate. When he was a puppy he ate an entire box of Russel Stover Valentines day chocolate, with no consequences other then chocolate on his white mouth. And about a year ago he ate an entire package of Chocolate Covered Espresso Beans from Starbucks. Again with no consequences. Each time I have worried…but this time I thought oh well. And the next morning I wake up…go downstairs…make some breakfast for Haley (my sister)…and guess where Brody is. You would think Brody would be suffering from a chocolate tummy ache…or at least sleeping off his chocolate hangover. But no, there he was, giving me his big puppy dog eyes begging for some chocolate chip pancakes.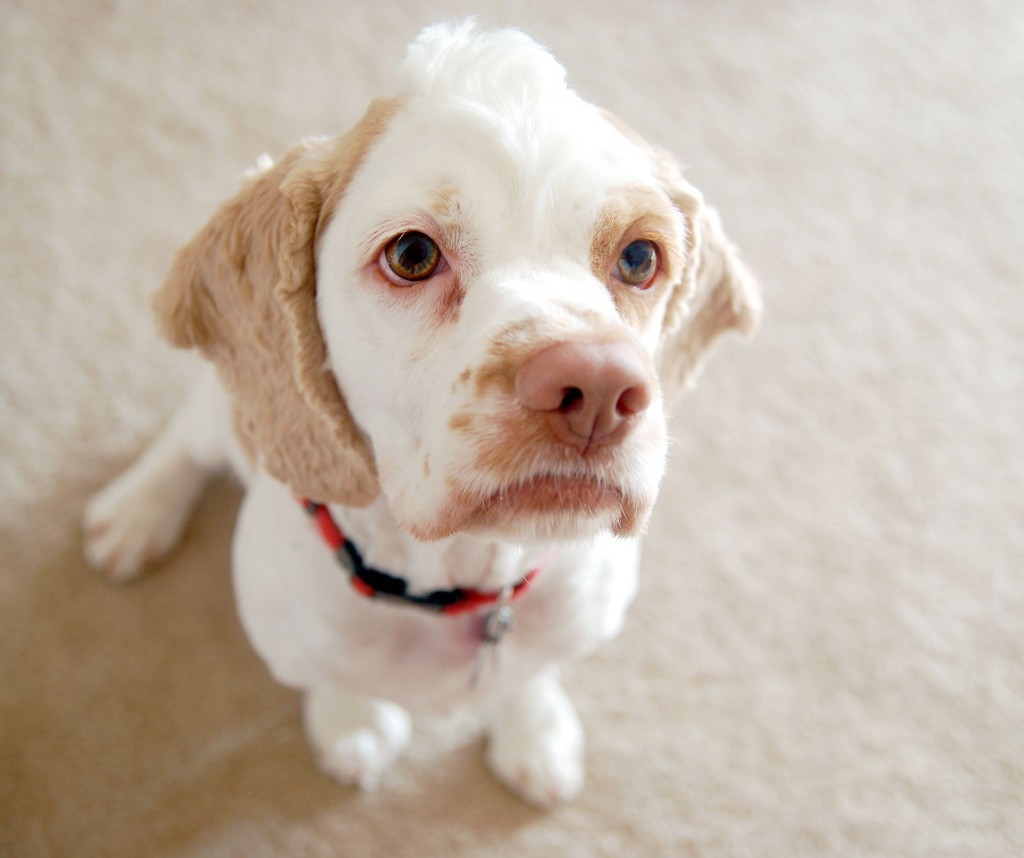 And then the following week I was heading to my Mom's with Brody and I had made some cupcakes for that night. So we all loaded up into the car and check out these iPhone pictures (so sorry for bad quality) I got on our way there. Brody didn't want me to post these photos because it proves how obsessed he is with cupcakes (even more so then his Mama)…he also was upset that I didn't fix his mohawk that day and so he doesn't look like his idol, Puck from Glee.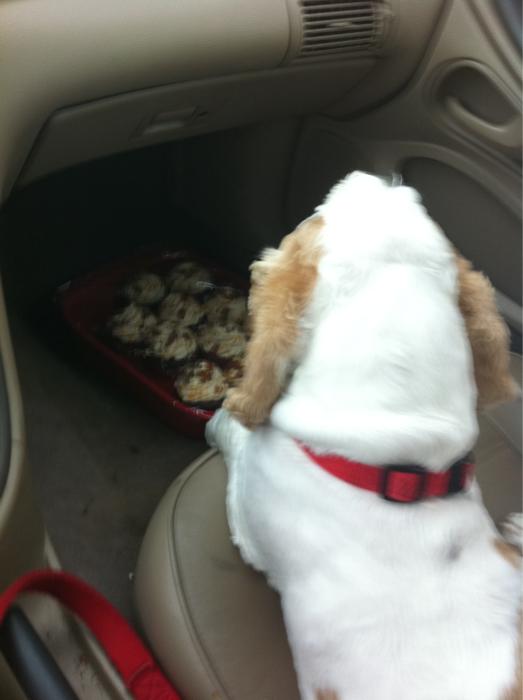 Can I please have a cupcake? They smell so good! I promise the chocolate in it won't kill me!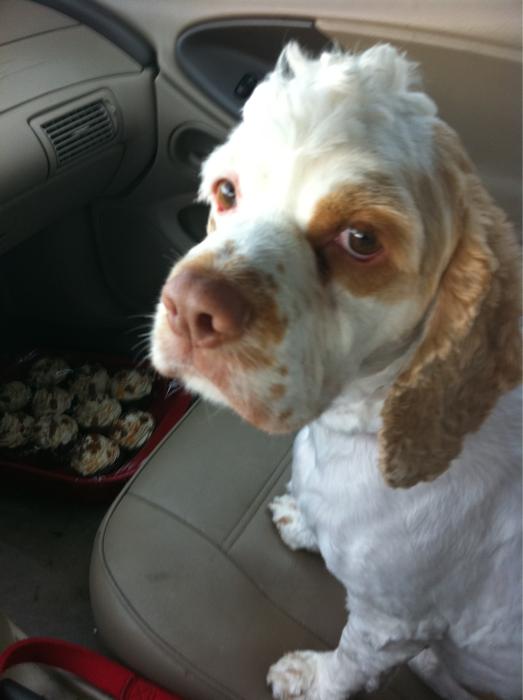 GIVE ME A CUPCAKE NOW, Pretty Please? I am not going to say please again!
He alternated between these two positions for the entire 30 minute car ride….and whenever he thought I might have forgotten him he would let out a nice loud whimper. Does anyone else have a dog that loves cupcakes and chocolate? Or did I really find my perfect doggie soul mate?
So if you don't believe me, believe him. These cupcakes were delicious! Not as delicious as the 100 Grand Cupcakes…but then again I don't think anything will ever top those.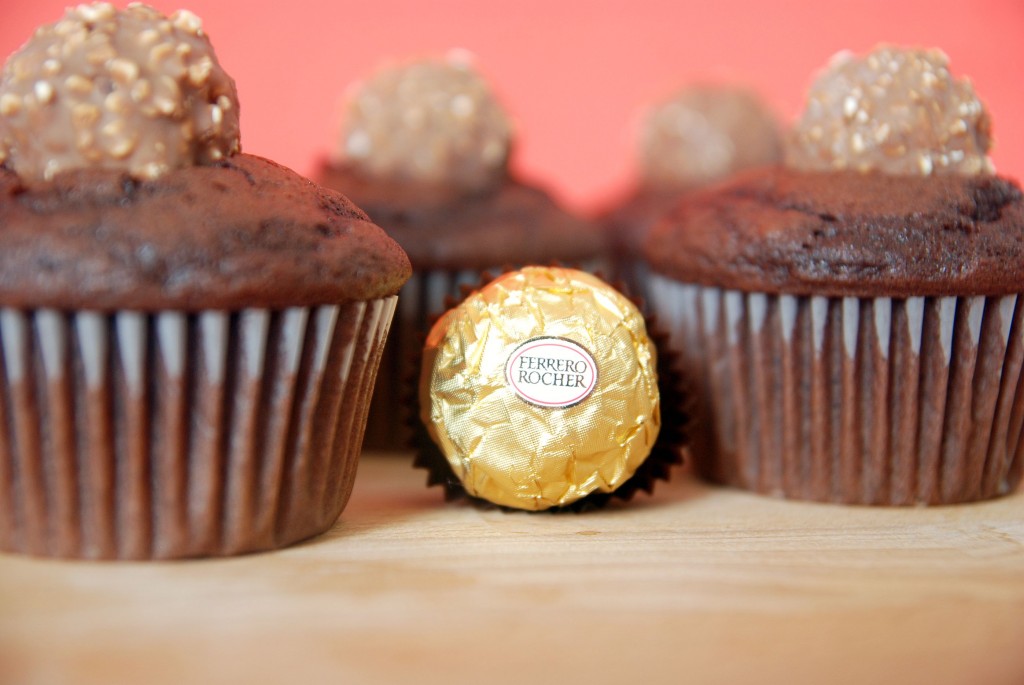 Ferrero Rocher Cupcakes
Ingredients:
2 cups sugar
1-3/4 cups all-purpose flour
3/4 cup HERSHEY'S Cocoa
1-1/2 teaspoons baking powder
1-1/2 teaspoons baking soda
1 teaspoon salt
2 eggs
1 cup milk
1/2 cup vegetable oil
2 teaspoons vanilla extract
1 cup boiling water
Nutella
30 Ferrero Rochers
Directions:
Heat oven to 350°F.
Stir together sugar, flour, cocoa, baking powder, baking soda and salt in large bowl. Add eggs, milk, oil and vanilla; beat on medium speed of mixer 2 minutes. Stir in boiling water (batter will be thin).
Line muffin cups (2-1/2 inches in diameter) with paper bake cups.Fill cups 2/3 full with batter. Bake 22 to 25 minutes. Remove from oven and allow to cool. Once cooled, cut out a small piece from the center and fill with Nutella. Top with a Ferrero Rocher candy and slightly press candy into Nutella to ensure it stays on top. Store at room temperature.