I'm bringing you one Final Pregnancy Update before we meet our twin girls. Check out my third trimester experience and take a guess at what our kids will look like!
Final Pregnancy Update for the Segarra Twins
I can't believe it, but we are finally here! We have a little over 2 weeks left to go, if Ellie & Lyla don't decide to come earlier on their own. The doctors are scheduling my c-section (or induction if the girls finally decide to both flip into position) for August 18th!
Now that we're wrapping it up with these update posts, I can honestly say I have had a great pregnancy. The heartburn throughout the whole pregnancy sucked, majorly. I also have giant angry red stretch marks going across the top of my stomach since both girls like to sit at the very top of my uterus. And towards the end, I have been very uncomfortable and couch bound…but those are my only real complaints.
Pregnancy Overview
I never had morning sickness — my first trimester was a breeze. I never had any issues with swelling, my belly button is thankfully still a complete innie and my skin stayed completely normal with no color changes or acne changes. My feet still fit in my same size shoes as before and I missed any/all crazy cravings. My blood pressure actually dropped a little lower throughout my pregnancy than my normal numbers and there have been zero signs of pre-eclampsia. And while my Mom had it with both my sister and I, I lucked out and did not get gestational diabetes (in spite of them making me take the test twice throughout my pregnancy).
With all those little things I was scared of, the best part has been a HEALTHY pregnancy. In spite of the girls being twins and considered high-risk, I never had any labor scares or issues with them trying to come early. They have both been growing steadily and evenly — neither girl has ever measured more than 5 oz bigger than her sister. If we make it until August 15th, there is a very good chance that each girl will weigh almost 7 pounds! That's 14 pounds of just baby!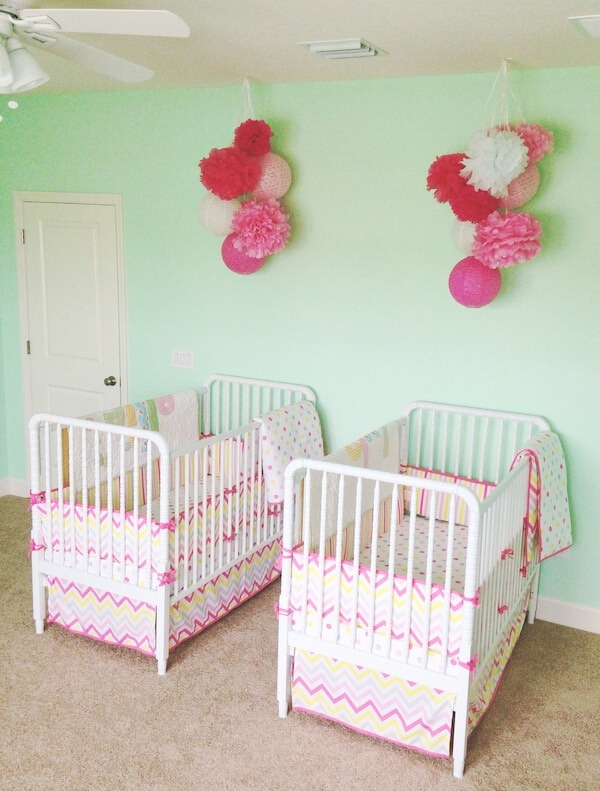 Preparing Our Home for Twins
Jorge and I have been working on getting everything ready for their arrival. The nursery is just about done…and I promise to get in there with my real camera and get photos one day soon. It might not happen until after they are here, but I promise it will happen.
However the real "setting up", has all been done in our office downstairs. With a big chance of a c-section, we think it will be much easier to not have to climb the stairs every few hours to get the girls for feedings. Heck, even if I don't have a c-section, I don't want to be climbing stairs with two babies every two hours.
So we have converted half of our office to be a space were we have room for them to sleep, store clothing/blankets/diapers in close reach, and have a changing station set up. Eventually they will make the transition to upstairs, but we know it is going to be a lot more convenient having them just a few steps away at night!
It took us a whole weekend, but we also got all of their clothes/blankets/sheets washed and prepared, their hospital bag packed and all their bottles sterilized. Now we just need babies!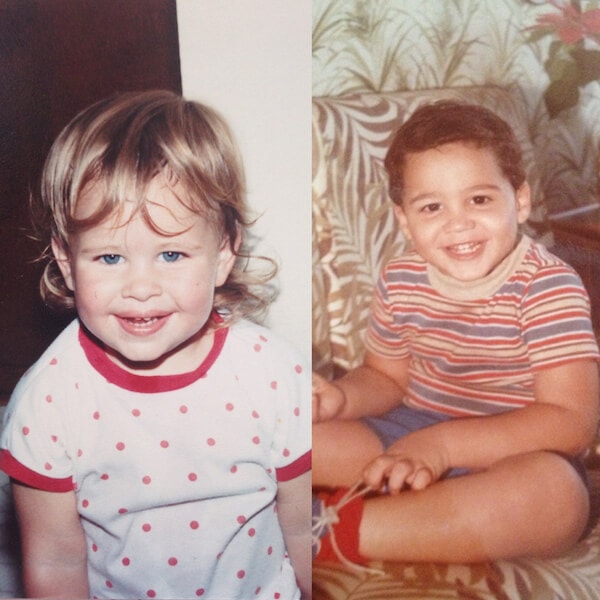 What Will Ellie & Lyla Look Like?
For fun, we have been making the whole family guess what Ellie and Lyla are going to look like. Jorge and I can't stop imagining all the possible combinations. We are curious if they will look like each other (there is still a possibility that they are identical) or if they will look totally different.
We also like to joke that we will have one little white girl and one little Puerto Rican. Could you imagine me trying to tell people, no really — they are twins, I swear! Or maybe they are going to be a total combination of the two of us and will look like each other. There are just so many possibilities.
Jorge is 6'4 and I am only 5'4. Jorge has always had black, super curly hair and I had silky blonde hair. My eyes are a gray blue and his are dark brown. Jorge, of course, is actually brown and I am pasty white if I hide from the sun. Jorge was around 8 lbs at birth and I was a whopper at almost 10 lbs. The only thing we had in common were our big chunky cheeks.
So if you want to take a guess as to what the girls are going to look like, we would love to hear them! Once they actually arrive, it will be posted first to my Facebook and Instagram accounts. Follow along if you want to see if your guess is right!
Wish us luck in the delivery! Hopefully Ellie Renee and Lyla Marie will arrive in the same calm, cool manner they have had throughout the pregnancy. ;-) Thanks for tuning into this final pregnancy update!
This post may contain affiliate links. Read my disclosure policy.