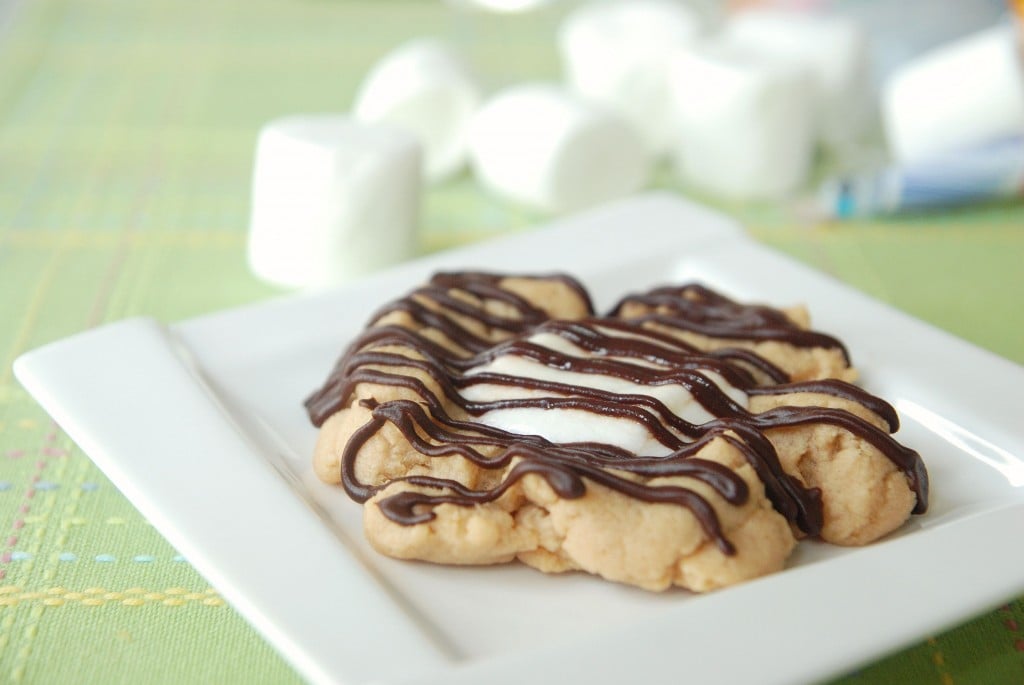 Pull out your fat jeans kiddos. Seriously, before you read this post, go pull them out of the closet. Or if you are already in them leave this post immediately. These cookies were soooo good. As you all know from the Fluffernutter Cupcakes I have a love of Fluffernutter things. And even more so when they include chocolate in some way. So when I saw that Amy over at Sing For Your Supper came up with the idea for these cookies…I just knew I wouldn't be able to resist. So in order to prepare for the splurge I have been eating a lot of ass friendly dinners and I planned the cookies to coincide with the same week of the 5K I am doing this weekend. Because between eating good for a week and the 5K this weekend I don't have to feel bad about not having any cookies leftover to send into Jorge's office.
I actually do feel kind of bad for not sending any of these in to his office because they were so amazing! I really, really want you all to try these! They were incredibly easy to put together and are now probably my favorite cookie, ever. And that is saying something! But I honestly mean it. Are you ignoring me? If I type in all caps will you pay more attention? Because I mean it, MAKE THESE. If you like peanut butter, chocolate, and marshmallows (and really, who doesn't?!), MAKE THESE NOW!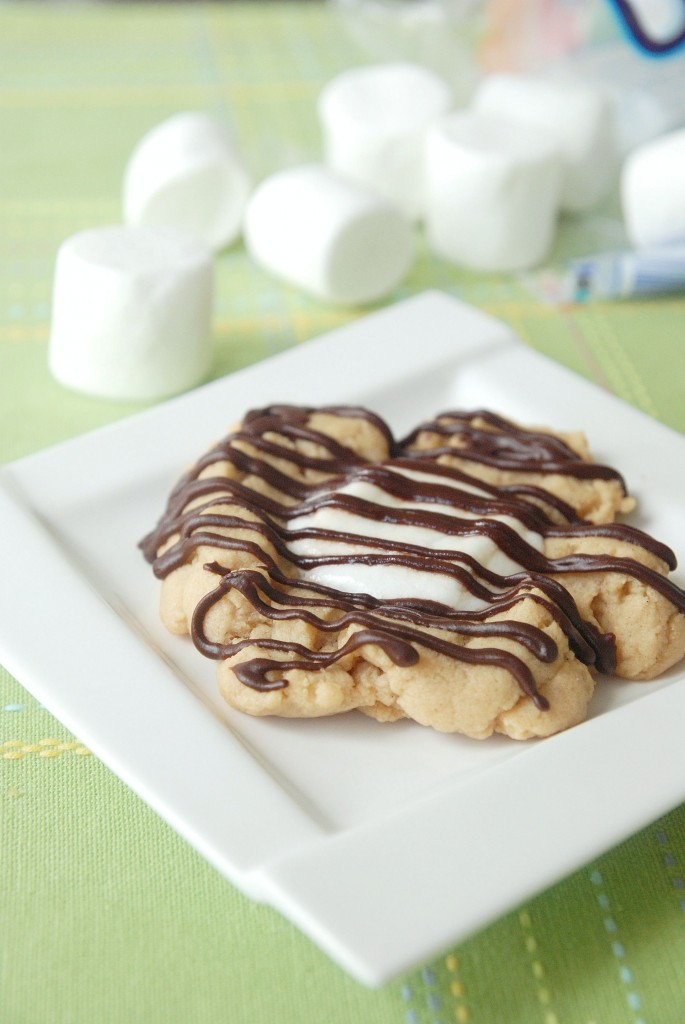 Yield: Yield: 24... or 12 gigantic ones
Fluffernutter Cookies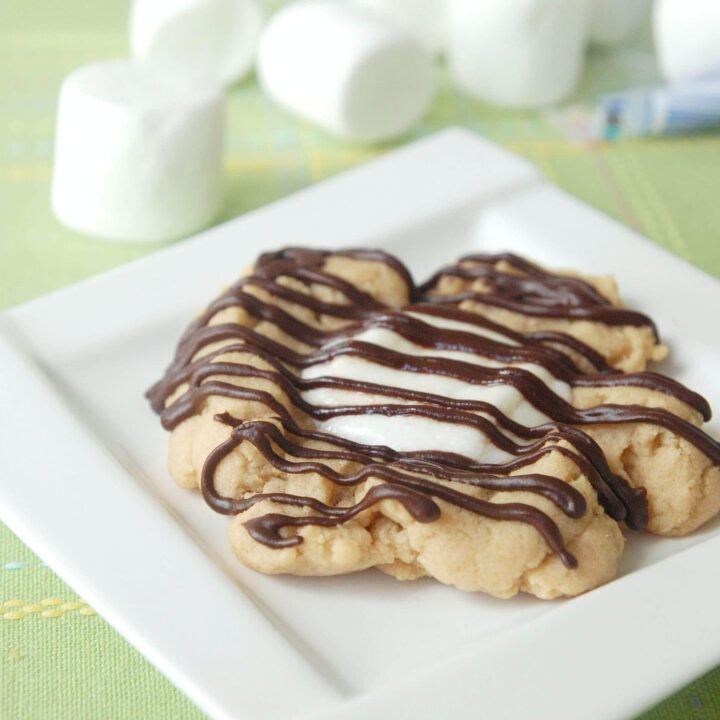 Fluffernutter Cookies are peanut butter cookies topped with marshmallows and chocolate glaze; aka the best cookies ever. Serve them to a crowd, or enjoy them warm from the oven all on your own!
Ingredients
You will need:
1 batch of peanut butter cookie dough (recipe follows)
regular marshmallows, sliced in half lengthwise
chocolate glaze (recipe follows)
For the Peanut Butter Cookies:
1/2 cup (1 stick) unsalted butter, softened
3/4 cup peanut butter
1/2 cup white sugar
1/2 cup packed brown sugar
1 egg
1 teaspoon vanilla extract
3/4 teaspoon baking soda
1/2 teaspoon salt
1 3/4 cups all-purpose flour
For the Chocolate Glaze:
3/4 cup semisweet chocolate chips
3 tablespoons butter
1 tablespoon light corn syrup
1/4 teaspoon vanilla extract
Instructions
To Make Peanut Butter Cookies:
Combine the flour, baking soda and salt in a bowl, set aside. In the bowl of a stand mixer or with a hand mixer, beat the butter, peanut butter and sugars for 2 minutes, until light and fluffy. Add in the egg and vanilla. Gradually add in the flour mixture on low speed. Chill dough 15 minutes in the refrigerator.
Place by rounded spoonfuls on a cookie sheet lined with parchment paper and bake in a preheated 350 degree oven for 7-9 minutes, until edges are very lightly browned (cookies will not spread much at all). Do not overbake.
To Make Chocolate Glaze:
In a double boiler over hot, but not boiling water, combine chocolate chips, butter, and corn syrup. Stir until chips are melted and mixture is smooth, then add vanilla.
To Assemble the Cookies:
As soon as the peanut butter cookies come out of the oven, place 1 marshmallow half on the top of each cookie (you may need to flatten the cookies slightly with a spatula first). Place them back in the oven for 2-3 minutes, until the marshmallow is melted. Let cool completely.
When completely cooled, spoon a small amount of chocolate glaze over the top of each cookie. Glaze will set slightly upon cooling.
Notes
Recipe Note: The recipe says they make 2 dozen cookies…but apparently I make ginormous cookies, because this made 12 cookies for me.
Cookies & Glaze recipes from allrecipes.com
Cookie idea from Sing For Your Supper
Nutrition Information:
Yield:
24
Serving Size:
1
Amount Per Serving:
Calories:

223
Total Fat:

11g
Saturated Fat:

4g
Trans Fat:

0g
Unsaturated Fat:

6g
Cholesterol:

13mg
Sodium:

192mg
Carbohydrates:

29g
Fiber:

1g
Sugar:

14g
Protein:

4g
Want to Save This Recipe?
This post may contain affiliate links. Read my disclosure policy.