If you love homemade cupcakes as much as I do, you should also try these Mexican Hot Chocolate Cupcakes and these Biscoff Cupcakes With Marshmallow Frosting!
What Is FlufferNutter?
Oh yum, yum, yum! Do you realize what you are seeing? These are FlufferNutter Cupcakes with a Nutter Butter on top (say that 3 times fast)! And now before I go on and tell you how amazing they are…let me answer the inevitable question first…
Well a FlufferNutter is traditionally a sandwich made up of white bread, peanut butter, and marshmallow fluff — i.e. the greatest thing on earth.
This past weekend, I went with some girlfriends to a crepe restaurant and they had a crepe called The Ybor Crepe. It was made up of peanut butter and marshmallow and the girls loved it and went on and on about it. I pointed out that it was just a FlufferNutter in crepe form…and they all looked at me like I was insane. Turns out not everyone knows about the amazingness of a Fluffernutter, so I had to explain what they are and how I think they are even better when you add Nutella. And right there at the table, among 3 dessert loving women, this cupcake was born.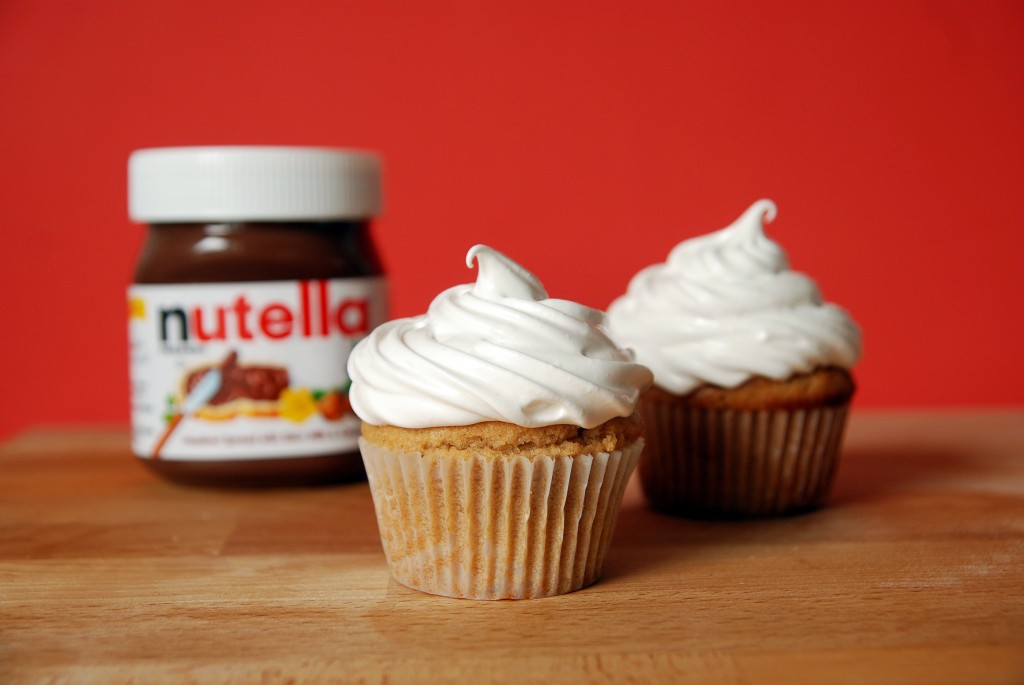 These Cupcakes Have A Delicious Nutella Filling
After much discussion and ideas, we decided that we had to start by finding a peanut butter cupcake that was not too peanut buttery. It had to be just the right amount of peanut butter, otherwise the flavor would overpower everything else. And, of course, we also had to inject the cupcake with Nutella!
What Type Of Frosting Is On These Peanut Butter Cupcakes?
Then we went back and forth over how to include the marshmallow fluff. Inside? On top? Use actual marshmallow fluff? Or make our own? We eventually decided to use the Marshmallow Frosting recipe that I had bookmarked to use one day. Lastly, we decided that if we were to have a FlufferNutter cupcake…we just HAD to top it with a Nutter Butter cookie! And so, here we are, a FlufferNutter Cupcake, with a surprise filling of Nutella and a Nutter Butter on top!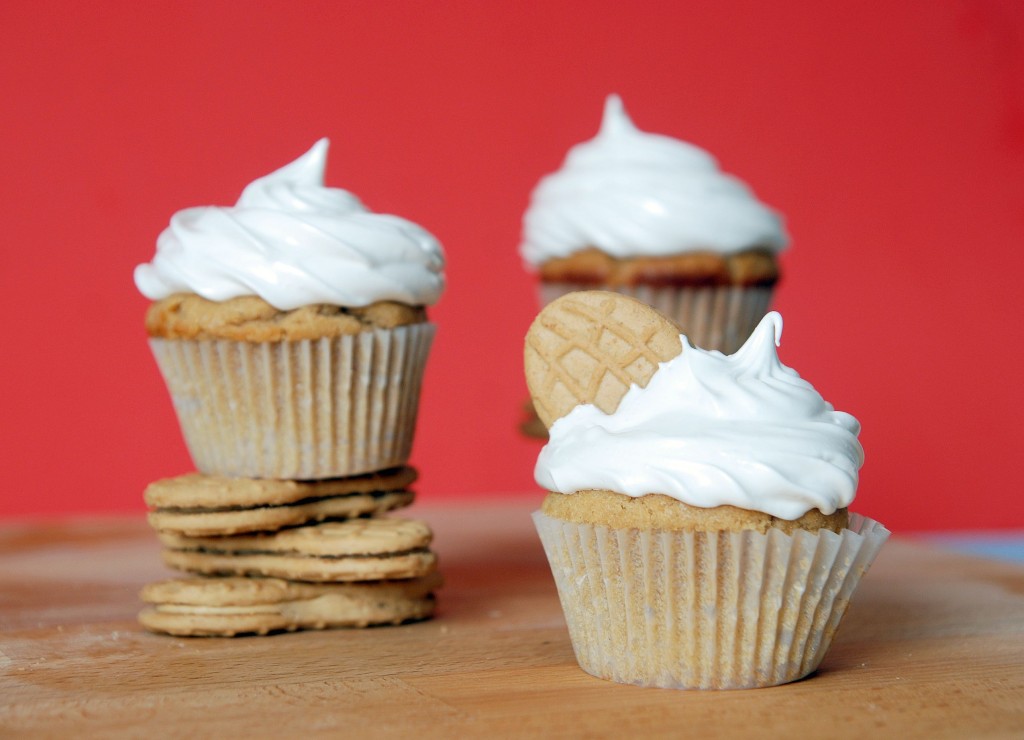 The final product was absolutely amazing! After adapting the peanut butter cupcake recipe, it turned out fabulous and was exactly what we had in mind. The Nutella inside was the perfect addition. And the icing…oh that wonderful, fluffy icing was deemed to be what the clouds in heaven must be made of. Seriously, the icing was so good we were purposely missing the cupcakes! I don't know how we even had enough left over to ice the cupcakes. :) You must make these! If you are a peanut butter, Nutella, and marshmallow fan…you must make these immediately!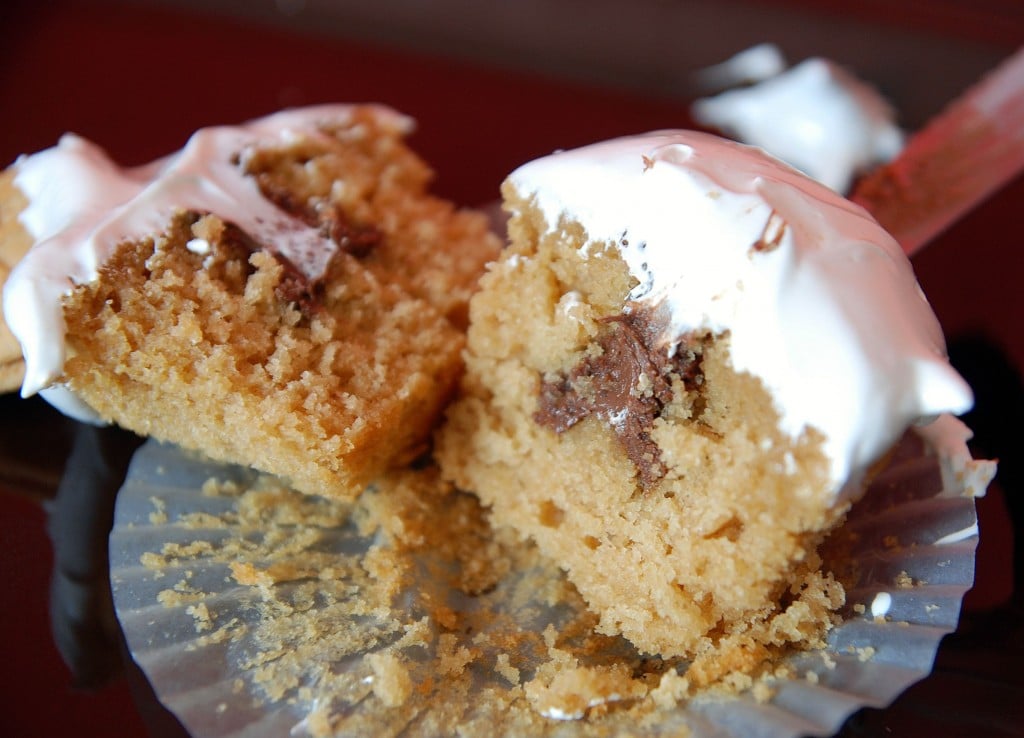 Yield: 24 Cupcakes
FlufferNutter Cupcakes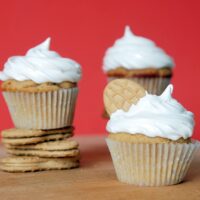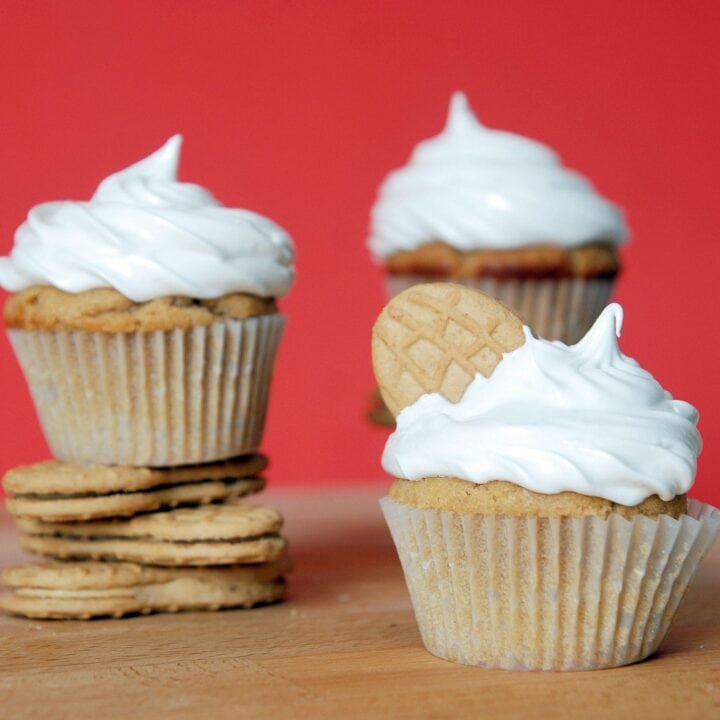 FlufferNutter Cupcakes are homemade peanut butter cupcakes filled with nutella and topped with marshmallow frosting and a Nutter Butter cookie!
Ingredients
Cupcakes:
1 1/2 cups brown sugar
1/2 cup canola oil
1 1/2 cup peanut butter
2 eggs
1 1/2 cups milk
2 teaspoons vanilla extract
2 1/2 cups all-purpose flour
1 teaspoon baking soda
2 teaspoons cream of tartar
1 pinch salt
Icing:
8 large egg whites
2 cups sugar
1/2 teaspoon cream of tartar
2 teaspoons pure vanilla extract
Instructions
Cupcakes:
Preheat the oven to 350 degrees.
Line a cupcake pan with paper liners. In a large bowl, mix together the brown sugar, oil and peanut butter until light and fluffy. Beat in the eggs one at a time, then stir in the vanilla.
Combine the flour, cream of tartar, baking soda and salt. Stir dry mixture into the batter alternately with the milk. Spoon into the prepared muffin cups.
Bake for 15 to 20 minutes in the preheated oven, until the top of the cupcakes spring back when lightly pressed. Cool in the pan for at least 10 minutes before removing to a wire rack to cool completely.
-Nutella Filling-
Using a piping bag and a Wilton 230 tip, slowly insert tip into top of cooled cupcake. Squeeze in Nutella and carefully withdraw! Then top with icing!
Icing:
Place egg whites, sugar, and cream of tartar in the heatproof bowl of an electric mixer. Set over a saucepan with simmering water. Whisk constantly until sugar is dissolved and whites are warm to the touch, 3 to 4 minutes.
Transfer bowl to electric mixer fitted with the whisk attachment, and beat, starting on low speed, gradually increasing to high, until stiff, glossy peaks form, 5 to 7 minutes. Add vanilla, and mix until combined. Use immediately!
Using a piping bag and a closed star tip, ice cupcakes. Lastly, top with a Nutter Butter cookie!
Nutrition Information:
Yield:
24
Serving Size:
1 cupcake
Amount Per Serving:
Calories:

313
Total Fat:

13g
Saturated Fat:

2g
Trans Fat:

0g
Unsaturated Fat:

10g
Cholesterol:

17mg
Sodium:

171mg
Carbohydrates:

43g
Fiber:

1g
Sugar:

29g
Protein:

7g
This post may contain affiliate links. Read my disclosure policy.