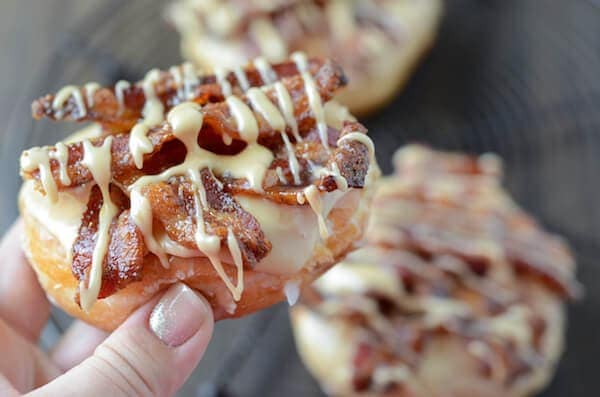 While I was on vacation last week to Austin, Texas, we visited so many delicious restaurants. One of those places was Gourdough's. One of the donuts I talked about was the "Flying Pig". It's described on their website as: Bacon with Maple Syrup Icing. I took it one step further and candied the bacon…because, why not? 😉
Being the donut lover that I am, I jumped at the opportunity to do a blog hop recreating the donuts we had at Gourdough's with some other fabulous bloggers! Make sure and scroll to the bottom of this post to see all the other mouthwatering donuts and go check out their awesome recipes.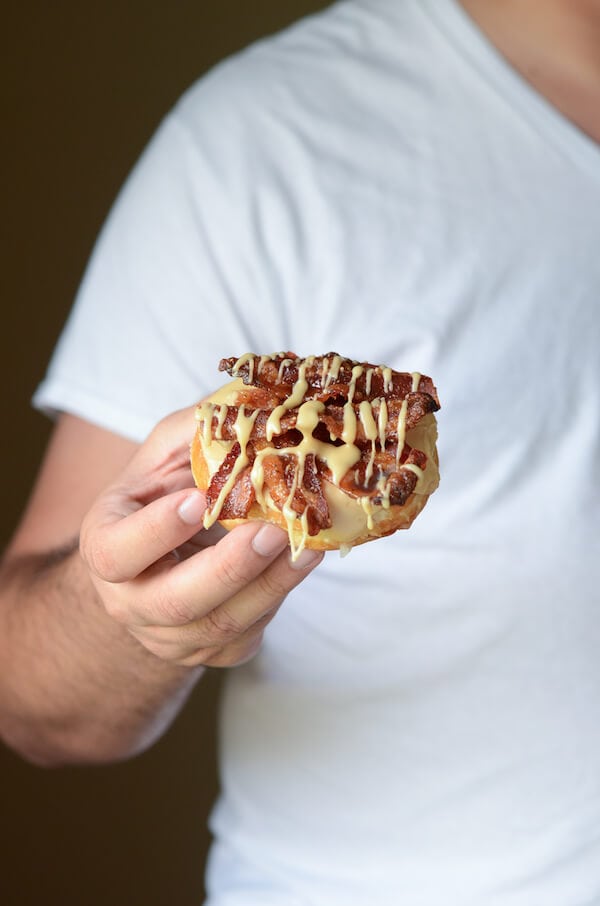 I posted a photo of these babies on facebook last week and the only thing I said was:
"How to keep a happy husband."
Before the candied bacon could even come out of the oven, Jorge was sniffing the air asking what I was making. I had to fight him off when I was trying to photograph these sugar bombs — he seriously couldn't keep his big hands off! I snapped that photo above as I caught him stealing the one I had my camera lens zoomed in on. Oh, men and their bacon.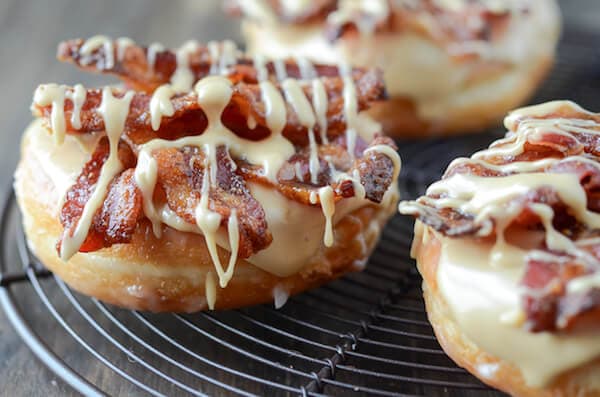 If you have never had candied bacon before, it's worth making all by itself. But once you put it on top of a fried donut dipped in maple glaze? Whoa, mama.
If you never get a chance to make it out to Austin, Texas to check out Gourdough's yourself – at least now you can have a little taste in your own kitchen!
Yield: 12 donuts
Candied Maple Bacon Donut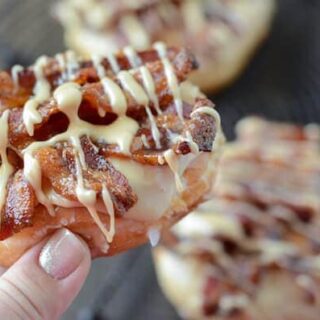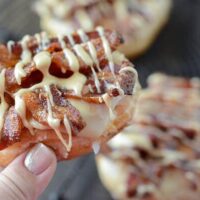 Candied Maple Bacon Donuts are basically dessert for breakfast... or maybe just dessert, period. Either way, try these homemade maple-glazed donuts topped with candied bacon - they are life changing!
Total Time
3 hours
25 minutes
Ingredients
For the Donuts:
2 tablespoons water, warmed
1.25 oz envelope fast-rise yeast
3/4 cup whole milk, warmed
1/4 cup granulated sugar
1/2 teaspoon salt
1 large egg
3 tablespoons shortening or lard
2 1/2 cups all-purpose flour
vegetable oil or peanut oil, for frying
For the Maple Glaze:
1 1/2 tablespoons whole milk (possibly more)
2 tablespoons pure maple syrup
1/2 teaspoon maple extract
2 cups powdered sugar
For the Candied Bacon:
1 lb center cut bacon
2/3 cup brown sugar
2 teaspoons freshly cracked black pepper
1 teaspoon kosher salt
Instructions
Donut:
In the bowl of your stand mixer with the paddle attachment (or a large bowl if you are going to kneed the dough by hand), whisk together yeast and warm water and let stand for 5 minutes.
Add milk, sugar, salt, egg, shortening, and 1 cup of flour. Mix on medium low for 2 minutes, then switch to the dough hook. Slowly add the remaining 1 1/2 cups flour a half a cup at a time. Once you have added all the flour, knead on medium for 2-3 minutes, until dough no longer sticks to the bowl. Turn up the speed to medium high and continue to knead dough for 3-4 minutes, until dough is smooth.
Transfer dough to a greased bowl and cover with a slightly damp tea towel. Place bowl in a warm area (or a preheated oven to 200 degrees and then turned off) for about one hour. Dough is ready when it has doubled in size.
Transfer raised dough onto a lightly floured surface and carefully roll out till it is 1 inch thick. Cut out doughnuts with a floured 4 inch biscuit cutter and then cut out the center of each donut with a floured 1-2 inch biscuit cutter.
Place donuts and donut holes on a lightly floured cookie sheet and cover again with a slightly damp tea towel. Place in a warm area (or a preheated oven to 200 degrees and then turned off) for about one hour. Dough is ready when it has doubled in size.
Heat oil in a large, deep skillet or deep fryer to 350 degrees.
Once oil is hot, working with 4-6 donuts at a time, carefully drop donuts into oil. Fry for 1 to 2 minutes, or until golden brown and flip and fry the other side.
Remove and drain on a paper towel (or newspaper) lined plate. Continue this process until each donut has been fried.
Maple Glaze:
Place wax paper under a wire rack to collect any drippings for an easy clean up. Then, in a small bowl whisk together milk, maple syrup and maple extract. Add powdered sugar, whisking until smooth. If icing is too stiff, add a teaspoon of milk at a time until desired consistency is reached.
While the donuts are still warm, dip the tops of each donut and donut hole into the icing and transfer to a wire rack and let set for 5 minutes. Save any remaining frosting to drizzle on top of the completed donut.
Candied Bacon:
Preheat the oven to 375°F. Line a large cookie sheet with aluminum foil, and position a cooling rack on top of pan. Lightly spray the rack with non-stick spray (or grease with oil).
Combine the brown sugar, black pepper and salt in a shallow plate/dish. Press each side of each slice of bacon firmly into the spiced sugar to coat well.
Arrange the slices of bacon on top of the rack in a single layer. If there is any sugar remaining in the dish, sprinkle it on top of the bacon slices evenly.
Bake until the bacon is crisp and the sugar is bubbly, about 20 minutes. Let cool for 5 minutes and then cut each strip in half.
Arrange candied bacon on top of donuts and drizzle the top with any remaining maple glaze. Serve immediately!
Notes
recipe note: if you are looking for a quick way to make these donuts – buy a dozen regular glazed donuts and just re-dip them in the maple glaze!
actual donut recipe slightly adapted from my cookbook: Mini Donuts!
Nutrition Information:
Yield:
12
Serving Size:
1
Amount Per Serving:
Calories:

490
Total Fat:

21g
Saturated Fat:

7g
Trans Fat:

0g
Unsaturated Fat:

13g
Cholesterol:

57mg
Sodium:

920mg
Carbohydrates:

57g
Fiber:

1g
Sugar:

35g
Protein:

18g
Want to Save This Recipe?
This post may contain affiliate links. Read my disclosure policy.