Fruity Pebble Macarons are a fun, cereal-filled twist on the classic French cookies! Macarons are always a hit with their crisp crusts and soft, chewy insides. And once you add the childhood favorite of Fruity Pebbles, they're out of this world!
I could try and be cool about this and write something kind of witty…but that's just not my style.
DUDE!!!! I made Fruity freakin Pebble Macarons! Gone are the days where you just make Pistachio Macarons or Clementine Macarons. Imagine the possibilities!! Trix Macarons? Captain Crunch Macarons?? Cinnamon Toast Crunch Macarons?!
Oh…how the French must be hating me right now. I took their beautiful pretentious Macaron and tainted it with delicious, sugar laden, HFCS drizzled American cereal. It is a glorious shame.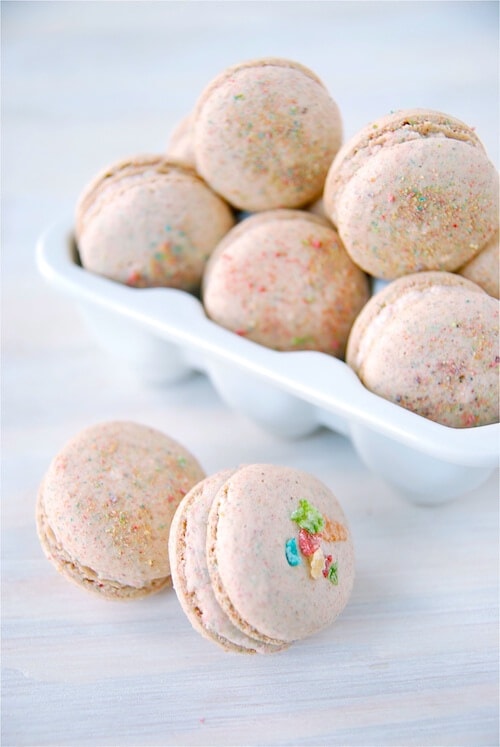 If I were Superman, cereal would be my kryptonite. It can take down my diet in 2 seconds flat. I love the sugary kid ones (helllooooo Captain Crunch!) or the grown up ones like Cinnamon Chex or Frosted Shredded Wheat. And I don't care if it's with milk, dry, on top of yogurt, or rolled up in marshmallows…I LOVE CEREAL. So it shouldn't be a big surprise that I have found another way to use it in a dessert. :-)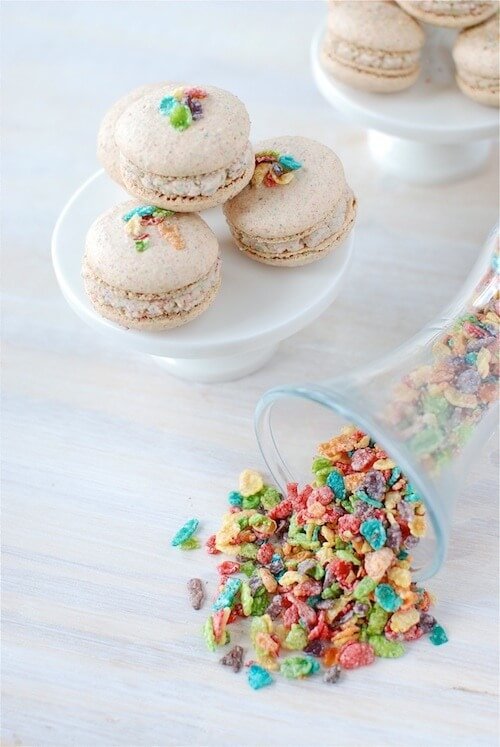 While Macarons are always a bitch to make, the results are fabulous. There is truly nothing like it. So after a few years of practice, I will share my 7 lucky tips/process with you so you can also get lucky with macarons!
Tips for Making Homemade Macarons
1. For starters, I buy the egg whites in the carton. Some people age their own egg whites (separate the eggs from the yolk and let sit, loosely covered with a paper towel in the fridge for a week), but that always leads to me wasting a ton of yolks. Plus I have not had a single issue using the egg whites from the carton.
2. I always weigh everything out before I start. It's just easier.
3. I use a mesh strainer for all of my dry ingredients to ensure there are no lumps. I hate using that metal sifter with the handle…it takes forever. Instead, I just dump all the dry ingredients into my mesh strainer and do a little wiggling and pushing with a spatula.
4. I add all the dry ingredients to the meringue at once. Most recipes will tell you to add the dry ingredients in two separate batches. For me, this means I will almost always over stir…leading to feet less, cracked meringues.
5. I never bake Macarons on a day that has rained (or is going to rain). Humidity sucks the life out of Macarons. Even on a no rain day, I let my Macarons sit for 45 minutes before baking.
6. When baking, I don't rely so much on a time, as I do being able to easily pop them off the silpat. Once they are moveable, they are ready to come out of the oven. And I don't worry if I accidentally over cook them a little…because they will soften once they are allowed to "mature".
7. I always let my Macarons have plenty of time to mature before eating. Meaning, after filling them, I don't eat them…for at least 24 hours. Instead they sit in the fridge for at least a day to do their thing. I have read many reasons why they must sit for so long…and no one seems to agree why they need that time. I think it has something to do with the shells sucking up some of the liquid from the filling….not that it matters what I think. All that matters is, let them sit! It's soooo worth it!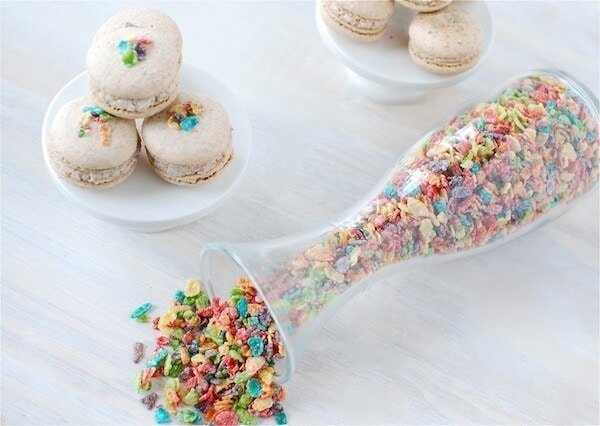 So now that we all know you can make Fruity Pebble flavored Macaron cookies…what flavor should I try next?!
Yield: 24
Fruity Pebble Macarons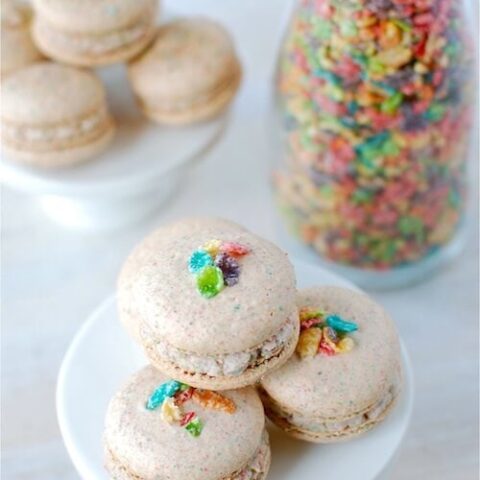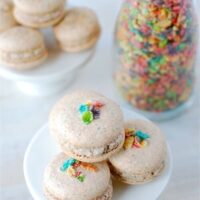 Fruity Pebble Macarons are a fun, cereal-filled twist on the classic French cookies. Macarons are always a hit with their crisp crusts and soft, chewy insides. And once you add the childhood favorite of Fruity Pebbles, they're out of this world!
Additional Time
30 minutes
Total Time
1 hour
18 minutes
Ingredients
75 grams powdered fruity pebbles, sifted**
75 grams almond meal, sifted
200 grams powdered sugar, sifted
100 grams aged egg whites
28 grams granulated sugar
5 grams powdered dehydrated egg whites
1 stick (1/2 cup) butter, room temperature
1/2 cup powdered fruity pebbles (about 1 1/2 cups run through the food processor)
1 cup powdered sugar
1 teaspoon vanilla extract
Instructions
For the Fruity Pebble Macaron shells
Line two large baking sheets with parchment paper or a silpat.
In a medium bowl, sift together powdered fruity pebbles, almond meal, and powdered sugar. Set aside.
In a stand mixer, whisk egg whites at medium-low speed until it starts to foam like bubble bath water. Begin slowly sprinkling in the granulated sugar and powdered egg whites as you beat. Then increase the speed to medium and beat until a firm meringue forms.
Remove meringue from stand mixer, and gently fold in the dry ingredients (fruity pebble mixture) with a rubber spatula. You will have to break the meringue to do this, but be careful not to overmix. To test the batter: Place a small amount of the batter on a plate. If the tops flattens on its own you are good to go. If there is a small beak, give the batter a couple more folds.
Using a pastry bag with a plain round tip, pipe small rounds onto prepared baking sheets. Leave an inch between macarons to allow for the batter to spread. Once all the macarons have been piped, pick up the baking sheet with both hands, and holding it level, tap it firmly onto the counter several times. This will bring up any air bubbles in the cookies. Then let the cookies sit for 30 minutes to an hour, depending on the humidity levels. You will know they are ready to go into the oven when you can touch the tops without it sticking to your finger.
Once the macarons are ready, preheat the oven to 290 degrees. Bake for 18-20 minutes, or until they easily pop off the parchment paper (or silpat). Remove macaron shells immediately from baking sheet and cool on a wire rack. Once cooled, fill with desired filling and store in an airtight container, in the refrigerator, for 24 hours. Then let warm to room temperature before eating.
For the Fruity Pebble Buttercream Filling
Cream the butter, vanilla and powdered fruity pebbles in the bowl of a stand mixer. Slowly add the powdered sugar and scraping down the sides and bottom of the bowl thoroughly after each addition. Pipe onto a cooled macaron shell and sandwich with another shell, repeat until all shells are used.
Notes
**To turn Fruity Pebbles into powder, puree in a food processor (or blender). Be sure to sift the powder to ensure there are no missed pieces. Also, weigh the Fruity Pebbles AFTER being processed in the food processor, not before.
TNCB original
Nutrition Information:
Yield:
24
Serving Size:
1
Amount Per Serving:
Calories:

91
Total Fat:

2g
Saturated Fat:

0g
Trans Fat:

0g
Unsaturated Fat:

1g
Cholesterol:

0mg
Sodium:

28mg
Carbohydrates:

18g
Fiber:

0g
Sugar:

15g
Protein:

1g
Categories
This post may contain affiliate links. Read my disclosure policy.