If you enjoy these dessert bars you might also like these Raspberry Chocolate Bars or these Blackberry Pie Bars.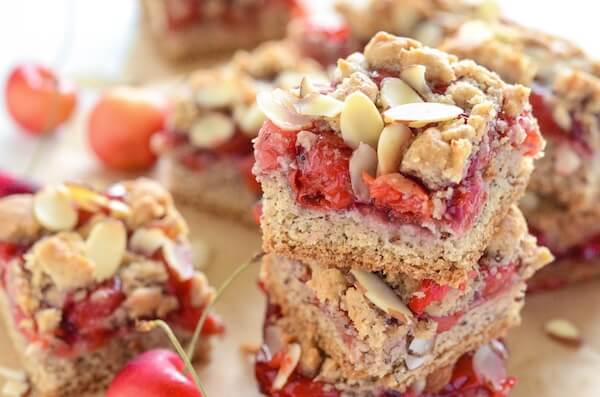 This Is One Of My Favorite Gluten Free Dessert Recipes
Cherry and Almond are two of my favorite pairings together, so you shouldn't be surprised to see these Gluten Free Cherry Almond Bars. Well, to be fair, maybe the gluten free surprised you because I don't bake gluten free 100% of the time.
However, I have a few good friends who have celiacs disease and are forced to stick to a strict gluten free diet. I have them over a lot and I like to have desserts available for everyone to get to enjoy together.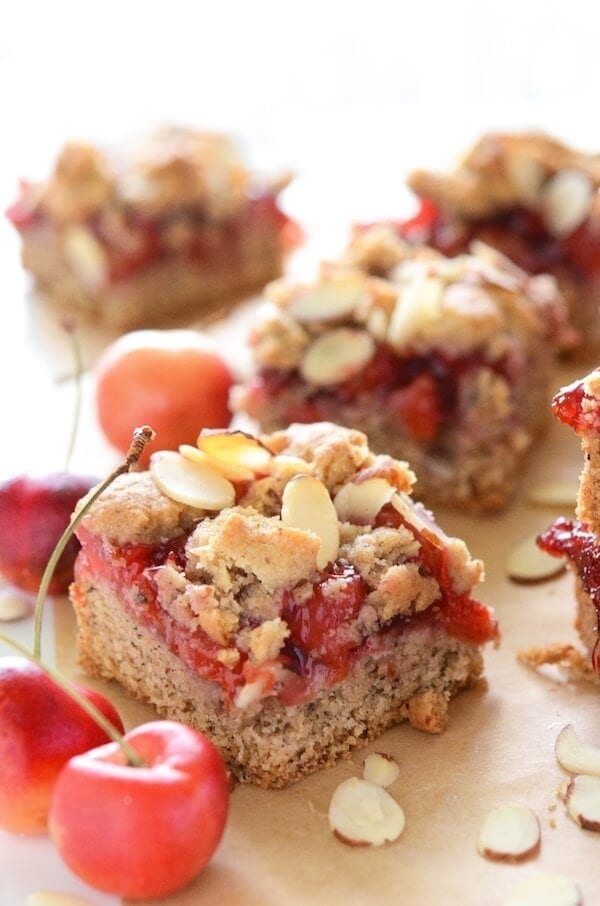 I Love Almond Flavored Desserts
I love absolutely anything almond flavored. I am so obsessed with almond flavored things that I recently bought a new almond body scrub for the shower. It has caused a major problem though…every night around 9 pm, I am badly craving an almond dessert.
That's where the idea for these Gluten Free Cherry Almond Bars came from. I was sitting there scrubbing away with my new favorite Almond & Honey Scrub (y'all, it seriously smells like heaven in a jar) and I literally wanted to eat the scrub.
I decided right then that I would be making something almond the next morning. Turns out I had a jar of cherries sitting in my pantry just waiting to be used and I knew it would be the perfect match.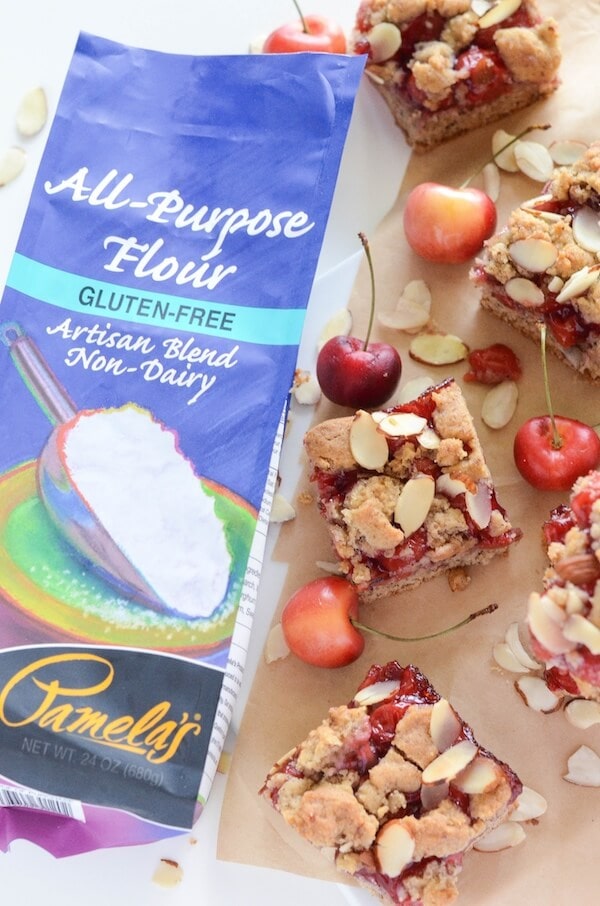 What Is The Best Type Of Gluten Free Flour?
I used a mixture of Pamela's Gluten Free All-Purpose Flour Artisan Blend and Pamela's Nut Flour Blend for the base of these Cherry Almond Bars.
If you don't know much about Pamela's Products, the company started in 1988, and is known for delicious, gluten free foods with a full line of baking mixes, cookies and snack bars. I love so many things about the company, but one of the big things for me? They never use any artificial additives or high fructose corn syrup. Never.
Pamela's Nut Flour Blend brings a lot of extra nutty flavor to these Cherry Almond Bars. The ingredient list on the Nut Flour Blend reads as follows: Almond Flour, Organic Coconut Flour, Pecan Flour, and Walnut Flour. So as you can see, it definitely packs a nutty punch in the flavor department!
You can find Pamela's products at many local stores or online — I buy them at Target usually. Their handy "Where To Buy" tool on the website will tell you where to find their products locally to you.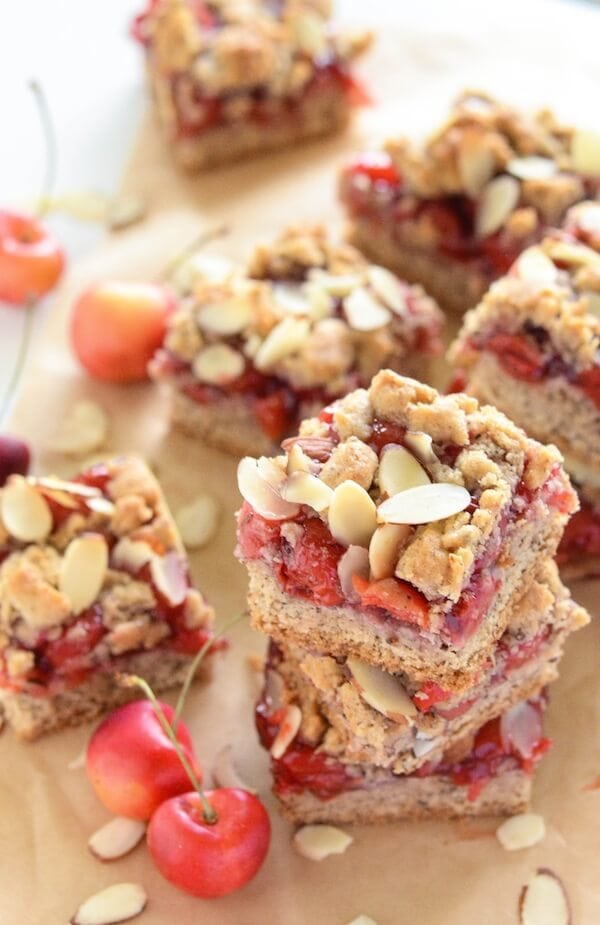 Are These Cherry Almond Bars Easy To Make?
This recipe is one of those glorious one-bowl desserts. It also uses melted butter so there is no preplanning necessary! Just quickly whip up the dough and press it into your baking pan and you are already over halfway done.
These bars are best at room temperature after they have been allowed to cool completely. You can store them in an airtight container for up to three days on the counter or fridge. If you keep them in the fridge, I would let them warm up a little before serving them.
Hope you enjoy these as much as the girls and I did!
Yield: 9 squares
Gluten Free Cherry Almond Bars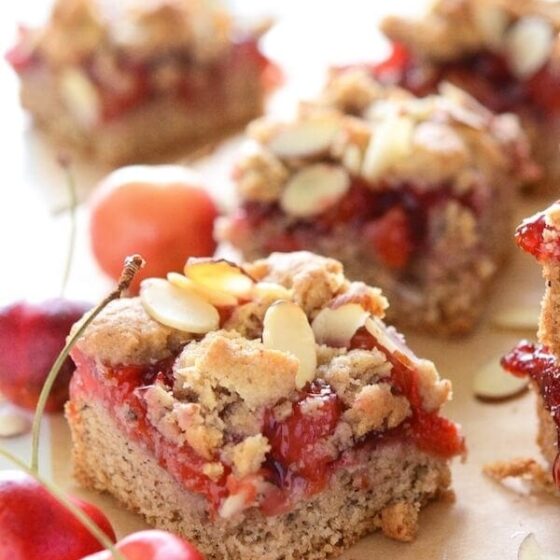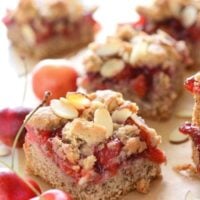 These Gluten Free Cherry Almond Bars are easy to make and full of cherry and almond flavor. It a delicious gluten free dessert recipe to share with friends and family!
Ingredients
1 1/4 cup Pamela's Gluten Free All-Purpose Flour Artisan Blend
1/2 cup Pamela's Nut Flour Blend
3/4 cup granulated sugar
3/4 teaspoon baking soda
1/2 teaspoon salt
1/2 cup (1 stick) unsalted butter, melted
1 large egg, beaten
2 teaspoons vanilla extract
1/2 teaspoon almond extract
1 can (21 oz) cherry pie filling
1/3 cup sliced almonds
Instructions
Preheat oven to 350°F. Grease a 9x9 baking pan with butter. Line with parchment paper. Set aside.
In a large bowl, whisk together Pamela's Gluten Free All-Purpose Flour Artisan Blend, Pamela's Nut Flour Blend, sugar, baking soda and salt. Stir in melted butter, egg, vanilla extract and almond extract.
Using your hands or a silicone spatula, flatten 3/4 of the dough into the bottom of the prepared pan.
Top the dough with the cherry pie filling, smoothing into an even layer. Then crumble the remaining dough with your hands and scatter it on top of the cherry filling. Sprinkle the sliced almonds on top.
Bake for 30 to 35 minutes, until golden on top. Let cool completely before slicing to serve!
Nutrition Information:
Yield:
9
Serving Size:
1
Amount Per Serving:
Calories:

284
Total Fat:

9g
Saturated Fat:

2g
Trans Fat:

0g
Unsaturated Fat:

7g
Cholesterol:

22mg
Sodium:

284mg
Carbohydrates:

45g
Fiber:

2g
Sugar:

20g
Protein:

6g
Want to Save This Recipe?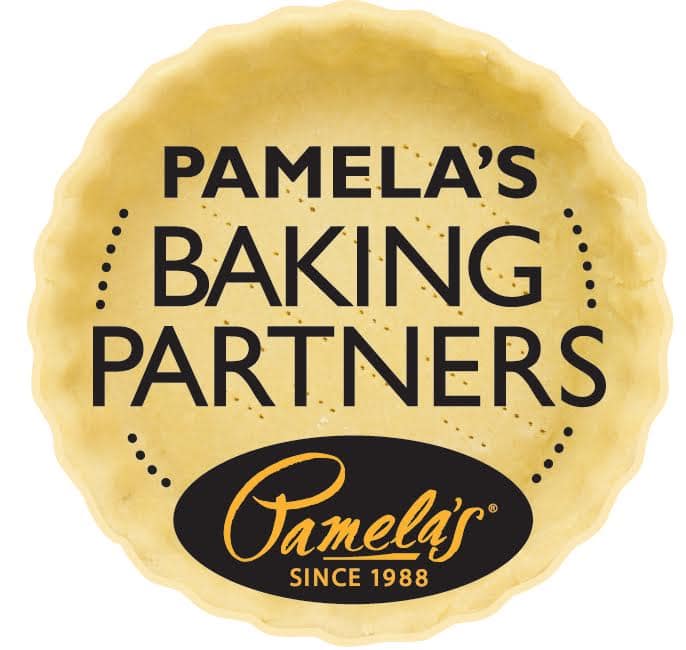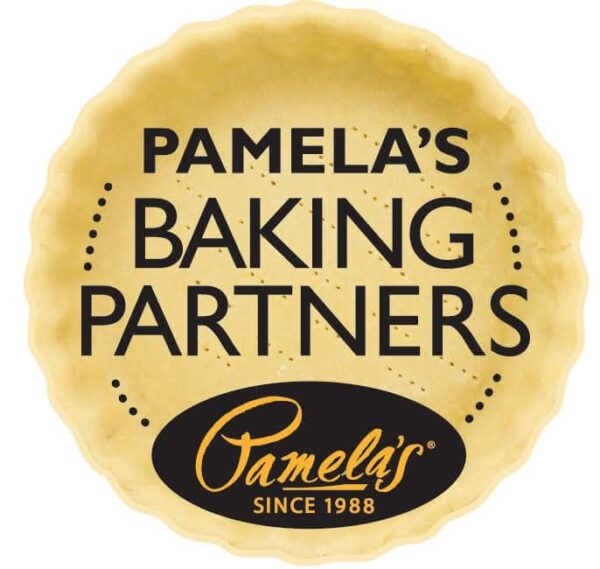 This post is sponsored by Pamela's Products. All opinions are, as always, 100% my own. Thank you for supporting the brands that I love and that help keep The Novice Chef running!

This post may contain affiliate links. Read my disclosure policy.