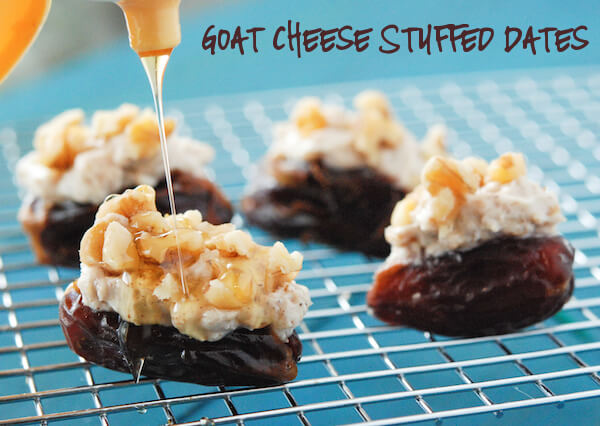 I want to talk about Dates today, but first we have to talk about "Stuffed". My past three recipe posts have been stuffed… Stuffed Dates, Peanut Butter Stuffed Brownies, and Pulled Pork Stuffed Sweet Potatoes. I have no idea what my hang up is with everything stuffed. So no, this isn't like a planned thing…I just can't help myself. Annyywaayysss, so about those stuffed dates…
Dates are ugly. I know it, you know it, and I am pretty sure even they know it. Despite their looks, I LOVE DATES. My obsession with dates has been chronicled throughout many recipes…Summer Prosciutto Salad, Date Bran Jingle Balls, and Date Pecan Blue Cheese Pizzas. But not one of those recipes lets the Date be seen in it's full on fugly form. Instead I chop them up, puree them or hide them under arugula.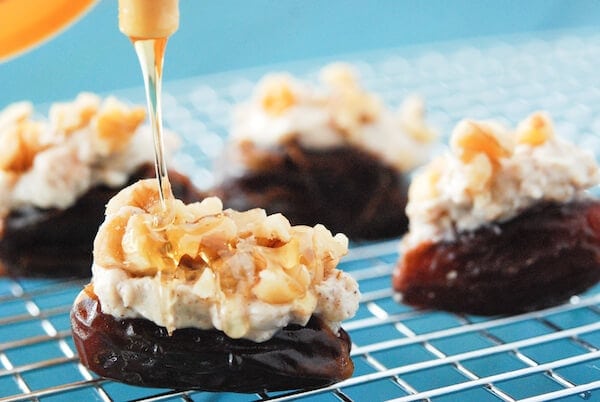 With stuffed dates there is no hiding…kind of like one of those jumpsuit romper things that have come back in style. You can see every bump and every ugly ripple, but you can't help to keep trying them on anyways. I swear, eventually one of the hundreds I try on will transform me into J-Lo.
The difference between stuffed dates and flashback rompers, you instantly forget what the stuffed date looked like as soon as you try it. The tangy goat cheese and sweet one of a kind dates are pure magic. And if you drizzle them with a little extra honey, they are somehow even better.
Yield: 16 stuffed dates
Goat Cheese Stuffed Dates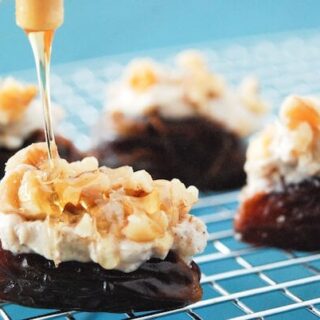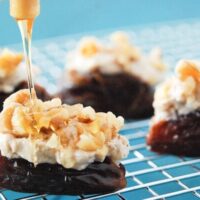 Goat Cheese Stuffed Dates make a tangy, sweet snack for really any time of day. Drizzle a touch of honey on these stuffed fruits, and you won't believe your tastebuds!
Ingredients
3 oz goat cheese, softened
3 tablespoons honey
1/2 teaspoon cinnamon
1/4 teaspoon salt
1/4 cup chopped walnuts
16 pitted dates
Instructions
In a small bowl, cream together goat cheese, honey, cinnamon and salt. Gently stir in chopped walnuts.
Pitted dates usually have already have a slice through one side. If yours don't, slice an opening in one side.
Fill each date with filling. Top with more walnuts and a drizzle of honey if desired. Serve immediately or refrigerate until ready to serve.
Nutrition Information:
Yield:
16
Serving Size:
1
Amount Per Serving:
Calories:

59
Total Fat:

2g
Saturated Fat:

1g
Trans Fat:

0g
Unsaturated Fat:

1g
Cholesterol:

2mg
Sodium:

58mg
Carbohydrates:

9g
Fiber:

1g
Sugar:

8g
Protein:

1g
Want to Save This Recipe?
This post may contain affiliate links. Read my disclosure policy.