Green Velvet Cheesecake Shamrocks
Green Velvet Cheesecake Shamrocks are perfect for a festive St. Patrick's Day dessert. The green swirls make these little cheesecakes so pretty and they taste delicious!
Need more recipe inspiration for St. Patty's Day? Try this No Bake Shamrock Freezer Pie!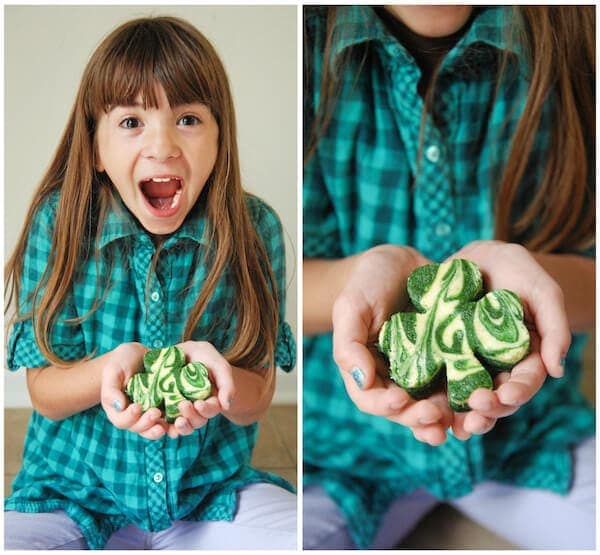 Green Velvet Cheesecake Shamrocks
This weekend I had my niece (Ana) and nephew (Miguel) over to hangout and hide from the rain. While the storms were raging, we fed Donald, played video games and watched movies. Half way through the afternoon Ana started getting a little restless after being stuck inside all day…so what better place to play around than in my overly stocked kitchen?
These St. Patty's Day Desserts Are So Easy To Make
We made donuts and discussed my vast sprinkle collection (she had to taste at least half of them)…and then I remembered my Red Velvet Cheesecake Valentine Hearts. I knew Ana would love the swirls and getting to cut them out in shapes. I also remembered how tasty they were and that they would be easily passed off to the neighbors. But the best part, I knew she could do almost 90% of the work! 🙂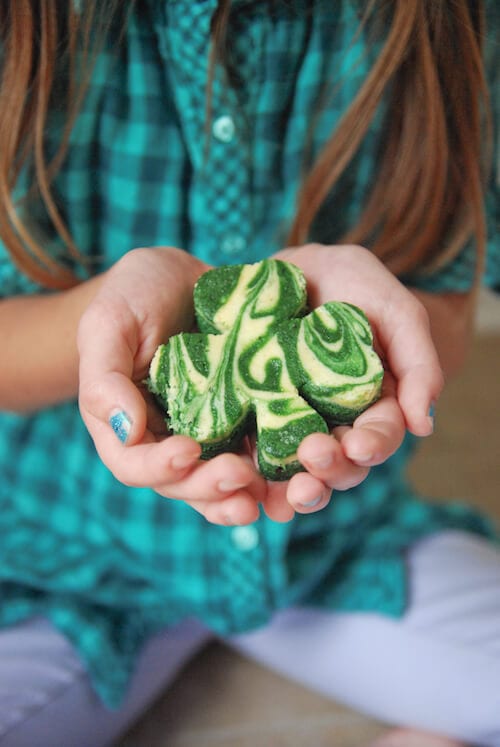 These Little Cheesecakes Are Pretty And Delicious
These little babies are so easy to put together and they make a big impact. All those pretty swirls and shapes make you like them even before you taste them! If you go back and read the reviews on the red velvet hearts post, you will also see that they are also super tasty!
Tools You Will Need To Make This St. Patrick's Day Recipe
1. Shamrock Cookie Cutter – I got mine online because I like free shipping and not having to go to the store! But I know that Michaels carries them this time of year.
2. 10 x 15 Jelly Roll Pan – I found one at Target for $12 a couple years ago. But they also have those on Amazon for you other lazy bakers out there.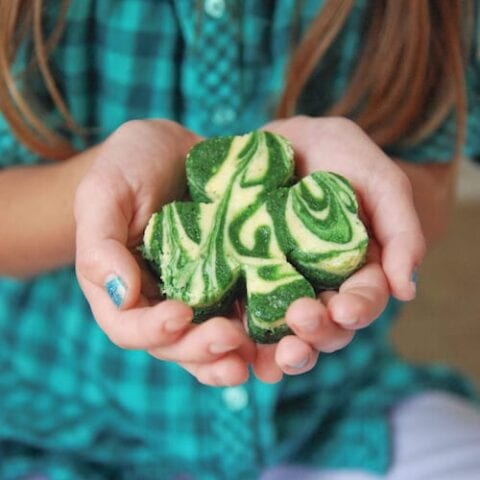 Green Velvet Cheesecake Shamrocks
Yield: 16 shamrocks
Prep Time: 15 minutes
Cook Time: 23 minutes
Total Time: 38 minutes
Green Velvet Cheesecake Shamrocks a perfect St. Patrick's Day dessert. The green swirls make these little cheesecakes so pretty and they taste delicious! 
Ingredients
2 cups flour
1 1/2 cup sugar
1 tablespoon cocoa powder
1/2 teaspoon salt
1/2 teaspoon baking powder
2 large eggs
2/3 cup vegetable oil
3 tablespoons milk, divided
2 teaspoons vanilla extract
1 teaspoon green food coloring
1 1/2 teaspoons white distilled vinegar
12 oz (1 1/2 packages) cream cheese, softened
1/2 cup sugar
2 large eggs
1 1/2 teaspoons vanilla extract
Instructions
Preheat oven to 350 degrees. Grease a 10 x 15 jelly roll pan with butter or spray with Baker's Joy.
In large bowl, whisk together flour, sugar, cocoa powder, salt, and baking powder. Set aside. In a medium bowl, whisk together eggs, vegetable oil, 2 tablespoons milk, vanilla extract, green food coloring, and white vinegar.
Combine the dry and wet ingredients, until completely combined (the batter will be thick). Remove 1/2 cup of the batter and place it in a medium bowl. Whisk in the remaining 1 tablespoon of milk (into the 1/2 cup of batter you just took out). Set aside the 1/2 cup batter.
Pour the remaining batter into the prepared jelly roll pan. Using a spatula, smooth out the batter to reach all the edges.
Now, in your stand mixer, beat cream cheese and sugar until fluffy, about 2 minutes. Add eggs and vanilla, beating until combined and there are no lumps. Pour the cream cheese mixture on top of the green velvet layer and smooth mixture till it reaches all the edges.
Drop spoonfuls of the remaining red velvet batter (that you mixed with milk) onto the top of the cheesecake layer. Drag the tip of a knife through the green velvet and the cheesecake layers to create swirls.
Bake for 23-25 minutes, rotating half way through, or just until the center is set and it no longer jiggles. Let cool completely on a wire rack before cutting. Use a medium sized shamrock cookie cutter to create the perfect St Patty's Day treat!
Notes
Recipe Note: As the recipe says, I used a 10x15 jelly roll pan. You can try to squeeze it into a 9x13 pan...but you will probably have to throw away a little of the batter.
Nutrition Information:
Yield: 16
Serving Size: 1
Amount Per Serving:
Calories: 343
Total Fat: 18g
Saturated Fat: 5g
Trans Fat: 0g
Unsaturated Fat: 11g
Cholesterol: 68mg
Sodium: 238mg
Carbohydrates: 38g
Fiber: 0g
Sugar: 25g
Protein: 8g