Happy Friday
Have you ever seen anything more adorable than a baby and her dog best friend? Me neither. In the past 5 months, Lyla and Gizmo have created a serious bond.
She calls him "Gizzy" and gives him hugs and kisses daily. It's adorable. Now, if I could just get him to fully potty train, life would be so much better.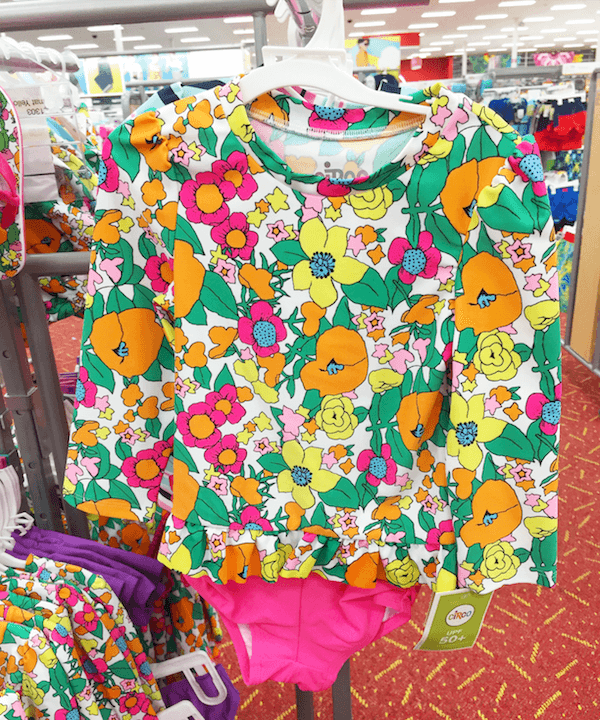 I went swim suit shopping for myself (depressing) and the girls (incredibly cute). Seriously, why can't swimsuits in my size be just as cute? And better yet — why can't my fat rolls be as cute as their fat rolls? Life is so unfair.
Don't worry, I am also bringing their ballerina swimsuits on vacation. I wouldn't deny all of us from the instagram cuteness that is bound to happen.
P.S. If you couldn't tell by the floor, this toddler swimsuit is from Target.
Were you wondering about our vacation? Well, in ONE week we will be heading back to Anna Maria Island with our family to celebrate my Granny's 80th Birthday! I have been counting down the days…I can't wait to let the girls play in the pool and build sand castles all day at the beach. It will be very different from last year when they weren't mobile yet!
I also can't wait to be able to drink a Piña Colada every afternoon and not have anyone give me the side eye…because — vacation!!!
Hey Mama's out there. Anyone remember showering alone? Yea…I don't either.
I usually wait until after the girls are in bed to take a shower. It's just easier. But yesterday was one of those days that couldn't wait. I had worked out and then planted some new flowers and a third citrus tree (yes, I said third). I was so gross. I turned on Mickey Mouse and hoped for the best.
Next thing I knew, Ellie had opened the shower door and decided to join me. A few seconds later Lyla followed behind her and I had two toddlers trying to help me shave my legs. At least everyone was clean.
(Note: I reached out of the shower and snapped a couple of pics. I don't shower with my phone…I'm not *that* addicted.)
Hey fellow Floridians! We went to one of our favorite lunch joints — Four Rivers Smokehouse — again last Friday and I stuffed myself with a grit cake stacked with pulled pork and coleslaw and this gorgeous birthday cake cupcake.
I love their food and their ambiance…both are toddler approved. They have locations all over the state now, go try them out! Oh, and get the bread pudding.
I made this Easter Wreath for my pantry door and I love how it turned out. All you need is: A wire wreath (hobby lobby), one roll of white deco mesh (michael's), some cute easter eggs (surprisingly big lots), the bunny butt sign (again – big lots) and a hot glue gun.
Total project cost? $17. Gotta love it.
Let's end this Happy Friday with Lyla in a chef hat. This photo makes my ovaries burst and want another baby immediately…oh wait, I just heard something else break. Scratch that.
Have a great weekend friends!