Happy Friday
Happy Friday everybody! My succulents have been rocking it lately. Last week Lyla was playing on the porch and pulled the entire pallet over taking down all my succulents.
I gave them a little more soil and propped them back up and they were good as new. I swear they are my favorite plants…and it's only partly because I only have to water them once a week. Ok, mostly that.
Guess what's under there — a bottle of Prosecco! I saw this idea on pinterest and knew it would be the perfect gift for my friend Christina's birthday last week.
I was a little nervous that this might be one of those classic pinterest fails, but it turned out so adorable! I am now planning to bring these to every housewarming or birthday party for the next year. Everyone loves chocolates and wine!
Keeping Ellie and Lyla entertained throughout the day when it is raining it getting harder and harder. Sure, they love to watch Mickey Mouse, but Mom guilt sets in if they watch too much. Even when it's raining they can play out on our screened in patio, but it's just not enough room for them to really run.
So when I saw this idea shared from a friend on Facebook, I knew we had to try it. I made one bag with finger paints and one with oil and water that I thought they would enjoy since it separates. Well, Ellie promptly bit the bag with oil and water…so that bag was dead. So I moved bag #2 up out of reach of shark tooth and all was good. They played for hours and loved it!
Are you seeing that? I know. It's two krispy kreme donuts sandwiched around a bacon cheeseburger with mac and cheese. It's what the Florida State Fair is known for this year and it's outrageous. If you go, it's definitely an experience.
If you are local and get to go, my favorite things we ate were: Fried Oreos. Amish Donuts. Buttermilk Corndog (The one next to the expo hall…by far the best corn dog I have ever had. I have it every year and it's amazing.).
The girls have gotten to the point where we have to truly start winding them down. We used to let them just play around in their playroom a little after bath and then head to bed, but they started resisting and it was a fight to get them to go to sleep.
Last week I had the idea to start nightly dance parties with Oly the Octopus (not his real name, just what we call him). We hold him in the air and swirl the stars and fish around on the floor and let the girls chase him around a little.
I know this sounds counterproductive, but it actually has made such a difference. It helps that we go into their bedroom and the transition from playroom to bedroom is a fun one. No more crying. Then we play in the dark room for about 10 minutes before putting them in their cribs for the night.
We leave Oly the Octopus on (it automatically turns off after 45 minutes) when we leave and it has made for a pretty peaceful bedtime again. Money well spent!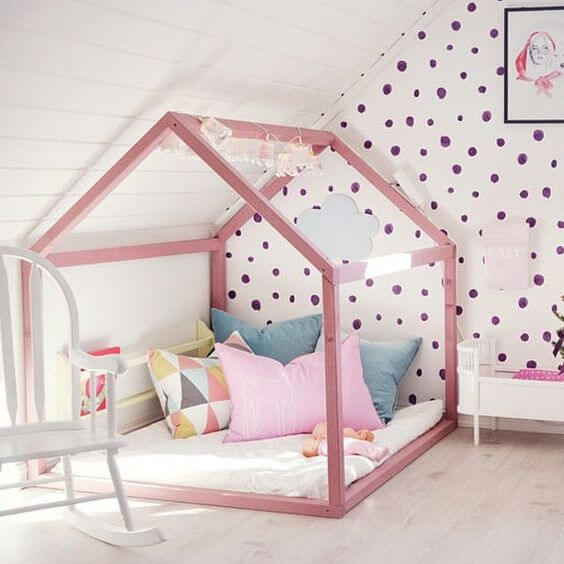 Lyla and Ellie are not ready to transition to toddler beds yet. I say not ready because they haven't been able to figure out how to try to climb out yet. Also, I still consider them newborns. However, I am starting to believe that day is not too far away with the way Lyla LOVES to climb things.
So to the parents out there — any tips for transitioning from crib to bed? I am thinking about making these cute toddler house bed frames with my dad. I like that the girls can't hurt themselves if they roll out of bed. I also love that we can build the frame to fit their mattresses they have now. The girls are 18 months old, so I'm sure our lovely crib days are numbered. Any suggestions or thoughts? I'm all ears!
I hope you all have an awesome weekend and do whatever it is you like to do for Valentine's Day. I plan on sharing some lunch and then cheesecake with the ladies and Jorge. Watch out cupid!
In case you missed them, here were this weeks new recipes:
Copycat Maggiano's Chopped Salad