These decadent Reese's Pieces Cupcakes are the perfect dessert for birthdays and other special occasions. The chocolate cupcakes are so easy to make and have the best homemade peanut butter frosting.
If you love Reese's desserts as much as we do, you've got to try these Reese's Pieces Peanut Butter Cookies and this Reese's Peanut Butter No-Bake Pie too!
Reese's Pieces Cupcakes
Last weekend was Jorge's birthday, which really means it's my birthday too. Yes he gets presents…but I get to celebrate, go out to dinner, and eat cupcakes. I mean really it's a win-win situation. We started off his birthday celebration by going to a Bubbles & BBQ 4 course wine dinner at Biscottis on Thursday. Which was amazing! They only do them once a month (and the theme changes monthly) so if you get a chance, you must go to one.
These Reese's Cupcakes Are Perfect For Birthdays
We continued the celebration on Friday with a date night of dinner and a movie. We saw "Crazy, Stupid, Love." which is a must see…especially if you have a girl crush on Emma Stone. On Saturday, his actual burfday, we had dinner (and drinks!) at Cantina Laredo with family and friends. After dinner we got back in touch with our inner child at Dave And Busters. The guys played shooting games and I kicked some serious ass at skee ball –and by that I mean I beat the 8 year old boy next to me, it was awesome and totally counted.
Knowing we were doing dinner with family & friends I really wanted to have some kind of celebratory cake or cupcakes for Jorge. I tend to go for cupcakes, for events like this, because slicing a cake and having plates to serve it on at restaurants is next to impossible. So after deciding on cupcakes and the new Wilton Ruffle cupcake wrappers I wanted to try out, the only question left was…what flavor would he really like?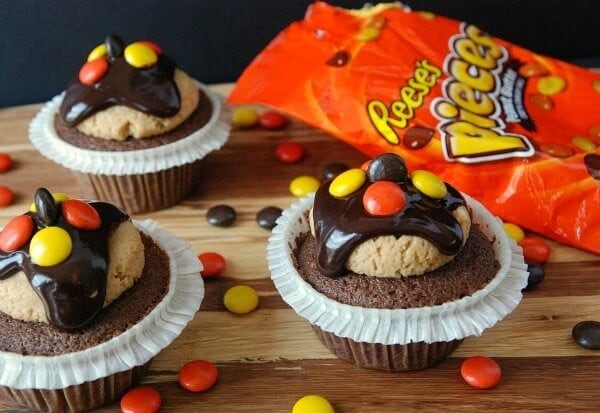 These Chocolate Cupcakes Have A Homemade Peanut Butter Frosting
Then the flavor came to me in a dream. Ok, not so much a dream. More of a vision. Well I guess not so much a vision either. More like I saw him shoving Reece's Pieces down his mouth, at the movie theater on Friday night, like they were crack laced peanut butter morsels. Obviously that had to be the flavor. So here we have a Reece's Pieces Cupcake which consisted of a Dark Chocolate Cupcake with Creamy Peanut Butter Frosting and Chocolate Ganache.
If You Love Decadent Desserts These Cupcakes Are For You
I tried out a couple of chocolate cupcake recipes and ended up not liking any of them for this combination. They were all very rich and heavy, which is perfectly fine normally…but when you are topping it with thick peanut butter frosting and ganache? You NEED a lighter cake base. I was really, really happy with the final product when you ate it all together. And the birthday boy was thrilled, which is really all that matters in the end! :-)
P.S. These cupcakes come with a warning label: Do not eat without a full glass of milk! They were so incredibly rich and decadent and heavenly that I don't think you could possibly eat a whole one without a glass of milk to wash it down.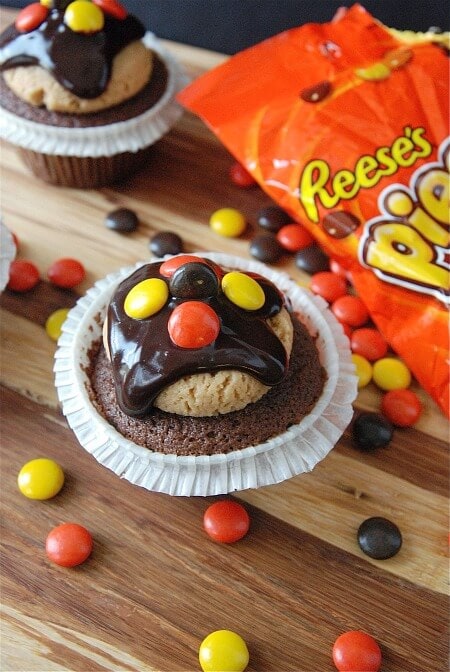 Reese's Pieces Cupcakes
These decadent Reese's Pieces Cupcakes are the perfect dessert for birthday and other special occasions. The chocolate cupcakes are so easy to make and have the best homemade peanut butter frosting.
Ingredients
Dark Chocolate Cupcakes
1

tablespoon

vanilla

⅓

rd cup plus 1 tablespoon warm water

⅓

rd cup plus 1 tablespoon all purpose cocoa powder

2

teaspoons

instant espresso granules

1 ½

cups

all purpose flour

½

teaspoon

baking soda

½

teaspoon

baking powder

½

teaspoon

salt

1

cup

unsalted butter

,

2 sticks

1 ⅛

cup

sugar

2

eggs

½

cup

buttermilk
Creamy Peanut Butter Frosting
1

cup

confectioners' sugar

1

cup

creamy peanut butter

5

tablespoons

unsalted butter

,

room temperature

1

teaspoon

vanilla extract

¼

teaspoon

salt

⅓

cup

heavy cream
Chocolate Ganache
3

oz

dark chocolate

,

around 60% cocoa, chopped

⅓

cup

heavy whipping cream

1

tablespoon

unsalted butter
Instructions
Dark Chocolate Cupcakes

Preheat oven to 350 degrees. Line standard muffin tins with paper liners.

In a small bowl combine vanilla extract, warm water, cocoa powder, and instant espresso granules. Whisk till well combined and set aside.

In a medium microwave safe bowl, microwave butter till bubbly, about 1 minute and 15 seconds. Pour butter into stand mixer, add sugar, and mix on medium until cooled, about 4-5 minutes. Once cooled, add eggs one at a time, mix until incorporated. Add cocoa powder mixture, scraping down the sides as needed. Reduce speed to low and add flour, alternating with the buttermilk, until just combined.

Divide batter evenly among lined cups, filling each 3/4 full. Bake until a cake tester inserted in centers comes out clean, about 18-20 minutes. Transfer tins to wire racks to cool 15 minutes; turn out cupcakes onto racks and let cool completely.

Creamy Peanut Butter Frosting

Place the confectioners' sugar, peanut butter, butter, vanilla, and salt in the bowl of an electric mixer fitted with a paddle attachment. Mix on medium-low speed until creamy, scraping down the bowl with a rubber spatula as you work. Add the cream and beat on high speed until the mixture is light and smooth.

Pipe onto cupcakes and place in fridge afterwards for 15 minutes while you make the ganache. You want the frosting to be cooled just to ensure the ganache does not melt the frosting.

Chocolate Ganache

Place the chopped chocolate in a medium sized heatproof bowl. Set aside. Heat the cream and butter in a small saucepan over medium heat. Bring just to a boil. Immediately pour the boiling cream over the chocolate and allow to stand, without stirring, for a few minutes. Stir gently (as you do not want to incorporate air into the ganache) with a spoon or whisk until smooth.

Allow ganache to cool on the counter for about 10 minutes, stirring every so often, or until it cools and thickens slightly. Once it is has thickened to a good pouring consistency, pour on top of Creamy Peanut Butter frosting. Top each cupcake with Reece's Pieces.

Store cupcakes in an airtight container until ready to serve.
Nutrition
Serving:
1
,
Calories:
389
kcal
,
Carbohydrates:
34
g
,
Protein:
6
g
,
Fat:
27
g
,
Saturated Fat:
13
g
,
Polyunsaturated Fat:
11
g
,
Cholesterol:
68
mg
,
Sodium:
232
mg
,
Fiber:
1
g
,
Sugar:
22
g
This post may contain affiliate links. Read my disclosure policy.