Sweet Potato Coconut Curry Soup
Healthy vs Not Healthy. Sometimes the answer is obvious. Chocolate Bacon Cupcakes with Maple Frosting? There is no doubt that it is an artery clotting cupcake. Sweet Potato Coconut Curry Soup? Composed up of just a few simple ingredients including sweet potatoes, coconut milk, and a little vegetable stock sounds innocent enough. But you add up the nutrition and find yourself with a soup that isn't exactly on the Ass Friendly side. While the calorie count is low, thanks to the sweet potatoes, the carb count is pretty high. And then add in the coconut milk and the fat grams are not as low as I would like.
But yet all of these ingredients are considered healthy and are from the earth. So I am asking you, should this recipe be in the Ass Friendly section of the blog? Or is this a soup that should be saved for special treats? Because let me tell you, it tasted like it should be in the special treat section! I plan on making this soup all.the.time. It was extremely easy and tasted like it had taken hours. I absolutely loved the flavor profile from the coconut, curry, and sweet potato. But I am still left trying to figure out if this is considered healthy or not?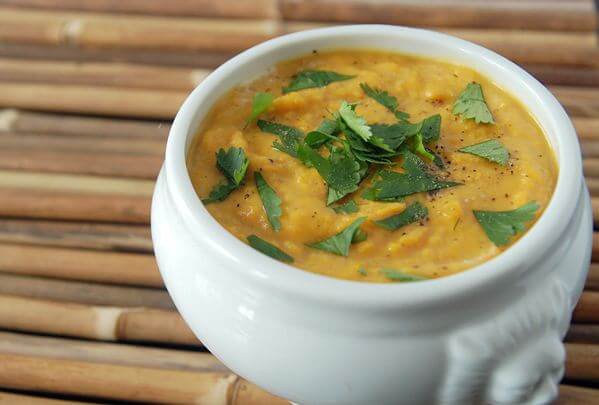 Sweet Potato Coconut Curry Soup
Recipe Note: I like my soup a little thicker and adjusted it to fit those needs. If you like a thinner soup, just add a little more vegetable stock and coconut milk.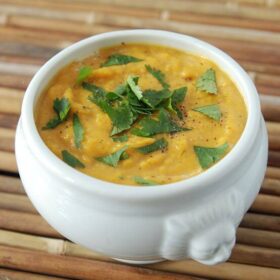 Ingredients:
2 large sweet potatoes, pricked all over with a fork
1/2 cup coconut milk
1 cup vegetable stock
1/4 tsp salt
1/4 tsp black pepper
1 tsp curry powder
1/2 tsp garam masala
pinch of cayenne pepper
chopped fresh cilantro for serving
Directions:
Preheat the oven to 400 degrees.
Bake sweet potatoes for one hour or until very tender. Remove from oven and let cool.
Blend together sweet potato (minus the skin) and all other ingredients. Re-heat soup if necessary and serve with chopped cilantro on top.