Homemade Boba Tea
Make delicious homemade boba tea! Sweet black tea, chewy tapioca pearls and creamy milk combine to make this easy treat!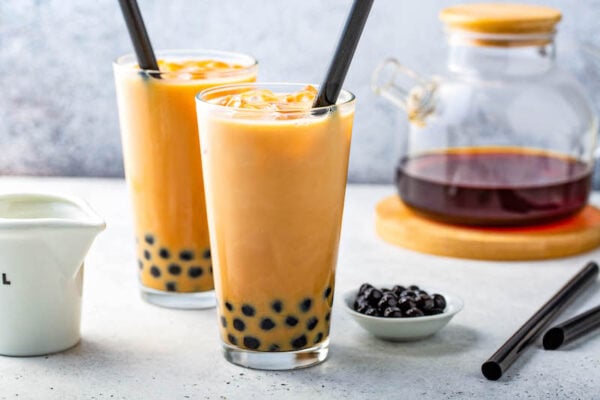 What is Boba Milk Tea?
Boba Tea is a creamy milk and tea-based drink with chewy tapioca pearls floating at the bottom of the glass like a delicious added snack! The tapioca pearls can be called many things: boba, bubbles, pearls and tapioca balls.
Bubble Tea is originally from Taiwan in 1980's, but has gained lots of popularity in the US. It is now much more popular and well known and can be found in Boba Tea shops all over. It's creamy, sweet, and with those added little chewy sweet bites — you won't be able to stop!
A bubble tea habit, like Starbucks, can get expensive! So read on below how to make delicious creamy Boba Tea at home!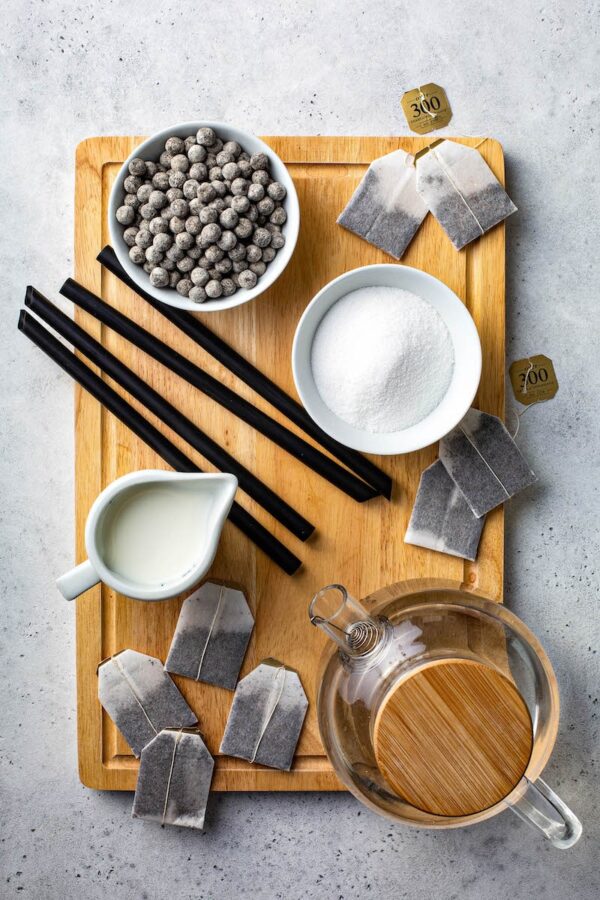 Boba Tea Ingredients
You only need a few ingredients and you may already have a couple on hand!
Black Tea
Quick Cooking Tapioca Pearls
Water
Ice
Half & half or whole milk
Granulated Sugar
You will need a couple of tools to make/serve Boba Tea:
extra thick boba straws: in the photos, I am using these big bubble tea straws (affiliate link). (You can also use spoons to scoop the boba out of the bottom of the glass.)
large glasses for serving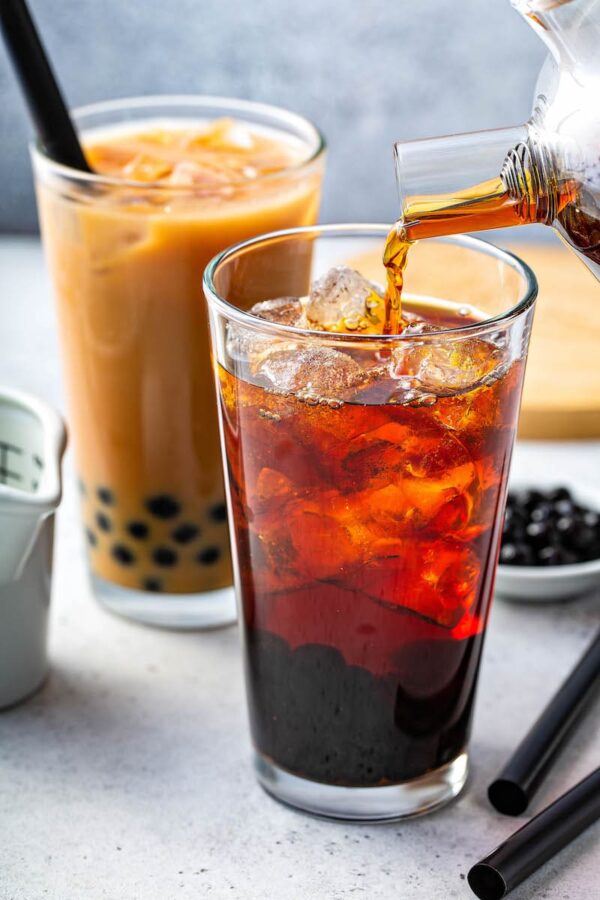 What Kind of Tea Can I Use?
You will want to use a strong flavored black tea such as Earl Gray Tea for the most classic flavored Boba Tea. You will need a tea that can stand up to the cream and still have flavor. You can also use a more uniquely flavored tea to keep your Boba Tea fresh and unique. Below are some fun flavored strong teas you can try:
Oolong Tea
Jasmine Tea
Green Tea
Thai Tea
Chai Tea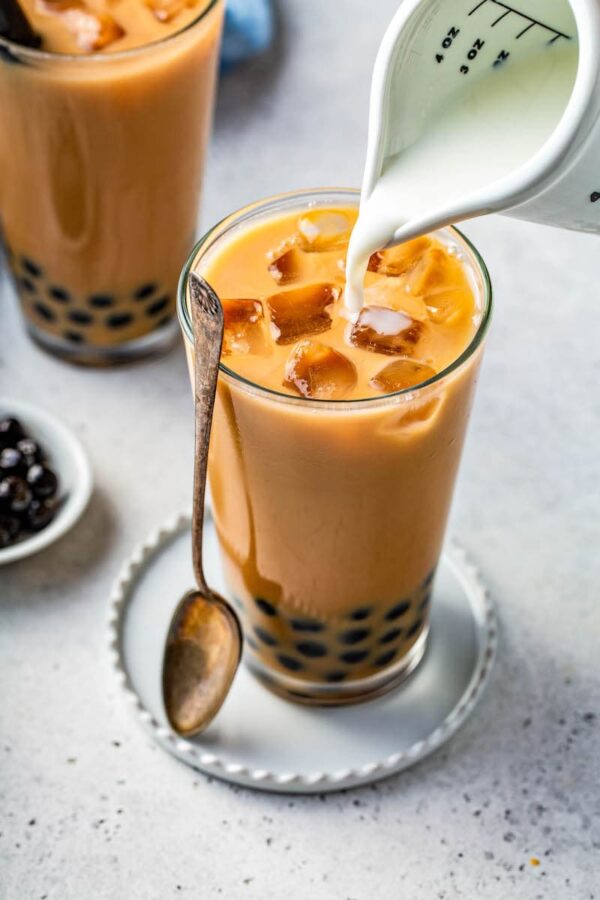 What Kind of Cream is Best for Boba Tea?
Often, store bought tea will be made with a non-dairy creamer (think coffee creamer!). I personally like a real cream or milk in my Boba Tea, but if you are looking for a copycat recipe, like the Boba shop down the street, try non-dairy creamer.
In this recipe, I suggested you use whole milk or half and half. These are two common milk products you are likely to have at home already, but they're are many other options to consider! Below are all the different options you can try out to see which one matches your personal tastes best:
Heavy Cream
Whole Milk
Half & Half
Non-Dairy Creamer (coffee creamer!)
Coconut Milk or Coconut Cream
Sweetened Condensed Milk
Almond Milk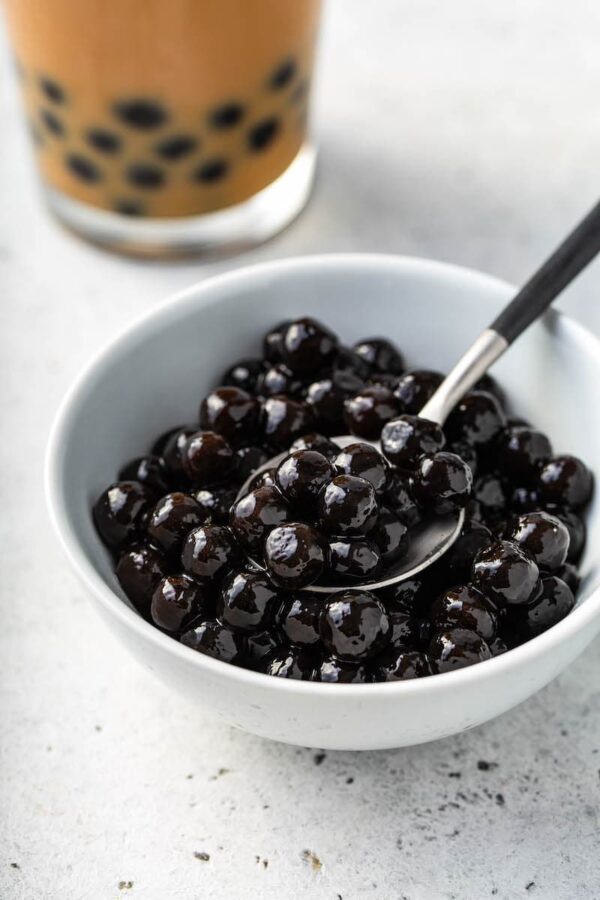 How to Cook Tapioca Pearls
There are two types of tapioca pearls — raw and the quick cooking variety that have been highly pre-cooked. The quick cooking tapioca pearls cook in about 10 to 15 minutes and the raw tapioca pearls can take up to 45 minutes to soften.
Then depending on your preference and the type of tapioca pearls you use, you may want to rinse them and soak them in simple syrup to sweeten them up.
I personally recommend you use the quick cooking tapioca pearls — I bought this brand off amazon (affiliate link). This is how I cook them:
Boil tapioca pearls in water for about 15 minutes, they are done when they float to the top.
Remove pot from the heat, cover, and let the pearls soak in the hot water for an additional 10 – 15 minutes. They are done when they reach the desired level of chewiness.
Drain and rinse pearls under cold water and transfer to a bowl. Try a tapioca pearl to check if you would like them to be sweeter. If yes, you can soak them in simple syrup for an additional 10 to 20 minutes.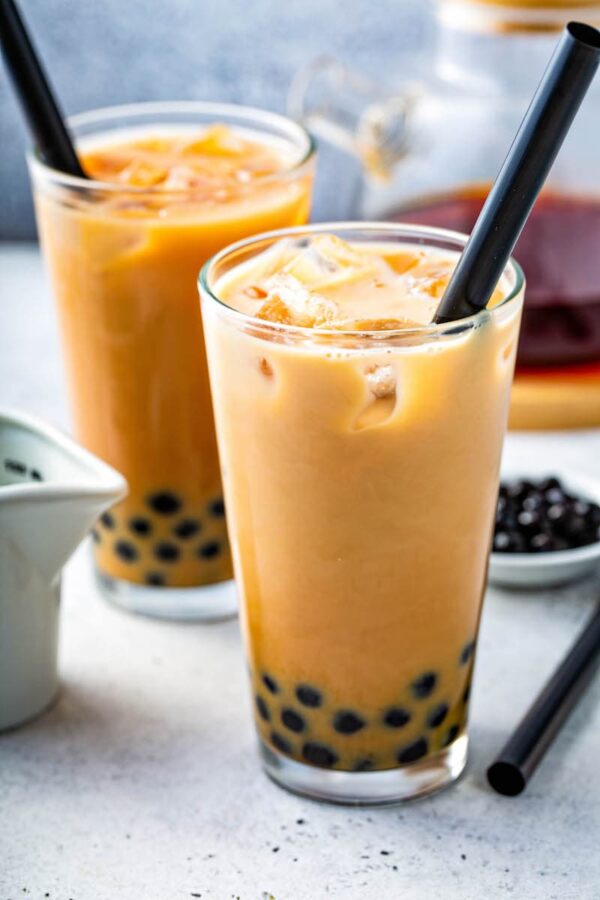 Making boba tea at home takes a few steps and a little planning ahead, but it's easy enough to do. You can make the black tea itself ahead of time and have it in the fridge ready to go at any time.
Then, when you are ready to serve the Boba Tea, you just need to make your tapioca pearls (boba does not keep well – boba needs to be made fresh each time!) and add your milk and your dessert in a glass is served!
Head on over to Dixie Crystals for the full recipe I developed for them!
RECIPE: Boba Tea