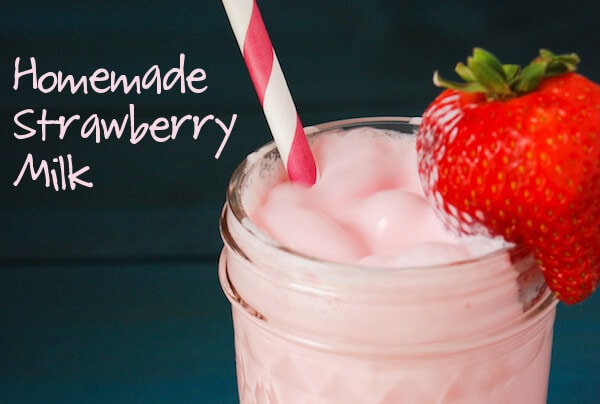 School has started and although I may not have kids or be in school myself anymore, memories of the school cafeteria and strawberry milk came rushing back to me. To be perfectly honest, I am pretty sure my hankerin' is not from me reminiscing as much as it is thanks to the non-stop milk commercials on TV this time of year.
Yesterday after some serious pool laps (that's right, I swam laps instead of floating on a big pink noodle the whole time), I swung by the grocery store to pick up a few things. I happened to be grabbing a gallon of regular milk when I spotted a big pink jug of Strawberry Milk. I glanced at the nutrition and promptly put it right back. There may have been 4 lbs of butter sitting in my cart (heeyyy, I am writing a cookbook! It's work related butter!), but there was NO way I was going to drink half a glass of Strawberry Milk for over 300 calories and almost 50g of sugar. Dream on Strawberry Milk makers, I can make it myself for less calories, sugar and money!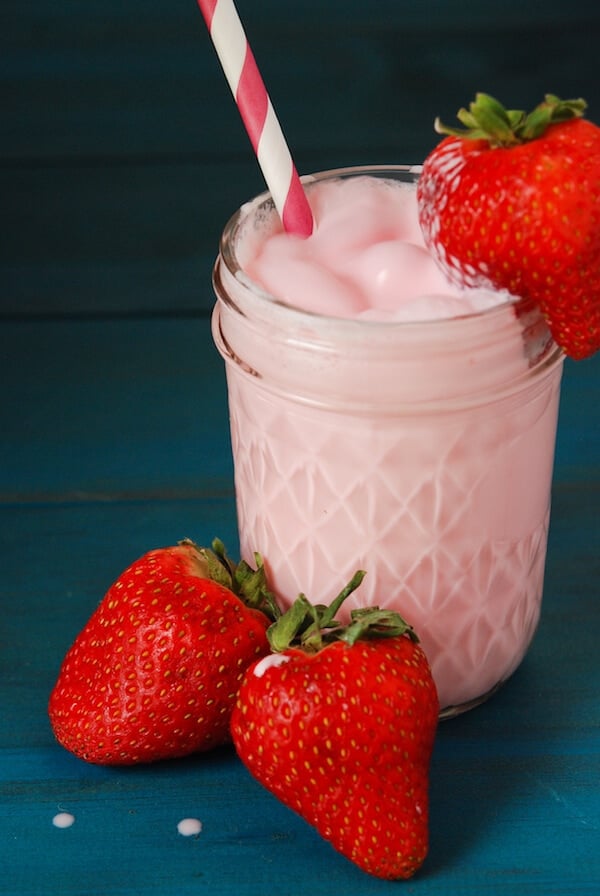 So I came home and grabbed some of the strawberries that were about to turn bad from my fridge and made a strawberry simple syrup. Does it still have sugar? Of course, but it has much less than the store bought kind. Plus, when mixing the strawberry simple syrup into your milk you can decide on how much to add. I have been enjoying Strawberry Fat Free Milk all week and it has been fabulous! 😉
Yield: 2-4 cups Strawberry Milk
Homemade Strawberry Milk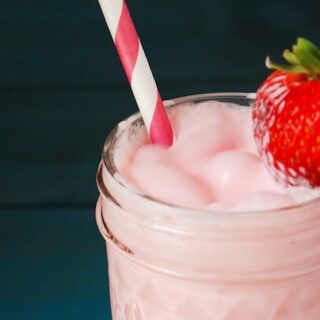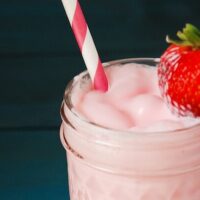 Homemade Strawberry Milk, made with a strawberry simple syrup, is so sweet and delicious. Your kids will absolutely love this pink drink--I guarantee it!
Ingredients
1 cup sliced fresh strawberries
1/2 cup sugar
3/4 cup water
milk
Instructions
In a small sauce pan over medium high heat, bring strawberries, sugar and water to a boil. Boil for 10-12 minutes –until the mixture slightly reduces and the strawberries are starting to break down.
Using a mesh strainer, strain the mixture into a bowl and allow to cool. Once cool stir strawberry syrup into cold milk –adding as little or as much as you like!
If you have any leftover, syrup can be refrigerated in an airtight container for up to 3 days.
Nutrition Information:
Yield:
2
Serving Size:
1
Amount Per Serving:
Calories:

284
Total Fat:

3g
Saturated Fat:

1g
Trans Fat:

0g
Unsaturated Fat:

1g
Cholesterol:

10mg
Sodium:

69mg
Carbohydrates:

63g
Fiber:

2g
Sugar:

54g
Protein:

5g
Categories
This post may contain affiliate links. Read my disclosure policy.