Honey Almond Cookies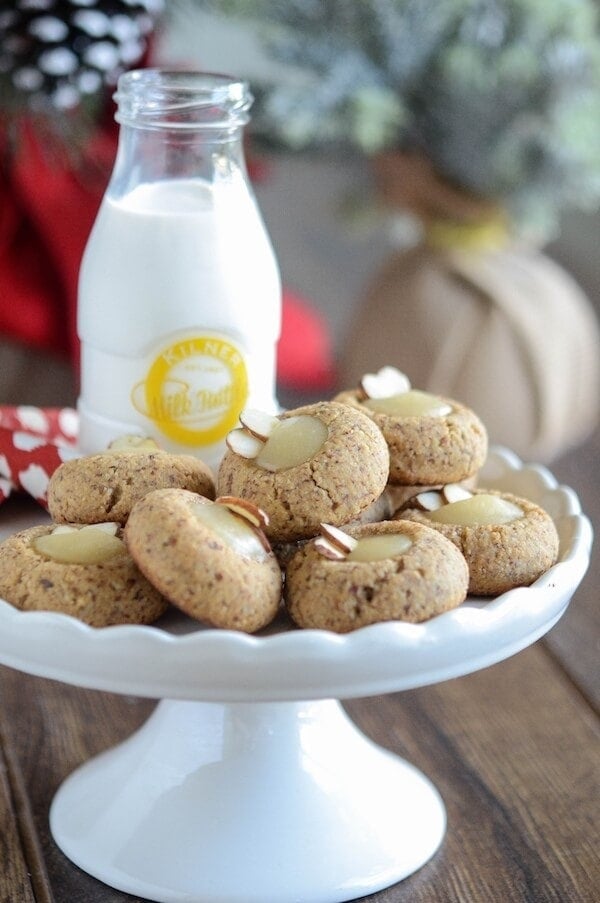 Christmas is almost here and my house has been filled with guests and good things to eat. I have made so many cookies over the last few weeks, but these gluten free Almond Honey Cookies might just be one of my favorites.
The honey and almond flavors truly shine through and each bite is full of flavor. These cookies also store really well and still taste fresh a few days later. Gotta love that!
This week we have had some friends in town that happen to be gluten free. I convinced Pamela's to allow me to take over their instagram this week to showcase what I have been making for them to eat.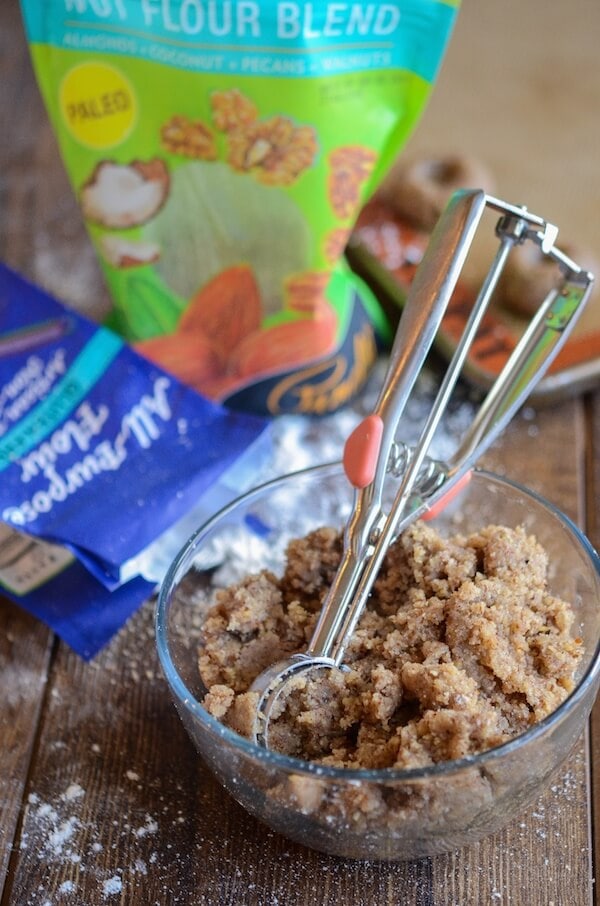 I partnered with Pamela's for the better part of this year and I have to say, their products are fabulous. As someone who does not have to be gluten free, I don't find their products to be missing anything that normal gluten filled goodies to have.
I have so many friends who have had to become gluten free for one reason or another. Some have celiacs disease and for some it's a diet choice.
I love having baking mixes and snacks ready to go in my pantry for when they show up. Plus, my baby sitter has to be 100% gluten free…and every mama knows you have to keep your baby sitter happy!
I was raised to always be a great hostess and that means having something to offer your guests…and for me, that means all my guests. Even the gluten free ones! 😉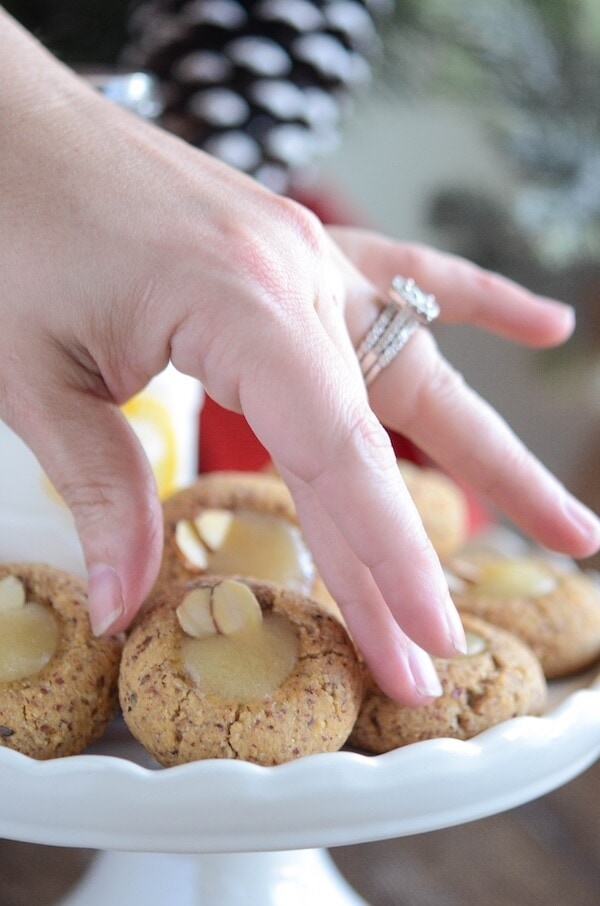 I made these cookies with a combination of two flours. The main flour I used was Pamela's Nut Flour Blend. It gives these cookies a great texture and flavor from all the nuts.
Then I added a cup of Pamela's All-Purpose Flour Artisan Blend to keep them a more traditional texture. They are loaded with honey flavor since they are sweetened with honey only.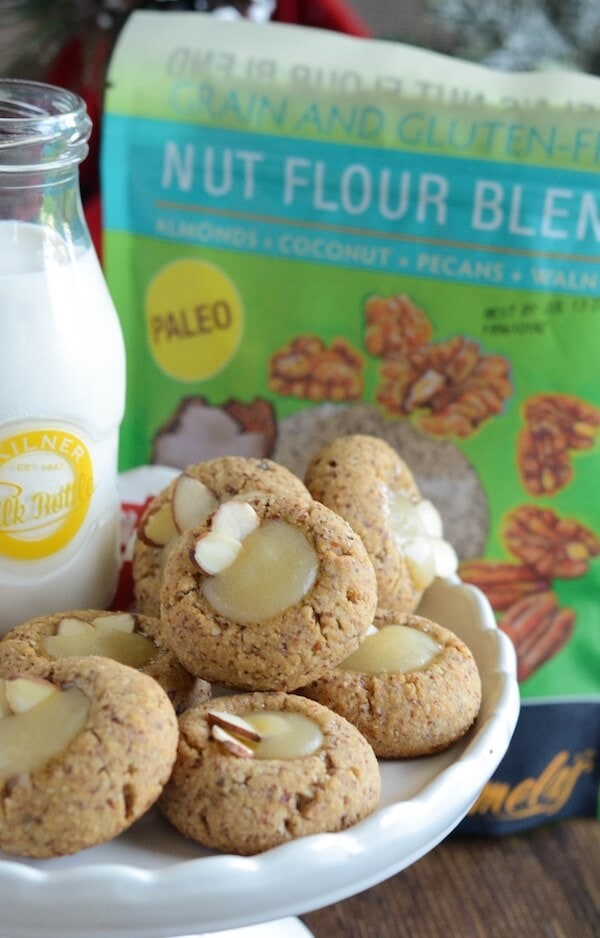 Make sure and check out the other great gluten free recipes I have made this year highlighting Pamela's products: Turkey Biscuit Casserole, Chocolate Zucchini Walnut Brownies, Apple Pie Pancakes, and Cherry Almond Bars!
Honey Almond Cookies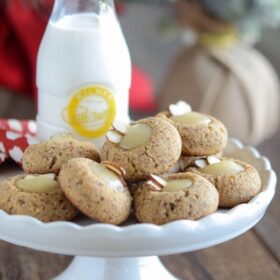 Ingredients:
2 1/4 cups Pamela's Nut Flour Blend
1 cup Pamela's All-Purpose Flour Artisan Blend
1 teaspoon baking powder
1/2 teaspoon salt
2/3 cup honey
1/3 cup canola oil
1 large egg
1 teaspoon almond extract
1 teaspoon vanilla extract
1 tablespoon butter, softened
1/4 cup honey
sliced almonds, for garnish
Directions:
Preheat oven to 350°F. Line two baking sheets with parchment paper or nonstick baking mats.
In a large bowl combine nut flour blend, all-purpose flour, baking powder and salt; stir until just combined. Set aside.
In a large bowl,  whisk together honey, canola oil, egg, almond extract and vanilla extract until well combined. Add the wet ingredients to the dry ingredients; beat to combine. Refrigerate the dough for 1 hour.
Roll 1 tablespoon of dough into 1-inch balls and place on the prepared baking sheets about 2 inches apart. Press the tip of your index finger in the center of each cookie to make an indentation.
Bake the cookies, in batches, until set and barely golden on the bottom, 12 to 14 minutes. Transfer to a wire rack; let cool for 30 minutes.
Combine honey and butter in a small bowl until creamy. Use about 1/2 teaspoon to fill each cookie and top with 2 sliced almonds, if desired.
This post is sponsored by Pamela's Products. All opinions are, as always, 100% my own. Thank you for supporting the brands that I love!