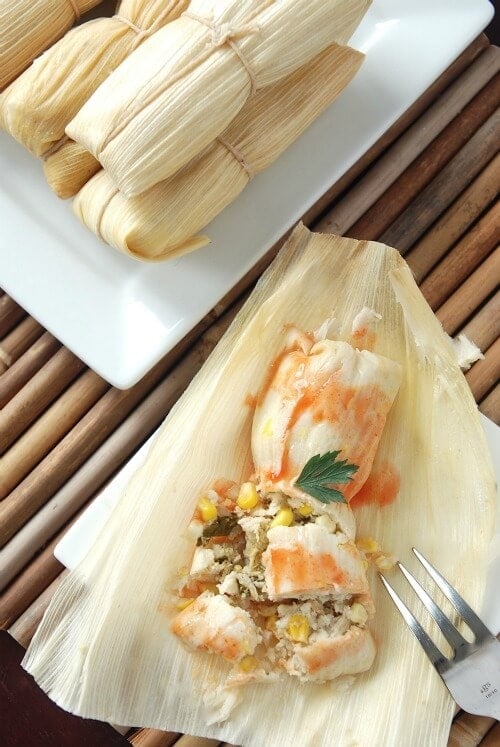 The last month of my senior year in high school, I moved in to my friend Diana's house. My parents had to move to Florida for my Dad's job and I stayed behind to finish out my last month of school. Diana's Mom used to bring home some of the most amazing Tamales from a woman who sold them at her job. They were white, instead of the standard yellow. They had whole corn kernels in the dough…and best yet? They were filled with an incredibly flavorful chicken. Traditional tamales are stuffed with ground beef, pork, or a mixture of the two. And while those may be delicious, they are nothing compared to these.
Jorge was so surprised when he took his first bite of these Green Chile Chicken Tamales! I was surprised to watch him gobble 6 down before he even glanced up to tell me how good they were. Which if you cook a lot, you know sometimes, no words can be the best compliment. I liked these best topped with a little Texas Pete hot sauce…just for a little extra flavor. I was really surprised at how easy these were to put together. In my head I had made it into some impossible task, but while it may be tedious…it is easy!
My Tamale Tips:
1. TWINE! Some people do not use twine, but I found tying them with twine ensures you don't loose any of the tamale when steaming. I also like that it keeps both ends sealed in case you want to freeze some.
2. Go watch Tamale rolling videos! I almost did a step by step photo session for these…but honestly nothing does it better then watching someone else do it. I watched over 5 videos on youtube. I would suggest watching a few videos since everyone does it slightly different.
3. You do not have to have a special steamer to cook them. I took my 12 quart stock pot and the strainer that came in my set and stuffed all the tamales into it standing straight up. Then I put in about 2 inches of water into the bottom of the pan. Then I placed an oven safe 2 inch deep ceramic dish into the bottom. I then placed the strainer on top of ceramic dish and let the water boil. This steams the tamales without having the tamales sitting in the water. It also will prevent possibly burning the bottom of the tamales. You will have to continue to add water as it steams, but it's easy to do.
4. To freeze, I steamed my tamales first. Then I wrapped each in foil individually. Then froze in ziplock bags. They will keep for up to 3 months. When you are ready to eat, unwrap tamales, place on a microwave safe plate, and cover with a damp paper towel. Cook until heated through.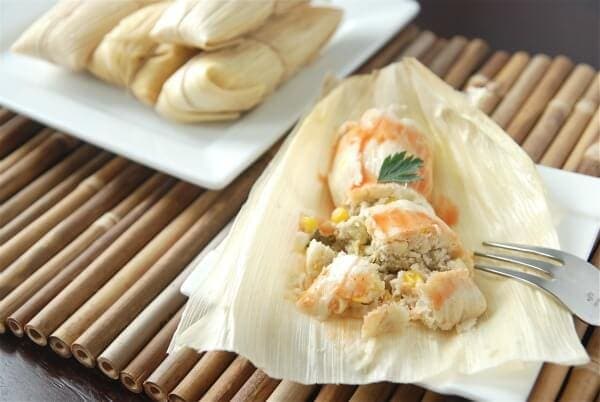 Green Chicken Chili Tamales
Green Chicken Chili Tamales are an easy Mexican-inspired dinner that every family member is sure to love. This spicy chicken and vegetable mix, wrapped in corn husks, is truly delicious.
Ingredients
You will need:

Kitchen Twine

6

oz

package corn husks

For the Chicken:

2.5

lbs

chicken breasts

,

trimmed

4 ½

cups

warm water

2

Knorr Homestyle Chicken Stock

,

the liquid bouillon kind

1

cup

Salsa Verde,

I used Herdez brand

1

teaspoon

garlic salt

For the Filling:

1 ½

pound

tomatillos

,

husked, rinsed

5

large jalapenos

,

seeded, sliced in half lengthwise

6

large garlic cloves

1 ½

tablespoons

olive oil

1

cup

chopped fresh cilantro

For the Dough:

1 ⅓

cups

vegetable shortening

1 ½

teaspoons

salt

1 ½

teaspoons

baking powder

4

cups

Masa

2

cups

maybe a little more low-salt chicken broth

2 ½

cups

fresh corn

,

about 4 ears
Instructions
For the Chicken:
In the bowl of your slow cooker, mix warm water, Knorr homestyle stock, salsa verde, and garlic salt. Once fully mixed, add chicken. Cook on high for 4 hours. Pour juice/chicken stock into a large bowl, set aside. Shred chicken and set aside.
For filling:
Place husks in large pot or large bowl; add hot water to cover. Place heavy plate on husks to keep submerged. Let stand until husks soften, about 30 minutes. You can let this happen while you are preparing the dough and filling.

Heat broiler. Line heavy baking sheet with foil. Arrange tomatillos on prepared sheet. Broil for 6 minutes, remove from oven. Turn each tomatillo over. Add jalapeno to baking sheet and return to broiler. Broil 6 more minutes and remove from oven for good.

Transfer tomatillos, jalapenos, and any juices on baking sheet to food processor (or blender). Add garlic to processor and blend until smooth puree forms. Heat oil in medium saucepan over medium-high heat. Add tomatillo puree and boil 5 minutes, stirring often. Add 2 cups leftover broth (the leftover juice from the slow cooker). Reduce heat to medium; simmer until sauce coats spoon thickly, stirring occasionally, about 40 minutes. Season with salt. Mix in chicken and cilantro. (Can be made 1 day ahead. Cover and chill.)
For dough:
Using stand mixer, beat vegetable shortening with salt and baking powder, until fluffy. Beat in masa in 4 additions. Reduce speed to low and gradually beat in 2 cups broth, forming tender dough. If dough seems firm, beat in enough broth, 2 tablespoons at a time, to soften. Then gently stir in the corn kernels.

Open 1 large husk on work surface. Spread 1/4 cup dough in 4-inch square in center, leaving 2- to 3-inch plain border at narrow end of husk. Spoon heaping tablespoon filling in strip down center of each dough square. Fold long sides of husk and dough over filling to cover. Fold up both ends of the husk. Tie tamale with twine. Stand tamales in steamer basket. Repeat with more husks, dough, and filling until all filling has been used. If necessary to keep tamales upright in steamer, insert pieces of crumpled foil between them.

Fill pot with about 2 inches of water, place in the 2 inch ceramic oven safe dish, and bring water to a boil. Carefully place the steamer basket on top of the ceramic dish. Steam tamales until dough is firm to touch and separates easily from husk, adding more water to pot as necessary, about an hour (mine took an hour and a half). Let stand 10 minutes. Serve immediately, or freeze.
Nutrition
Serving:
1
,
Calories:
241
kcal
,
Carbohydrates:
18
g
,
Protein:
14
g
,
Fat:
12
g
,
Saturated Fat:
4
g
,
Polyunsaturated Fat:
7
g
,
Cholesterol:
38
mg
,
Sodium:
354
mg
,
Fiber:
2
g
,
Sugar:
3
g
Categories:
This post may contain affiliate links. Read my disclosure policy.