Mini Peanut Butter Oreo Pies
Mini Peanut Butter Oreo Pies are delicious, easy to make, mini desserts that are perfect for Oreo lovers. These mini pies are easy to assemble and are best eaten hot!
If you like this easy mini pie recipe you should also try my Mini Lemon Meringue Pies!
Mini Peanut Butter Oreo Pies
How do you eat your Oreos? And no, for once, I do not mean that as a euphemism. I'm serious!
Do you dunk yours in a glass full of milk? Or perhaps you twist it and then eat the filling first? Do you eat them crushed up over ice cream? Or do you just shove the whole thing in your mouth at once like a sugar crazed chipmunk? Honestly I don't think any of those Oreo eating ways fit you. No, I think you sit on the couch, in workout shorts and your husbands oversized work shirt because you don't own any actual matching pj's, and dip them in a giant jar of peanut butter.
Oh wait, maybe that's me, not you.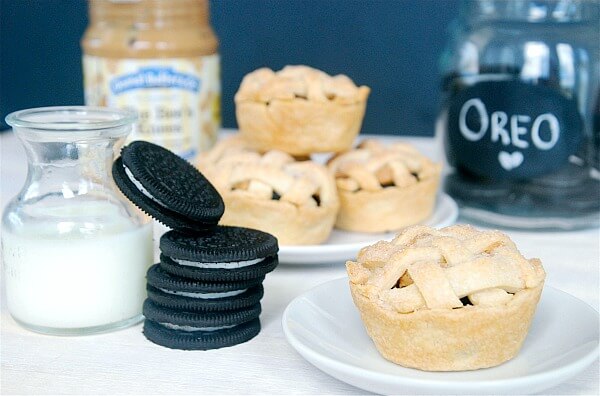 If that's not you, you are missing out. Seriously. I do not remember who introduced me too it, but an Oreo dipped in a jar of peanut butter is like magic. Pure, sugared up magic. So last week when I saw that Jenny, over at Picky Palate, came up with this genius idea of wrapping Oreos and peanut butter in pie crust…I just about promised her my first born.
But I don't think Jorge would have been to thrilled with me. He tends to think future children will be more important than baked goods. I don't agree at all. You can see who has their priorities straight (me people, me!). So we settled the argument by going to the store immediately to buy some double stuffed Oreos…which really is a win-win situation for everyone.
I Love How Quick And Easy These Mini Pies Are To Make
I loved how easy these were to put together. While the lattice tops take a few minutes, the rest is a snap. And the result is delicious! I will warn you, eat these while they are hot. Once they go cold they tended to be a little dry because of the pie crust. But if you wanted to serve these for guests, you could easily prep them ahead of time and then once assembled place in the fridge until you are ready to bake. Easy, fast, and delicious. What more could you want?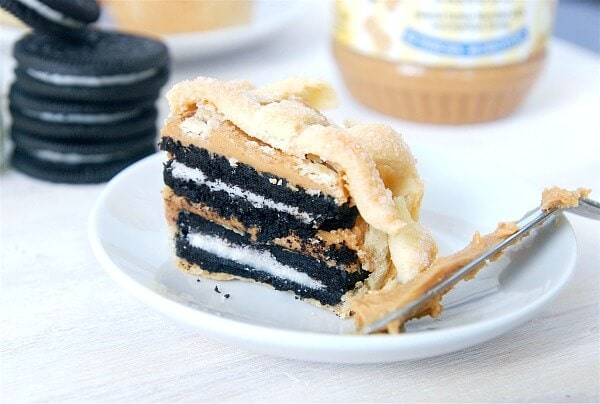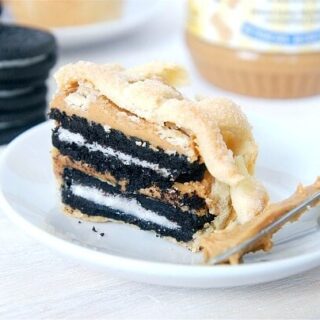 Mini Peanut Butter Oreo Pies
Yield: 8 Mini Pies
Prep Time: 20 minutes
Cook Time: 22 minutes
Total Time: 42 minutes
Mini Peanut Butter Oreo Pies are so delicious and easy to make. These mini desserts are perfect for Oreo lovers and are best eaten hot!
Ingredients
Two refrigerated 9 inch pie crusts
16 Double Stuffed Oreo Cookies
1 cup Peanut Butter & Co "The Bee's Knees" (peanut butter mixed with honey)
2 tablespoons melted butter
3 tablespoons granulated sugar
Instructions
Preheat oven to 350 degrees F and spray 8 muffin cups with Baker's Joy (or an equivalent like Pam).
Unroll pie crusts and cut out eight 4-inch rounds using a large biscuit cutter. Press into prepared muffin pan.
Spread 1 tablespoon of peanut butter over each Oreo then stack 2 cookies on top of each other. Place 2 stacked cookies into center of each pie crust. With the remaining pie crust, cut out circles to fit the top of the pies. Using your fingers, press along edges of each mini pie to seal. Cut 3 diagonal lines across the top with a sharp knife. Or check out Picky Palate for step by step photos for an adorable lattice top for these mini pies.
Brush melted butter over the tops and then sprinkle generously with sugar. Bake for 22-26 minutes, or until golden brown. Let cool for a few minutes, you know...until you can handle the heat, then remove from pan and serve immediately with a glass of milk!
Nutrition Information:
Yield: 8
Serving Size: 1
Amount Per Serving:
Calories: 449
Total Fat: 31g
Saturated Fat: 9g
Trans Fat: 0g
Unsaturated Fat: 18g
Cholesterol: 8mg
Sodium: 373mg
Carbohydrates: 37g
Fiber: 3g
Sugar: 10g
Protein: 10g