Idaho Potato Harvest
Last week I spent most of my days covered in dirt and half buried under pounds of potatoes. No, I wasn't on some weird episode of Dirty Jobs…I was celebrating the 75th anniversary of the Idaho Potato Commission by attending the Idaho Potato Harvest! When the wonderful people behind the Famous Idaho Potatoes emailed asking me to join them for their blogging trip to explore all that Idaho has to offer, I was ecstatic. I have been to Seattle and to the center of Washington, so I just knew Idaho must be just as stunningly beautiful. I packed my big mama camera and my iPhone 4s (my iPhone 5 still hasn't shipped) and jumped on three different planes to fly all the way across the country to get my potato harvest on!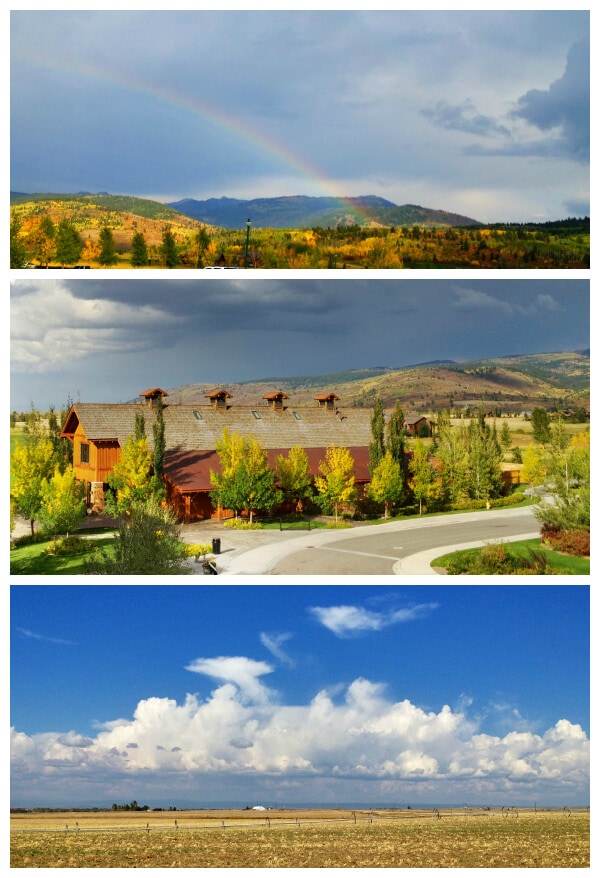 While I ended up hauling my camera & a couple lenses out to Idaho, half way through I decided that instead I would challenge myself to only use my iPhone for photos. I feel like at this point, my dSLR is no longer as big of a challenge.
I can almost always get a pretty good shot with it, but can I do a whole trip with just my iPhone and still feel proud of my photos? I think it was a success and I am happy to be sharing some of these shots here on the blog. I enjoyed the challenge and being able to instantly share these shots on facebook and twitter instead of having to wait until I could upload them onto my macbook.
ALL of the photos in this post were taken with an iPhone 4s and were edited using one of the following apps: Camera+ — Filterstorm — Pro HDR — Instagram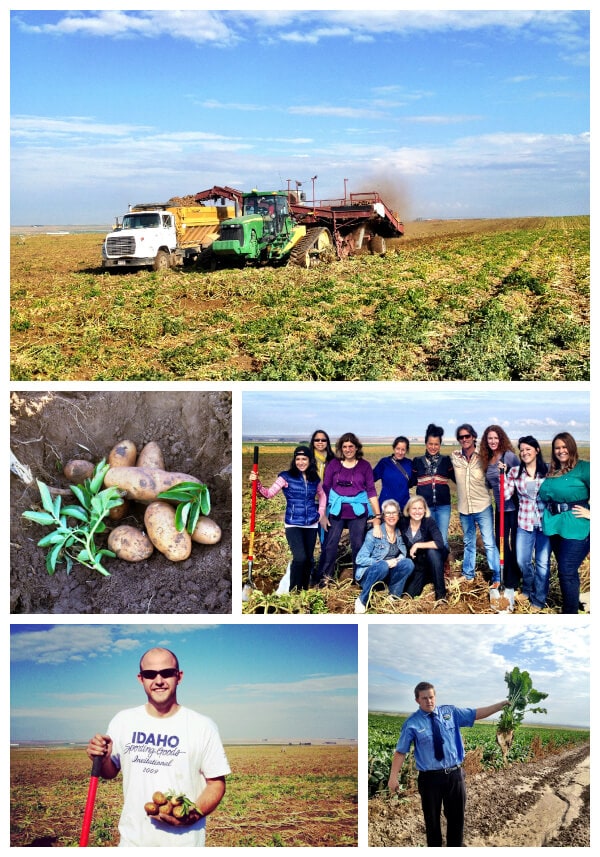 One of my favorite things to do on these kinds of press trips, is visiting the farms and meeting the farmers. It's a truly magical experience to see how grand an operation it is to get potatoes into my local grocery store down in Florida. Every time I buy a potato from now on, I know I will be instantly thinking about all the time, thought, man-power and resources that went into my one potato.
One of the farms we got the chance to visit was Rainbow Ranch. While considered a "small" farm, this one 4th generation farmer is able to grow enough potatoes each year to feed 100,000 people! I can barely manage to grow enough basil to make a batch of pesto…much less imagine being in charge of a crop that large.
The next farm we got to visit was actually in the middle of harvesting their potatoes. Seeing the tractors in action was pretty dang impressive. To actually harvest the potatoes, there are a lot more steps than I imagined. Growing up I spent time digging up potatoes…but it was nothing like this!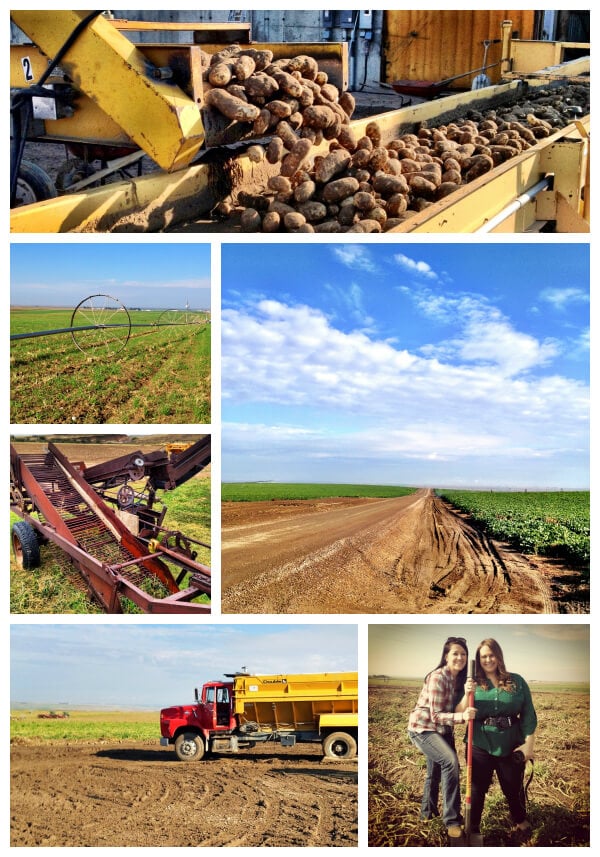 At home, when we grow potatoes in our garden we just reach in and dig up a potato when we think they are ready. But on a farm with hundreds and hundreds of acres of potatoes, it's a little bit different. 😉
First, they kill the actual potato plant by chopping them down at the root. Once the plant dies, the potatoes are able to fully mature and are ready to be harvested. Then they send in the tractors which do everything from uprooting all the potatoes to collecting them and loading them into giant potato dump trucks (that's totally the technical name).
Then the potatoes are unloaded and placed in big, dark, cool metal barns. They relax and hang out in the barns for a couple of weeks having cocktail hours and dance parties — or maybe they are healing from the harvest like the farmers said, but I prefer to imagine they are throwing Tater Toga Parties.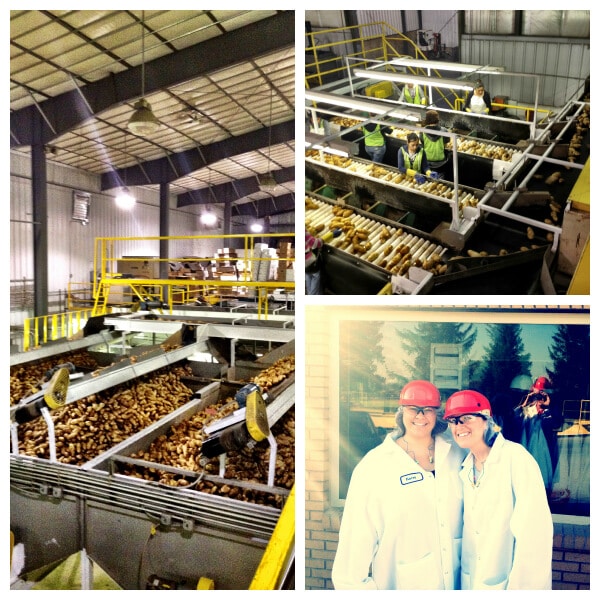 After being held in the barns, the potatoes are then transferred to a sorting plant. At the sorting plant, the potatoes are umm…sorted…but there is a little more to it than that! The potatoes are first sent through a few machines to brush the dirt off their shoulders (yes, I really did just say that) and are then sorted in many different ways.
First there is a machine that will sort the potatoes by size. Some buyers (i.e. steak restaurants) want giant potatoes while the every day consumer does not need a 2lb potato. Next they are hand sorted and any potatoes that aren't pretty enough, are too knobby, or have some deformity are sent to processing plants.
While we were lucky enough to get to a behind the scenes tour of the Idohoan processing plant, we were not able to bring in cameras. While I may not be able to show you, I can tell you that the process they go through with these potatoes is so intricate and each potato is used up completely. Unlike other companies, Idohoan does a one pass process so the potatoes are as untouched as possible. They work 24/7 except for a few major holidays to keep our grocery store shelves stocked!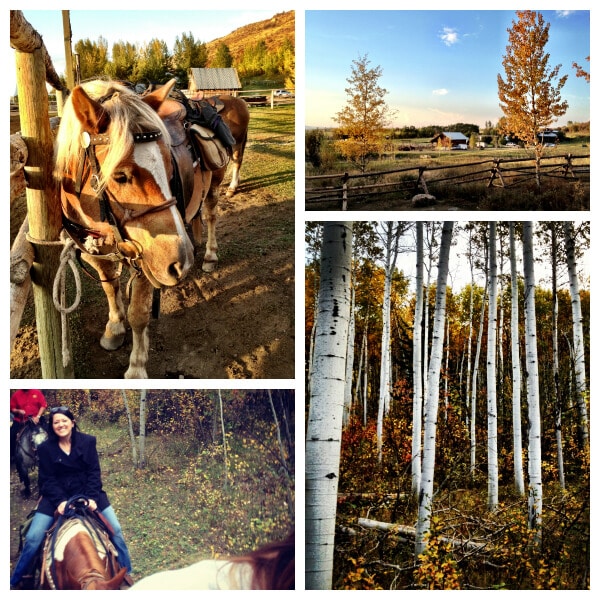 After visiting the farms, plants and some of the local restaurants and ice cream shops in Idaho Falls, we got a chance to head up to the mountains south of Yellowstone National Park in Victor, Idaho. We were right on the Wyoming/Idaho state line and it was a magical place to be. The leaves had already begun to change for Fall and we got to enjoy them on a horseback ride on the trails of the mountains.
My horse was named Norman. He only wanted to eat, had no interest in following the trail and wouldn't follow directions to save his life. I loved him completely and am convinced we are soul mates. Jorge told me I could bring him home if I could fit him in the overhead bin…so I had a talk with Norman and am hoping he will lay off the oats and sugar lumps for a while so I can bring him back home with me next time. 🙂
Leaving Idaho and their amazing sunrises and sunsets was heartbreaking. I fell in love with the kind hearted people, the beautiful views and the perfect weather. I love that the people of Idaho are proud of their farmers and of their potatoes, but mostly I loved how welcoming they are to letting crazy food bloggers dig through their fields and manhandle their potatoes!
Thank you so much to the Idaho Potato Commission for inviting me to celebrate your 75th anniversary with you! I will never again look at a potato as just a potato!