Chicken Tandoori Pizza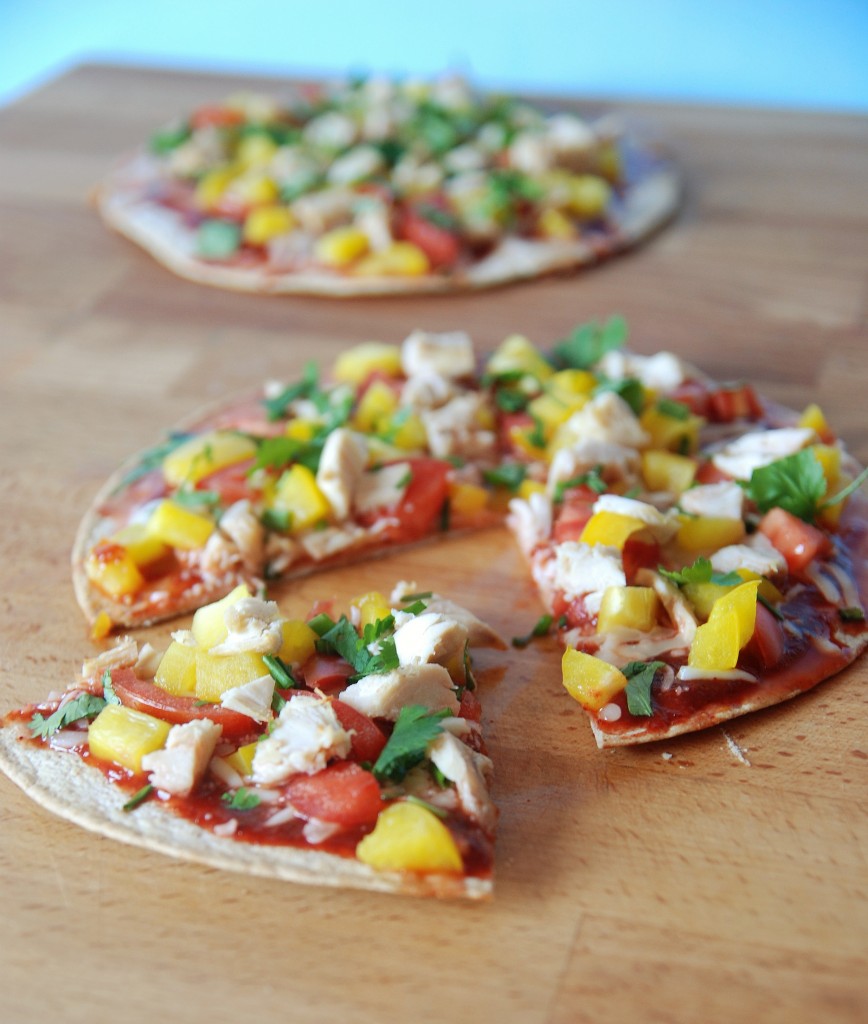 In high school my girlfriends and I used to order pizza from this local pizza place called Mr. Jim's Pizza because all the cute guys used to work there. We would spend at least an hour primping our hair and make up and deciding what looked cool but not like we really dressed up. You know that effortless stunning look that is oh so unattainable. Then we would look over the menu and try to figure out what we should order. Should we order veggie pizza because it's girlie and more "diet-y" then the meat lovers? Or should we order the meat lovers to show them that we aren't like those girls who don't eat? Or should we order the white pizza, which was the one I always really wanted…but we weren't sure what the white pizza said about us. We almost always ended up ordering the white pizza because I threw a hissy fit it was sooo good. It was made with ranch dressing instead of normal tomato sauce, which I know sounds crazy…but it didn't taste like ranch. And then it was topped with all kinds of cheeses, seasonings, veggies, and chicken. It was pure crack in a cardboard box and it was why my jeans were always tight on Monday. But senior year I started dating one of the guys that worked at Mr. Jims, and while it was a torrid 3 week high school affair, it ended after I decided that he always smells like pizza and cheap beer and the free white pizzas I was getting weren't worth it. I still dream about that white pizza and if Mr. Jim's is still open. If it is, Mr. Jim, if you're out there, do you mind sharing your recipe? 😉
As you can tell pizza has always been a staple in my diet and I married a man who loves it even more then I do. Pizza is by far Jorge's favorite meal. In college he used to eat a large Domino's pizza and a 2 liter of coke for a snack. And as you can imagine these days he no longer has that college metabolism (I never had it, so I'm still jealous), so we have to find other ways to get our pizza fix. I have shared many a pizza recipe along the last few years…but this one is our current favorite. The sauce is AMAZING. And no I am not exaggerating. I think we have had it 3 times in the last week. It's incredibly tasty, healthy, and fast!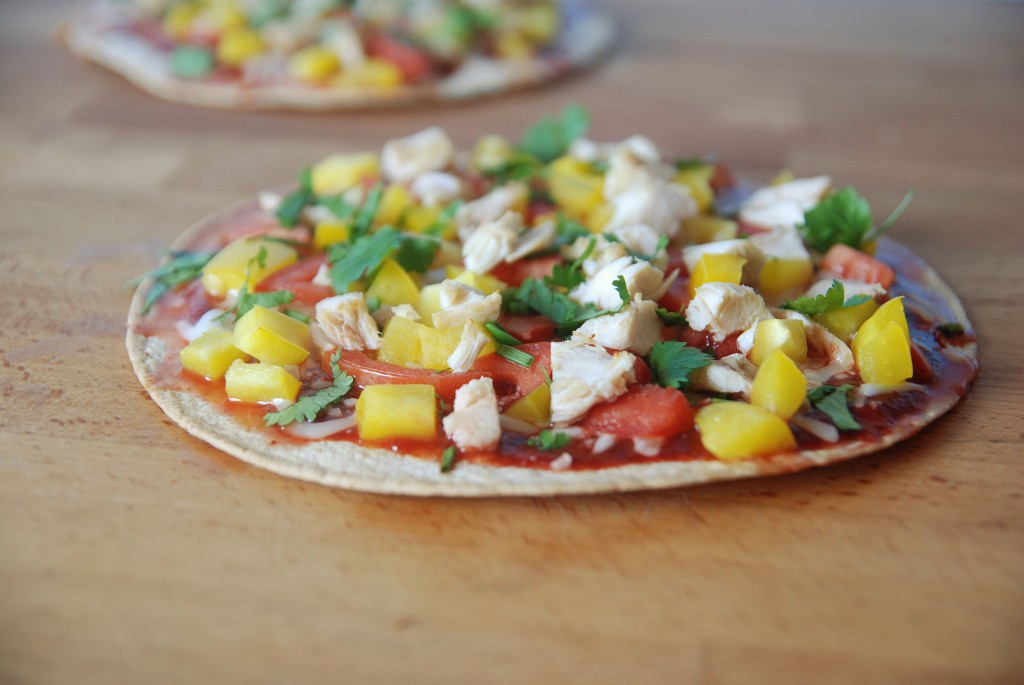 Chicken Tandoori Pizza
Recipe Note: I really suggest buying Ole Xtreme Wellness Tortillas. They are only 5 carbs (compared to 12-25 of regular tortillas) and have 12 grams of fiber…and taste great! I have found them at both Publix and Walmart!
Ingredients:
4 oz tomato sauce
4 tablespoons tandoori paste
4 tablespoons peach preserves (sugar free)
4 Ole' Xtreme Wellness Tortillas
1 cup fat free mozzarella cheese
6 oz cooked chicken, chopped
2 roma tomatoes, chopped
1/2 large yellow bell, chopped
4 tablespoons chives, minced
4 tablespoons cilantro, chopped
Directions:
Preheat oven to 400 degrees.
Place flour tortillas on a baking sheet coated with cooking spray. Bake at 400 degrees for 5-7 minutes or until just browning at the edges. Remove from oven.
Combine tomato sauce, tandoori paste, and peach preserves in a medium bowl. Mix well. Divide evenly among tortillas and spread till within a half inch of the edges.
Top each tortilla with mozzarella, followed by chicken, tomatoes, yellow bell, and chives. Bake in oven for 10 minutes, or until cheese has melted. Top with cilantro and serve immediately.
Source: A Novice Chef Blog Original