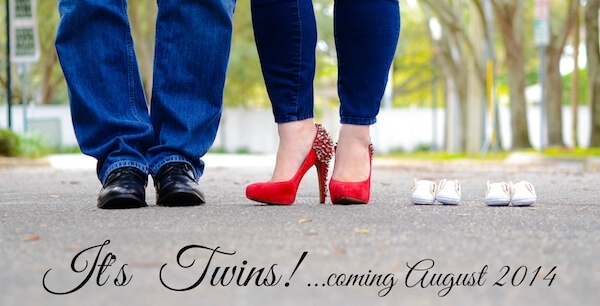 So um, remember when I blamed not posting for a month on buying a new house? Well, I lied. It's more like I was so exhausted that I couldn't make myself get into the kitchen!
Jorge and I have been trying to have a baby for a long time. We kept the struggle to ourselves because it's something that is really weird and uncomfortable to talk about. So after 3 years, we were beyond thrilled to discover we were pregnant the day after Christmas.
Then in January, we found out that it wasn't just one baby, but TWO. I wish we had a video of us in the ultrasound room finding out it was twins. We were sitting there watching the screen and the ultrasound tech said "Here is one side…and here is the other side.". We just looked at her like ok, we get it…that's both sides of the baby. So she said it again…and when we still didn't get it, she zoomed out to show us that there were TWO little bubbles side by side. I immediately sat up and screamed "IT'S TWINS?!!!" followed by manic laughter. Once Jorge realized what was going on, he started jumping around the room and laughing too.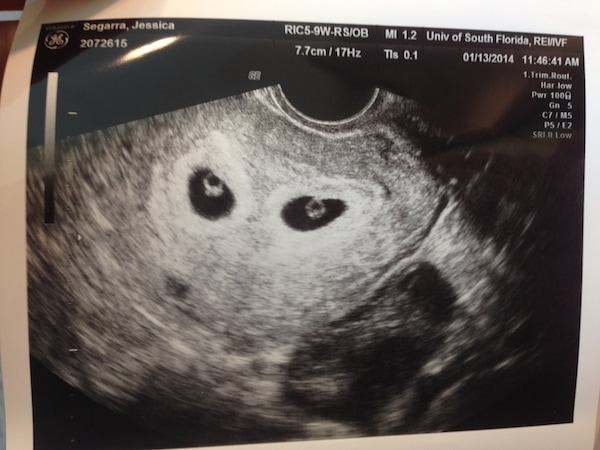 (Don't they look like evil cat eyes or owl eyes here??)
We just couldn't believe our luck! We hoped and prayed for a baby for so long…and to get blessed with two? Well, we just couldn't believe our luck. Most people are terrified of twins, we are just so thankful. We know it's going to be a lot of work, but at least I only have to do pregnancy once!
Speaking of pregnancy, I have had a peach of a time. I honestly can not complain! I completely skipped over morning sickness (which with twins is a serious surprise) and have been lucky to avoid most of the common complaints. The first two months I was extremely tired all the time. Little things like walking the dog or eating lunch would exhaust me. Going from never being a napper, to a two a day napper was quite a change! I felt like I couldn't get anything done! I have also suffered from awful heartburn, but I will take heartburn over morning sickness every day.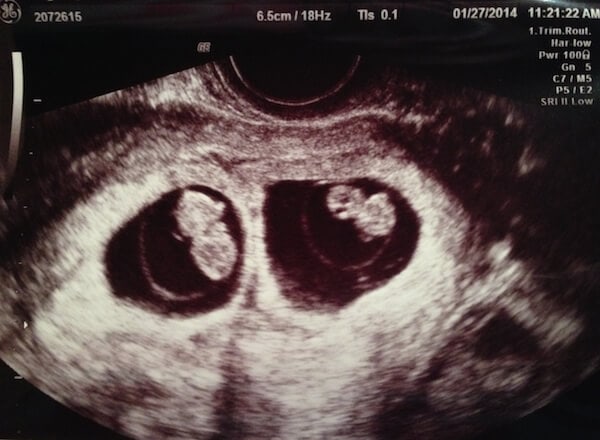 This is my last ultrasound from a month ago. My family has been calling the babies the Chicken and a Duck since we got this latest ultrasound. We are happy to be going in later this week when they are finally going to look like actual babies! With hands and feet and everything! :-)
Thank you to all of you for sticking with me when I was out of commission in January. As you can see, I really did have a good reason! I promise not to turn this into a pregnancy/kid blog, but I will be updating some as we go through this process. …Two cribs, double strollers, and triple the crying (two for them and one for me)…but also quadruple the love. Wish us luck as we go from a family of two to a family of four this August!
This post may contain affiliate links. Read my disclosure policy.