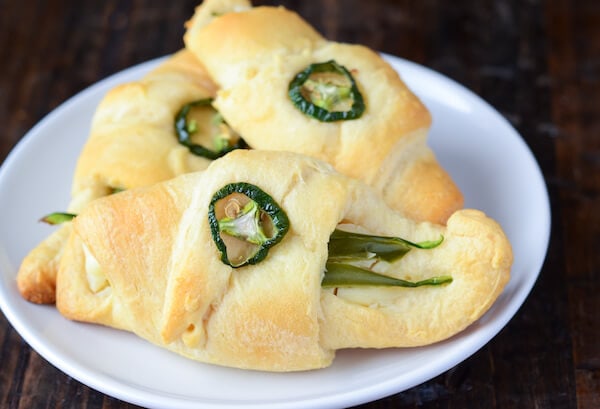 I have a love/hate relationship with early flights. I HATE having to get up at 4 am, but I love getting to my destination before noon. Last week when I was flying home from NYC, I had one of those dreaded early morning flights. I took off from La Guardia airport at 7:10am. That meant that I left my hotel in Manhattan at 5:15am to catch a cab. It was the strangest thing driving through Times Square at that time of the morning. It was completely deserted — like some kind of technicolor ghost town.
After a terrifying cab ride to the airport, with a cabbie who thought his horn was the same as using his brakes, I needed coffee and food. I stopped in some strange little cafe/bakery and ordered a bagel and an espresso. I never looked at my order, but instead ran off to find my flight. I was in the first boarding group, so I jumped in line to get my seat. I figured my wheat bagel with strawberry cream cheese wouldn't smell up the plane.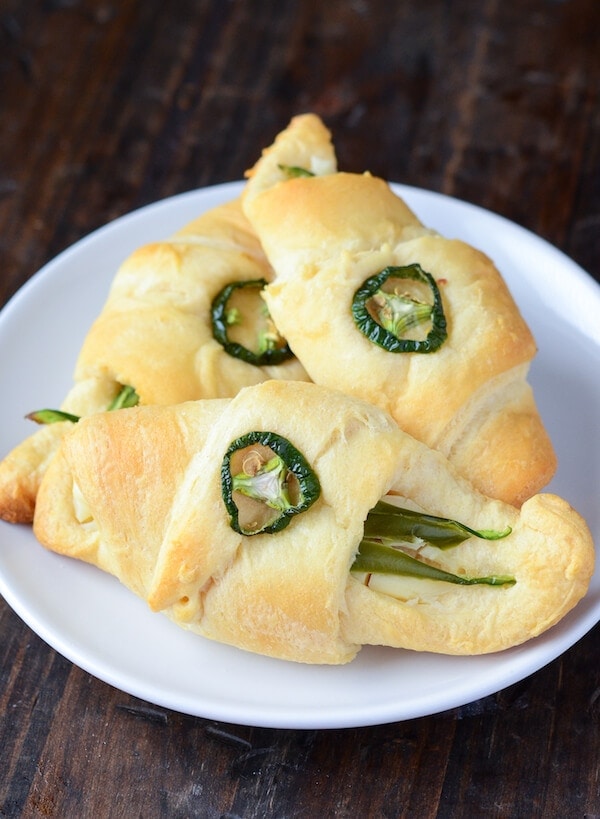 I unwrapped my bagel to find some kind of warm jalapeño croissant that had been slathered with regular cream cheese instead. It instantly stunk up the plane, but I was so hungry that I just took a giant bite anyways. Yes — I was the jerk who made the whole plane smell like jalapeños! After that first bite, I instantly ate another big bite and another and another. I swear it was gone before I even realized what happened!
I spent take off and landing (you know, the time frame when they won't let you use your iphone or kindle) trying to figure out how I could best recreate it. I have made croissants before, but all that time and folding and waiting is a big pain in the butt. I just don't have that kind of patience anymore these days. So then I thought about warm buttery crescent rolls that come from a can. 😉
The flavorful jalapeños (not spicy if you remove the seeds!) and melted cream cheese are divine when wrapped in flaky warm crescent rolls! I think they would be the perfect addition to any brunch table or great if made smaller as appetizers. While the combination may sound strange, if you are a cream cheese & jalapeño fan, I promise you will love these! I feel guilty sharing this "recipe", but while it might be incredibly simple the flavors are awesome.
Yield: Serves 8
Jalapeño Cream Cheese Crescent Rolls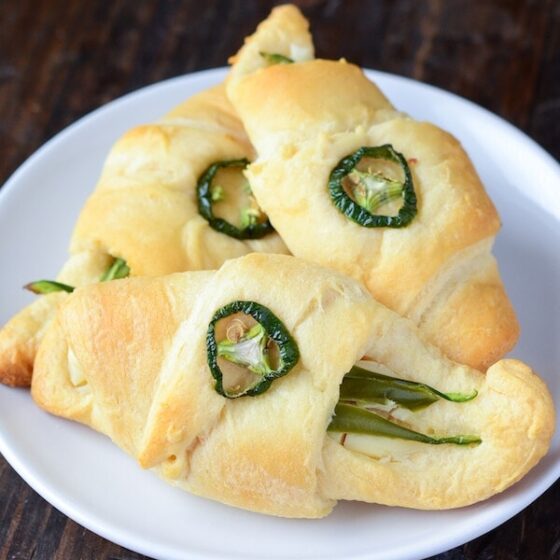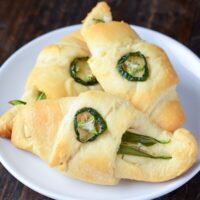 Jalapeño Cream Cheese Crescent Rolls are flaky like croissants, and made with a little added heat! If you're looking for a fun appetizer or a quick brunch recipe, you're in the right place.
Ingredients
3 jalapenos, seeded and sliced in small long slices
1 can (8 oz) crescent rolls (I buy the Pillsbury Original)
4 oz cream cheese, sliced in small rectangles
Instructions
Preheat oven to 350°F. Line a baking sheet with parchment paper for easy clean up.
Separate dough into 8 triangles. Place 2 slices of jalapeno in each triangle. Then place 1 strip of cream cheese on top of the jalapeno.
Roll up each crescent, ending at tip of triangle. Place with tips down on ungreased cookie sheet.
Bake according to directions or until golden brown. Immediately remove from cookie sheet and serve immediately. (These are only good fresh out of the oven – while they are still warm.)
Notes
recipe note: for the pretty factor, place a slice of jalapeno on top of each crescent roll before baking for color/decoration.
Nutrition Information:
Yield:
8
Serving Size:
1
Amount Per Serving:
Calories:

61
Total Fat:

5g
Saturated Fat:

3g
Trans Fat:

0g
Unsaturated Fat:

2g
Cholesterol:

14mg
Sodium:

63mg
Carbohydrates:

3g
Fiber:

0g
Sugar:

1g
Protein:

1g
Want to Save This Recipe?
This post may contain affiliate links. Read my disclosure policy.