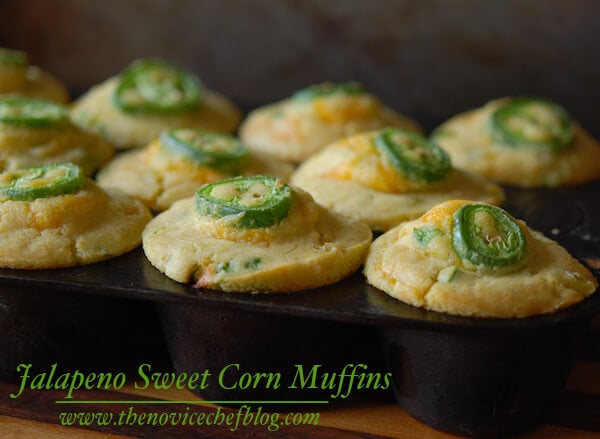 These days it's all the rage to "Cook like your grandmother". Meaning, cook everything you eat from scratch…without any preservatives, boxed goods or canned crap. The thought behind it is, we will all live a much longer life. I have no idea if this is true — and I am not sure I can give up Oreos and Cap'n Crunch — but if it is, I sure want to be like my grandparents when I hopefully get to be their age!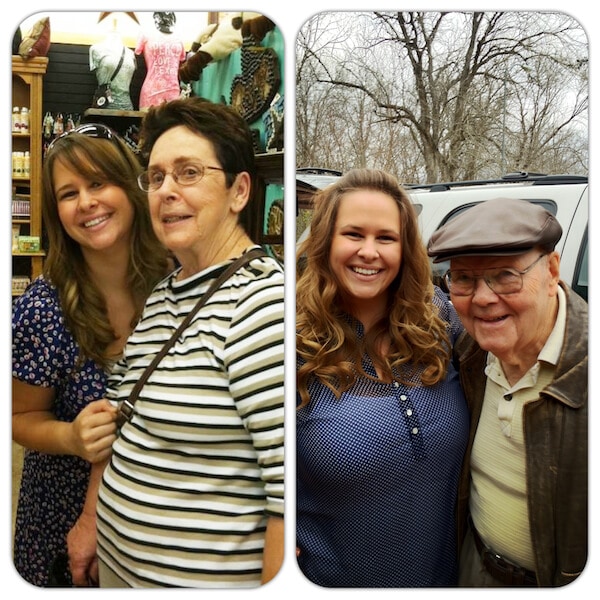 My Papa is 84 this year and my Granny is in her 70's –a lady never tells another ladies age– and they are both still full of life. My Granny still grows a beautiful garden each year and she recently got an iPad. She is getting really good at using it and she now actively reads my blog (Hi, Granny!). My Papa continues to be one of the most quick witted people I have ever known. Earlier this year he had a health scare and was in the hospital for a little over a week. In spite of the dreary hospital and long days, he kept the jokes coming and had all the nurses laughing.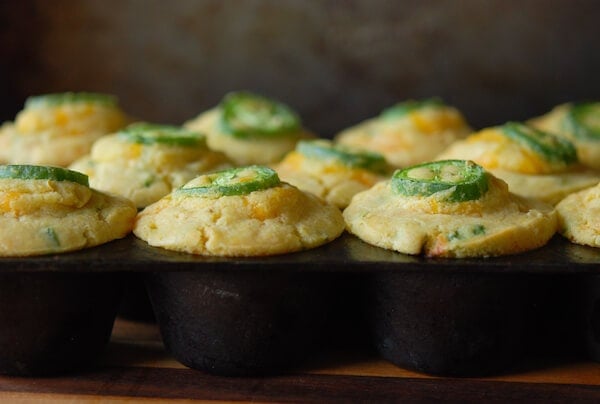 The cast iron muffin tin holding these darling Jalapeno Sweet Corn Muffins was my grandmothers. Last time I was visiting, she asked if I wanted it. Of course, I take anything she sends my way…I love having things that have a story behind them. I love the reminder of her when I am cooking dinner…plus I am pretty sure the muffins just taste better when they are baked in her muffin tin. :)
Check out my Cilantro Corn Confetti for more fun ways to use up some of that fresh summer corn and to learn more about Duda Farm Fresh Foods!
Yield: 12 Muffins
Jalapeño Cornbread Muffins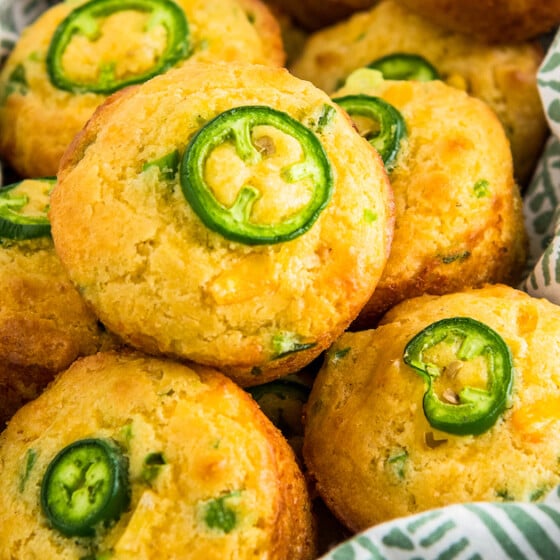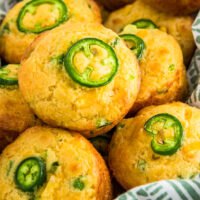 These Jalapeño Cornbread Muffins are moist, a bit spicy, and have the perfect touch of sweetness! Enjoy them with soup, chili, or just a glass of milk.
Ingredients
1 cup all purpose flour
1/3 cup finely ground cornmeal
3 tablespoons sugar
2 teaspoons baking powder
1/2 teaspoon baking soda
1/2 teaspoons salt
6 tablespoons butter, melted and cooled
1 large egg
3/4 cup milk (or buttermilk)
1 cup shredded sharp cheddar cheese
3/4 cup corn kernels (fresh, frozen or canned)
2 green onions, chopped
2 jalapeños, 1 chopped and 1 sliced
Instructions
Preheat oven to 350°F. Coat a cast iron muffin tin or cast iron cornbread pan with butter. (You may also use a regular muffin tin with cupcake liners.) Set aside.
In a medium bowl, whisk together flour, cornmeal, sugar, baking powder, baking soda and salt. Set aside.
In a large bowl, combine butter, egg and milk. Slowly add dry mixture to wet mixture, scrapping down to the bottom as needed. Do not over mix.
Gently stir in shredded cheese, corn, green onions and the chopped jalapeño. Fill muffin tins 3/4 full and top each muffin with a jalapeño slice.
Bake for 18-20 minutes if using cast iron, or 14-16 minutes if using a regular muffin tin. Muffins are done when a toothpick inserted in the center comes back clean.
Serve warm with a slab of butter, or store in an airtight container for up to 4 days.
Notes
Storing: Leftover muffins can be stored at room temperature for up to two days, in an airtight container. You can refrigerate them for about a week. Be sure to toss any corn muffins that have mold or seem otherwise spoiled.
Sugar: If you want your muffins less sweet, feel free to reduce the amount of sugar or leave it out entirely. The muffins' texture may change slightly, but they'll still be great.
Don't Over-bake: Just like over-mixing, over-baking is the enemy of a good corn muffin. Bake them just until done, and then take them out, so they stay moist.
Mild Muffins: Not so sure about the jalapeños? You can substitute them with thinly sliced and chopped bell pepper instead. It will still have a hint of "chili" flavor, but without the heat.
Nutrition Information:
Yield:
12
Serving Size:
1
Amount Per Serving:
Calories:

218
Total Fat:

13g
Saturated Fat:

8g
Trans Fat:

0g
Unsaturated Fat:

4g
Cholesterol:

51mg
Sodium:

405mg
Carbohydrates:

18g
Fiber:

1g
Sugar:

4g
Protein:

8g
Duda Farm Fresh Foods supplied the gorgeous corn for this post, but all opinions are 100% my own.
This post may contain affiliate links. Read my disclosure policy.