KINKY Blow Pop Martini
I said it last week and I will say it again – I love Valentine's Day food stuff. I love all the pink, red and white things that come out this time of year. I actually tell Jorge every year that I can't wait to have kids so I can steal their Valentine's Day candy. Red heart suckers get me EVERY time.
This year some of my girlfriends and I wanted to have a little pre-valentine's day celebration. It wasn't so much about v-day…more about getting together and eating everything all the red & pink things we could find. I decided I would bring a cocktail and started searching for Valentine inspired martinis.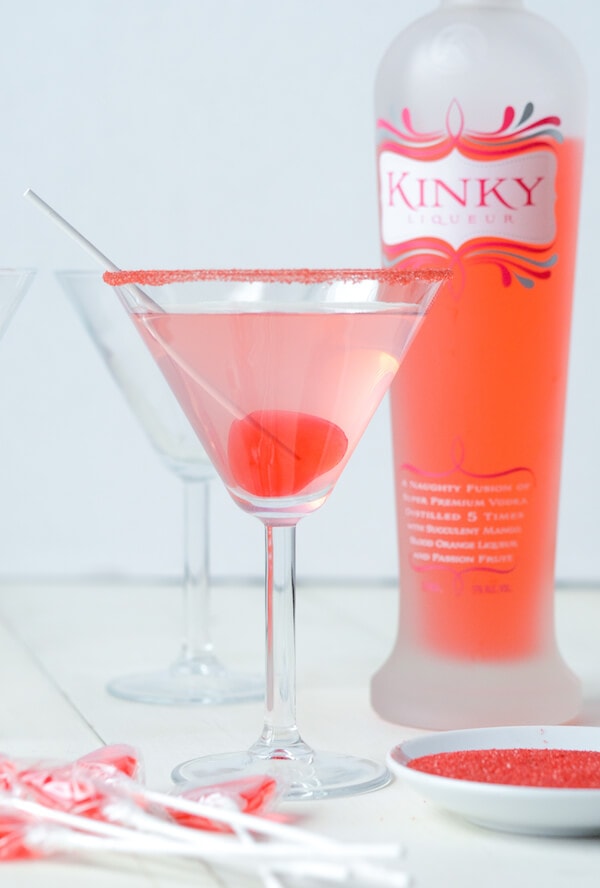 I wasn't finding much that I liked, so I started looking through KINKY® Liqueur's Pinterest and look what I found — a KINKY Blow Pop Martini! It already had the perfect colors for V-day, so I just swapped out the blow pop for a Valentine's Day heart sucker.
I know I personally hate buying a lot of alcohols for just a few martinis. You always wind up with large unused strange alcohols. However, for this martini I found mini bottles of bubble gum vodka. Yay for saving money!
You can also find mini bottles of KINKY Liqueur, however I always buy the big bottle at Target (Yes — It's sold at Target!!) because I will actually use it in other ways. My favorite quick happy hour drink is KINKY Liqueur with sprite. Add a squeeze of orange (to compliment the mango, blood orange and passion fruit flavors that are in KINKY Liqueur) and you have yourself a quick party in a glass. 😉
KINKY Blow Pop Martini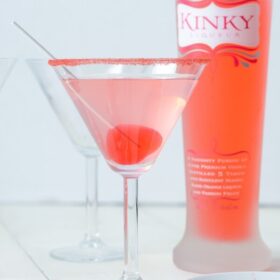 Ingredients:
1.5 ounces KINKY Liqueur
1 ounce bubble gum flavored vodka
1 ounce pink lemonade
splash of sprite
colored sugar for rim
water or corn syrup for rim
1 sucker/blow pop
Directions:
To rim glass: Place red sugar sprinkles on a shallow plate that is a little larger than the mouth of your martini glass. Using a finger, lightly smear corn syrup (or water) on the edge of your glass. Dip glass into sprinkles to coat the edges.
Add about 1 cup of ice, KINKY Liqueur, bubble gum flavored vodka, pink lemonade and sprite to a cocktail shaker.
Place the lid on tightly and shake it good. Strain martini into a chilled martini glass. Garnish with a sucker/blow pop and serve immediately.
I could not find the original source or actual recipe, but this recipe as inspired by a pin on pinterest.
This post is sponsored by KINKY Liqueur. However as always, all opinions are my own. 
SaveSave