Fruity Pebble Rice Krispie Treats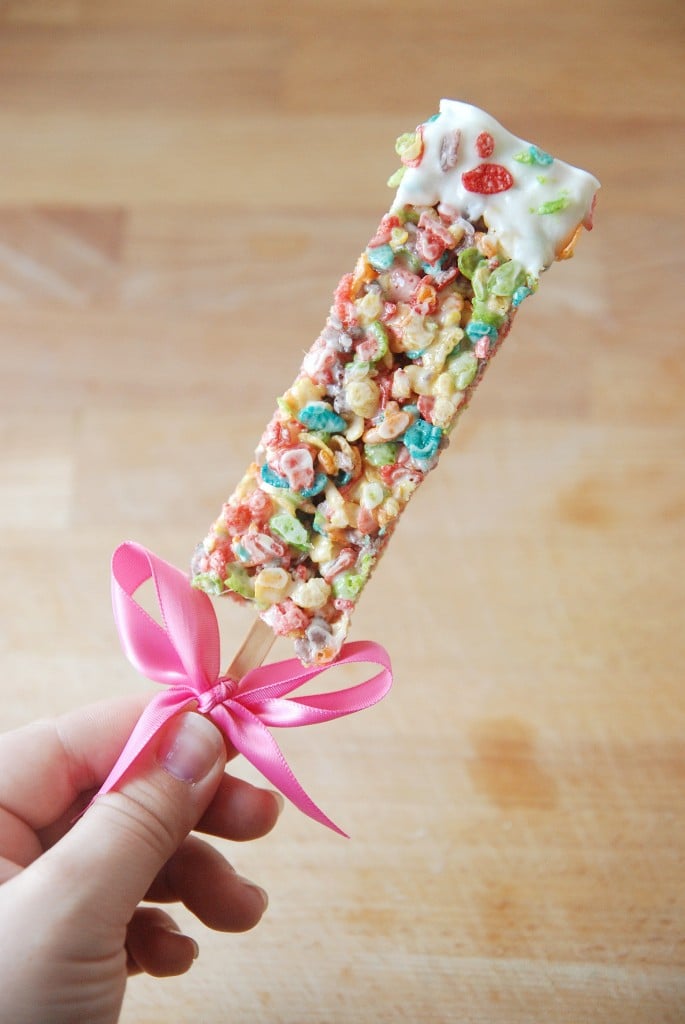 I love Rice Krispie Treats. However, they give Jorge the heebie jeebies. I wish I were kidding. When we first got together he would have to leave the room when I would eat them! He has gotten much better, but you will never see him eat or touch one. And I still see him shudder slightly when he hears me bite into one.
Back Story: As you have probably guessed from his name, Jorge is Spanish…Puerto Rican to be exact. He first came to Florida at 4 years old and he spoke zero English. His Mom dropped him off at a daycare so she could go to work…and poor little Jorge was the weird foreign kid in class that didn't speak English. So snack time rolls around and the teacher rushes up to Jorge and swiftly unwraps and reveals a towering stack of Rice Krispie Treats. Apparently, this was the final straw after a full day of not understanding anything anyone says and being pointed and laughed at…because he jumped up screaming and ran from the room. He says he hid behind the air conditioning vent, behind the day care building, for 30 minutes before the teacher found him.
So while I may have to eat these in a room all by myself, they are one of my all time favorite desserts. I still remember making them with my grandmother and getting to lick the bowl. So recently when I spotted the idea of putting them on a stick and dipping them in chocolate…I was all over it. But to make them even a little more over the top, I used Fruity Pebbles instead of regular Rice Krispies. These would be great for a kids birthday party or for just you. 🙂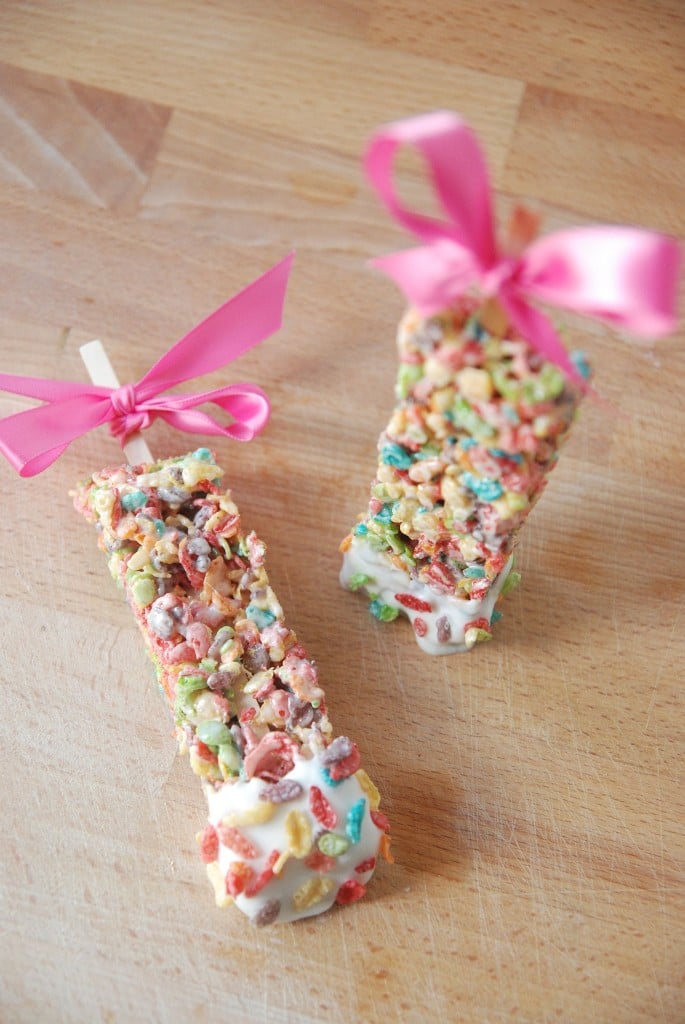 Fruity Pebble Rice Krispie Treats
Recipe Note: You can also do this with Captain Crunch!!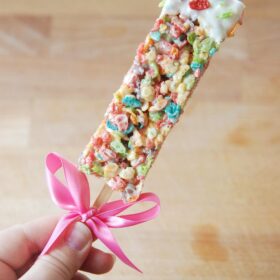 Ingredients:
4 tablespoons butter
10 oz marshmallows
6 cups Fruity Pebbles
popsicle sticks
white chocolate, for dipping
Directions:
Grease a 9×13 inch baking dish. Melt butter in a pan over medium heat. When melted, add marshmallows and stir until melted. Remove from heat.
Add cereal and mix well. Pour contents into baking dish and spread evenly. When cooled, cut into rectangles and insert popsicle stick.
Heat chocolate in a microwave safe bowl at half power in 30 second intervals, until fully melted. Dip top into white chocolate and sprinkle with extra fruity pebbles if you wish!
Will keep for 3 days in an air tight container.
This post may contain affiliate links. Read my disclosure policy.