Yeasted Waffles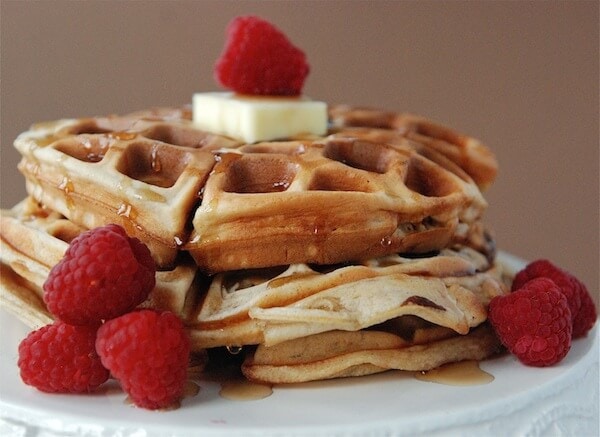 Its Monday…and there is only so much ::umph:: I can muster. So let's get down & dirty with the facts.
Brody has been wearing his halloween costume to go out for pee walks because he looks so adorable in it and I realized that I won't actually be in town for Halloween. So don't get scared if you see a lion peeing on your petunias. It's just Brody.
Jorge and I stayed in Saturday night and watched movies. $3 for 3 movies, $12 for a bottle of wine, laying in your yoga pants while on a hot date with the hubs? Priceless.
One of the movies we watched was Take Me Home Tonight. First off all, not worth the rental. However, it did inspire my nails! –oh and I will never paint my own nails again. The Sally Hansen Salon Effects are my new saving grace. So much faster and easier than nail polish, and it lasts way longer without chipping. Plus I can do both medi & pedi with one $8 box. I am so in love, it's not even funny.
I spent the entire weekend in workout clothes (i.e. yoga pants) because I was too lazy to actually put together an outfit.
Considering I haven't gone to the nail salon in a while…I haven't been able to get my eyebrows waxed. I am starting to look like this guy. Even the cats are giving me the side eye.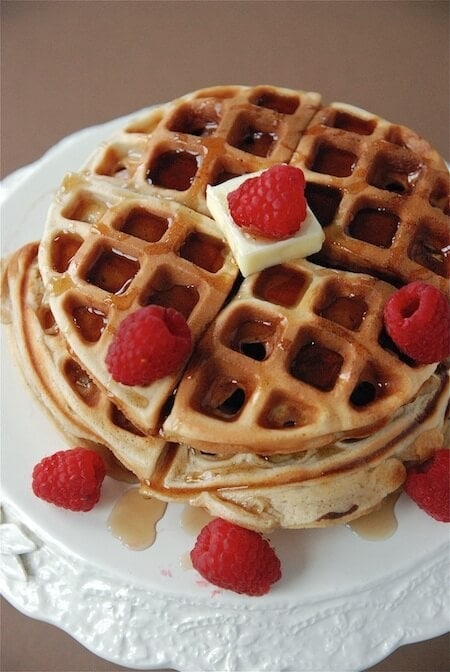 But that's not what you are here for. All you want are the goods, am I right?
Yeasted Waffles. It sounds scary because it involves yeast…and yeast is such a fickle a-hole. But don't worry, you don't have to do any rising, or kneading, or rolling of dough. The only thing you have to do is mix up the batter the night before. It's that simple! Plus, in my world, less steps in the morning is always helpful!
Oh and they are delicious. Crunchy on the outside, smooth and soft on the inside. They will hold up to just about any toppings or fillings. And they bake up with that delicious yeast-y smell. Oh and I discovered that puppies love them too 😀
Yeasted Waffles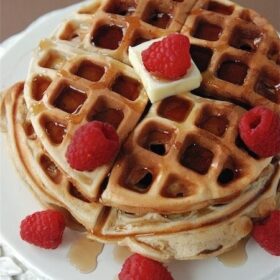 Ingredients:
2 1/4 cups all-purpose flour
2 tablespoons sugar
1 package active dry yeast
1/2 teaspoon salt
1 teaspoon cinnamon
2 eggs
1/3 cup vegetable oil
1 3/4 cups milk
1 teaspoon vanilla
Directions:
In a large bowl, stir together the flour, sugar, yeast, salt and cinnamon. Add in the milk, eggs, oil and vanilla and beat with an electric mixer until thoroughly combined. Cover the batter loosely with plastic wrap or a tea towel and chill overnight or up to 24 hours.
Stir the batter before using. Preheat and lightly grease your waffle maker. Pour about 3/4 cup batter onto waffle iron and close lid quickly; do not open until done. Follow the manufacturer's instructions for your particular waffle iron. When done, use a fork to lift waffle off the grid. Repeat with remaining batter.