This fruity Lemon Blueberry Pie is a refreshing no-bake summer dessert that looks as good as it tastes! It's super easy to make with a pre-baked pie crust and fresh or frozen berries.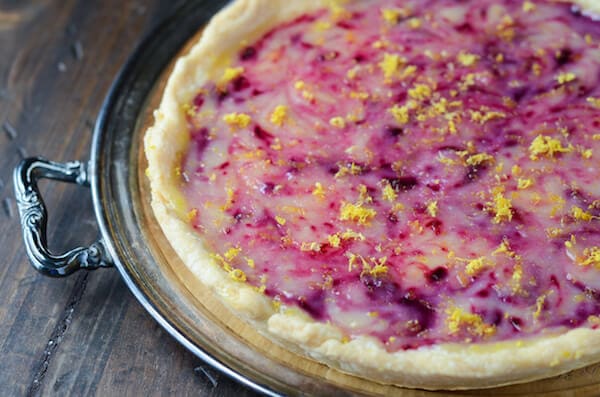 Easy Lemon Blueberry Pie
Lemon is one of my favorite fruits for desserts. I crave that tart flavor that they give to just about anything you add them too. One of my favorite Summer desserts is my Lemonade Pops (which I eventually will get around to sharing!).
When I found myself staring at a basket full of lemons on my counter last week, I started getting ideas for adult style fresh lemonade. That's where you mix fresh lemonade and Bacardi Dragonberry Rum. It's a delicious and dangerous idea.
However, it was a Monday afternoon. I changed courses and decided that a Tart Lemon Pie would hit the spot instead. I was going to make the pie for a friends birthday and decided to fancy it up with some blueberries swirled in.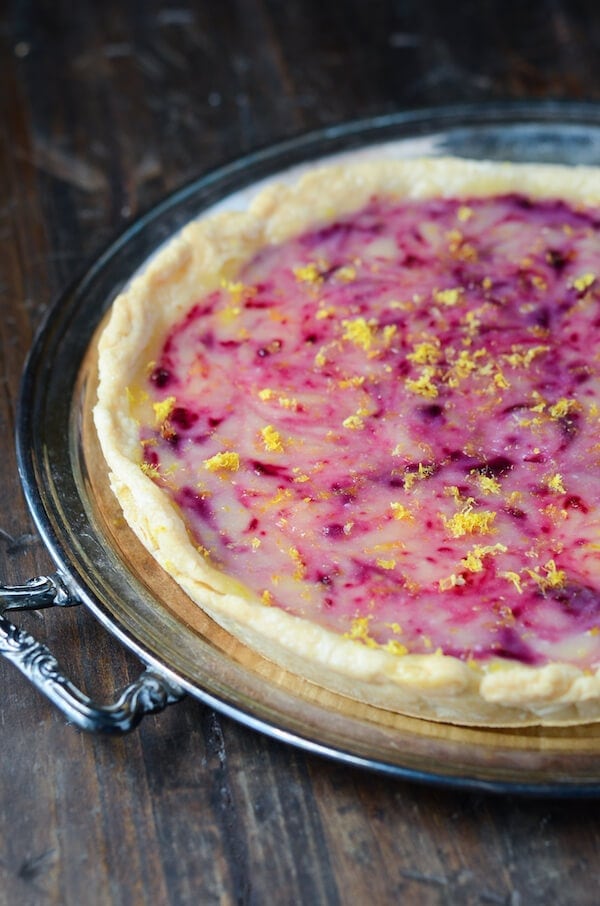 To be honest, I mostly added the blueberries because I have barely made a single dent in the 8 pounds I picked. I swear I am going to have blueberries till next year! After serving up the pie though, I am really glad I decided to add the blueberry layer. Without it, this pie would almost be too tart…if that's possible. 😉
The lemon filling part of this pie is a spin on the Key Lime Pie. However, instead of using a can of condensed milk — I added regular sugar and used gelatin to hold it all together. I wish I could tell you that I did it because I am a mastermind and knew it would work out better…but honestly I just didn't want to go to the store for a can of condensed milk! I was really happy to discover that using regular sugar and gelatin works to keep the pie super tart and the lemon and blueberry flavors shining!
Yield: 10
Lemon Blueberry Pie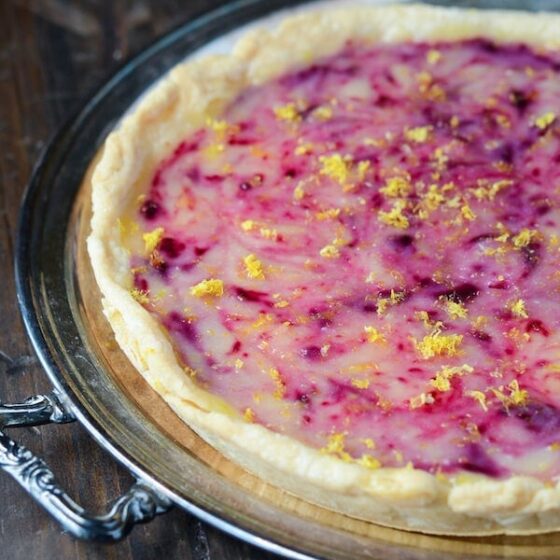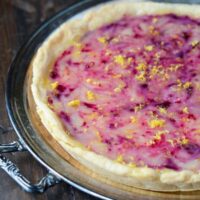 This fruity Lemon Blueberry Pie is a refreshing no-bake summer dessert that looks as good as it tastes! It's super easy to make with a pre-baked pie crust and fresh or frozen berries.
Total Time
2 hours
25 minutes
Ingredients
1 9 inch pie crust, pre baked and cooled
2 cups blueberries (fresh or frozen)
1/4 cup water
1/4 cup granulated sugar
2 tablespoons cornstarch
1 teaspoon gelatin
1 tablespoon water
4 large eggs
1 cup granulated sugar
3/4 cup lemon juice (about 3 large lemons)
4 tablespoons butter, cut into 1/2 inch pieces
1 lemon, zested (and a little extra for garnish if you want)
Instructions
Make the Blueberry Filling
In a small saucepan, combine blueberries, water and sugar. Bring to a boil and then reduce heat and simmer for 5 minutes or until fruit is tender.
Stir in cornstarch and continue to cook over medium heat until mixture thickens, about 3 minutes. Remove from heat and set aside to cool.
Make the Lemon Filling
In a small bowl, combine gelatin and water. Set aside.
Using a double boiler (or a glass/metal bowl over a pan of simmering water), combine eggs, sugar and lemon juice – whisking constantly. Continue cooking (and whisking) until mixture beings to thicken, about 4 minutes.
Once the thickening starts, add one piece of butter at a time. Continue whisking and adding butter until the lemon curd is thick and all butter has been added. Add the lemon zest and the gelatin mixture and whisk to combine. Remove from heat.
Assemble & Chill
Pour half of the lemon curd into the prepared pie crust. Pour in the blueberry filling and spread it evenly with a spatula. Top with the remaining lemon curd. At this point you can leave it for a layered look, or swirl the top with a knife like in the photos above.
Let pie chill for at least 2 hours before serving to allow filling to completely set up. Garnish with lemon zest if you wish!
Nutrition Information:
Yield:
10
Serving Size:
1
Amount Per Serving:
Calories:

271
Total Fat:

11g
Saturated Fat:

5g
Trans Fat:

0g
Unsaturated Fat:

5g
Cholesterol:

87mg
Sodium:

143mg
Carbohydrates:

41g
Fiber:

1g
Sugar:

29g
Protein:

4g
Want to Save This Recipe?
This post may contain affiliate links. Read my disclosure policy.