Lemon Poppy Seed Donuts
Growing up I had a serious obsession with sparkles, sequins, or polka dots…and any dress that had one of those items, and I had to have it. It didn't matter the color, or the style, I only had eyes for the shine. I would grab any dress that caught my eye and show my Mom who probably thought I would out grow my obsession like most little girls.
Too bad I didn't. I was what they called a hot mess even before anyone invented the phrase.
That's me on the left, in that lovely polka dot number. If you notice, it had two rockin' polka dot prints. A small print and a large print. That's right, it was a badass dress. Not to mention I had that hot pink corvette to showcase my dress in. I know, you're jealous.
To be honest, while it was the best pink car on the block for years, it was eventually topped by my baby sister's pink barbie jeep. Which, by default, is definitely not cooler than a corvette. But the jeep battery eventually broke, and my Dad put a riding lawn mower battery in it instead. That sucker got up to 30 mph!!  <–P.S. Yes, I realize how I am fully showcasing my Texas Redneck heritage here.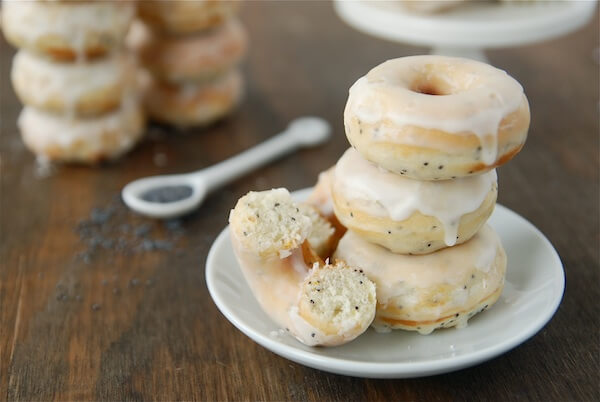 I would be lying if I said I didn't have any polka dots in my closet today. I do. I have a lot. 3 of my 4 swimsuits have polka dots. It's pretty much my signature pattern. But instead of only having it in my clothing, accessories, and amazing shoes…I figured I also needed to find a way to work it into food. And what better way than by using Poppy Seeds?!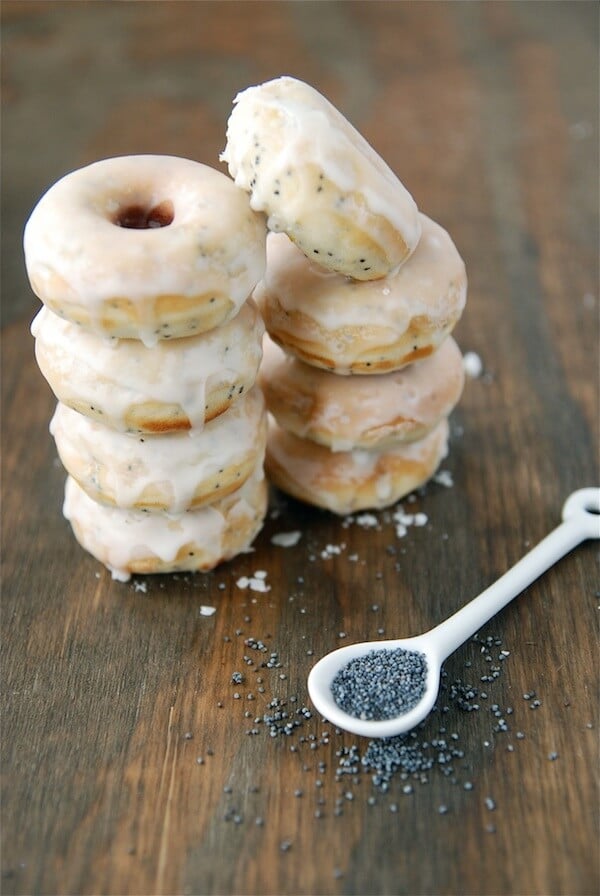 I have a huge love for everything lemon, but you add in those darling blue poppy seeds, and I just go crazy. I have been looking for the opportunity to use my mini donut maker again and I think these Lemon Poppy Seed Donuts were the perfect excuse. Of course you can also use a mini donut pan for the oven, or even a large donut pan! Just make sure and double dip your donuts and it won't matter what size you choose. 😀
Lemon Poppy Seed Donuts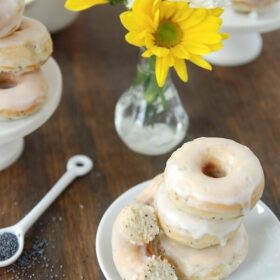 Ingredients:
1/2 cup plus 1 tablespoon whole milk
2 tablespoons sour cream
1 1/2 cup all purpose flour
1 1/2 teaspoons baking powder
1/2 teaspoon salt
6 tablespoons unsalted butter, room temperature
1/2 cup sugar
1 large egg
zest of 1 lemon
1 tablespoon poppy seeds
juice of 1 lemon (about 2 tablespoons)
1 1/2 cups powdered sugar
Directions:
If using electric donut maker, preheat. If using donut pans, preheat oven to 350 degrees and grease donut pans.
In a small bowl, whisk together milk and sour cream. Set aside.
In a small bowl, whisk together flour, baking powder, and salt. Set aside.
In large bowl, or stand mixer, cream together butter and sugar, until light and fluffy – about 1 minute. Add egg, lemon zest, and poppy seeds. Beat for 30 seconds, scrapping down the bowl as needed.
Then alternating flour mixture and milk mixture, combine all ingredients until just combined. Do not over mix.
Transfer batter into a piping bag, or a ziplock bag with the tip cut off.
If using mini donut pans: Fill each donut indention 1/2 full. Bake for 6-8 minutes, or until the donuts are slightly browned and spring back when touched. Remove from oven, transfer to a cooling rack, and cool completely.
If using the electric donut maker: Fill each donut indention 3/4 full. Bake according to manufactures instructions, or until the donuts are slightly browned and spring back when touched. Remove from oven, transfer to a cooling rack, and cool completely.
For the icing:
Place wax paper under a wire rack to collect drippings for an easy clean up.
In a medium bowl, whisk together the lemon juice and powdered sugar until smooth. Dip the top of each donut into the glaze and transfer to a wire rack to dry. Let set for 10 minutes and serve!
Will keep for a day or two in an airtight container, but are better fresh!
If you liked this, you might also like these:
Baked Gingerbread Mini Donuts by Pinch Of Yum
Apple Cider Glazed Donuts by Cherry Tea Cakes
Baked Red Velvet Cake Donuts by How Sweet It Is
Mini Eggnog Donut Muffins by Two Peas & Their Pod
Reeses Peanut Butter Cup Baked Donuts by Picky Palate