Lemonade Cupcakes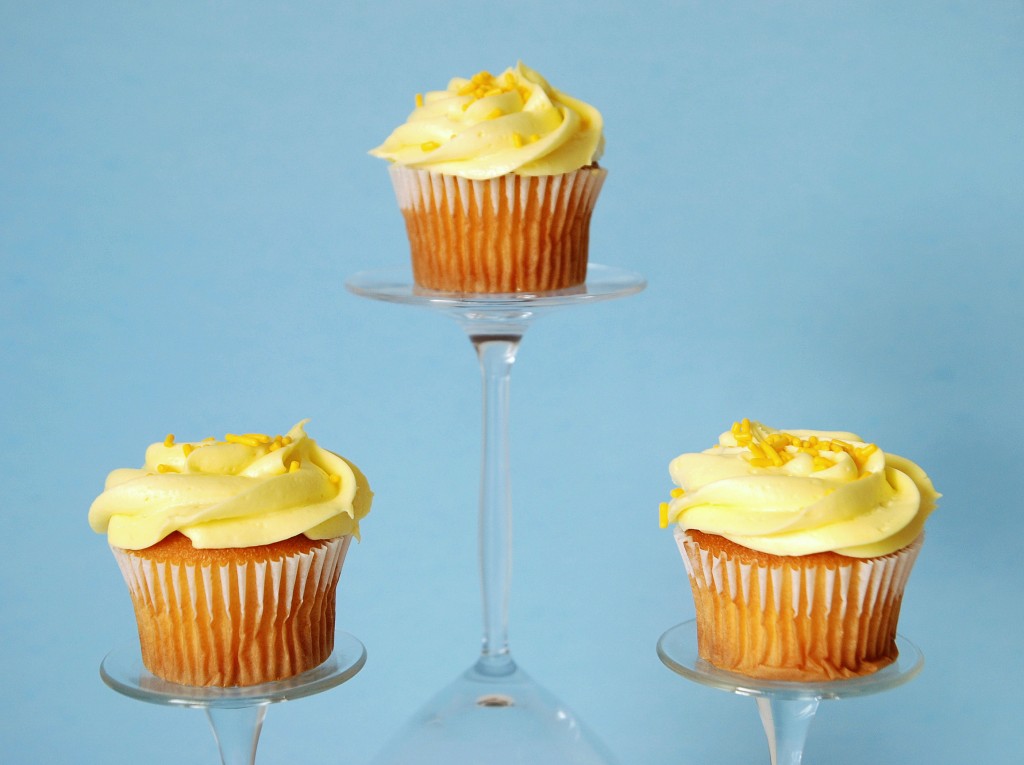 I have wonderful news for all the women of the world….Men have self esteem/weight/body image issues too! Hallelujah! I have spent most of my life wondering how my butt looks or if someone is staring at how my thighs rub together when I walk. And after being together for over 3 years now, I finally witnessed my husband showing some body image issues! Let me back track and first tell you that my husband will stand around in his boxers and do silly dances and poke fun at his "beer" belly. He has also always made fun of me when I say "Do I look fat in this"? But today, today I finally saw that he is not as proud of that belly as previously thought. No today we were shopping for some new work shirts for him. And I told him he was a size 2 (I am not disclosing the real size numbers, because he better do the same for me if need be one day). He informed me that there was no way he was a size 2, he is a size 1 thank you very much and that I was crazy. He was even a little bit of a jerk about it. So I informed him that he had to try all the shirts on before we would leave. We head to the dressing room where he plans to prove me wrong and he comes out in the first shirt. It was pretty snug, but not in the stuffed sausage kind of way. But one go through the wash and I new it would be too tight (like all the other shirts he has bought himself in that size). So I mention the dryer effect on clothing…and he says, well go get me a size 2 and I will show you how big it is on me. So I grab one, he tries it on and it fits perfectly. He turned to me and said "I hate you, for ALWAYS being right. And I hate myself for being a fatty."
To be perfectly honest I am not sure which is better. One, knowing that I am not the only one in the house with body issues. Or two, that he has finally admitted that I am, in fact, ALWAYS right! Either way, it was a good bonding day for the two of us…and it really helps to know that I am not the only one who stands in the mirror wondering who this person is and why she looks like she ate the old me. Now with all that said about body images, check out what I am showing you! Cupcakes (how not so ironic)! No they are totally not Ass Friendly (but you will be proud to know I only ate one….and licked the beaters just a little tiny bit).  But a week or so ago I had a couple people over for dinner and they are big dessert people. The awesome part about cupcakes is I can half (or even quarter) the recipe down and have just enough cupcakes to not have any hanging around to taunt me. This particular recipe was absolutely delicious. I am an avid lemon fan (whether it be savory or sweet)….so these were perfect!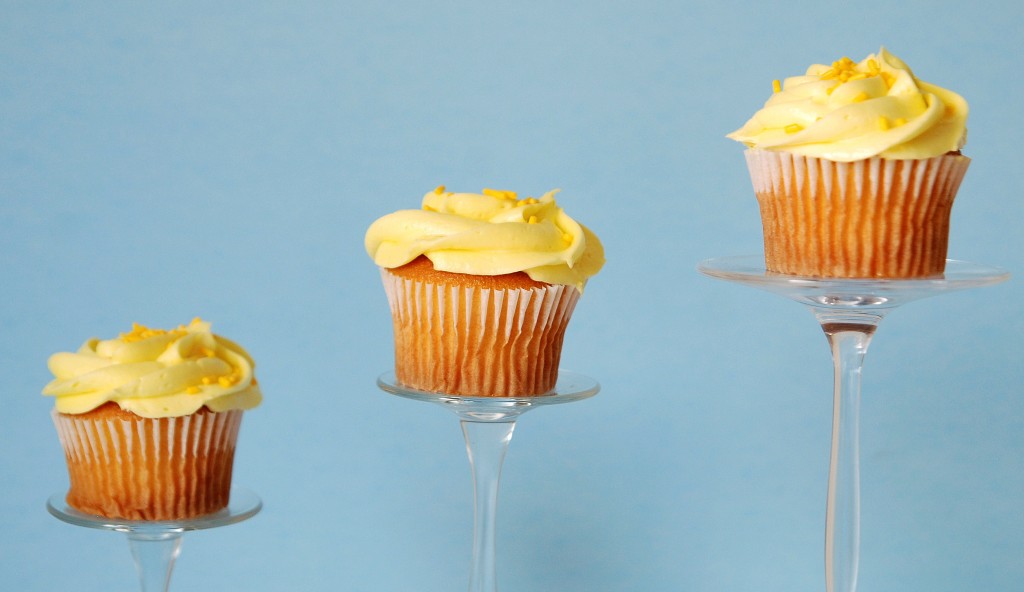 Lemonade Cupcakes
Ingredients:
Lemonade Cake:
1 c. all-purpose flour
1/2 tsp. baking powder
1/4 tsp. baking soda
Pinch salt
1/2 c. granulated sugar
1/4 c. vegetable oil
2 egg whites
1/3 c. thawed frozen Lemonade Concentrate
1/4 c. buttermilk
yellow food coloring
Lemonade Buttercream:
3 c. + 3 Tbsp. confectioner's sugar
1 stick unsalted butter at room temperature
1/8 tsp. salt
2 Tbsp. lemonade concentrate
yellow food coloring
Directions:
Lemonade Cake:
Preheat oven to 350F. Line muffin pan with liners. In a small bowl, combine flour, baking powder, baking soda and salt. Set aside.
In a large bowl, whisk together sugar, oil, egg whites and lemonade concentrate. Alternately whisk in flour mixture and buttermilk, making three additions of flour mixture and two of buttermilk, beating until just smooth.
Add just enough food coloring to turn the batter a light shade of yellow.
Scoop batter into liners (fill about three-fourths full). Bake in preheated oven for 20-25 minutes or until tops of cupcakes spring back when lightly touched. Let cool in pan on rack for 10 minutes. Remove from pan and let cool completely on rack. Top cooled cupcakes with frosting (see below).

Lemonade Buttercream:
Add the butter, confectioner's sugar, salt, lemon juice, and a few drops of food coloring to the stand mixer and mix on low using the paddle attachment until combined.
Turn the speed to med-high until the buttercream is fluffy and uniformly yellow. Pipe or spread onto cooled cupcakes.