Lime Cupcakes with Cream Cheese Frosting
Cinco de Mayo has always been one of my favorite in-between holidays. Sure, it's no Christmas, but it's way better than Labor Day. In Texas, Cinco De Mayo was a guaranteed good time…with more drinks than one should probably have on a Monday. But in Florida, we don't see half as much fun celebrations. No Mariachi bands or random Cinco De Mayo parades that hold up traffic.
In Florida, some of the local "authentic Mexican" restaurants will have drink specials and maybe one place will have cheap tacos. That is so not enough celebration for me. So this year, I decided to try out this easy cupcake recipe from Formula 409.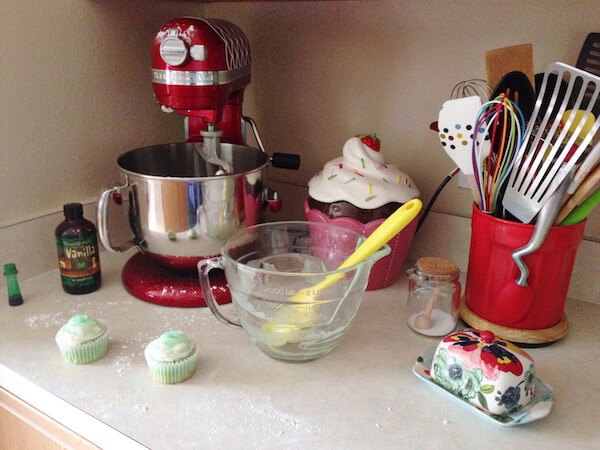 When Formula 409 reached out to me, I was pretty embarrassed. Did my Mom call them and tell them what a messy cook I am? I just can't help it…I am always spilling flour or powdered sugar somewhere.
And look at that, big surprise I did it again. Don't you hate when you turn on your stand mixer and spew powdered sugar and batter everywhere??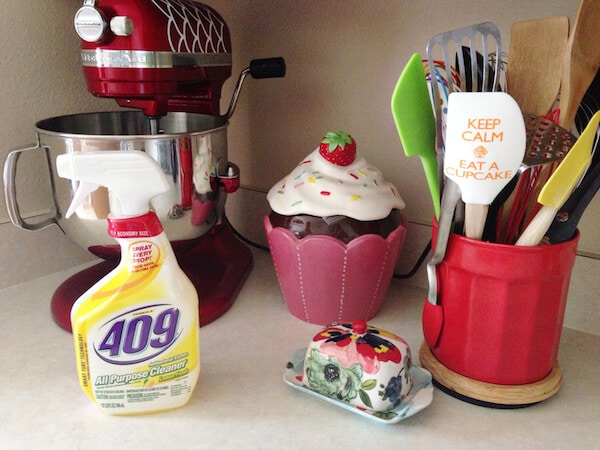 Ahh, isn't that better? Much cleaner!
Thankfully, Formula 409 didn't actually know that I'm a messy cook…they just knew that I was a fan of their products. I love that Formula 409 takes care of all my germs, or bacteria that I may leave behind, without having to smell like bleach. I would much rather have my kitchen smelling like lemons than bleach!
P.S. Check out those ugly linoleum countertops! These cupcakes were the LAST thing I ever made in my rental kitchen! We are now into our new home!!! (Can you tell I'm a little excited??)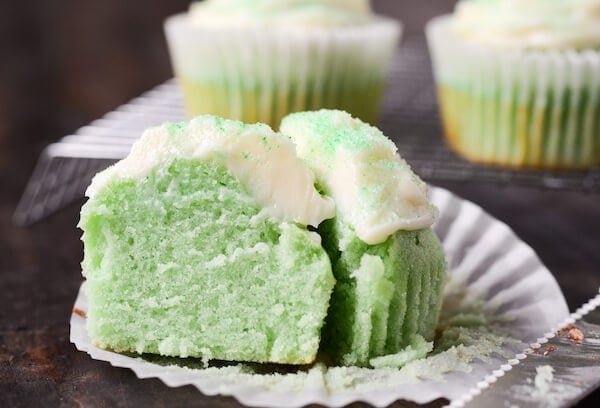 These cupcakes are a really easy way to celebrate Cinco De Mayo. I just love the festive green color! This recipe is from Formula 409 and since I was in the middle of the move — I totally appreciated that the recipe utilized a cake mix!
No matter how you are planning to celebrate Cinco De Mayo, I hope you sing La Cucaracha at least once. Oh, and have at least one Mexican drink/dessert/dish! 😉
Lime Cupcakes with Cream Cheese Frosting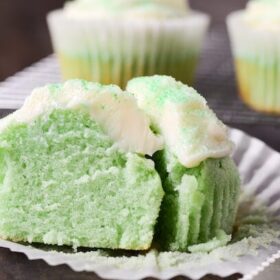 Ingredients:
1 box lemon cake mix
1 small box lime gelatin
3⁄4 cup buttermilk
1⁄3 cup vegetable oil
3 eggs
3 drops green food coloring
8 oz. cream cheese, at room temperature 1⁄2 cup butter, at room temperature
1 lb. confectioner's sugar
1 tsp vanilla extract
Directions:
Place all ingredients in large mixing bowl and mix with an electric mixer for one minute. Scrape down sides and mix again until smooth, 2 minutes more.
Line two, 12 cup muffin pans with cupcake papers. Divide batter evenly among both pans. Bake at 350°F for 20-25 minutes, or until lightly browned and they spring back when lightly pressed in
the center.
Remove from oven and allow to cool completely.
Cream together cream cheese and butter with an electric mixer. Add sugar and vanilla and beat again until smooth and creamy, scraping down sides as needed. Generously frost cooled cupcakes.
This post is sponsored by Formula 409, however all opinions are my own.