These Lucky Charms Cupcakes are delicious cereal milk cupcakes topped with homemade marshmallow frosting and Lucky Charms cereal! You won't be able to eat just one!
If you enjoy this yummy dessert recipe you should also try these Lucky Charm Marshmallow Treats or these Biscoff Cupcakes With Marshmallow Frosting.
Lucky Charms Cupcakes
MY COOKBOOK IS OUT!!! (Imagine me screaming this from the rooftops & jumping like a maniac.)
This book (Cereal Sweets & Treats) has been a long time coming and it's really exciting to have it in my hands. My first cookbook was pitched to me (meaning a publisher came up with the idea and pitched the idea to me). This cookbook was 100% my idea and I pitched it to many publishers looking for someone to say yes. Luckily, the lovely people over at Gibbs-Smith said YES! to me and now my dream cookbook is a reality.
I have dreamed of writing a cookbook for years, but always thought it was a pipe dream. Then two years ago, I decided I wanted to write a cookbook about desserts made with cereal. I started pitching the idea to different publishers. I hadn't heard anything back from the publishers I contacted, when Adams Media reached out to me and told me about their idea for Mini Donuts.
I was excited to write the Mini Donuts cookbook and thought it would get my foot in the door for another cookbook down the line….but a few days later I received an email from Gibbs-Smith saying they wanted to publish my cookbook (Cereal Sweets & Treats) and they wanted to start right away! That means that within one week, I signed contracts to write TWO cookbooks at the same time. I am now a firm believer in be careful what you wish for! ;-)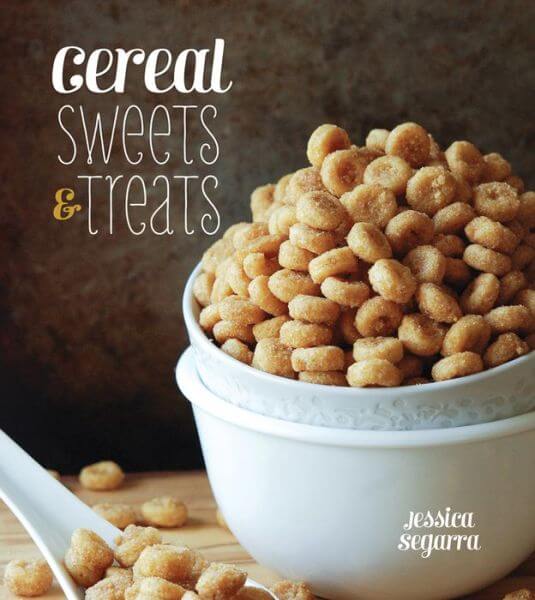 This Is One Of My Favorite Cereal Dessert Recipes
To celebrate the release of Cereal Sweets & Treats, I wanted to share a recipe from the book…and giveaway 3 copies! I had a really, really hard time deciding which recipe to share…it was like Sophie's Choice, but harder. I have spent all week trying to pick a recipe, but it was near impossible. How can you pick from Fruit Loop Popsicles, Lucky Charms Macarons, Brown Butter Rice Krispies Treats or these Lucky Charms Cupcakes??
I ended up tossing some recipes in a hat and drawing a winner. It was seriously that hard for me! If you buy the book, you have to promise me that you will try my two all time favorite recipes from it: Corn Pops Ice Cream and Cinnamon Cherrios Crunchies. And then do the unthinkable and put the Cinnamon Cherrios Crunchies on top of the Corn Pops Ice Cream like sprinkles. Oh My Gawd. Seriously, you will thank me, but your thighs won't.
Lucky Charms Cupcakes
These delicious homemade cupcakes are made with Lucky Charms cereal milk and topped with homemade marshmallow frosting and more Lucky Charms cereal!
Ingredients
½

cup

whole milk

1

cup

Lucky Charms

1 ¼

cups

all-purpose flour

1

teaspoon

baking powder

½

teaspoon

baking soda

½

teaspoon

salt

2

large eggs

¾

cup

granulated sugar

1

teaspoon

vanilla extract

½

cup

vegetable oil

2

large egg whites

½

cup

granulated sugar

¼

teaspoon

cream of tartar

2

teaspoons

vanilla extract
Instructions
Preheat oven to 350°F. Line a cupcake tin with cupcake liners. Set aside.

In a medium bowl, stir together milk and Lucky Charms. Let soak for 20 minutes, stirring occasionally. Strain out cereal and discard. Set cereal milk aside.

In a medium bowl, whisk together flour, baking powder, baking soda and salt. Set aside.

In a large bowl, beat together eggs, sugar and vanilla extract. Add half of flour mixture and vegetable oil, stirring until combined. Add remaining flour mixture and cereal milk, stirring until fully combined.

Divide batter evenly among cupcake tins, filling 3/4 full. Bake for 16-18 minutes, until a toothpick inserted comes out clean.

Let cool in muffin tin for 10 minutes and transfer to a wire rack to cool completely before frosting.
For marshmallow frosting:
Place egg whites, sugar and cream of tartar in a double boiler over medium-high heat. Whisk egg white mixture constantly, until sugar has dissolved and the whites are foamy and warm to the touch.

Transfer egg whites to a stand mixer, fitted with the whisk attachment. Beat egg whites until stiff, glossy peaks form. Add vanilla and mix until combined. Pipe onto cooled cupcakes and serve immediately.
Nutrition
Serving:
1
cupcake
,
Calories:
244
kcal
,
Carbohydrates:
34
g
,
Protein:
4
g
,
Fat:
10
g
,
Saturated Fat:
1
g
,
Polyunsaturated Fat:
9
g
,
Cholesterol:
32
mg
,
Sodium:
227
mg
,
Fiber:
1
g
,
Sugar:
23
g
This giveaway has ended. This giveaway is being sponsored by me! It's a little way for me to say thank you for supporting me all of these years. I love you guys.
This post may contain affiliate links. Read my disclosure policy.