I had the ultimate shopping spree at Magnolia Market in my home state of Texas with my friends! Find out what I bought and my favorite things about the store.
Magnolia Market Shopping Spree
Are you jealous?? I went to Magnolia Market in my home state of Texas and became best friends with Chip and JoJo. And it was everything dreams were made of.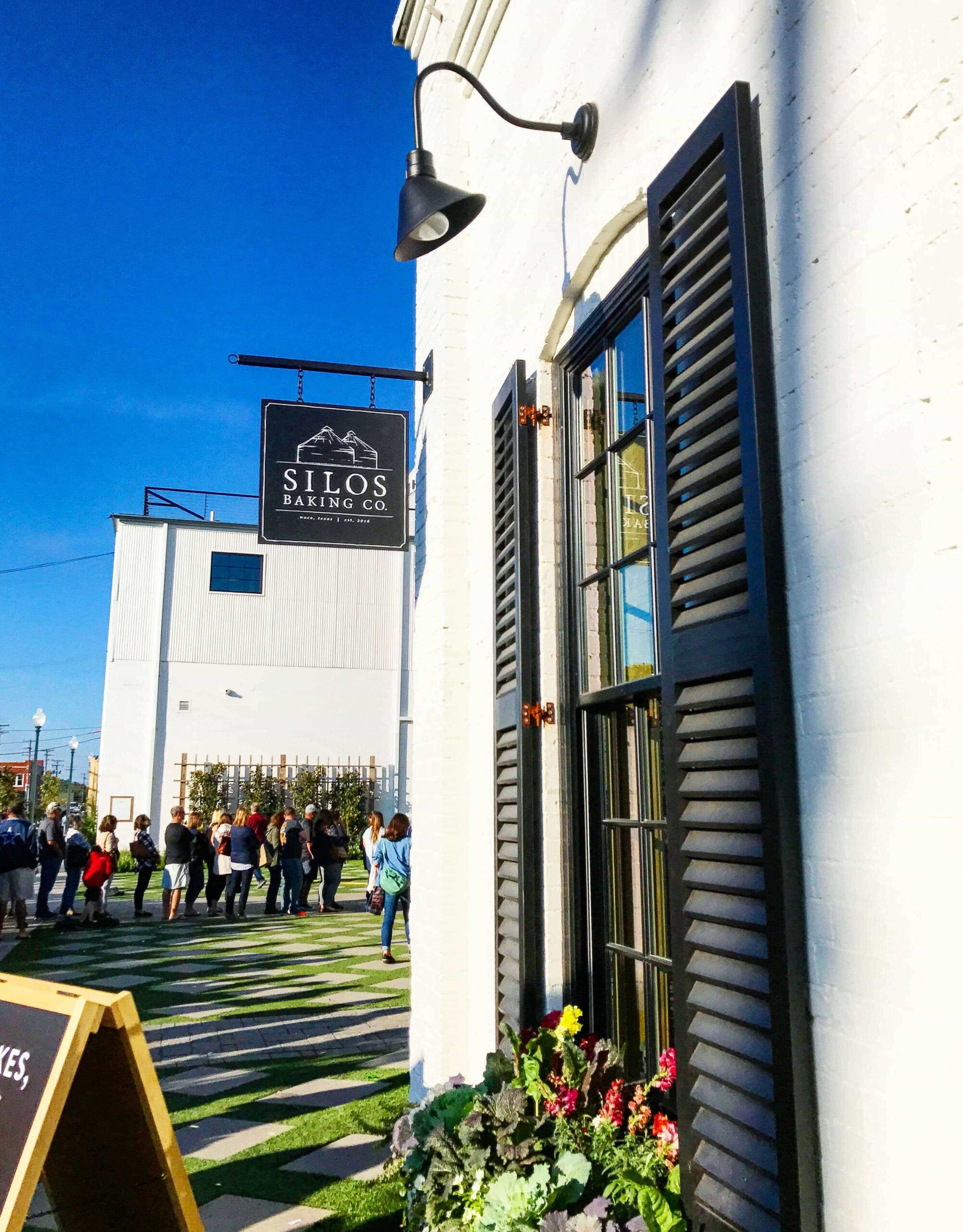 Of course, I am kidding. I'm pretty sure the Gaines almost never step foot on Magnolia Market property during business hours or they would promptly be mauled by the 5000 women on property buying everything in site.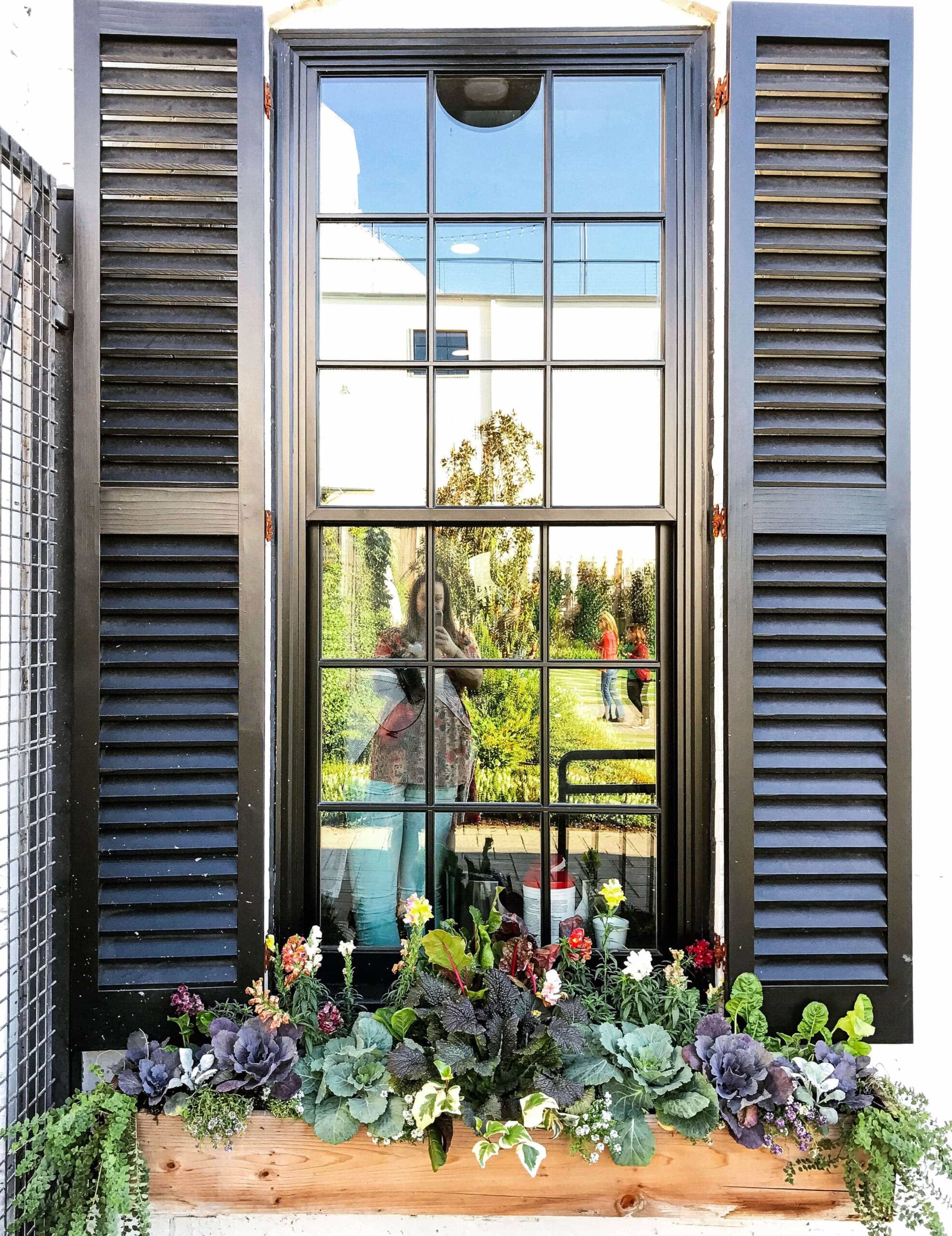 However, I did get to meet her sister and mom in the checkout line and they were both just as sweet as you would expect. I should have thought to snap a picture together like everyone else in line was doing…but I was way too busy trying not to drop all the items I was barely balancing through the line.
My one complaint about Magnolia Market? They need carts. Giant Costco size carts. Sure they aren't esthetically pleasing, but at one point I was literally balancing vases on top of glass jugs in my arms.
I would have bought even more, but there was only so much room in my arms to carry things! I am still dying to get my hands on this white sugar mold and this wood and metal cake stand. Oh and these tea towels. Y'all, the addiction is real.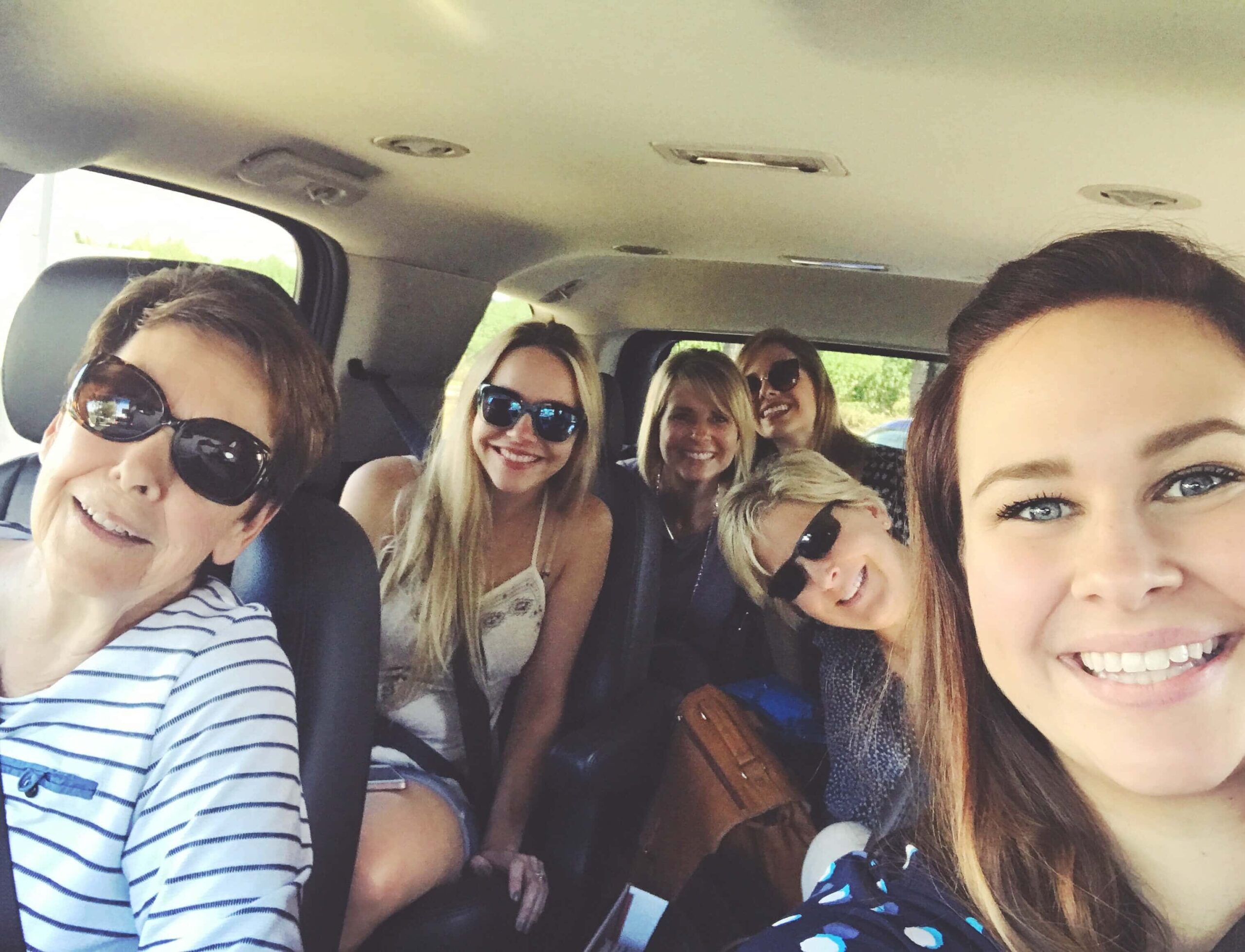 So quick back story – my granny (on the far left) turned 80 back in April. She had been wanting to take a trip to Waco to see Magnolia Market in person since they first created the property at the silos.
Since the whole family are all big Fixer Upper fans, it wasn't hard to convince us all to go! My Mom, sister and I flew in from Tampa and joined the rest of the family in Houston and road tripped it up to Waco…where we met up with even more family!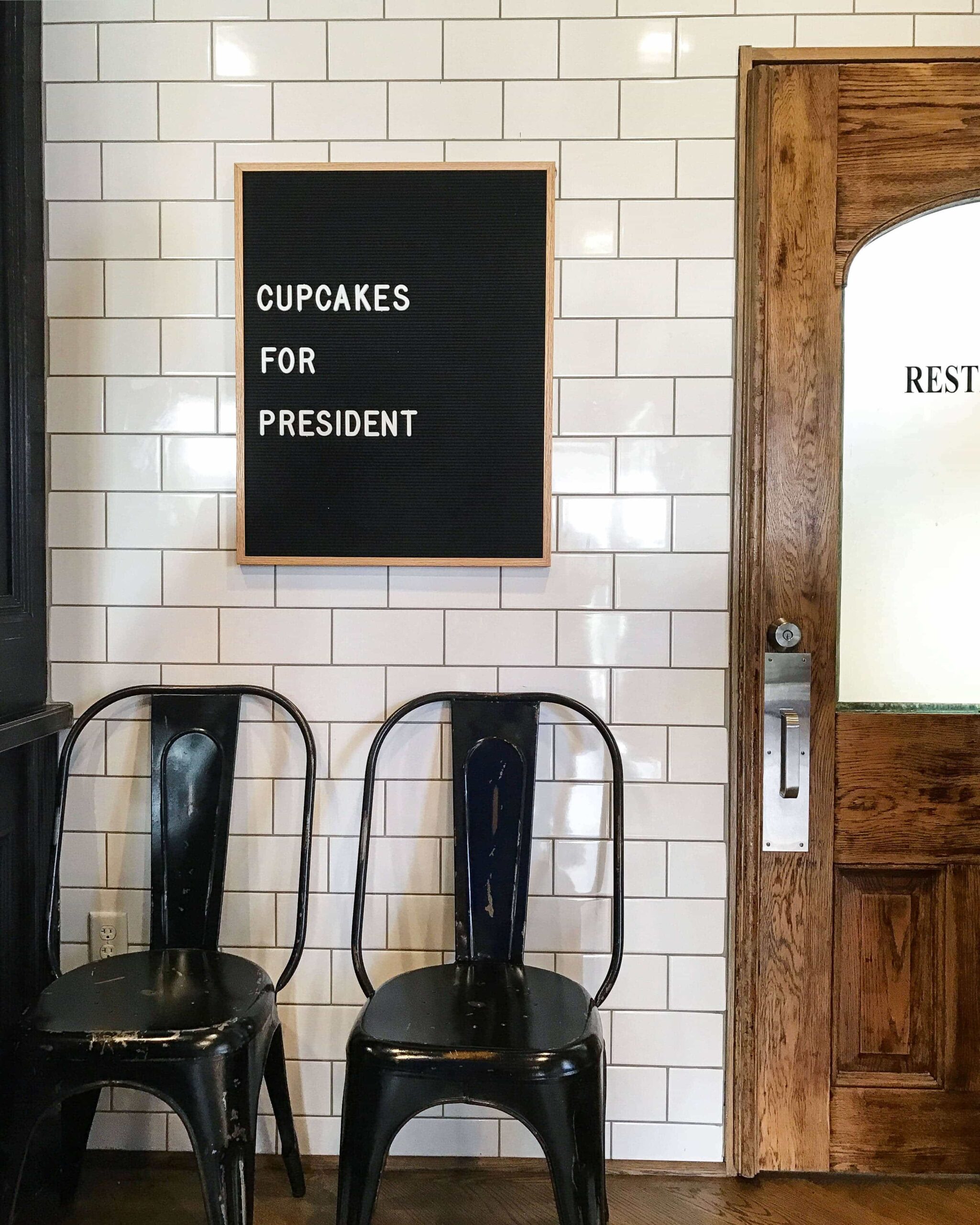 Aren't you dying over the subway tile, beat up metal chairs and wood details? Yeah, me too. The Cupcakes For President sign just sealed the deal.
I came home and bought four new bar stools that are similar to this, but taller of course. Oh and they are antiqued copper, because who doesn't love a little shine?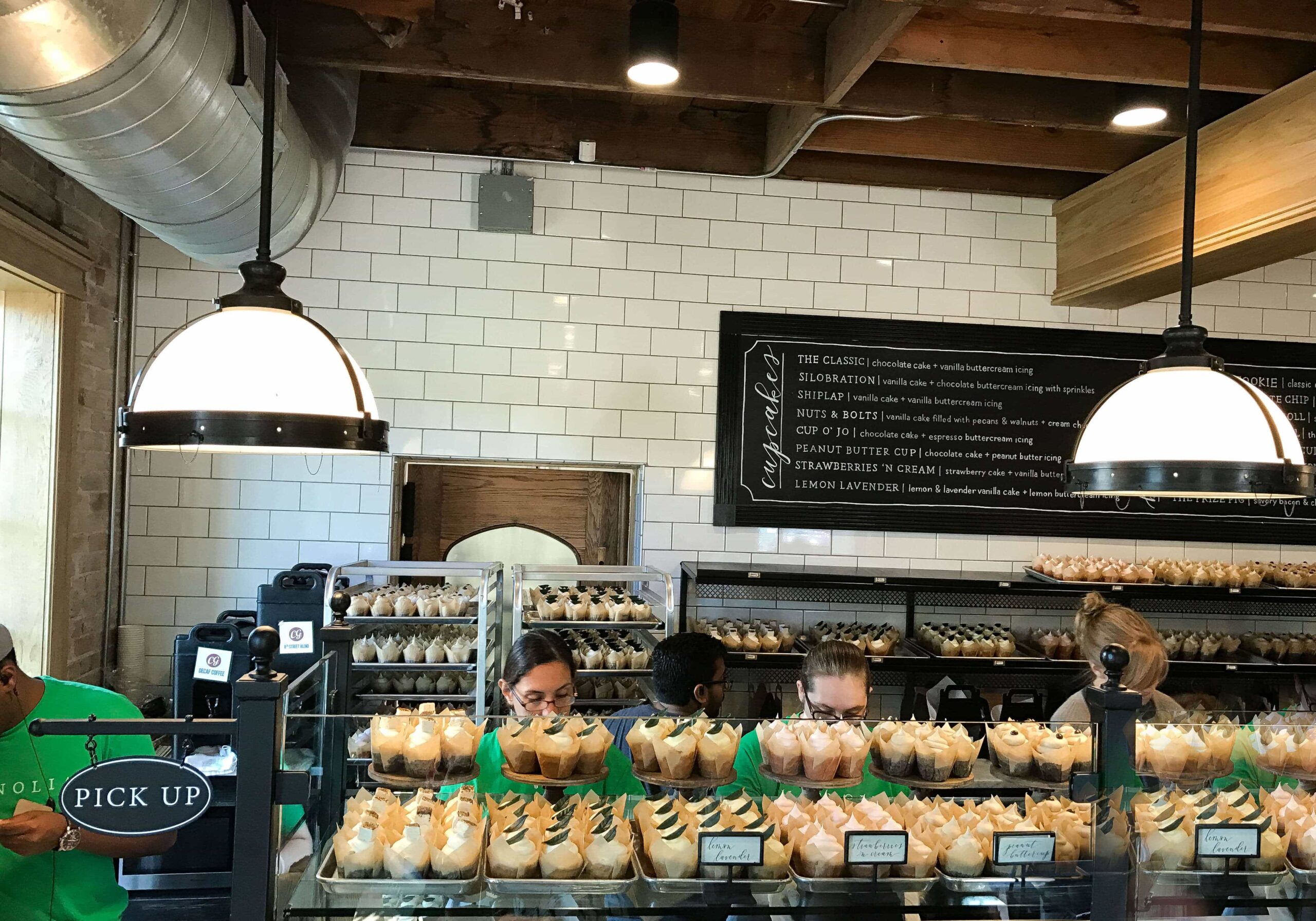 The Bakery
We also visited the bakery, of course. You can't go and NOT visit the bakery!!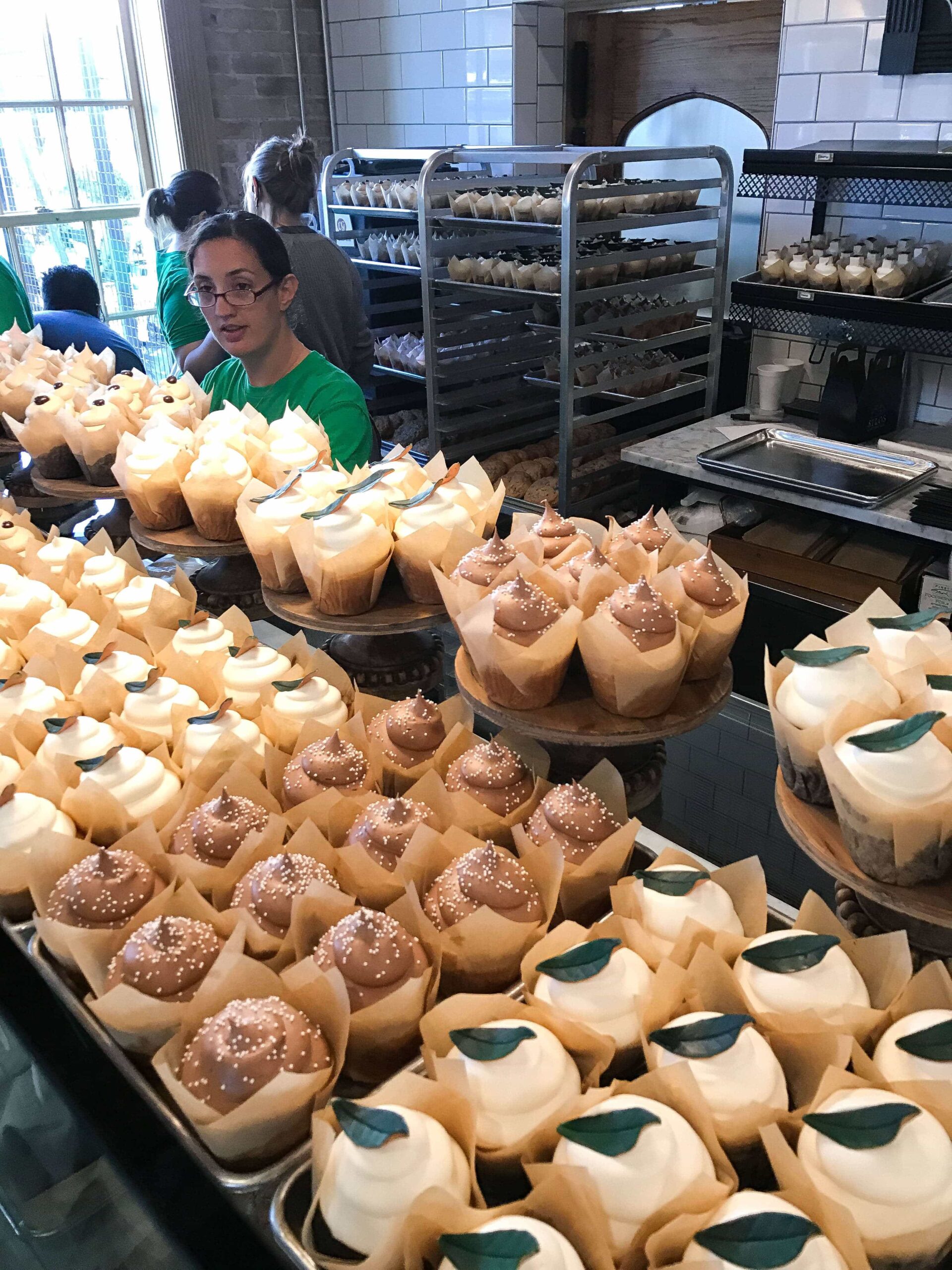 They had so many flavors of cupcakes and I loved the adorable magnolia fondant leaves on top. We tried a ton of different things amongst our large group and not one thing was bad.
My pumpkin cupcake was delicious, but what I would keep coming back for was the cheddar, bacon and chive biscuit I got for breakfast. We loved them so much that my pregnant cousin came home and immediately started trying to recreate the recipe to satisfy her cravings!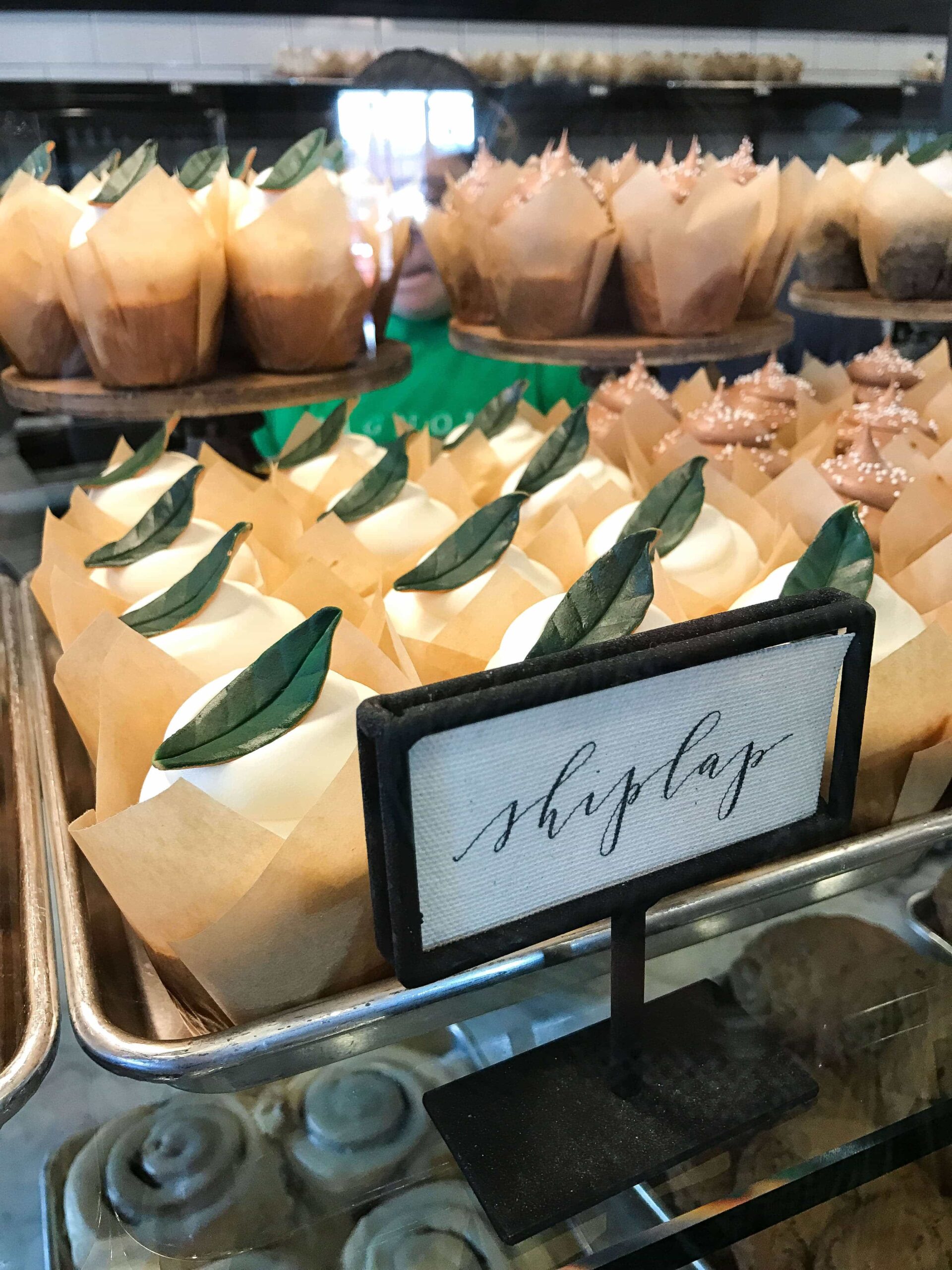 SHIPLAP CUPCAKES. I know, I couldn't handle it either.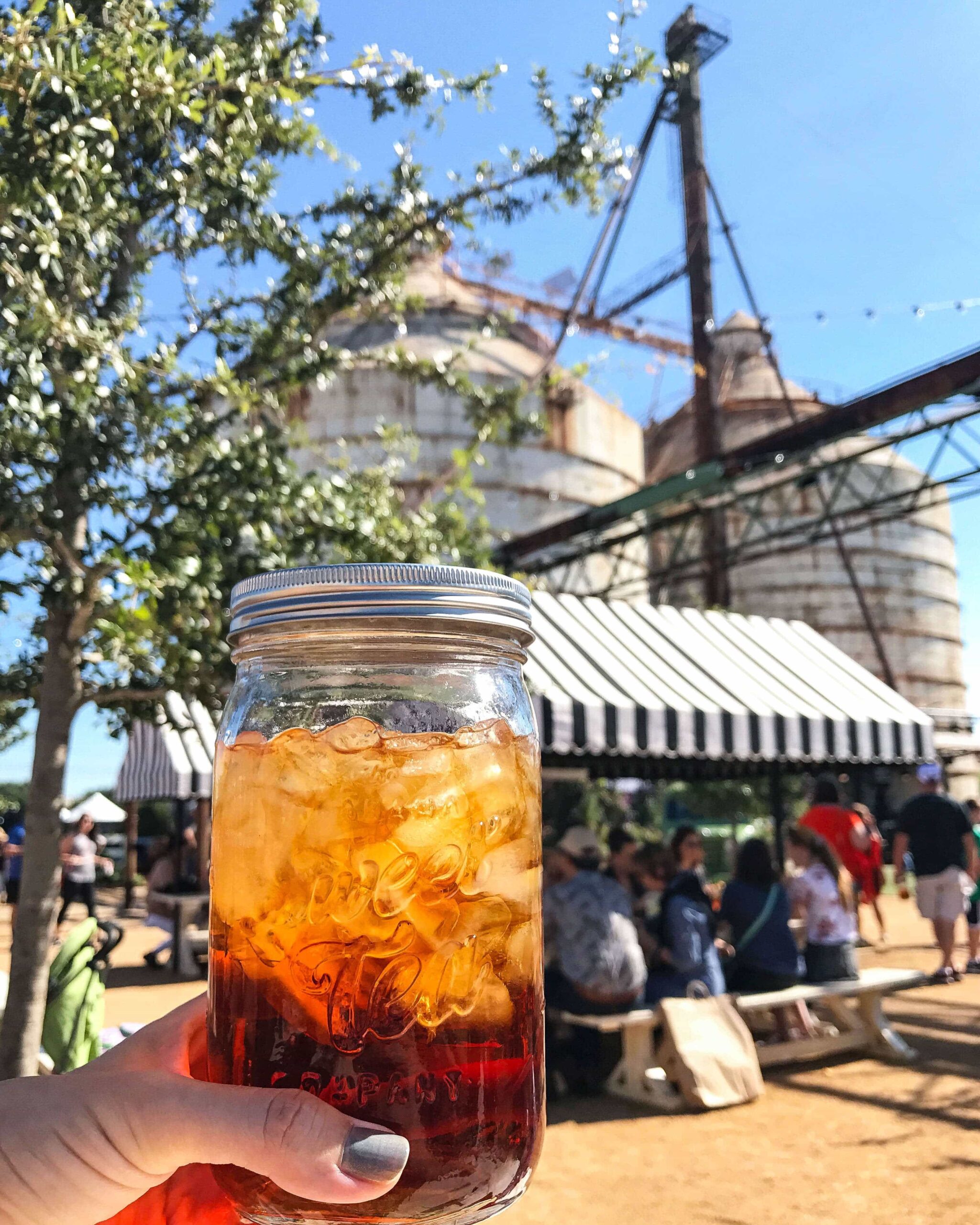 Outdoor Activities
The grounds around the market and bakery are wonderful to explore and are really pretty spacious so you don't feel super crowded the whole time — even if there are a ton of people there.
Not only do they have the market and the bakery, but they also have the gardens to walk through and a giant area for lounging and listening to live music. They even have big swings for the kids!
A little farther back you will find a ton of adorable picnic tables and all different kinds of food trucks. I loved the family atmosphere. It really felt like you could spend a whole day there just hanging out.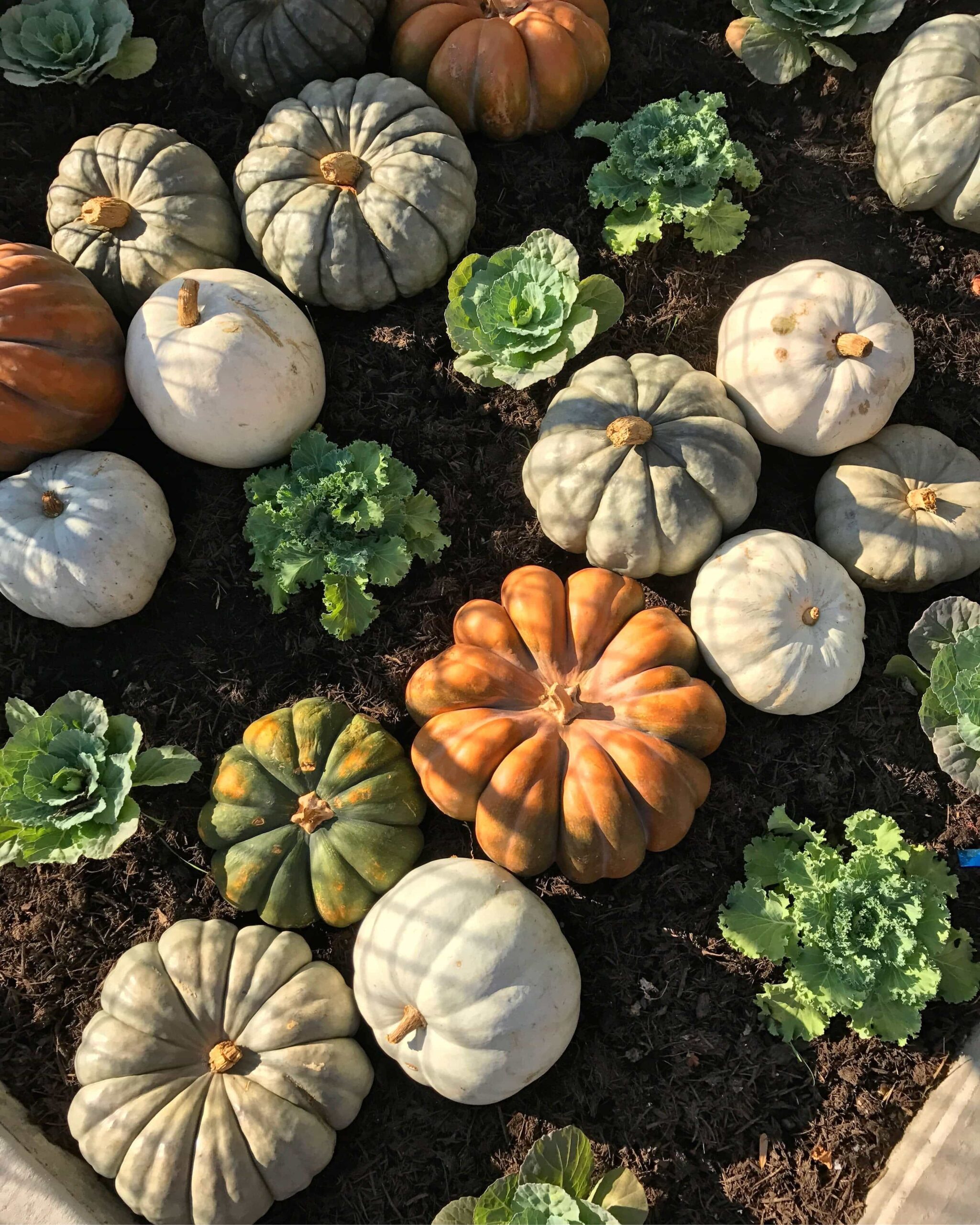 You know Joanna for her house stuff, but did you know she is an awesome gardener? Ok, ok. I know she probably employs 50 gardeners at this point, but I was seriously impressed by everything around the grounds and in the garden.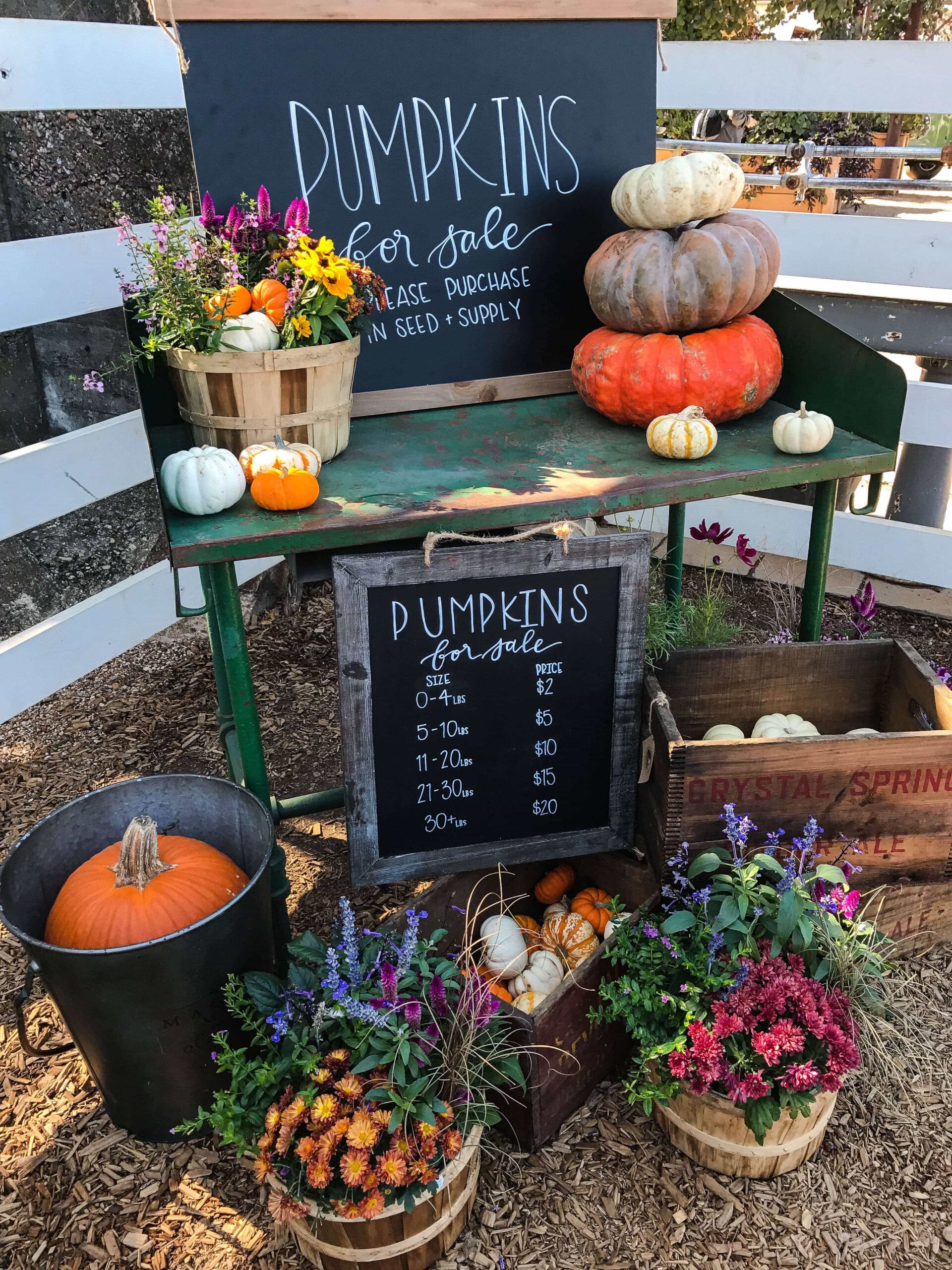 They must have had 1000 pumpkins/gourds around the property — no joke. I heard someone mention that they grew all of them on their farm.
I'm not sure how true that is…but while the rest of us are wasting our time watching Fixer Upper on tv, it wouldn't surprise me if they were busy growing thousands and thousands of pumpkins.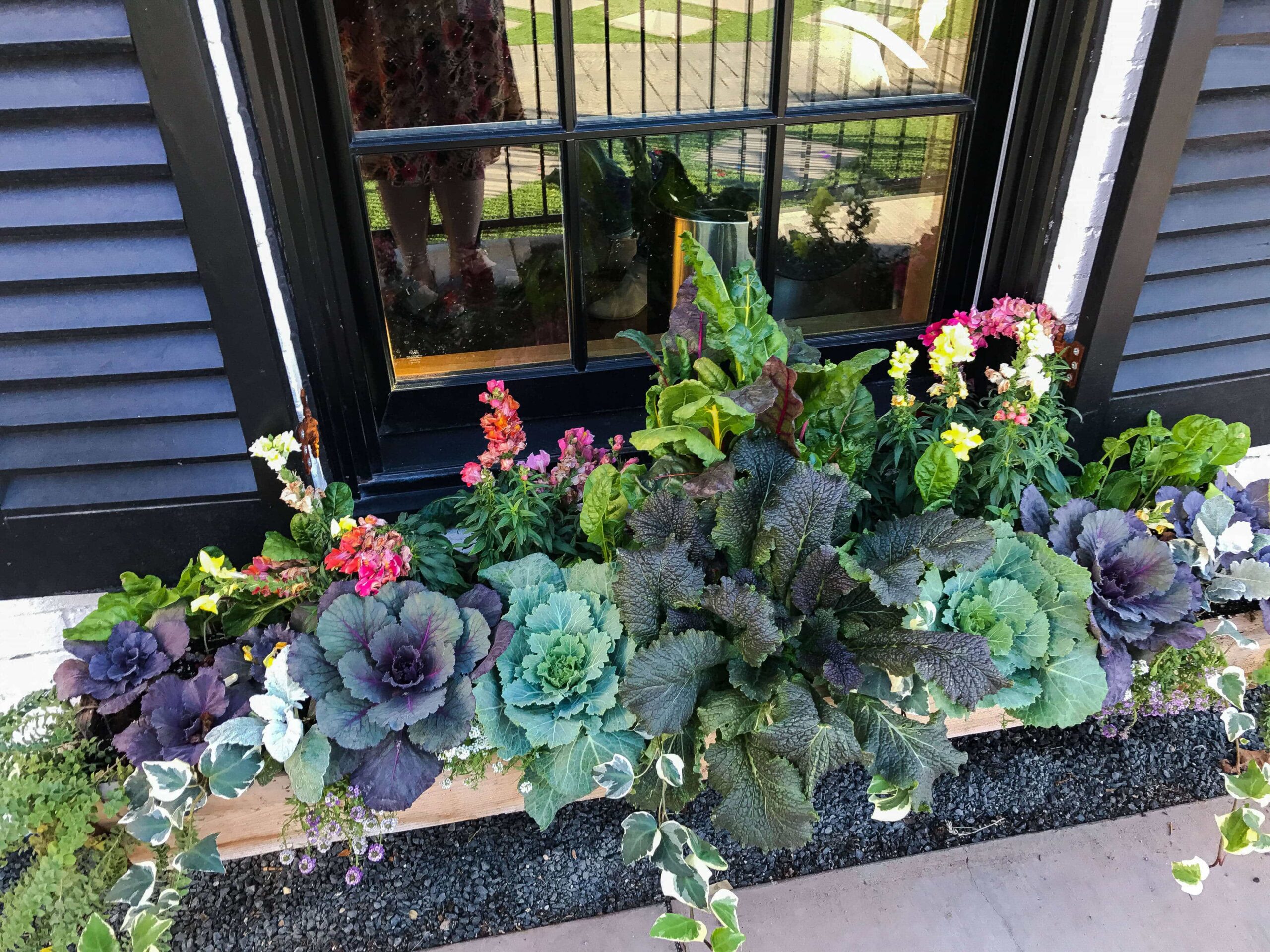 The flowers and natural decorations every where you turned were gorgeous. I especially loved the mixture of edibles and florals in the same pots.
The window boxes were probably my favorite. I'm currently trying to figure out how to attach some to my very Florida stucco house.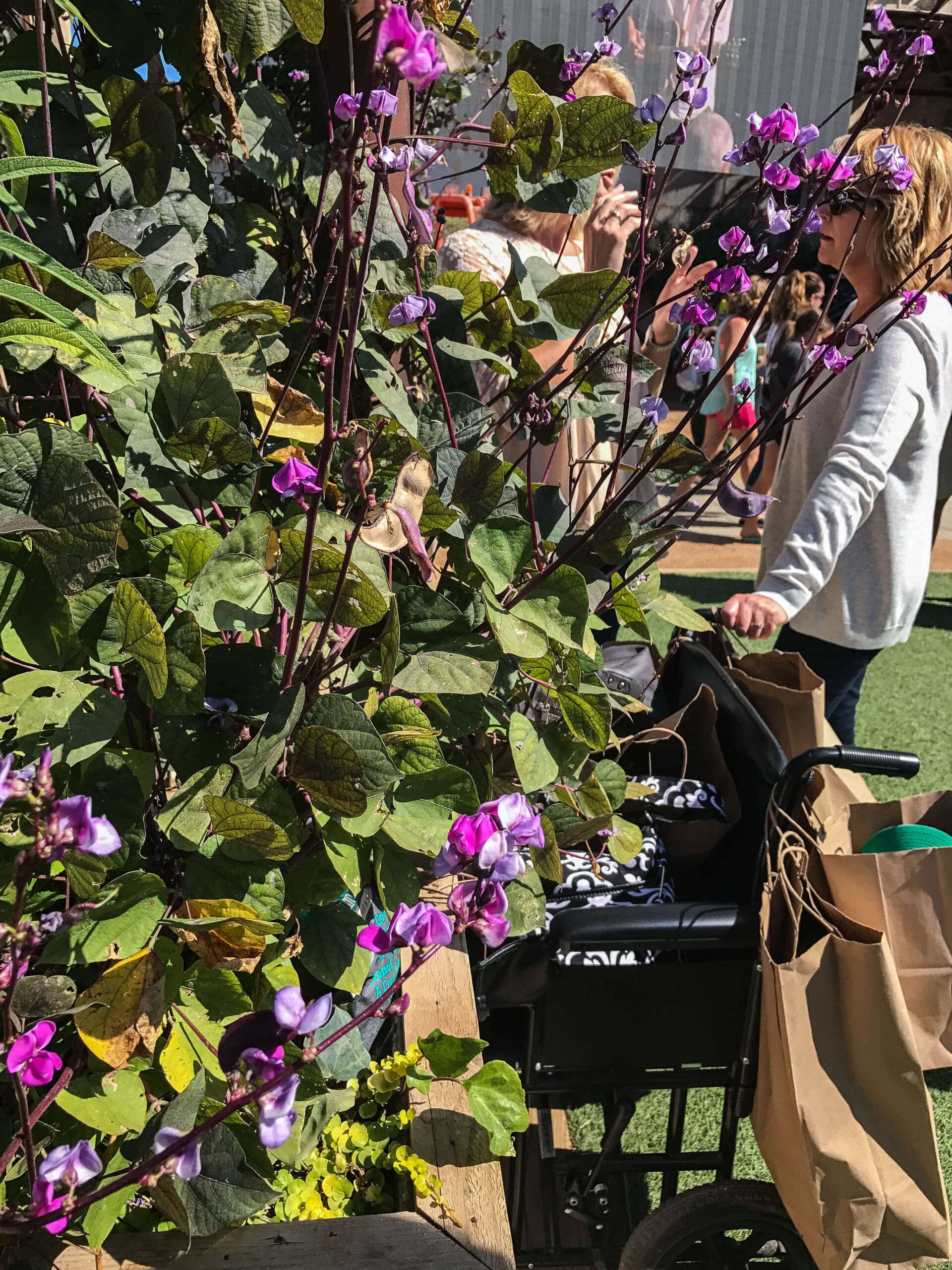 I loved it all so much that I am now growing my very own sweet pea vine! And I may or may not have accidentally kinda sorta on purpose taken a fallen seed pod home with me. I mean, it's really not technically stealing. I am sure Jojo is totally happy to share one little seed pod. Please don't tell her.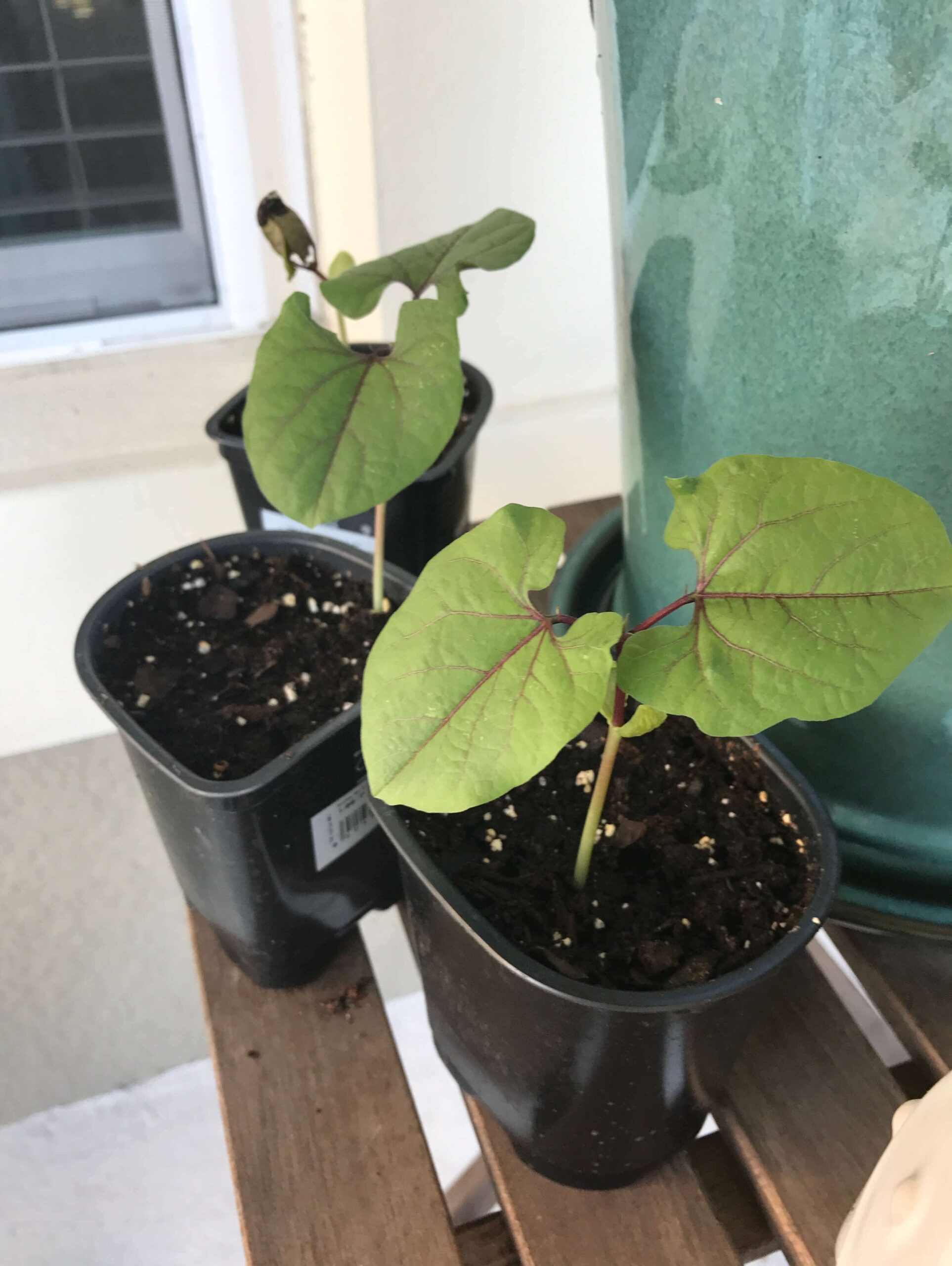 That seedpod that magically made it's way home with me in the bottom of my magnolia bag got forgotten for a couple of weeks. When I found it as I was cleaning out my closest, I was so excited to try planting it here at home.
So I soaked the three seeds that were in the pod overnight in water and then planted them immediately. Here they are 5 days later!
They have more than doubled in size and I am excited to hopefully start being able to share seed pods with all of my gardening neighbors and friends soon. We can all have a Joanna Gaines Sweet Pea Vine. ;-)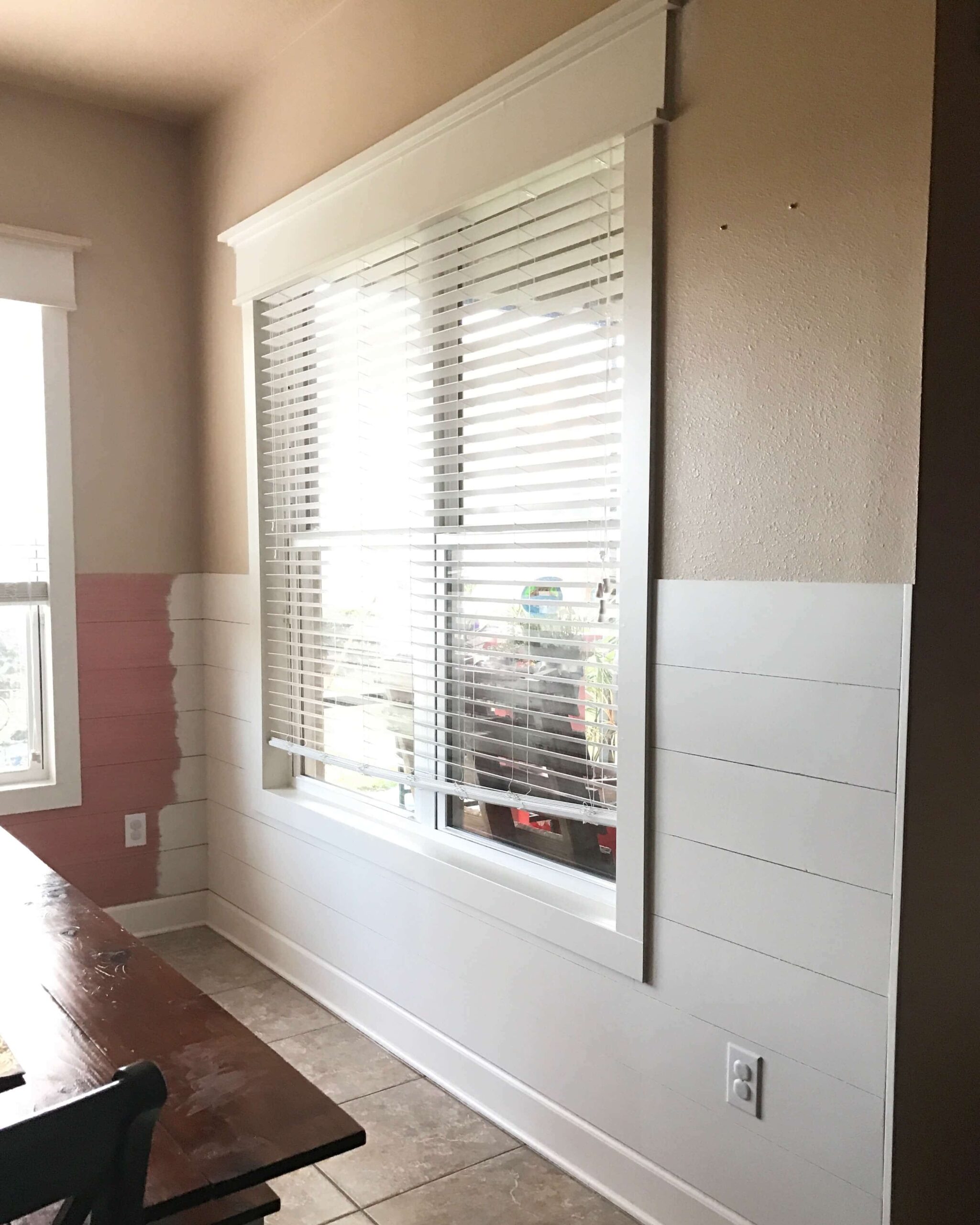 Home Decor Project
And this should not come as a surprise, but after my trip to Magnolia Market, I insisted on having shiplap somewhere in my house immediately. To be honest, I had insisted before, but now it was like a life or death kind of situation. If I didn't get shiplap, someone was going to die. (kidding, mostly)
So for my birthday, I asked my Dad to help me build a half shiplap wall in my kitchen. It took a few days worth of work to get it all completed, but I really love the way it turned out. It gave the walls interest and brightened the area up.
Above was while it was still in progress. You can see the pink of the treated wood on one side still.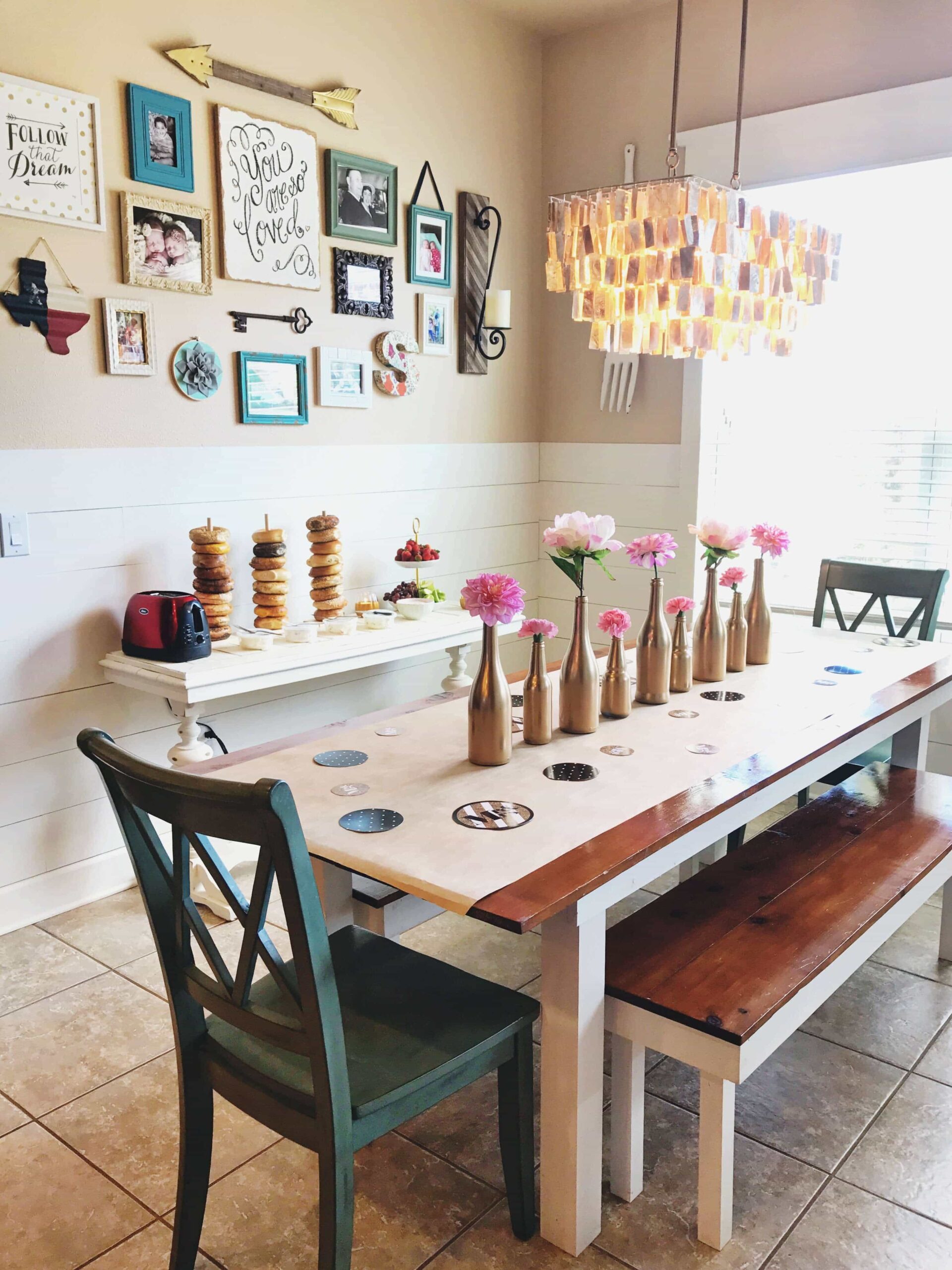 And here is the finished product! I snapped this picture while I was hosting a bridal brunch/shower this weekend, so it's not 100% true to normal life. I usually do not have that extra table along that wall filled with a toaster and towers of bagels. ;-)
However it gives you a good idea of the finished look. I promise to try to get a full photo of the entire breakfast nook (all three walls) for you all soon to see. It really was a fun project and I love the way it looks!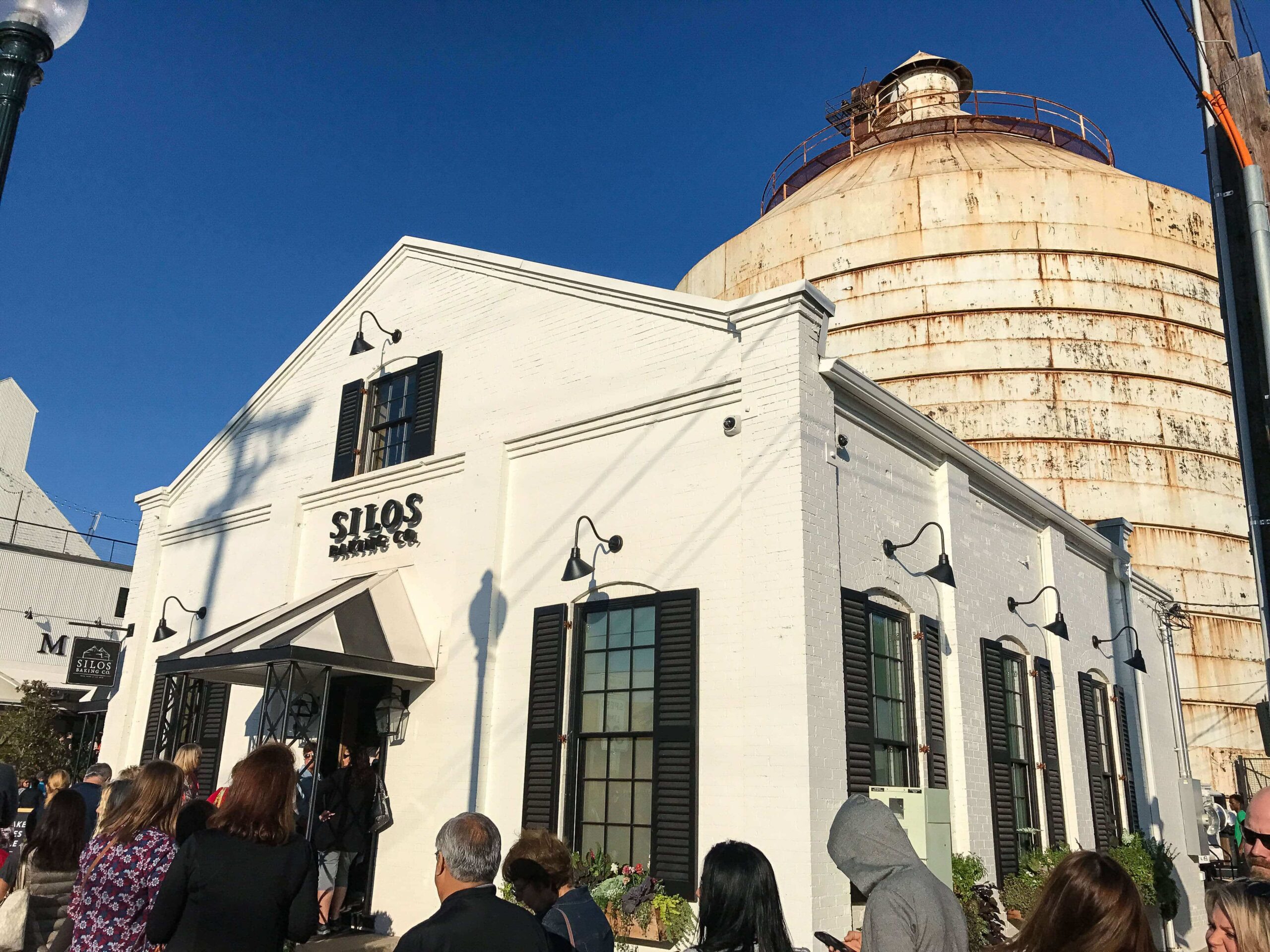 If you get the chance, I really recommend you take a trip and visit Magnolia Market. We had such a blast on our family weekend trip and I am already planning a trip back there in 2017 when I have to go to Austin for a conference.
My top 3 favorite things I bought while on this trip were:
The classic cotton wreath: I hung it inside on the old barn windows that hang above my tv in the living room.
The white jug vase with cotton stems: I have a giant island in my kitchen (really need to update those photos – a lot has changed in two years!) and I found a big nice wooden tray for on top of the counter. Inside the tray, I set this white jug (I bought the bigger sized one) with cotton stems coming out. It looks gorgeous and gets a ton of compliments.
Magnolia Fall Candle. It's amazing. The end.
This post may contain affiliate links. Read my disclosure policy.