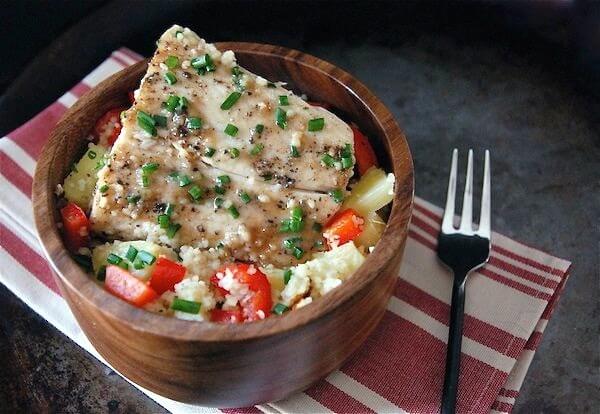 I don't cook fish very often, if ever. It's not that I don't love fish, I do! In fact, it is one of my favorite proteins. The problem lies in my inexperience with cooking it and knowing it will almost never taste as goods as my Dad's (for example, his –and my mom's– Blackened Fish Tacos are divine!).
Ever since I can remember, my Dad has thrown fish frys. I should take a moment and let you all know, my Mom would say he just stands there with a beer in his hand frying fish. She is the one who preps everything, sets up, and cleans. But despite who did what, all of our family would gathered around the fryer fighting over the last bites of fish….or hushpuppy….or onion ring….or fried okra….or fried pickles. Oh man, my fingers and toes are swelling just thinking about it.
Today I decided I wasn't going to be scared of making my own fish anymore. I might not have caught it out in the Gulf like my Dad does all of his fish. And sure, I wouldn't have cleaned it myself to make sure it was perfect. But I probably would make it with a glass of wine in my hand…and I am pretty sure that is the secret to his success, cooking while drinking.
This Mahi Mahi with Pineapple Shallot Sauce was the perfect way for me to dive in. Mahi is a wonderful white flaky fish that is hearty enough to stand up to the sweet and tangy flavors throughout this meal. The Mahi is served atop a delicious bed of Pineapple and Red Bell Pepper Couscous…all the pineapple had me wishing for white sandy beaches and Bob Marley. This whole dish came together in under 30 minutes, had me stepping out of my comfort zone, and was a healthy dinner. I declare it a winner!
Yield: 4 servings
Mahi Mahi with Pineapple Shallot Sauce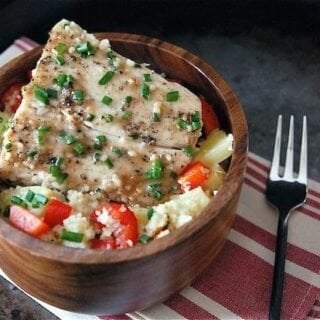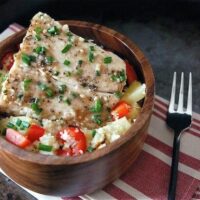 A delicious fillet of Mahi Mahi seared to perfection and topped with a tangy/sweet Pineapple Shallot Sauce. Served on top of a bed of Pineapple and Red Bell Pepper Couscous, this fish dinner is sure to become a family favorite!
Ingredients
For the Pineapple Shallot Sauce:
1 tablespoon butter
1 large shallots, sliced
2 tablespoons brown sugar
1/2 cup crushed pineapple
1 1/2 teaspoons light soy sauce
juice of 1 small lemon
For the Mahi Mahi:
2 1/3 cups low sodium chicken broth, divided
1 cup whole wheat couscous
2 teaspoons extra virgin olive oil
4 6 oz boneless, skinless Mahi Mahi fillets
1 teaspoon kosher salt
1 teaspoon fresh ground black pepper
1 medium pineapple, peeled, cored, and chopped (about 2 1/2 cups)
1 red bell pepper, diced
4 tablespoons chopped fresh chives
Instructions
For the Pineapple Shallot Sauce
In a small sauce pan, over medium high heat, melt butter. Add shallots, sauté for 4 minutes, until they begin to soften. Mix in brown sugar, stirring for 30 seconds, until melted.
Add crushed pineapple, soy sauce, and lemon juice and bring to a boil. Boil, stirring as needed, until almost all of the liquid has reduced, about 5 minutes.
Carefully transfer liquid to a blender or food processor and puree until smooth. Set aside.
For the Mahi Mahi with Pineapple and Red Bell Pepper Couscous:
In a medium saucepan, bring 1 1/3 cups broth to a boil on high heat. Stir in couscous and remove from heat immediately. Cover and set aside.
In a large skillet, heat olive oil over medium high heat. Season both sides of the Mahi with salt and pepper. Add Mahi to skillet and sear for 2 minutes on each side, until golden brown. Remove from pan and set aside.
Add pineapple and bell pepper to skillet and cook on medium-high heat for 5 minutes, until soft, stirring as needed. While the pineapple and bell pepper is cooking, remove the lid off the couscous. Using a large fork, fluff the couscous so it is loose.
Stir in the fluffed couscous and remaining 1 cup of broth into the pineapple and bell pepper mixture. Arrange the Mahi on top of the couscous mixture. Using a spatula, coat the top of each Mahi fillet with a fourth of the Pineapple Shallot Sauce. Tent the skillet with foil –to allow air out, don't use the lid to the pan– and cook for 4 minutes, until the Mahi is tender and steaming under the foil. Serve immediately.
Notes
Pineapple Shallot Sauce: TNCB original
Mahi Mahi with Pineapple and Red Bell Pepper Couscous: adapted from Clean Eating Oct 2011
Nutrition Information:
Yield:
4
Serving Size:
1
Amount Per Serving:
Calories:

492
Total Fat:

8g
Saturated Fat:

3g
Trans Fat:

0g
Unsaturated Fat:

4g
Cholesterol:

205mg
Sodium:

977mg
Carbohydrates:

47g
Fiber:

4g
Sugar:

20g
Protein:

57g
Want to Save This Recipe?
This post may contain affiliate links. Read my disclosure policy.