Marbled Red Velvet Cheesecake Brownies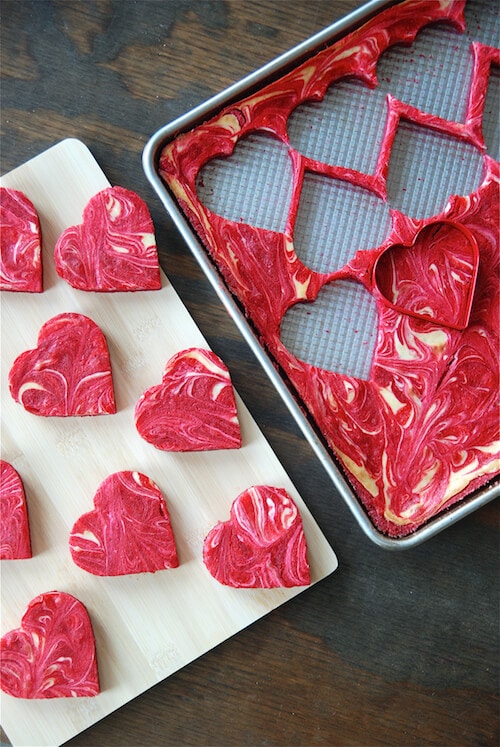 For once, I am bringing you a Valentine's day dessert a couple of weeks in advance! That's right, I am actually bringing you a holiday dessert before the holiday! Pigs are on fire and hell is flying…or, you know, whatever that saying is. We should all take a moment and enjoy this — one time, never gonna happen ever again — feeling.
But I took it one step further and I made another video! I feel like I might be getting the hang of making videos and I like getting to show y'all exactly what I do and how I do it.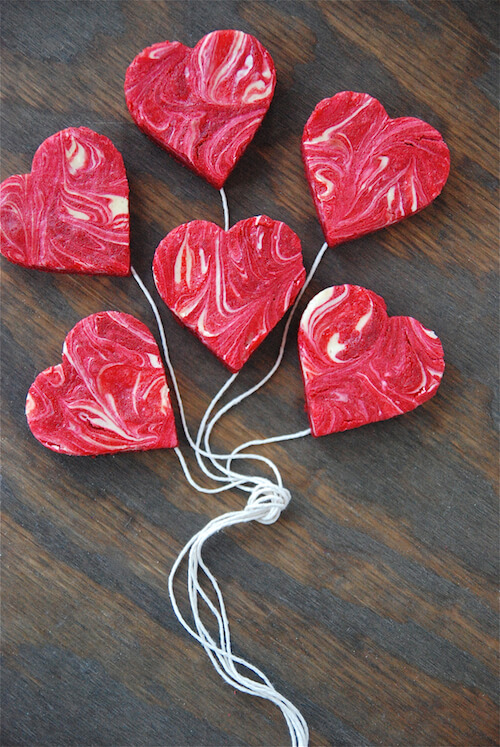 You are going to think I am nuts when you start making this recipe. The bottom red velvet layer is moldable – like play dough almost. I know it's strange, but it turns out amazing! Crazy moist and super soft with a lot flavor from the cheesecake and red velvet layers.
Jorge was munching on all of the leftover scraps from the hearts and kept saying, "mmmm ::mumble mumble:: gooooodddd". I'm not sure exactly what he was saying, but I know they were happy belly noises. The girls couldn't stay out of them ether, but that should be no surprise since they have my DNA flowing through them.
A couple of quick tips:
1. I used this red heart cookie cutter in this set from Wilton for my hearts. They are not actually bite sized…and are more a 2-3 bites sized. These brownies are definitely sturdy enough for the bigger size…and I feel better saying I had one brownie. 🙂
2. You are going to need a large heavy duty jelly roll pan! A thin pan will result in the burnt bottoms (hehe). I have this one…and while yes it is more expensive than the cheapo ones at Wal-Mar, it is so worth the money.
3. You are going to have scraps leftover if you decided to cut them into hearts instead of squares. You have two options… One, stand over the sink eating them. Two, make a milkshake Red Velvet Cheesecake Milkshake
Marbled Red Velvet Cheesecake Brownies
Ingredients:
3 1/4 cups flour
2 1/4 cups granulated sugar
3 tablespoons cocoa powder
1 teaspoon salt
1/2 teaspoon baking powder
3 large eggs
1 cup vegetable oil
5 tablespoons milk, divided
1 tablespoon vanilla extract
1 tablespoon red food coloring
2 teaspoons white vinegar
2 8oz packages cream cheese, softened
3/4 cup granulated sugar
2 large eggs
2 teaspoons vanilla
Directions:
Preheat oven to 350 degrees. Grease a 13 x 18 jelly roll pan with butter or spray with Baker's Joy.
In large bowl, whisk together flour, sugar, cocoa powder, salt, and baking powder. Set aside. In a medium bowl, whisk together eggs, vegetable oil, 2 tablespoons milk, vanilla extract, red food coloring, and white vinegar.
Combine the dry and wet ingredients, until completely combined. The batter will be a really thick, almost moldable texture…but don't worry, that's what you want.
Remove 3/4 cup of the batter and place it in a medium bowl. Whisk in the remaining 3 tablespoons of milk (into the 3/4 cup of batter you just took out). Set aside the 3/4 cup batter.
Pour the remaining batter into the prepared jelly roll pan. Using a spatula, smooth out the batter to reach all the edges.
Now, in your stand mixer, beat cream cheese and sugar until fluffy, about 2 minutes. Add eggs and vanilla, beating until combined and there are no lumps.
Pour the cream cheese mixture on top of the red velvet layer and smooth mixture till it reaches all the edges.
Drop spoonfuls of the remaining red velvet batter (that you mixed with milk) onto the top of the cheesecake layer. Drag the tip of a knife through the red velvet and the cheesecake layers to create swirls.
Bake for 30 minutes, rotating half way through, or just until the center is set and it no longer jiggles.
Let cool completely on a wire rack before cutting. Use a medium sized heart cookie cutter to create the perfect Valentine's Day treat!