I can't help it, my inner Disney nerd is freaking out – Mickey Mouse Chicken Noodle Soup! How adorable is this?? And if you didn't just say the most adorable thing ever, then you either didn't watch the video or you hate Mickey. Kidding, mostly. 😉
My girls were crazy excited when they saw who showed up in their dinner bowl last night and I was excited when they ate the entire bowl after being sick and not having eaten dinner in 2 nights!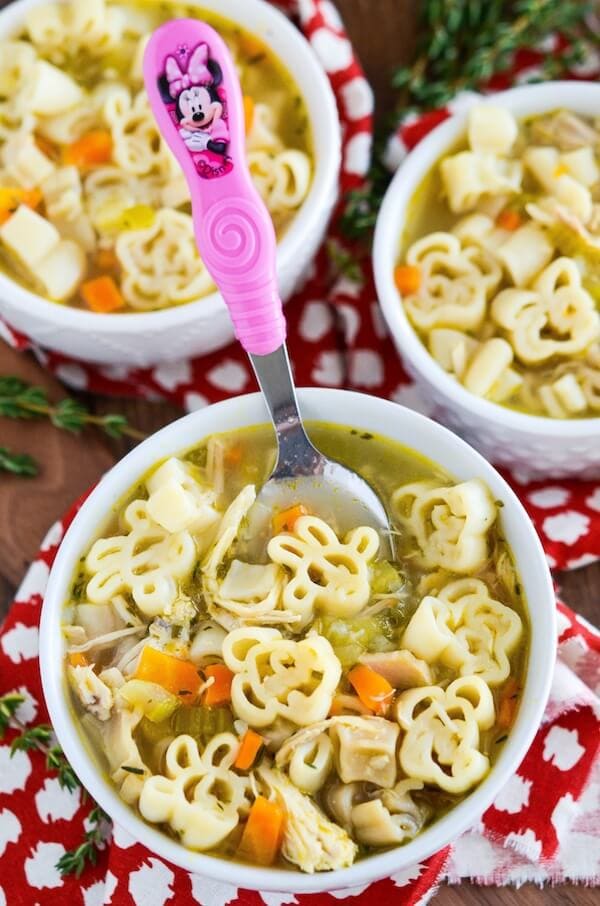 Ellie and Lyla have both been huge fans of Mickey Mouse Clubhouse since they were about 6 months old. They are over 2 now and it is still the only tv show they watch. Lyla also loves to watch the old videos (some are even in black and white!) on the iPad. It's so fun watching her laugh at some of the very same videos I grew up watching.
Last week we took the girls to Disney for Epcot Food & Wine. We go every year to celebrate our wedding anniversary (8 years!) and my birthday which is the day after our anniversary. We stayed a couple of days so we could see a few of the other parks as well. As you can tell from the photo, the girls just LOVED the teacups! Ha!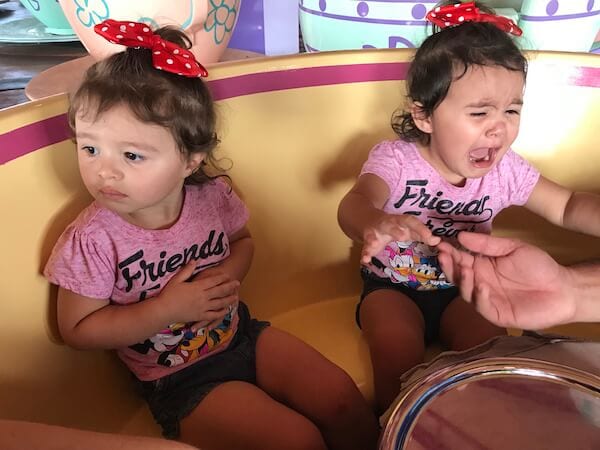 But honestly, they love going as much as we do…even if I do forget to take pictures when they are actually smiling. #MomFail
They are still getting used to some of the faster rides where they aren't allowed to sit in our laps. However, they do love meeting the characters, the slower rides where they can ride in our laps (each park has multiple they enjoy) and the play areas like the bone yard at Animal Kingdom. It's so exciting to see the world through their eyes sometimes. Their faces light up so much when they see something new…or see Mickey Mouse in real life.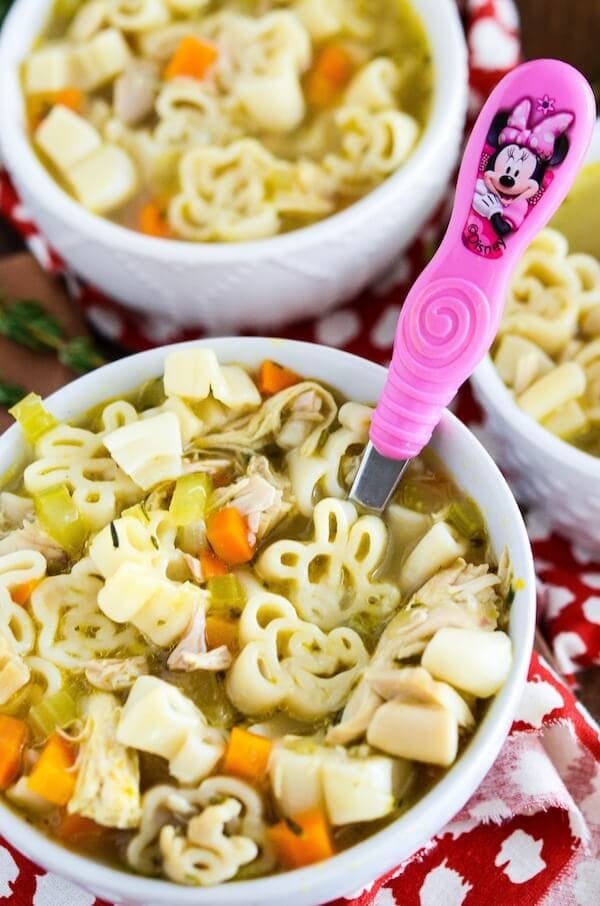 Once we made it home from Disney, everyone came down with a cold. A seriously BAD cold that lasted almost a week. I immediately regretted not buying the adorable Mickey Mouse pasta I had seen at Epcot. I saw it in a shop and went to buy it…then I saw the price tag of $13. I thought ohhh no. No way. Then the girls got crazy sick and wouldn't eat anything. Thank god for Amazon and it's overnight service!! The girls ate this for 3 days straight – totally worth the price to make my sick babies happy!
This Mickey Mouse Chicken Noodle Soup is my favorite standard chicken noodle soup recipe that the whole family approves of. The girls enjoy this soup every time I make it and I love that it only takes 30 minutes or less for me to make. I do use my own chicken stock that I make and freeze, but store bought chicken stock will work just as well.
Recipe Note: One smart idea I had after I made the soup — get two uses out of Mickey pasta by mixing it with regular noodles. The kids will still see Mickey pasta, but you will get two uses out of one bag!
Yield: 8 servings
Mickey Mouse Chicken Noodle Soup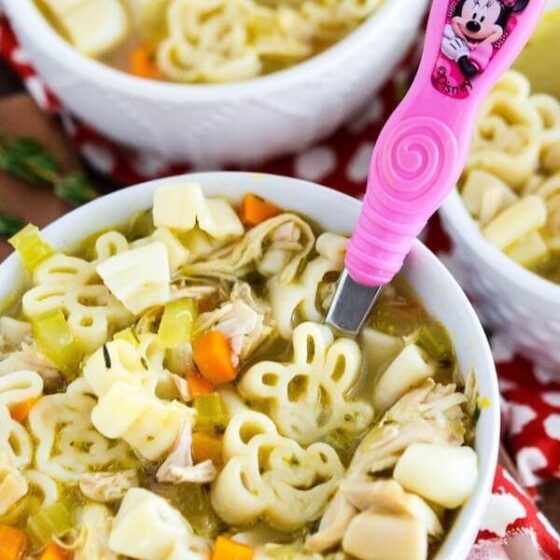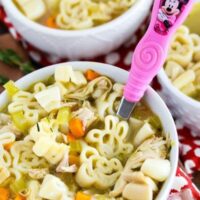 Mickey Mouse Chicken Noodle Soup! Classic chicken noodle soup is given a fun spin with Mickey Mouse noodles.
Ingredients
2 tablespoons olive oil
1 large yellow onion, diced
2 large carrots, peeled and diced
4 celery sticks, diced
3 cloves garlic, minced
1 tablespoon minced fresh thyme
2 teaspoons minced fresh rosemary
12 cups chicken stock
2 heaping cups cooked and shredded chicken
14 oz Mickey Mouse Shaped Pasta
salt and pepper, to taste
Instructions
In a large heavy bottomed pot, heat olive oil over medium heat. Add onion, carrots and celery and sauté until softened, about 7 minutes.
Add garlic, thyme and rosemary. Stir and cook for 30 seconds. Add chicken stock and chicken, bring to a boil.
Add pasta and cook until soft, about 8 minutes. Season to taste with salt and pepper and serve hot!
Nutrition Information:
Yield:
8
Serving Size:
1
Amount Per Serving:
Calories:

229
Total Fat:

9g
Saturated Fat:

2g
Trans Fat:

0g
Unsaturated Fat:

6g
Cholesterol:

23mg
Sodium:

589mg
Carbohydrates:

21g
Fiber:

1g
Sugar:

7g
Protein:

15g
Want to Save This Recipe?
This post may contain affiliate links. Read my disclosure policy.