Turkey and Spinach Stuffed Shells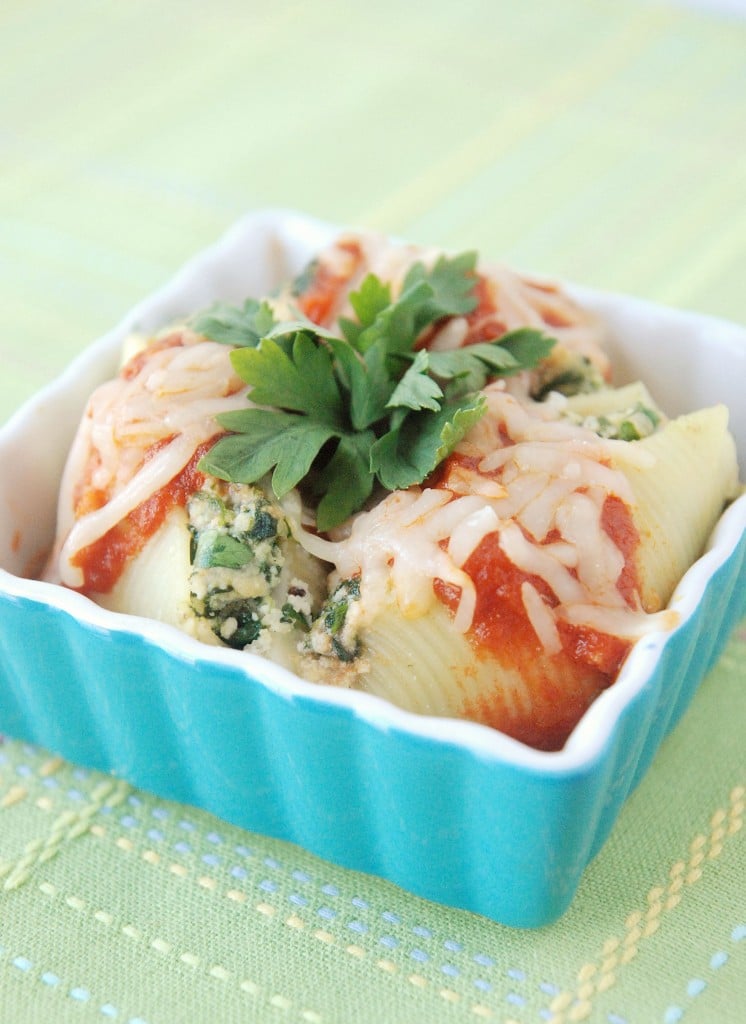 Parsley is a bitch. Ya, I said it. I can't grow it to save my life. Rosemary? Great. Chives? Awesome. Basil? Of course! Parsley? Heck no. I have tried growing it planted in the ground, in a pot, and on my windowsill. I have tried watering it, not watering it, and doing Indian rain dances. I have fertilized it with blood meal, miracle grow, and coffee grounds. It always dies. ALWAYS. And what's worse is that almost all recipes for fresh parsley call for a tablespoon or two. Rarely do you find a recipe calling for a large amount…so what ends up happening is that large bunch of parsley you bought (because they don't sell it any smaller quantities), starts to go bad.
In walks or is it rolls? Turkey and Spinach Stuffed Shells. It calls for 1 whole cup of chopped parsley! Wahoo! No more wasting a half of a bunch of parsley anymore! These shells were great and made a huge batch. Plenty to feed a large group or in my case to pop in the freezer for a later date when I don't feel like cooking.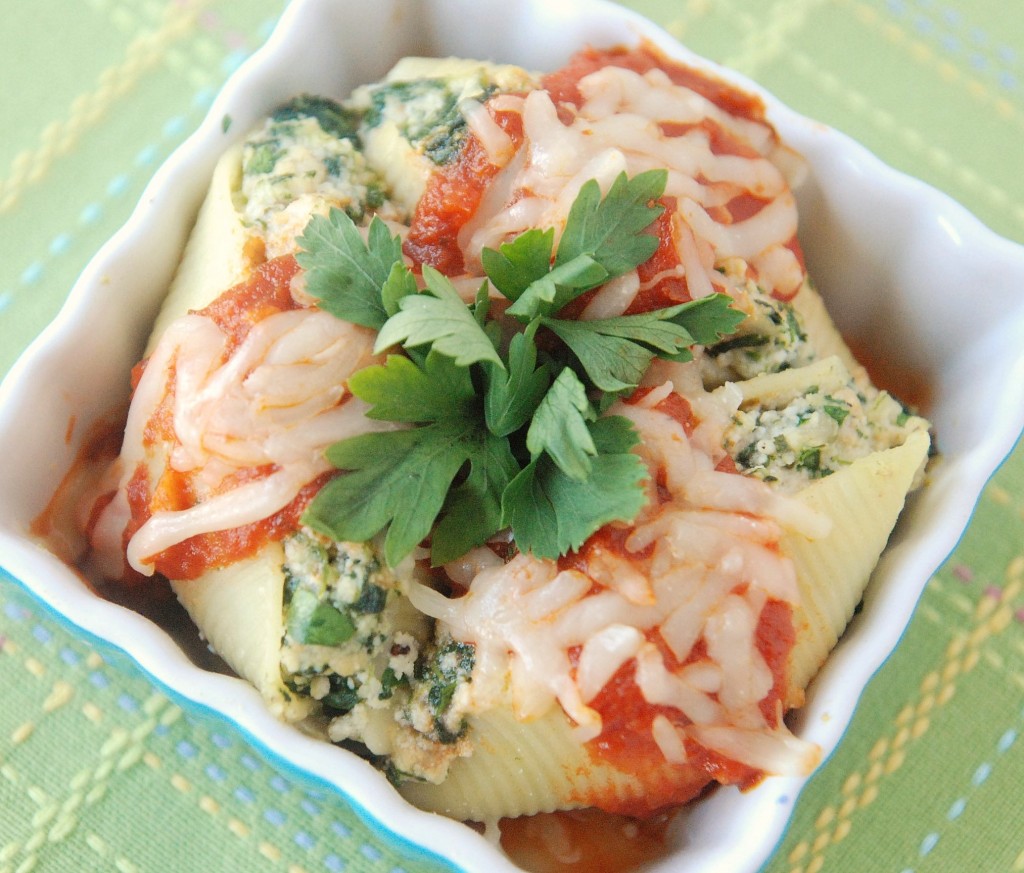 Turkey and Spinach Stuffed Shells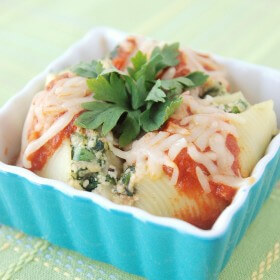 Ingredients:
1 (12 ounce) package jumbo pasta shells, cooked and drained
2 tablespoons olive oil
1 1/2 lbs. ground turkey
1 onion, diced
1 (15 ounce) container Part-Skim Ricotta Cheese
2 eggs, beaten
3/4 cups breadcrumbs
1 cup chopped fresh parsley
2 garlic cloves, minced
3 tablespoons grated Parmesan Cheese
1 tablespoon oregano
Salt & Pepper to taste
1 (10 ounce) package frozen chopped spinach
3 cups spaghetti sauce
1/2 cup Shredded Mozzarella Cheese
Directions:
Cook shells and spinach according to package directions. Drain and squeeze out excess moisture from the spinach. Meanwhile, brown ground turkey and onions in 2 tbsp. olive oil, over medium-high heat.
Preheat oven to 375°F. Grease a large baking dish. Spread 1 cup sauce on bottom of baking dish.
Cream together eggs and ricotta cheese. Add breadcrumbs, parsley, garlic, parmesan cheese, oregano, salt & pepper and mix well. Then gently fold in the spinach and turkey mixture. Fill shells with this mixture.
Add shells and cover with remaining sauce. Top with mozzarella cheese. Cover with foil. Bake 30-35 minutes until warmed through and bubbly.
To freeze: Follow the same directions until it says cover with remaining sauce. Instead, do not cover with sauce. Wrap baking dish with saran wrap, followed by a layer of foil. Freeze up to 3 months. When you are ready, allow baking dish to rest for 30 minutes before baking. Then remove saran wrap and foil and cover shells with spaghetti sauce. Top with mozzarella cheese. Recover with foil. Bake 40-45 minutes until warmed through and bubbly.