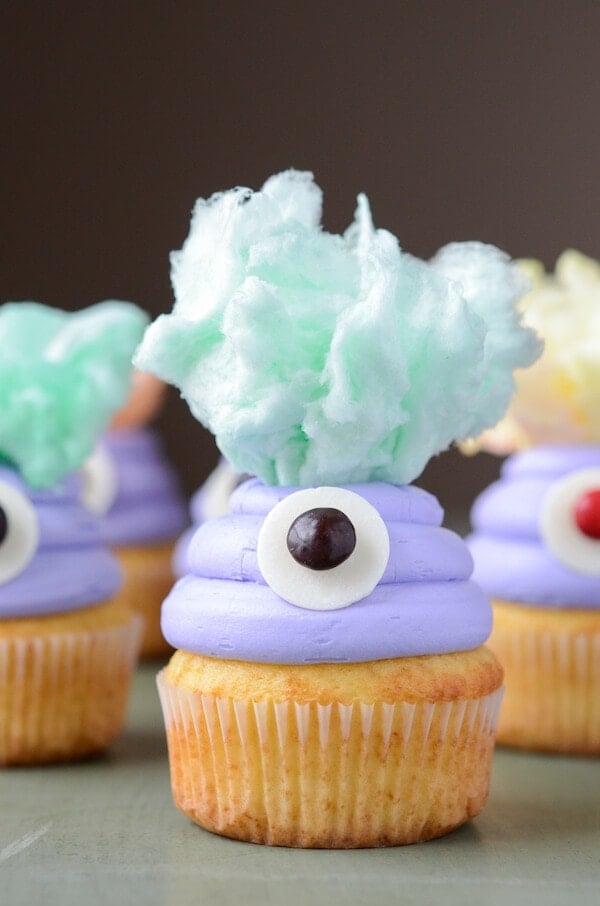 So I made step by step photos of this process for y'all and somehow I deleted them off my camera. Seriously, sometimes I don't know how I don't loose my own head. Thankfully these are SUPER simple and some simple directions will work just as well.
I gave these cupcakes away to the neighborhood kids as they got off the bus. The bus stops in front of my house every day — so I decided to take advantage of it. I was worried the kids wouldn't take a cupcake from a strange lady waiting for them to get off the bus…but apparently the Monster Cupcakes won them over. I didn't have a single cupcake left!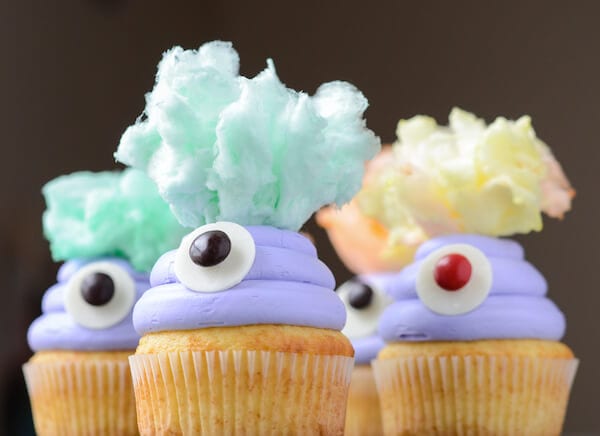 Supplies:
1. A batch of your favorite cupcakes.
2. A large batch of buttercream frosting — dyed purple. (I dyed mine with Wilton Violet Icing Gel – you can buy it at Michaels.)
3. White Candy Melts
4. M&Ms
5. Cotton Candy (Fresh is best, but I couldn't find any. You can find the packaged kind at Dollar Tree or Walmart. The kind in the tubs is better than the bagged stuff.)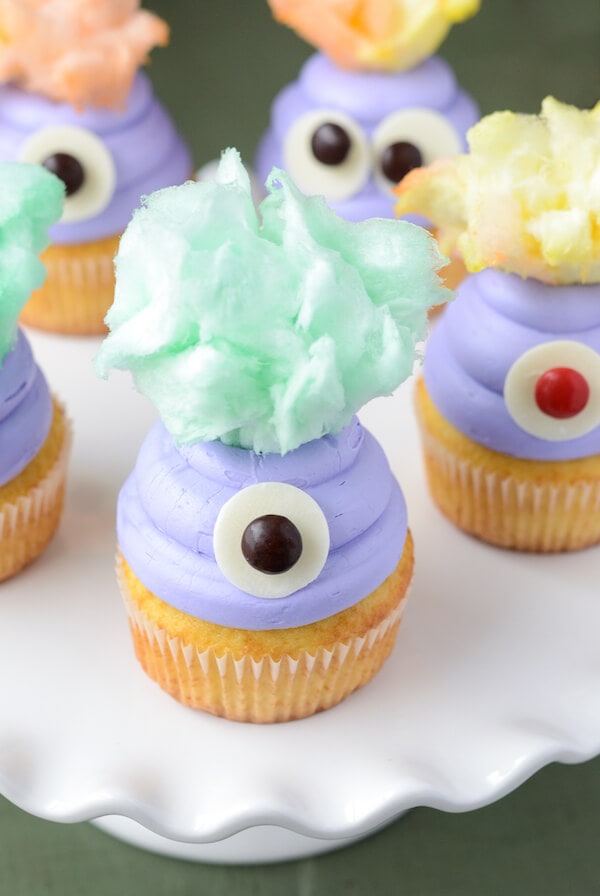 For the buttercream frosting, I used the jumbo round tip from this Best-Ever Cupcake Icing Kit.
For the eyes: Microwave 3 white candy melts on a small plate. Using a toothpick, put a little melted candy melt onto the back of an M&M and stick it to a candy melt. Let dry for about 5 minutes so the M&M doesn't move or fall off. Then place it on the cupcake in the center of the frosting.
For the hair: Pull off pieces of the cotton candy and press together on the bottom to hold it together. This is easier to do with fresh cotton candy, but can be done with the kind in jars…it just takes a lot of work. Then stick the hair into the top of the buttercream.
And you're done! Eat/serve these immediately. The cotton candy only stays pretty for so long. After about 15 minutes, it will start to turn sticky and melt.
This post may contain affiliate links. Read my disclosure policy.