Chai tea gets a soft and chewy makeover with this easy Chai Snickerdoodles recipe! These heavenly treats combine sweet snickerdoodle cookies with warm chai tea spice – you simply have to try them!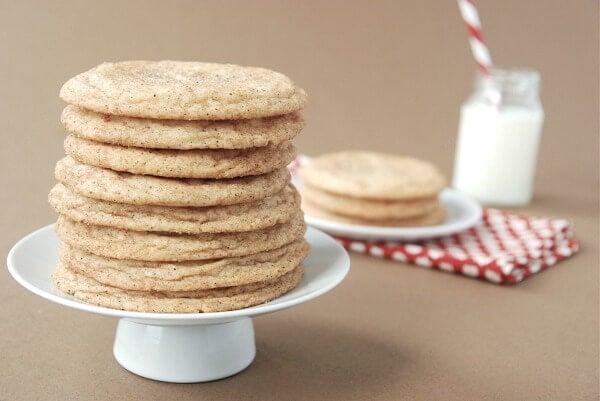 Chai Spice Snickerdoodle Cookies
When I got married, no one told me that Jorge and I would eventually be able to have an entire conversation without opening our mouths. That instead, all we would have to do is look at each other and an entire conversation can take place. I also had no idea how little a guy could care about my hair. Before Jorge, my boyfriends always commented on my hair. They knew that it is one of my best features besides my lovely lady lumps and they also figured out that I will always be less bitchy when someone is talking about how good my hair looks. But Jorge and I are already married. He doesn't have to stroke my ego anymore or pretend to care about my hair (or shoes, or purses, for that matter). And these days he doesn't even notice when I get highlights or a haircut until he see's the charge to the bank account.
Something else no one warned me about? 5 solid days, in a 1600 sq ft apartment, is way to much "together-time". The dog was thrilled to have Jorge home for so long since they have the same energy levels. For them, it's GO GO GO all.the.freaking.time. But the cats and I are at our wits end. As the cats and I have learned these past 5 days, the only way to avoid the umm… "love" from Jorge, is to be busy. Not just look busy, because he can see through that. You have to actually BE busy. So as of tonight, my apartment has never been cleaner (seriously, never), my freezer is 100% full of prepared/ready-to-go meals and soups, and I think my email may crash since it won't know what to do without all the emails in it's inbox.
In preparation for tomorrow, Jorge's big day back to work (YAY!! –I mean awww shucks I'm gonna miss you sooo much, sugar), I wanted to make him cookies for his lunch. Well, not for lunch, but to go along with lunch. For some reason Jorge thinks cookies are for dessert…not breakfast, lunch, and dinner —another reason we don't always get along. But either way, I knew these Chai Snickerdoodles would be a hit with him. They are soft, chewy, and full of flavor. They have the wonderful, slight sour flavor of traditional snickerdoodle cookies…but they also have that amazing warm, spicy flavor you expect from chai tea. The combination of the two makes one hell of a cookie!
Yield: 16
Chai Snickerdoodles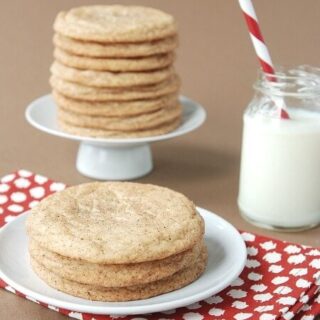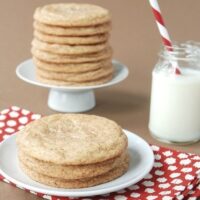 Chai tea gets a soft and chewy makeover with this easy Chai Snickerdoodles recipe! These heavenly treats combine sweet snickerdoodle cookies with warm chai tea spice – you simply have to try them!
Ingredients
For the Snickerdoodle Cookies
2 1/3 cups all purpose flour
1 teaspoon baking soda
2 teaspoons cream of tartar
1/2 teaspoon salt
1 cup unsalted butter (2 sticks), room temperature
1 1/2 cup sugar
2 eggs
For the Chai Tea Spice
5 tablespoons sugar
3/4 teaspoon cinnamon
3/4 teaspoon cardamom
1/4 teaspoon ginger
1/8 teaspoon cloves
1/8 teaspoon nutmeg
Instructions
Preheat oven to 350 degrees. Prepare cookies sheets with silpat or parchment paper.
In a medium bowl, combine dry ingredients (flour, baking soda, cream of tartar, and salt). Set aside.
In a small bowl, mix together chai sugar mix. Set aside.
In stand mixer, cream together butter and sugar until light and fluffy. Add eggs, one at a time.
Slowly add dry ingredients to wet ingredients, and mix until combined.
Form dough into large balls (I used about 2 tablespoons of dough for each dough ball), roll in chai sugar mix, and place baking sheet. Leave space for cookies to spread. Bake for 14 minutes and allow cookies to rest for 5 minutes on cookie sheet before transferring to a cooling rack.
Store up to 5 days in an airtight container. Try to not eat them all in one sitting.
Notes
Novice Chef Blog Original
Makes 16-18 large cookies
Nutrition Information:
Yield:
16
Serving Size:
1
Amount Per Serving:
Calories:

267
Total Fat:

12g
Saturated Fat:

7g
Trans Fat:

0g
Unsaturated Fat:

4g
Cholesterol:

54mg
Sodium:

156mg
Carbohydrates:

37g
Fiber:

1g
Sugar:

23g
Protein:

3g
Want to Save This Recipe?
This post may contain affiliate links. Read my disclosure policy.